Are you someone who takes their styling abilities seriously? Are you constantly inspired by home improvement and house flipping shows? If so, we have the perfect tips to help you continue working diligently towards perfecting your interior decorating skills. Here are seven common decorating mistakes and how to avoid them. Click a link below to skip ahead.
Poor Lighting
Ceiling fans are so two years ago. Opt for a beautiful chandelier or pendant instead. In addition to overhead or ambient lighting, add task lighting in different corners of the room to make sure it's well-lit when the sun goes down. Our lighting guide will help you layer lighting like a pro. This bedroom showcases a charming combination of ambient and task lighting.
Small Rug
Rugs should extend beyond furniture in order to frame the room. If you're totally in love with your current small rug and don't want to let it go, consider layering it on top of a larger rug with a flat, natural weave as seen in this living room. This way, you get to keep your favorite rug and still appear on trend.
Wrong Layout
Incorrectly measuring the room can lead to an awkward layout. We suggest measuring the floor space correctly, so you know exactly what size furniture will fit. If needed, you can put down painter's tape to map out exactly where each major piece of furniture will go. If you wish to make the space feel homier, simply move the furniture in closer to each other and away from the walls. View our living room layout guide as a kick start to your new project.
Too Much Stuff
No need for 10 pillows on the sofa (especially if they're not fluffed) or a knickknack in every corner. Sometimes, less is more. Curate your rooms carefully to avoid unnecessary clutter. This is especially true for your living room since guests will pass through here often. Sofas don't need more than 3-5 throw pillows, and minimal table decor can make a great statement. You could even incorporate greenery in select spots.
Picture Frame Clutter
If you find that you have an overabundance of picture frames on your tabletops, we have a solution. Consider creating a gallery wall like the one below. You'll be able to see all of your beloved photos clearly. It is best to stick to one frame design in various sizes unless you are a pro at mixing and matching frames. Be sure to check out our guide for hanging pictures and mirrors.
Wrong Paint Color
Painting your walls is a big deal, especially if you've stepped out of your comfort zone and chosen a risky color. The color must complement the space beautifully. Unfortunately, not all paint will appear the same on the wall as it does on a swatch. To avoid painting the entire wall only to be unpleasantly surprised, simply paint a brush stroke and observe it at different times of day. If the brush stroke looks fine, then you are clear to proceed. If the color does not live up to your standards, then thank goodness you did not waste a ton of time and energy on painting.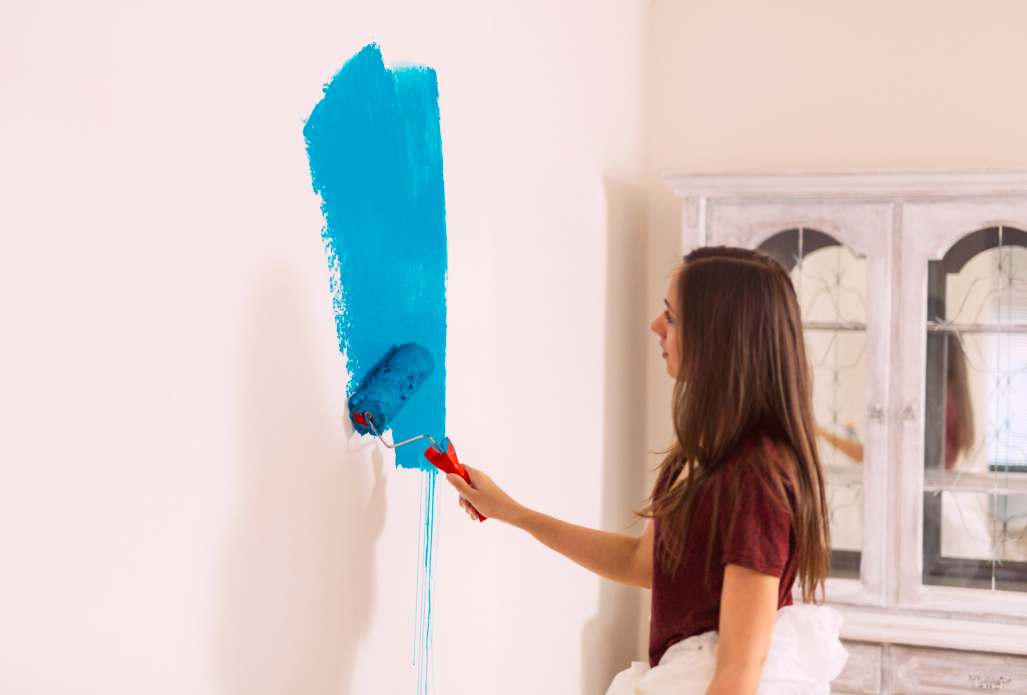 No Window Treatments
Why leave your windows bare when the rest of your home looks so attractive? Let your creativity loose and dress them up with curtains that provide style plus privacy from outsiders. If you have your eyes set on floor-length curtain panels, the bottom should hang a half inch from the floor. Have fun picking out curtain rods, rings, and decorative finials for a fashionable touch.
How have you improved your decorating mistakes? Share with us on Instagram using hashtag #myashleyhome for a chance to be featured.