February is Black History Month, and we're excited to celebrate. Originally named African American History Month, Black History Month was officially recognized by the U.S. government in 1976 as a time to reflect on all of the contributions to our society made by black Americans. Most of us grew up hearing names like Dr. Martin Luther King, Jr, George Washington Carver, Booker T. Washington or Rosa Parks; Americans who impacted civil rights or science. But there are other names, names of influential black Americans who contributed to art and design, that we should be aware of as well.
Artists like Jean-Michel Basquiat, Kara Walker, Adrian Piper, and countless others have depicted their stories and perspectives through artwork. Their viewpoints are seen through the lens of the black experience and the result is powerful and beautiful at the same time. While an original Basquiat may be beyond our reach, we can still pay homage to black history in our homes through fine art and photography.
Living Room
Make a gallery wall using framed art that celebrates the black experience. Add pops of color as you see fit.
Dining Room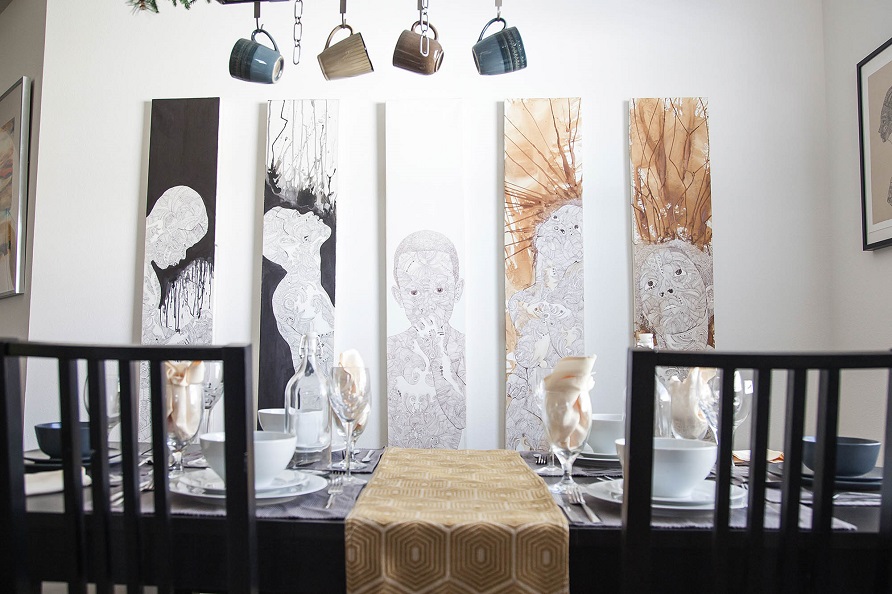 Cover an open space with a triptych, quadtych, or quintych of hand-painted or hand-drawn canvases. These powerful images are an elegant addition to this dining room.
Bedroom
Add framed photography depicting events that speak to you. Whether your statement is political, cultural, or just fun, this simple treatment is a sure conversation starter.
How do you incorporate pieces that resonate with you into your home? Share with us on Instagram using the hashtag #MyAshleyHome for a chance to be featured.