You hear it all the time, "Eat your vegetables." With no hesitation, let's take the advice. Fire up the grill and get ready to celebrate National Eat Your Vegetables Day on June 17. Grilling vegetables is a sure-fire way to tempt those who ordinarily don't like vegetables to try them. The day is meant to remind everyone to include a healthy portion of vegetables in their diet, not only for the day but throughout the year. Celebrate veggies with a new grilling recipe (see below) and entertain your taste buds while relaxing outside.
Outdoor Splendor

Incidentally, have you set up your summer furniture yet? Or has your deck, porch or lanai been forgotten? Along with fresh veggies in your diet, it's time to freshen up your outdoor decor so you can enjoy a barbecue.
Roll Out a Stylish Outdoor Rug

Add a touch of pizzazz to your porch by laying out a rug that goes with your furniture.
Spice Up Patio Furniture

Place snazzy new outdoor pillows on chaises or lounge chairs to add pops of color.
Create Nightly Ambiance

Bring out the lanterns and hang sconces on the wall to enjoy the porch.
Now you have all the ingredients for enjoying fresh-grilled veggies in a beautiful setting.
Let the beautiful colors of your garden be the inspiration for assembling a rainbow medley of fresh vegetable kabobs.
Grilled Vegetable Kebobs (recipe from Six Sisters' Stuff, May 2014)

Ingredients:
1 red pepper, chopped into large pieces
1 green pepper, chopped into large pieces
1 cup fresh mushrooms
1 large zucchini, thickly sliced
1 large summer squash, thickly sliced
1 cup cherry tomatoes
1 red onion, chopped into large pieces
1 cup Italian dressing or marinade of choice
Skewers
Directions:
Place all vegetables in a large bowl. Pour the dressing on them and mix until all vegetables are evenly coated. Cover with plastic wrap and let marinate in the fridge for at least 30 minutes (up to several hours).
Remove veggies from marinade (save your marinade) and thread onto skewers. If using wooden skewers, let them soak in water for about 30 minutes to prevent burning.
Heat grill to medium high heat and place skewers on top of grill. Cook vegetables until the grill marks start to show (about 10 minutes), rotating vegetables occasionally. If desired, baste with additional marinade.
Makes 6-8 servings.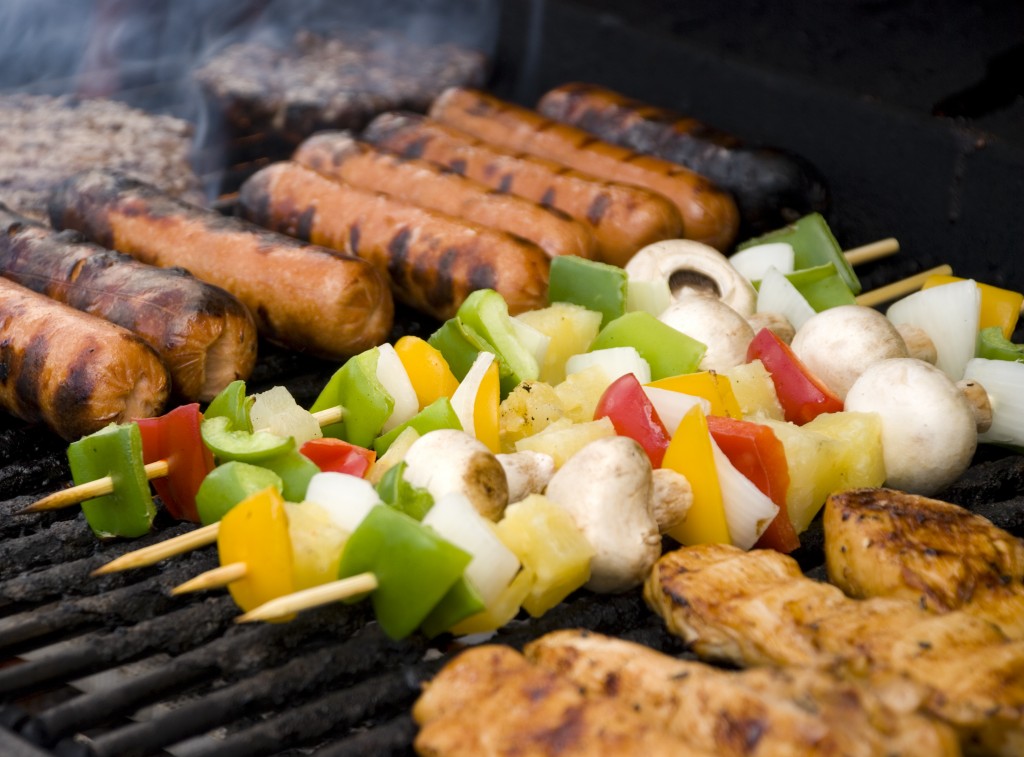 Did you know that fruits and vegetables owe their colors to healthful compounds called phytonutrients? The more colorful your veggies, the more nutrients you're eating! This dish has a whole rainbow of colors, making it a smart choice for getting a wide variety of phytonutrients and antioxidants.
Nutritional information provided by Jessica Penner, RD at Smart Nutrition.