Cozy practices can make even the coldest winters feel warm. During the season, focus on creating an inviting environment so you can wait out the weather. The welcoming vibes you curate in your space will help you make the most of being home. Here are a few tips for setting up the perfect atmosphere so cold doesn't bother you anyway!
Creating Layers of Warmth
A simple way to create warmth in your house in through textiles. Try adding a soft, knitted throw and lay it against a flat material like an accent chair or your bed. This texture offers a cozy element to the space while also creating dimension on your larger pieces. You can also include pillows of differing size and texture to make the area pop and feel inviting. 
Experiment with texture across your home. Use textured wall art, to add depth and give the illusion of a larger space.
Light up your space with a delicate shine from lamps. Daylight is in short supply during the winter months, so use artificial lighting to achieve the glow you need. Pro tip: Use neutral or warmer tone light bulbs for a cozier atmosphere.  
Also try candles in your home to create a romantic ambiance at night. But remember to always keep an eye on your candles! 
You can also use lighting to create the illusion of a larger space while also keeping things bright. Hang string lights across the ceiling to equally distribute the lighting. Or hang a pendant light over key features in the room, like a sofa or dining table, to attract the eye. Try a style that uses natural elements like wood or vintage-inspired light bulbs for a layer of warmth. 
Bring Nature Home
Bring natural beauty and color into your home with plant accents! Many houseplant varieties grow away from their roots, so the best way to incorporate them would be to hang them from the ceiling or a wall shelf. A clean space is a cozy space, so we suggest keeping smaller plants off the floor to avoid clutter.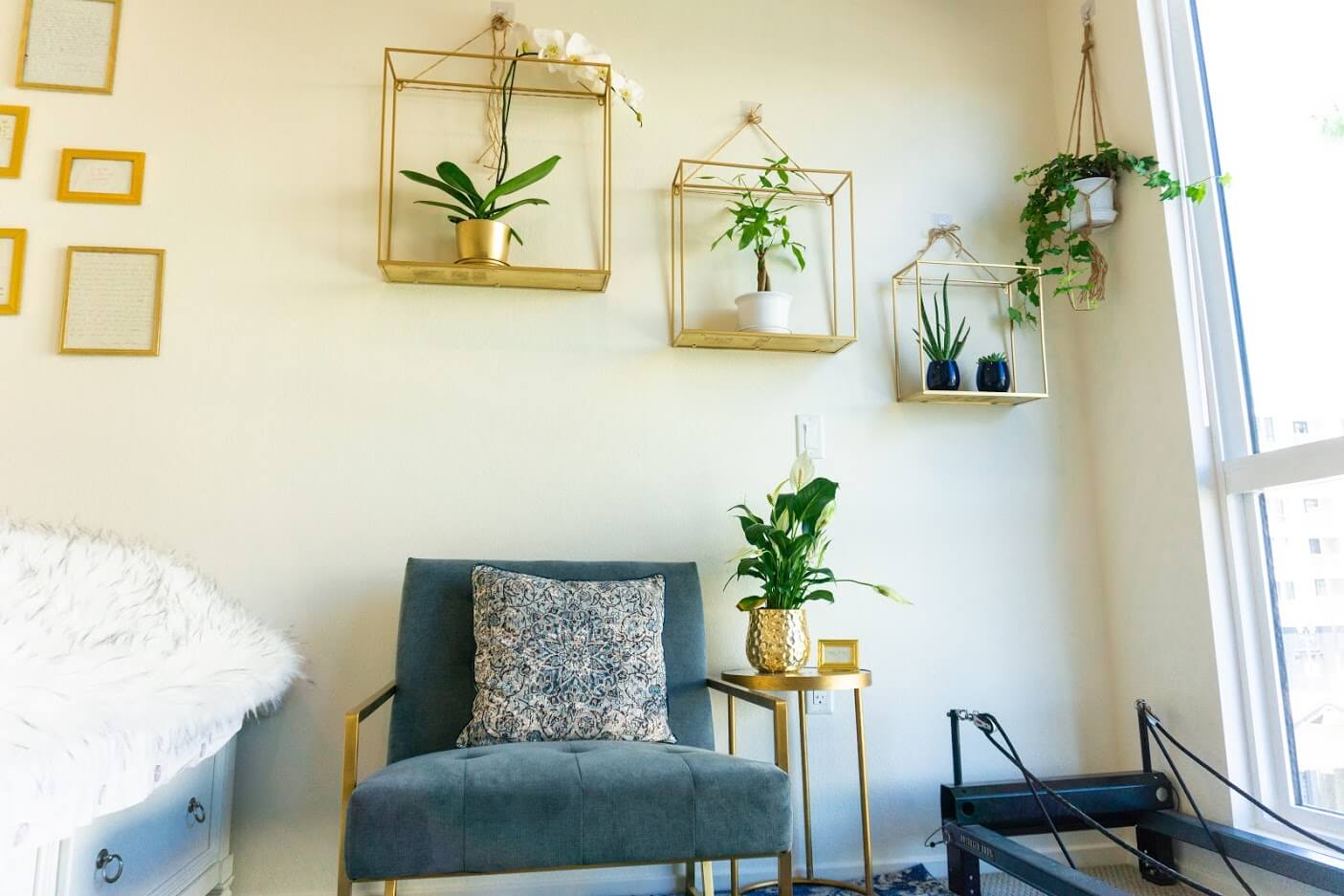 Plants not only add an aesthetic value to the space, but according to Web MD, plants can boost your mood and reduce stress. Which is essential for creating a cozy environment. 
The Power of Scents
According to Fifth Sense, smell is the strongest out of our five senses. So, adding a therapeutic scent will really enhance the calming atmosphere you created. A steam diffuser can push the smell of essential oils like lavender into the room, while adding moisture as well. Which is perfect for the drier winter months. Certain scents provoke different human responses like focus, calm and energy. Some of our favorites are citrus, cedar and pine. 
Tastes of the Season
After creating your perfect space for winter, it's time to kick back, listen to some beautiful music, and enjoy the day with your perfect hot beverage! Hot drinks not only soothe the soul, but also offer a plethora of health benefits. According to Consumer Reports, the pros involved helping digestion, providing rich antioxidants, and boosting mental performance.
Here are some of our favorite recipes!
Hot Chocolate
Spend a few extra minutes and drop that chocolate powder packet for an authentic, delicious hot chocolate. Read this recipe to get your delicious cup.
Total Time: 10-15 minutes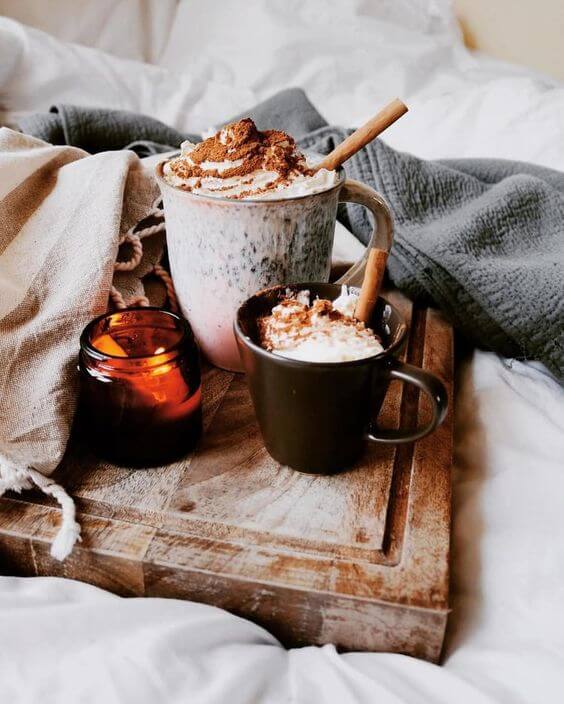 Ingredients:
2 cups whole milk
2 tbsp sugar *
4 oz bittersweet chocolate chopped (just under 1 cup measured)
splash of vanilla extract (optional)
whipped cream (optional)
marshmallows (optional)
Directions:
Heat milk and sugar in a saucepan  over medium heat
Microwave chopped chocolate for 30 seconds. Stir, then put in again for 30 seconds.
Once milk reaches scalding point, whisk the melted chocolate in
Add vanilla Extract
Top with choice of whipped cream or marshmallows, or both!
Apple Cider
According to Healthline, apple cider is well known for it's benefits of lowering cholesterol and blood sugar levels and increasing heart health. What's cozier than knowing what you are drinking is actually helping your health? Here is the recipe:
Total Time: 3 hours
Ingredients:
10 apples (cut into 4-6 slices each) (use different types of apples, so there isn't a strong taste of one)
1/2 cup sugar
4 cinnamon sticks (or 1 TBS ground cinnamon)
1/2 TBS ground cloves
Water
Directions:
Wash and cut the apples into pieces
Put apples in a large pot
Add cinnamon sticks, cloves, and sugar
Add enough water to cover the fruit by an inch
Cook over medium high heat and bring to a simmer. Lower to a medium low heat.
Cover and cook for 2 hours, stirring occasionally.
Mash the fruit to release the liquids.
Allow the cider to cook for 1 more hour.
Strain the cider slowly through a fine mesh sieve in a large pot or pitcher. Discard the solids.
Strain the cider one more time to remove and my solids.
Serve the cider warm.
Eggnog
Finally, it wouldn't be winter if we didn't have eggnog. After trying this recipe, your taste buds will always remember this delicious homemade version!
Total Time: 25 minutes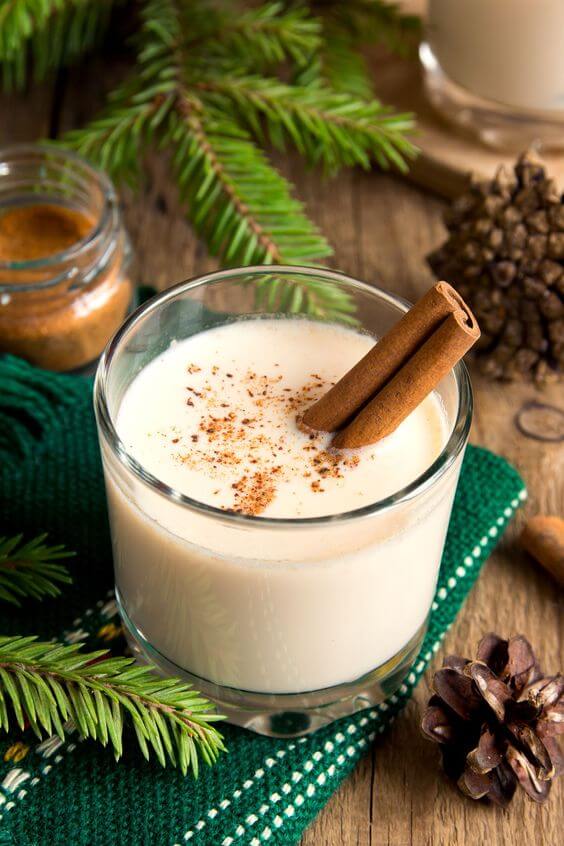 Ingredients:
6 large egg yolks
1/2 cup granulated sugar
1 cup heavy whipping cream
2 cups milk
1/2 teaspoon ground nutmeg
pinch of salt
1/4 teaspoon vanilla extract
ground cinnamon , for topping
Directions:
Whisk the egg yolks and sugar until light and creamy
Combine the cream, milk, nutmeg, and salt in a saucepan over medium heat
Stir until it reaches a simmer
Add a spoonful of hot milk to the egg mixture in the first step and whisk
Repeat the process of adding a spoonful of milk while whisking
Pour this mixture into the saucepan and whisk for 3 minutes or until the mixture is thickened
Remove pan from heat and stir in vanilla
Pour eggnog into container and let it chill
When serving add cinnamon and whipped cream!
After doing these cozy practices, you will feel much more relaxed and confident to face the winter. From creating a warm environment to feeding the soul with hot beverages, you will make the most of your winter home. These routines can become winter-time traditions that you look forward to enjoying every year.
Need more winter-time inspiration? Follow us on Instagram and Pinterest for scroll-worthy seasonal spaces. Tag us in your picture-perfect moment using #MyAshleyHome to possibly be featured!