What could be better than a romantic getaway? How about never having to get away to surround yourself with romance. Make your home your very own romantic escape. Stir up a little culinary magic. Add some key ingredients to your home decor. The result: instant romance that's yours for the taking any day of the week.
Tips for creating a romantic getaway at home
Awaken romance 
What could be more romantic than waking up and sharing breakfast together in bed? Especially in a comfortably upholstered queen or king platform bed. Smooth surfaced or highly tufted, there are plenty of dreamy options in upholstered headboards.
Bright Ideas 
A chandelier in the bedroom is the epitome of romance. Another idea: pendant lighting by the bedside as an alternative to nightstand/floor lamps. Great for saving tabletop and floor space, they also add a touch of high drama and make the ceiling look higher.
Eating for two
Make a date for dinner and a movie, right from the comfort of your home. Round bistro and pub tables or small dining arrangements are a natural fit for a romantic meal. Whatever your dining arrangement, feel free to let candles and flowers work their powers.
Seating for two
Dim the lights, grab the remote and cuddle up. From individual loveseats to sectionals with loveseat components to oversized chairs paired with ottomans—all kinds of seating arrangements enhance romance.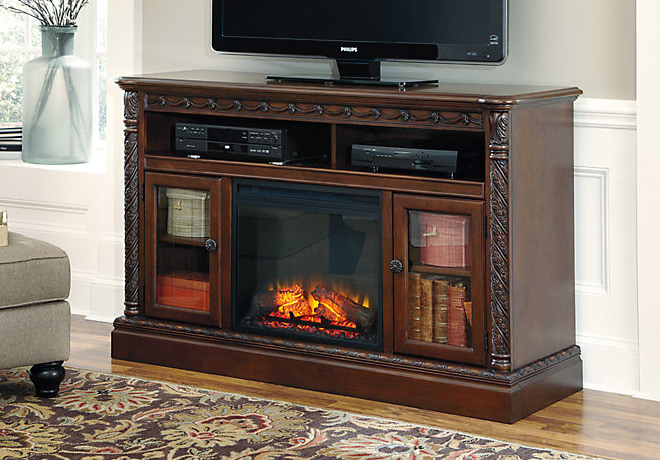 Discover a new flame
If you really want to heat things up—with a fireplace insert popped into a TV stand or entertainment center, you can set the mood with the flip of a switch. Poof. Instant romance.

Little things mean a lot
Dress up a sofa, loveseat or bed with an indulgent assortment of accent pillows that make a flirty statement. An area rug with a high-pile shag and fuzzy feel can make anyone want to kick off their shoes and get comfortable.
Sweet indulgences 
On a cold winter night, melt their heart (and yours) with a decadent cup of homemade hot cocoa with marshmallow hearts.