The dining room is a home's central hub for family, food and memories. Think of family get-togethers where mom or grandma cooked delicious meals. We can all remember those savory smells wafting. As the family waited with baited breath, dishes were finally brought to the table, and toasts were had—it's these moments that are truly at the heart of a home.
Nowadays, you may not have a designated formal dining room in your space—especially if it's a small studio or apartment. But thanks to a magic spell called modern multi-functionality, you can still enjoy sitting around the dinner table with friends and family.. With multi-functional furniture, making new memories (sans an official dining room) isn't a problem! It's all about being strategic with every square inch of space and using furniture in new, innovative ways to adapt to the hustle and bustle of everyday life.
One Table, Many Uses

Whether it's a traditional long, rectangular table or a small round one, there are multiple ways you can incorporate a table in your space to fulfill your needs (even as they change day-to-day.)
For open floor plans, use a sturdy table that can function as a dinner table, office desk and craft table all-in-one. If you choose a table with a drop-in extension leaf, that's even better, since you can accommodate guests at a moment's notice. It's the perfect spot for late night chats or to work on your latest project.
@theindiehome does a wonderful job of incorporating their table into a reading nook—which also provides extra seating for special occasions and parties.
Use Counter Space
In a smaller space, chances are you have a kitchen counter that can double as bar seating. If not, installing a sturdy wall shelf does the trick nicely. Add bar stools to instantly create a multi-functional seating area.
See how @thenottinghillnest made the most of a small space by installing a shelf along the wall as additional counter space for enjoying a drink with friends after a long day.
Eat in, Seamlessly
If you kitchen has an open patch of space, consider an eat-in nook with a round table and chairs. You'll love how easy it is to set the table now that dishes and cutlery aren't far from reach:
We're huge fans of how @daleyhomedecor added this chic bar height table with stools—it's both space saving and stylish.
Take Dinner Anywhere
Who said there HAS to be a designated area for eating, anyway? Sometimes the square footage just doesn't allow it. As a result, smaller areas can benefit from this 3-piece set, which has a long and narrow table. It's ideal set behind a sofa, so you can still watch your latest episode while eating or working.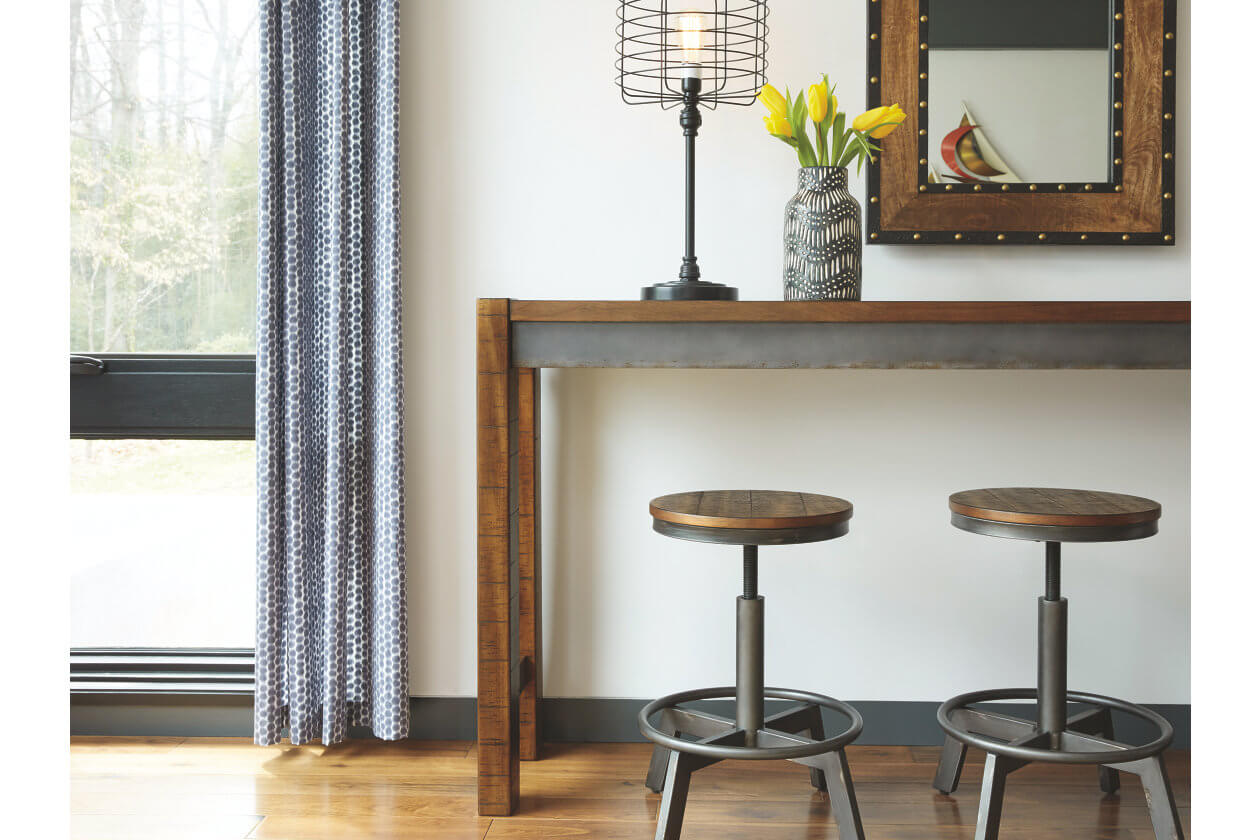 All style and zero fuss, simply tuck the bar stools underneath for an area guests will love to gather. Another great idea is to place it beside a refrigerator or kitchen counter for extra space—guests can sit and keep you company while you're getting everything ready.
Get Creative With Small Spaces
Whatever your needs are, making mindful decisions about a small space means you can have a home office, space for entertaining and everything in-between—all at the same time. For more inspiration, be sure to check out our small spaces dining room options.
Got a small, stylish space you'd like to share with us? Use the hashtag #MyAshleyHome for a chance to be featured in our gallery!