40,000 is a lot of people. If you're from the Miami area, it takes 65,000 people to fill Hard Rock Stadium  to capacity. 40,000 is the average population of many small towns and it's more than twice as many students enrolled at the University of Miami. Picture a small town in your mind. Maybe the place where you were born, or the city your family moved to during your senior year of high school. Now think about all of the people that live there and how not a single one of them has a bed to call their own. Everyone around you has to sleep on a couch, roll out a sleeping bag on the floor, or take turns sharing a bed with others. How would you feel if that were a town filled with thousands of children?
Ashley HomeStores across the country are teaming up with Hope to Dream, a program that's provided more than 40,000 free beds to children in neighboring HomeStore communities. The Hope to Dream mission is simple: we won't rest until every child around the world has a bed to call their own—complete with brand new mattress, bed frame and bedding.
Keith Koenig, President of City Furniture and Ashley HomeStore Licensee, says it best: "We have an important commitment to be a part of the community and to give back to our neighbors." Living up to this mission, a portion of every Ashley HomeStore mattress set purchase goes toward funding the Hope to Dream program. Ashley HomeStores in south Florida, where Keith is committed to serving, have just raised enough funds to have their first bed giveaway.
Kicking Off A Night to Remember
Ashley HomeStore teamed up with a number of partners to turn the giveaway event into one big, highly memorable slumber party. The football team generously volunteered to take part in the night, offering up their Miami Dolphins Training Facility in Davie, FL, also known as "The Bubble", as the sleepover location. Players, cheerleaders and personnel came out in full force to show their support.
From making beds to making big plays, it took many hands to kickoff the festivities. The Dolphins staff passed out food, gave facility tours and provided overall fun, while the Ashley HomeStore teams pitched in and helped any way they could.
There were bounce houses, games, football, and even dance parties- thanks to the Dolphins DJ, emcee, and all the wonderful cheerleaders.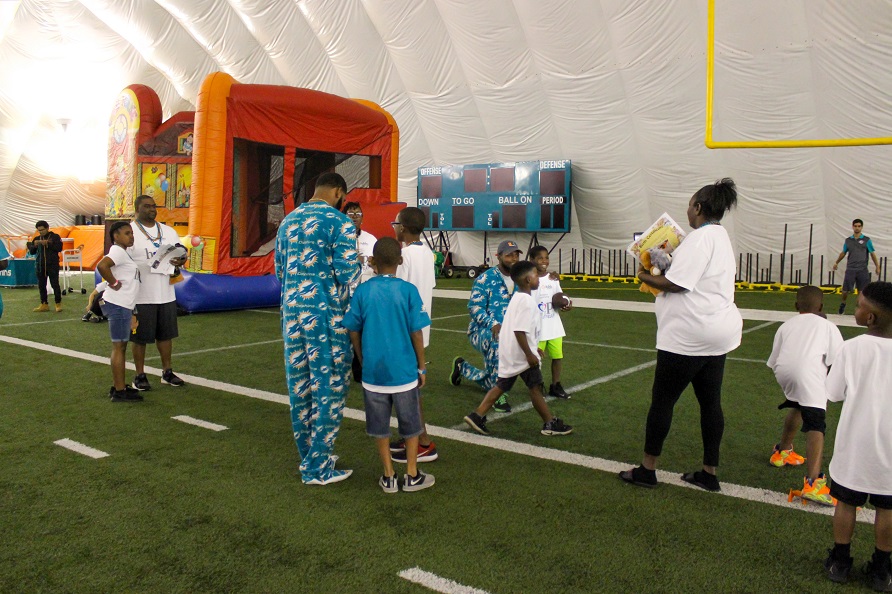 The Dolphins mascot, TD, was also there to lend a supportive fin.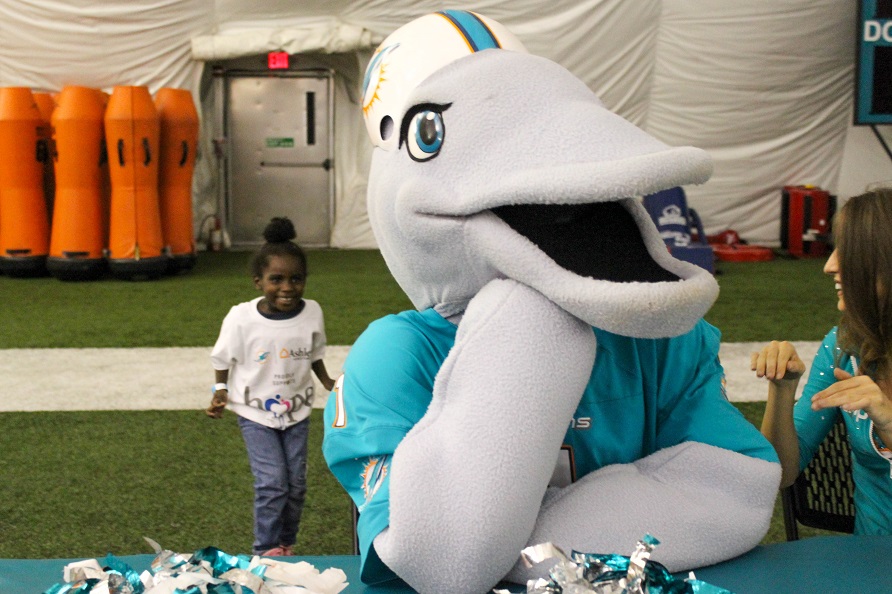 We even had a special visit by some of the Dolphins players!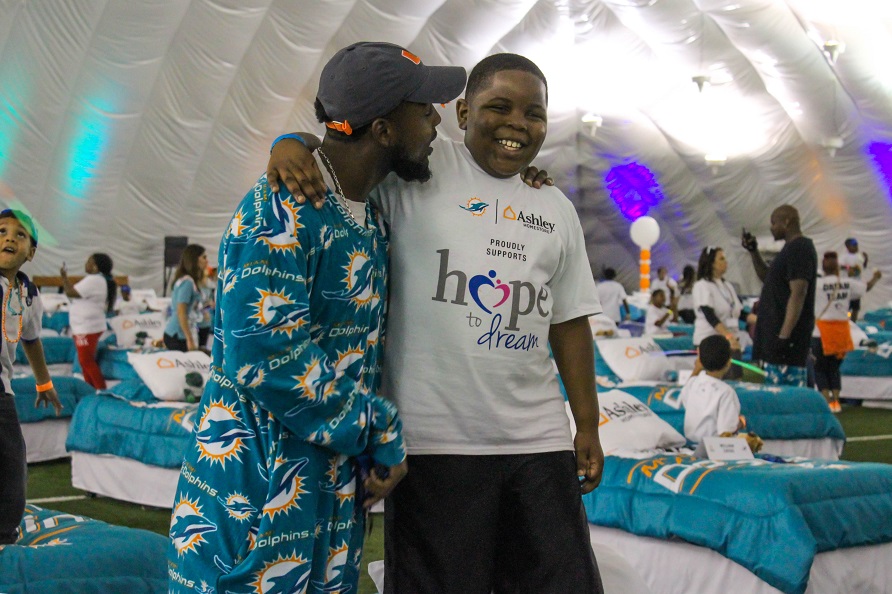 Check out the Miami Dolphins press release from that night.
"Partnering with the Dolphins gave us a terrific chance to create some magic for these kids," said Keith Koenig. "The sleepover party on the Dolphins' training field made for once-in-a-lifetime memories, and their new beds should make a lasting difference in their comfort and quality of sleep."
If you'd like to get involved with our Hope to Dream program, visit the website  for more information. You can also follow us on Facebook and Twitter for updates about future events and get a behind the scenes look at how it all happens.
If you know a deserving child in need of a new bed, visit the Hope to Dream Referral Page and fill out an application.
To everyone who's purchased a mattress set at Ashley HomeStore: Thank You! With your support, we're helping kids dream bigger.