A good night's sleep changes a child's life forever–or in this case, the lives of 100 children. On June 21st, Hope to Dream hosted its third annual sleepover in partnership with the Miami Dolphins where 100 children received new mattresses and bedding sets.
Held at the team's practice facility, the children and their families played cornhole, participated in training combines, jumped in a bounce house, and met players from the team. Then, at 8:15PM, the surprise of the night happened: it was announced that the kids were recipients of brand new beds.
Friendly Faces
During the event, children and their families got to meet and spend time with Dolphins players. Starting in the locker room, the players came out into the practice facility and enjoyed moments with the kids throughout the night. They tested the children's endurance during pick-up games of touch football and answered their football related questions. Bobby McCain, a cornerback for the Dolphins, even gave one of the kids a pair of his gloves.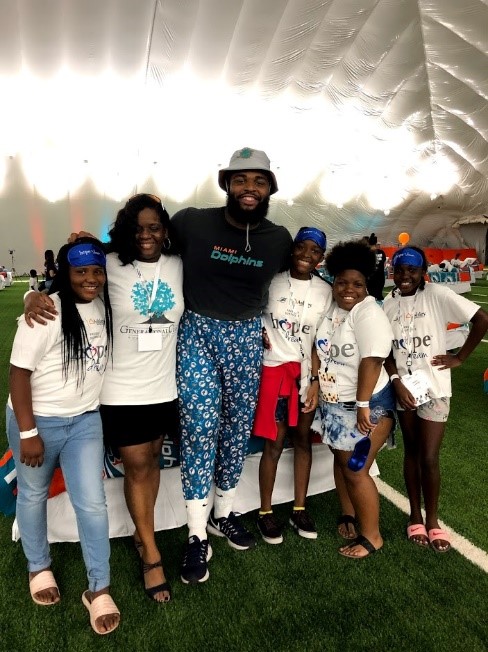 Christian Wilkins (pictured above), a defensive tackle player about to start his rookie season with the Dolphins, took his time to talk with kids and their parents. When asked about the importance of sleep, Wilkins said "After a long day, there's no better feeling than getting in a bed. Getting ready to rejuvenate to get through another day."
Hope to Dream: So Kids Can Dream Big
Since 2010, Hope to Dream has donated over 80,000 mattresses and bedding sets to children in need. During this event, 100 more lives were changed for the better–by having a bed of their own to dream in.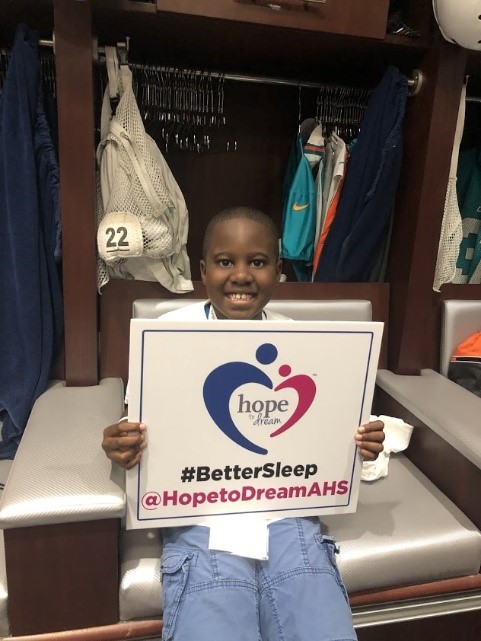 Jeremiah Roc (pictured above) was one of the children receiving a bed at the sleepover. Although he remained quiet, Roc stood out with his bright eyes and radiant smile. Despite trying to hide behind our Hope to Dream sign, he took encouragement from his father and grandmother to snap this photo. Later on, he took photos with Wilkins and played with the other kids in the arena.
For more information about Hope to Dream, check out our website. To stay up-to-date on all events and posts from the organization, follow Hope to Dream on Twitter, Instagram and Facebook.