Do you long for the cool breeze of the ocean? Perhaps your penchant for coastal decor has taken you by storm, and nothing will quell the rage of the kraken (also known as giant sea monsters!) without some driftwood-inspired dining. In that case, you're in luck, because there are tons of ways you can integrate a coastal vibe around the table that'll have you feeling beachier than ever. So pull up the anchor and hoist the sails–it's about to get nautical.
Finding the Right Dining Set
Not all dining rooms are created equal – and depending on your lifestyle and the size of your home, you may need to make decisions about table size, shape and number of seats at any given time.
For example, a family of four or five benefits from having a larger table, while a couple is perfect thriving on a small, round table with bar stools on the day-to-day. If you like to entertain, having additional seating tucked away and ready to be brought out is ideal. Also, consider whether your formal dishware and cutlery need to be stored in a server or sideboard. Bonus: a server tabletop is also great for storing dishes and an extra decor accent or two.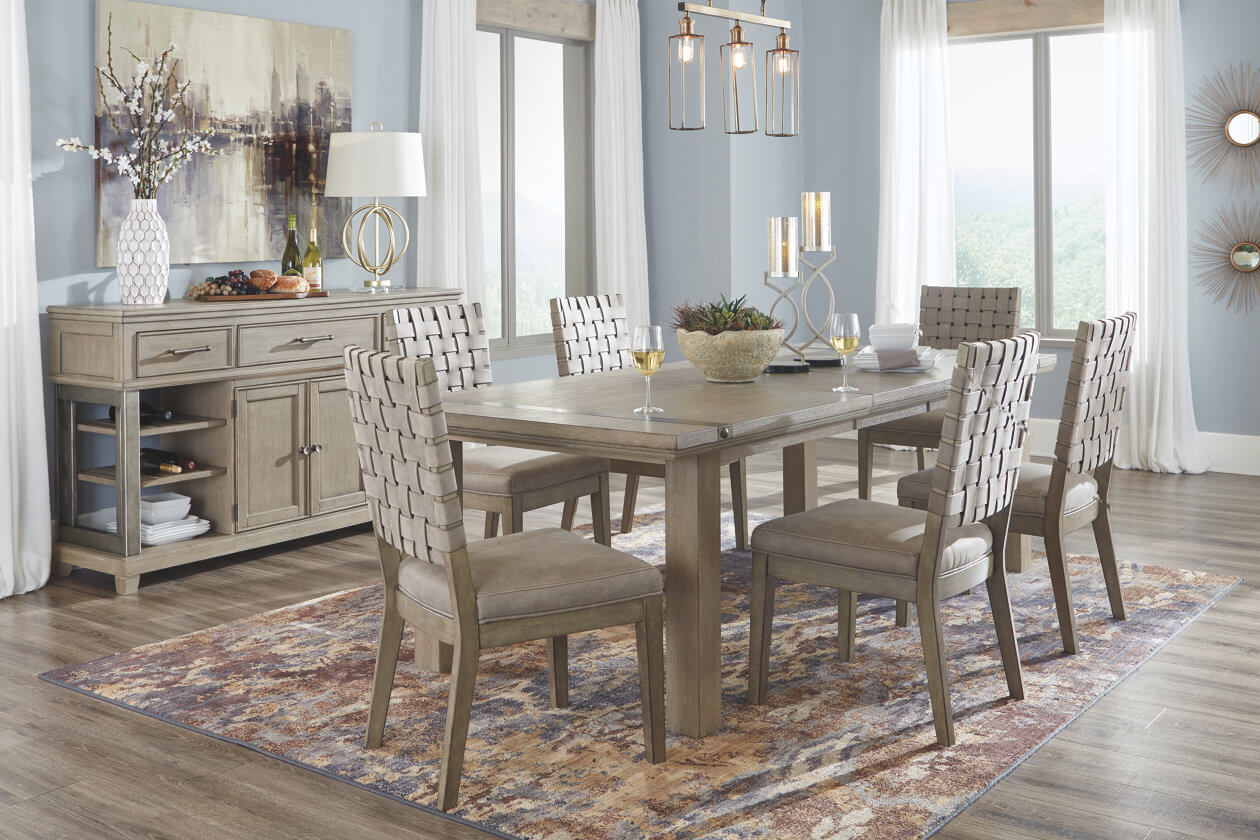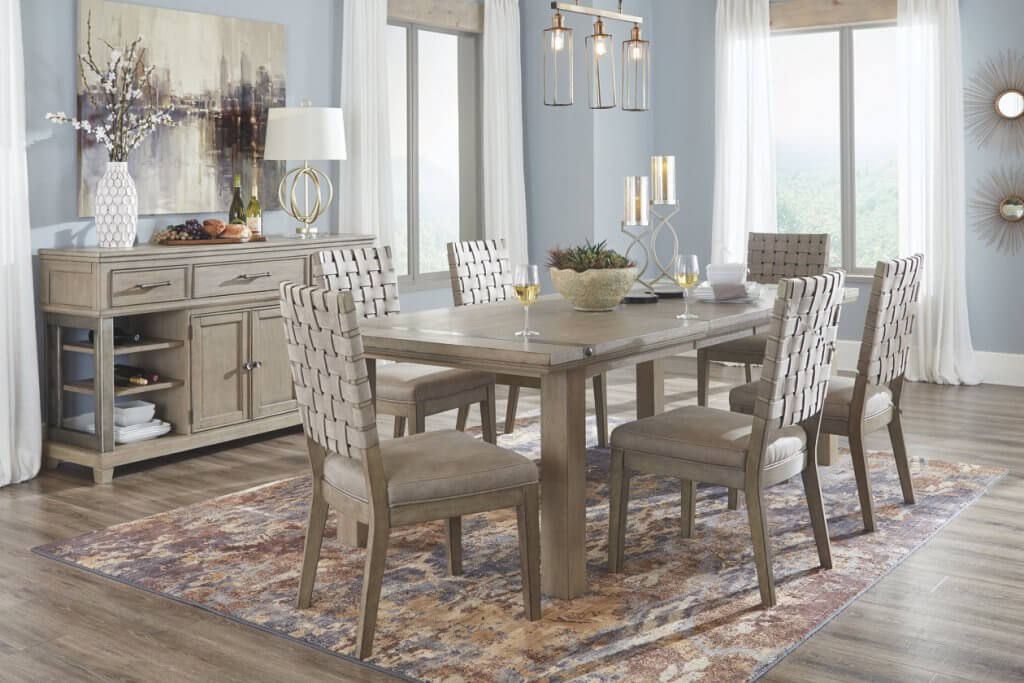 Once you've decided on the type of dining set it's time to focus in on the style for a perfect fit. To infuse that much-desired coastal character, look for weathered pieces that have driftwood-inspired charm, with planking and wood grain as prominent elements. Also, go with white, soft neutrals or jewel tones to keep the area light and bright — just like the beach.
You might be wondering, why search for weathered pieces? It's not a requirement, but weathering has a nice, authentic look that emulates how wind and water on the beach can chip away at paint. Not only that, but when stylized with a neutral, it creates a soothing and relaxing environment you'll love wining and dining in.
Choose a Color Scheme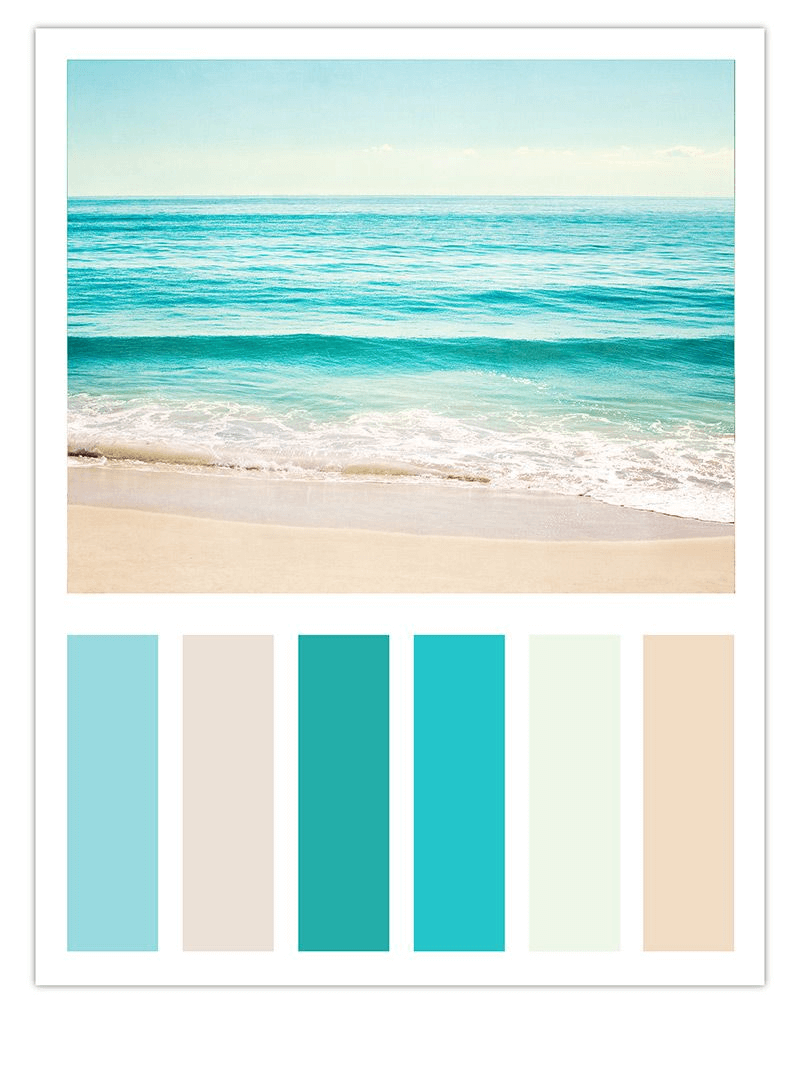 Beachy colors range from white to neutrals, blue, yellow or even pops of red depending on your desired look. Think of anything you would find on the shore, or even underwater if you're unsure of which colors to choose from. With your desired color palette in mind, you can arrange your dining room set – complete with all the fun decor items – into your very own beachy dinner destination.
Playing With Decor Ideas
So, you've got the dining room pieces you need and your color scheme chosen. Now it's time to put everything together. Go as far as your imagination will allow with:
● Table centerpieces, such as vases or sculptures
● Placemats and coasters
● Dinnerware
● Plants and flowers
Here are some good starter suggestions on how you can mesh color palettes and decor:
https://blog.ashleyfurniture.com/coastal-living-furniture-decor-ideas/
Decorate with artwork depicting ships, seashells, underwater life or even the beach itself! Integrating these and other decor pieces with your color scheme will transport everyone to a warm summer breeze out on the shore — all while enjoying a warm meal (and maybe even a pina colada or two).
Adding the Centerpiece
One of the main draws to your dining space will be the centerpiece. Although you don't always need a centerpiece for casual dining, it really sets the scene and will reinforce your coastal theme.
Start with a stylish tray, and set a vase with flowers or a plant (those of the faux variety work just as well). If you don't have any plants or flowers available, fill the vase with sand or beautiful seashells for a chic, eye-catching design your guests will love.
Related post: Style Your Dining Room 3 Ways
Your Beachy Dining Area Awaits
With all these factors in mind, changing up your dining room into a beachy paradise makes family meals that much better (and quells the kraken… for now). We'd love to see your final look; be sure to use the hashtag #MyAshleyHome on Instagram for a chance to be featured in our gallery.