With snowflakes, cozy blankets and other winter delights come dark, dreary days. While a gray and gloomy sky can make you want to close the curtains and cuddle up in front of the TV, even the homiest of home bodies can start to feel snowed in. Rather than succumb to the winter blues, you can apply a few simple design tricks to make your home feel lighter and brighter.
Pretty Pendants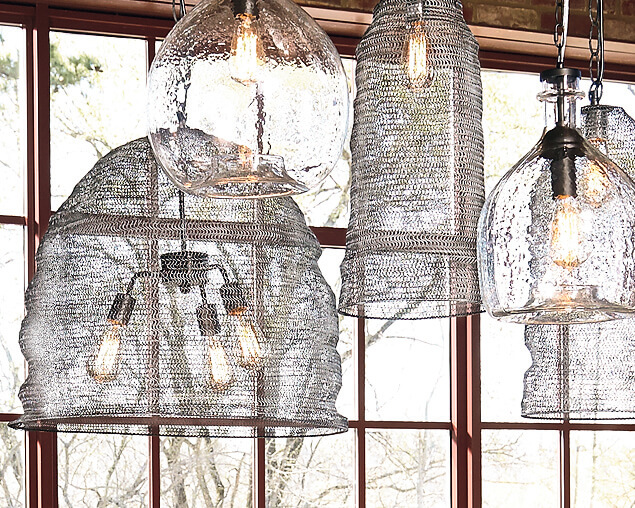 Fans of eclectic design will love the look of mixing similar, but different pendant lights. We're especially fond of combining our glass and metal wire Home Accents Pendant Lights — the open-work design allows maximum light to shine through. In turn, you get a cool, contemporary look and a bright and shiny space.
Two Timing
Looking for a way to get more bang for your buck? Check out our Rishona Table Lamp Set. The white shades ensure a crisp glow while the metallic bases bounce light throughout the room. Looking for more ways to incorporate metallics into your decor? Click here for more bright ideas!
Triple Threat
For larger rooms (or those with dark corners), we've found that using multi-directional floor lamps can work wonders. Our Sharde Floor Lamp has adjustable arms and necks, allowing you to shine a little light wherever you need it most.
Nice & Natural
If you're after a warm and cozy glow, try turning off the lights and lighting some candles. We're slightly obsessed with the DIY candles Erin recently made on Francoise et Moi. Not only do they provide soft, natural light, but they also smell like pure Christmas. What could be more cozy than that?
Do you have any home decor tricks for combating those gray, winter days? We'd love to hear your ideas in the comments below!