Interior designers know it. It's time you did, too. What's one of the easiest, most cost-effective ways to reflect your great taste and redefine a space? Through the miracle of mirrors. In fact they're such amazing design essentials it's hard to imagine you can have too many of them.
A few tips when it comes to designing with mirrors:
Safety in numbers. Make a simply artistic impression with mirrors by grouping a cohesive collection (same shape and frame, but different diameters) together on a wall. Or find a striking mirror that does the clustering for you.
Cooking up style. Mirrors are making their way into kitchens more and more these days. Take, for example, the area behind your stovetop—traditionally a dark, "dead" space. Give it a helping hand with a mirror to reflect light and inject energy.
Making a splash. Why settle for boring in the bathroom when mirrors can really make a splash? Take this touch-exotic decorative mirror with a Moorish-inspired profile. What a standout piece above a free-standing pedestal sink. The right mirror can take your design ideas in a new direction. Another bright idea: if you have a double vanity, take a slim, full-length mirror and flip it horizontally. It'll make a wall look wider instantly, too.
Totally floored. Full-length floor mirrors can bring life to an otherwise blah and neutral space, loading it with natural light. They can stand on their own or be positioned behind furniture for added dimension.
Lean and lovely. Large mirrors on a mantel, console table, buffet, etc. (leaned against a wall) offer a sophisticated yet laid-back look. Just be sure to safely anchor the top portion of the mirror to the wall to prevent it from sliding out of place.
Climbing stairways. We hear it all the time from interior designers—stairways are sadly overlooked in too many homes. Fill the void with an assortment of mirrors and bring life, light and a more expansive feel to this neglected wall space.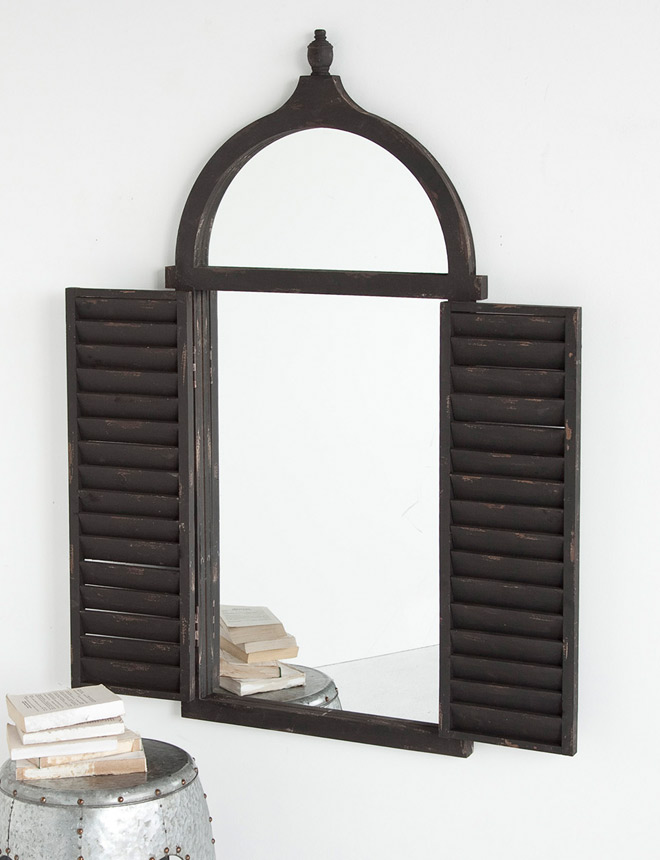 Faux can do. Maybe you don't have all the windows you want in a space. What's the next best thing? A window-panel style mirror. It can really open up a room in a fresh, new way.