Turning wallflowers into social butterflies
Entertaining is not everyone's bag. In fact, having to play "hostess extraordinaire" while coordinating cocktails, food and clean-up can be more than a bit overwhelming. Relax, these days you don't have to do it all. Enter the hero of our story: Your Friendly Neighborhood Supper Club.
Potluck Dinner and Block Party had a baby, and they called it Supper Club
A culinary tableau inspired by the Wine Night theme
Supper clubs are the perfect marriage of a relaxed neighborhood get-together with the elegance of a sit-down dinner. The perk is that the guests bring all the food. Supper clubs set a fun "food" theme for every party; French Twist, Herb Superb, Summer's Bounty. Sometimes the theme carries over to the attire. "Dressing up is half the fun," says Patrice Heisner (pictured below in the light blue "toga") who, with the help of several long-term members, has been leading her own supper club since the year 2000. "We've done '50s and '60s, semi-formal and even Ancient Roman parties. Not everyone dresses up, they don't have to. Our goal is for everyone to be comfortable and have a good time."

The Ancient Roman theme becomes a modern-day toga party
Getting started
Patrice and her husband along with five other couples started the City View Dinner Club in their historic neighborhood in Monroe, NC sixteen years ago. Today it has grown to over 25 couples. It's a great way to grow lasting friendships with the people in your neighborhood. Plus, who doesn't love getting a chance to look inside the homes around us! Your neighbors may be just waiting for someone to get the ball rolling. Send a message to see if there's interest. Patrice shared the vast knowledge gleaned from her own club to help you start one of your own—and keep it going.
There's always room for more!
Socializing with neighbors is the best part of the party
Supper clubs are the chameleons of the entertaining world. They can be customized to suit a wide array of ages; some young, some older, a few singles and empty-nesters. Once you decide to start a club, the next step is to decide how many members to invite. There is no perfect number, and getting to know your neighbors in a social setting is well worth the effort it takes to entertain more people. If you have a group larger than 10-12, you may find it difficult to seat everyone. In that case, break off into smaller groups after the cocktail hour to keep the dinner arrangements manageable.
Five is the magic number
Iron Chef Party-goers ask, "Who says you can't play with your food?"
An important aspect to setting up your event schedule is keeping track of potential conflicts. Patrice has learned from experience that the months to avoid are May, July, October, November and December. Keep an eye on school breaks, holidays and local events and schedule around those dates. Patrice advises not to plan more than five parties a year to keep everyone excited and motivated. Because most of all, this is supposed to be fun!
Keep it simple, sweetheart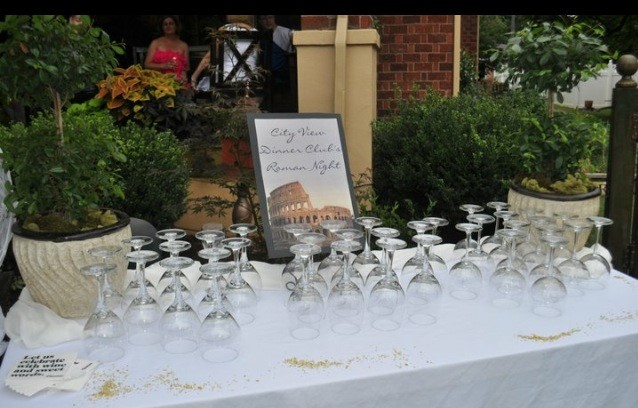 When in Rome…setting the stage for Roman Night at the Supper Club
If you are doing a traditional supper club, the division of tasks is pretty straitforward: cocktails, appetizers, soup, salad, main course and dessert. You can move from house to house, or keep it simple by having everyone bring their part of the meal to one designated house. Some groups do cocktails at one house and everything else at a second house. Others save the cocktails for the after-party. No matter how you plan it, keep the group informed of the plans. Communicating early and often is the key to success.
Something for everyone
Menu planning is up to the discretion of the individuals providing the dish. Your job as group leader is to offer party themes that everyone can choose from. Menu and theme ideas are readily available on the internet. You can also search Pinterest for party ideas, recipes and decorating tips. Many online cooking magazines have forums to help build supper club communities either by region or interest. And be sure to include themes that range from simple to complex to give everyone a chance to participate. The opportunities for creative party ideas are endless.
Many thanks to Patrice Heisner and the fabulous members of the City View Dinner Club for sharing their themes and images from past parties.
Feel free to post images of your supper club on our Facebook page to inspire others. Or share your recipe for success in the comment section. And above all else, Keep Calm and Supper Club On!