Curling up on the sofa with a warm throw is my go-to after work and a must during movie night. It's also an added bonus that my boyfriend's mom loves quilting. I'm obsessed with all of our different throws and quilts, but I don't have a place to display and store them. So I thought what better way than to build a blanket ladder. I found these super easy-to-follow rustic ladder plans here

Depending if you have the wood stains, this project could cost as low as $40 and shouldn't take you more than a few hours. I think it's the perfect Saturday morning project. See the steps I took below to create this adorable blanket ladder.
Supplies List:
Wood saw (or see if you can make the cuts at your local hardware store)
2- 2″ x 3″ at 8′ (legs)
1- 1″ x 48″ round dowel rod
1- 1″ x 36″ round dowel rod
120-grit sand paper
Measuring tape
Pencil
Painter's tape or duct tape
1″ spade bit
Safety glasses
Drill
Pre-stain wood conditioner
Stain (I chose 2 stain colors: American Walnut & Desert Sand)
Cotton T-shirt or staining brush
Wood glue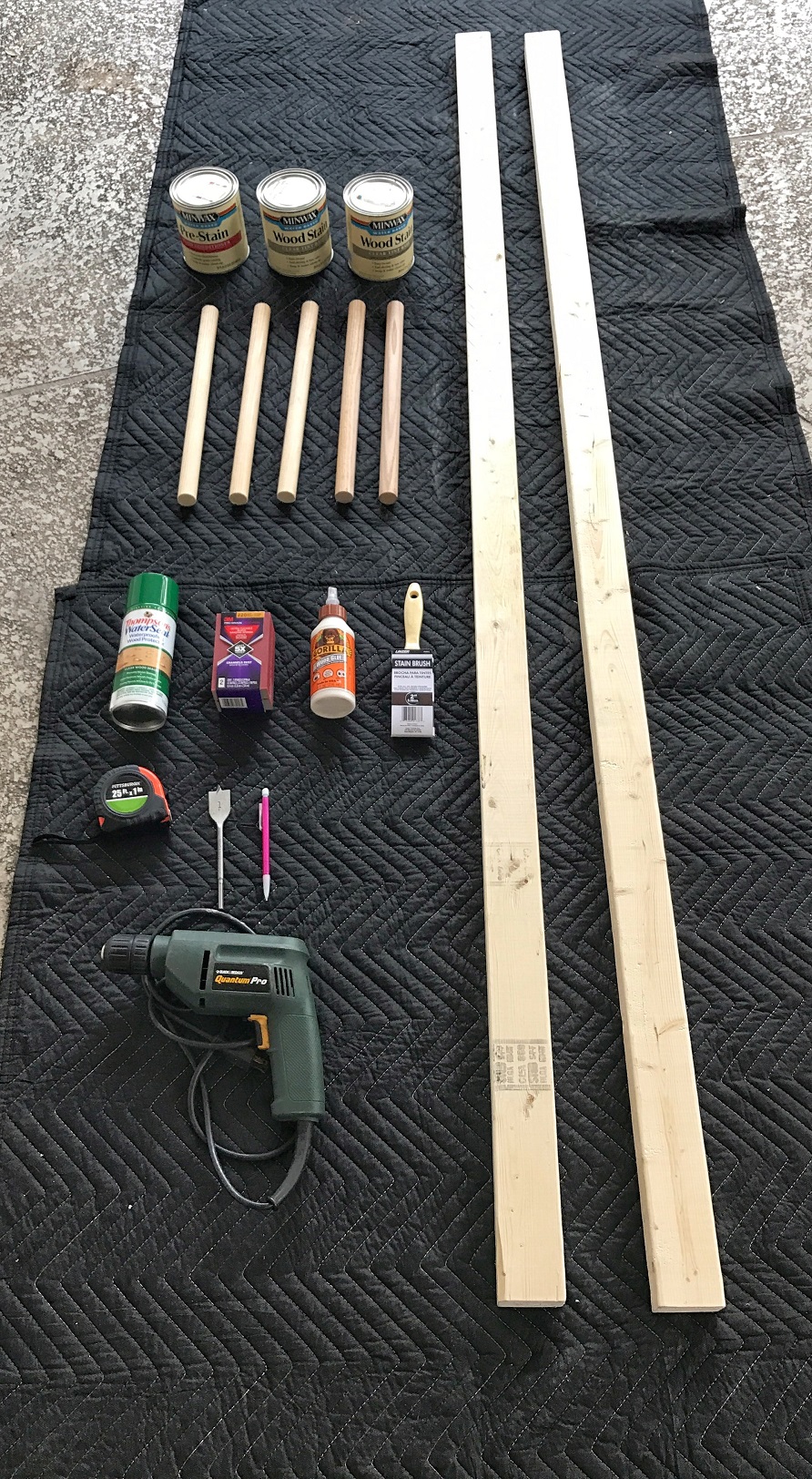 Steps:
Cutting and Sanding:
When you've gathered all your supplies you'll need to cut the 1″ x 48″ dowel rod into 3 equal lengths. Each will be 15½".
Cut the 1″ x 36″ dowel to 2 equal lengths. Again, 15½".
Cut 2″ x 3″ wood legs to 7′.
Sand the dowel rods and legs with the 120-grit sand paper.
Once completed, wipe each piece with a damp rag to remove dust.
Measuring and Drilling:
Starting from the top (or bottom) of each leg, use a pencil to mark 14″ intervals (you will end up with 5 marks).
At each 14″ interval, mark the middle of the leg (this is where you'll drill holes for the ladder rungs).
Before drilling the holes, wrap painter's tape around the spade bit—½" from the flat lower part. See pic for details. This helps you visually gauge where to stop drilling.
Using the wrapped spade bit, drill 5 marked holes in each leg and sand down edges when finished.
Staining and Gluing
First, wipe down all of the wood pieces with a damp cloth. Using a cotton T-shirt or staining brush, pre-stain each piece and let dry approximately 30 minutes.
Next, dip unused portion of T-shirt (or use clean brush) in darker stain and apply to all wood pieces (I had to take a small paint brush to get in the cracks of the wood). Let dry for approximately 30 minutes. (Repeat these steps if you apply a lighter stain on top of the darker stain, like I did.)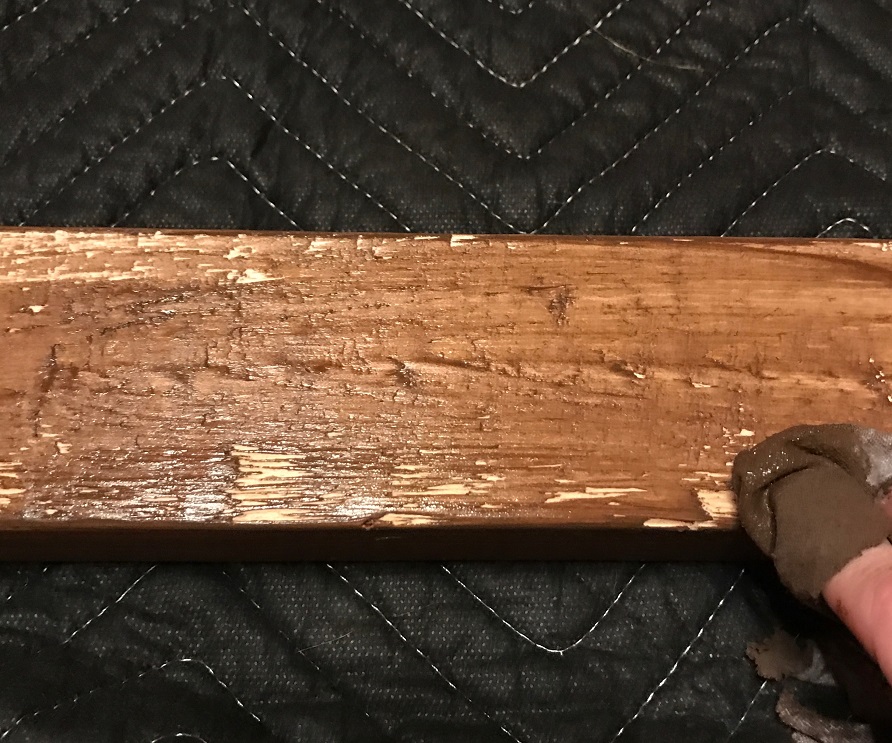 (See pics below for help with this section) Once the stain is completely dry, add wood glue to pre-drilled holes of leg #1 (glue will be about the size of a nickel). Insert the dowel rods in the holes. Add glue to the holes of leg #2. Set leg #2 on top of leg #1 and press firmly so the dowel rods are well connected. Let dry for 30 mins and voila! Your blanket ladder is complete.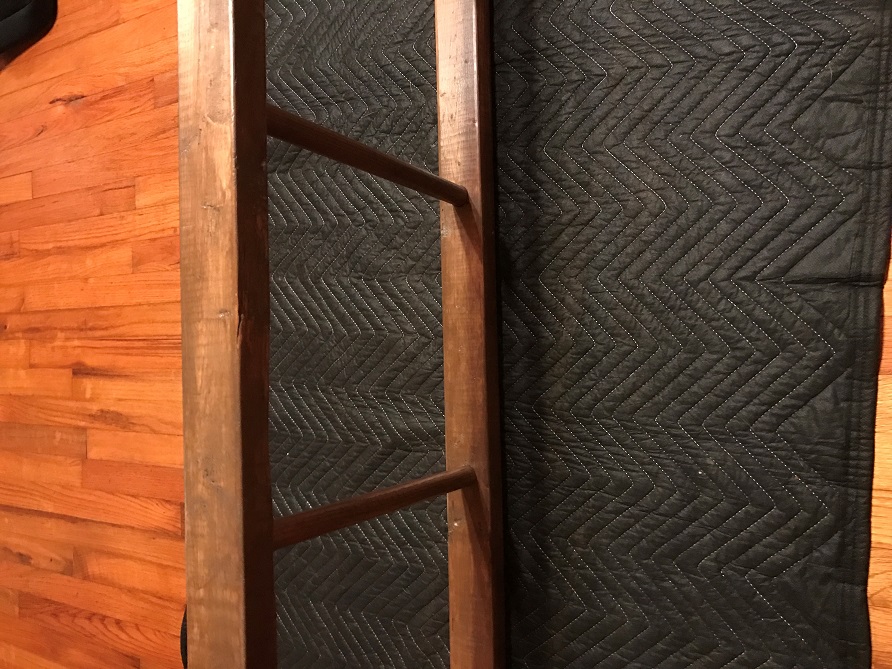 Voila!

Show your throws some love. Share our blankets using the hashtag #MyAshleyHome to possibly be featured on Instagram and on our website.