There are few combinations as tasteful—in both palate and party—as wine and cheese. The right pairing of each can leave your taste buds tingling with glee long after the sweet nectar of wine is consumed. If you're wondering how to take your entertaining to the next level and host a night with wine and cheese as your star players, it's simpler than you think.
The best part? Weather permitting, take your party outdoors for an impressive evening chock full of fun memories and conversation. So, pour yourself a glass, and you're on your way to a great wine and cheese party that will wow everyone.
Set Up, and Wine Down
Rejoice, because a wine and cheese party is perfect for nearly any occasion. Perhaps you're having a girls' night, or maybe you want a true wine and cheese tasting with close friends. The world is your oyster—or in this case, wine cork. Experiment, and most importantly, have fun with it!
You could supply all the wine yourself, but it might be more fun to have your guests bring their favorite wine and cheese (like a BYOB, or BYOW&C) so everyone can try new and exciting flavors. Also, be sure to keep track of the types of wine your guests plan to bring so you don't end up with all reds or all whites.
Arrange the Platters
Use large trays to spread out the cheese, meats and other snacks around the table. Add labels so your guests know what they're nibbling on, rather than constantly having to ask. You'll find it's a sophisticated touch that takes the party to the next level.

Use Scorecards to Keep Track of Favorites
If this is a true wine and cheese tasting, you need a way for everyone to keep track of their favorites. You could provide traditional tasting cards and pens, or make it more fun by having everyone write their opinions on a blackboard. Make a column with everyone's name, and separate each wine type into its own grid or check box.
From there, encourage your guests to mark their favorite red, white, or sparkling variety so you can get a feel for what they like (you can even take notes to get them their favorite on their birthday or approaching holiday).
Set Out Wine Charms to Personalize
Oftentimes when you start socializing, you may put your wine glass down and… wait, you've suddenly lost track of which glass is yours. When you provide guests with wine charms, this doesn't happen. Attach a specific colored charm or endearing design onto your glass that differentiates it from everyone else's.
Here's an example of some cute ones—ideal for the wine and cheese theme.
Use a Bar Cart to Transport the Wine
If you have five or more guests, chances are, those bottles are going to go quickly. Utilize a handy bar cart, which can be used to send in more wine glasses, bottles and hors d'oeuvres.
That, or it's an easy way to display special wine or have guests get another glass if they're trying a new bottle. Set it within view, and it'll be the ideal repository for glasses, excess plates, and then some. You'll definitely be thankful you have one of these for storage and a catch-all during the party.
The Importance of Wine and Cheese Combinations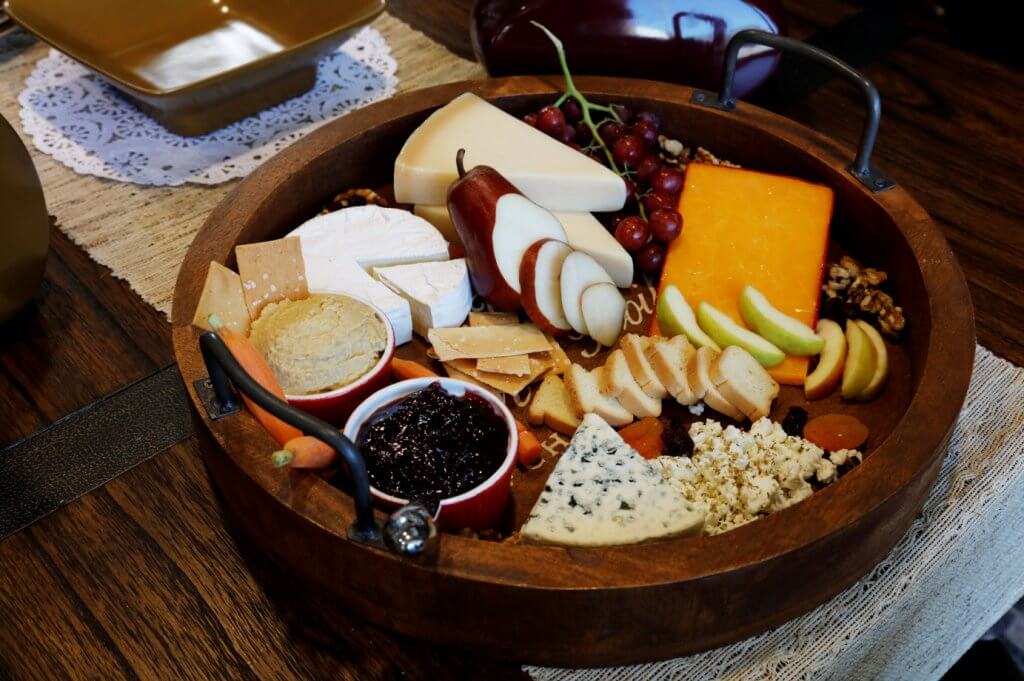 Now it's time for the stars of the party: the wine and cheese. Arrange the bottles next to the cheese that they're paired with to make it easy for your guests. Of course, you will want to add a few more nibbles, like cured meats, honey and mustard, olives, nuts and fresh fruit. Don't forget the baguettes and crackers, which are not only natural partners with wine and cheese, but also serve to cleanse the palate in between tastings.
Here are a few wine and cheese pairings that work beautifully together:
For a hearty red wine such as a cabernet sauvignon or zinfandel, stick with aged cheddar or gouda as a prized accompaniment. If you're also looking to add something sweet, chocolate chip cookies are phenomenal with the dark and bold flavors.

With dry to sweet riesling, moscato or Champagne, ricotta, mozzarella, brie and camembert are great go-to cheeses. A sweeter riesling and Cheez-Its­™ are a dream pairing of salty and sweet, but if you prefer dry, then fresh fruit is always a safe bet.

For chardonnay, pinot blanc, or merlot, consider pairing with firmer cheeses such as monterey jack, havarti, and edam for that perfect balance of flavor and acidity. Popcorn and chardonnay make for a savory combination, so don't be afraid to pop some kernels and get them out on the table so your guests can munch while they drink.
This is, of course, just the tip of the iceberg depending on your tastes and preferences. Experiment with different flavors—you may just find your new favorite.  
Set the Scene With Lighting
Nothing beats candlelight or string lights on a balcony for that extra glint of magical illumination, especially if your party goes into the evening hours.
If you can't shake the chill from being outside, no worries—consider using a fire pit or patio heater to help bring everyone together with a cozy combination of warm, ambient light and feel-good comfort.
Everyone's sure to gather around for a delightful fireside chat.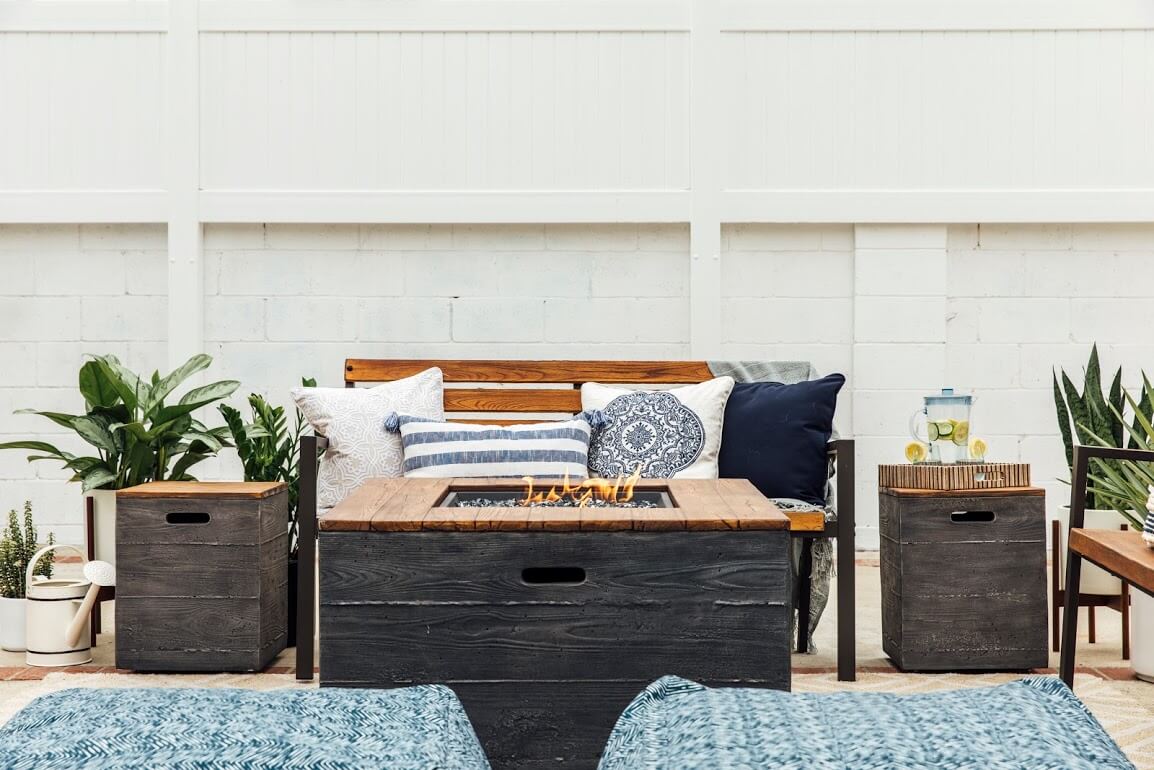 Add Personal Flair
Don't limit yourself to just food and lighting—add a table runner or even a stylish candle holder to spruce everything up to that next level of chic. Just don't overdo it, because your wine and cheese should be the star attraction here.
Now that everything's set up, all that's left is to drink and munch on your delicious wine and cheese. Remember, enjoy responsibly, and make it a night your girls or close friends will raise their glasses to; now and in the future.
Have you hosted a wine and cheese party before? We'd love to see your setup, and continue the conversation! Simply use #MyAshleyHome on Instagram for a chance to be featured.