Do you have big porch decorating ideas, but a not so big actual porch? Just because your great outdoors is on the smaller side, don't think you can't turn it into an enticing outdoor getaway. These days, porch designs run the gamut from intimate front porch enclosures built for one or two, to larger patios and decks complete with fire pit sets. No matter what size you have to work with, you can create the perfect backdrop for al fresco gatherings with well-chosen outdoor furniture and accessories. Here are a few ways to make the most of the porch or patio space you have.
Create a Gathering Space with Tables and Chairs
Conventional decorating ideas for most porch and patio designs incorporate tables and chairs, and of course they do! There's nothing like an outdoor get-together, and attractive furniture ensures there's a comfy seat for everyone. When choosing your outdoor table and chairs keep the size of your porch or patio in mind; furniture smaller in scale is ideal for cozy spaces, while larger patios can accommodate massive lounge chairs that rock and swivel with no problem.
Create an Outdoor Oasis with a Home Bar
Cocktails are back! Good news is that you don't need special equipment to create an outdoor home bar. If you have a rolling bar cart, simply place it outside during your get-together. Cover the shelves with colorful tea towels and load it up with your favorite beverages. Bonus points if you transfer your liquids into pretty bottles. Here's another great idea: this high-top bar table comes complete with a built-in fire pit for easy entertaining. Just remember, some porch designs aren't built to accommodate open flames, so keep safety in mind.
Pile on Pillows and Cushions
Read any guide on porch decorating ideas, and you'll invariably find the recommendation to add outdoor pillows and cushions. True, colorful outdoor pillows and seat cushions can turn an ordinary porch or patio setup into a cozy getaway. For us, however, we know that the key to making this work is to find outdoor accessories that are as weather-resistant as they are beautiful. Outdoor cushions and pillows upholstered with Nuvella® high-performance fabric are fade and mold resistant, so they'll stay bright and beautiful, season after season. Plus, you won't be afraid to use them when you know how easy they are to clean.
Decorate with Bold Colors
Lovers of color rejoice. Outdoor furniture is more cheerfully bright than ever. Forget the blah outdoor table and chair of yesterday. Technology has made it easy and convenient to splash color anywhere your heart desires. This all-weather furniture is made from high-density recycled plastic, giving you the look of painted wood without the burden of constant upkeep. Also, don't forget to decorate the walls of your porch or patio with outdoor accessories like wall art in metal or wood or wall-mounted planters laden with colorful, seasonal flowers.
Keep the Sun Out
While many patio or porch designs provide some form of shelter, most of them, especially sun decks, could do with some respite from the sun. Consider adding a patio umbrella to provide shade. Make sure to choose a color that matches the rest of your outdoor decor for a beautifully cohesive look.
Reflect Evening Candlelight with a Wall Mirror
Picture it: the evening is young, the music is on and the conversation is just as sparkly as the candles you've lit. Now imagine the scene if that warm candlelight is reflected over and over by wall mirrors. If your outdoor decor isn't enhanced with these reflective beauties, what are you waiting for? Don't keep mirrors confined inside; this mirror is smashing (pardon the pun) as part of your outdoor accessories design scheme. Just make sure to place it on a sturdy wall that is protected from the elements.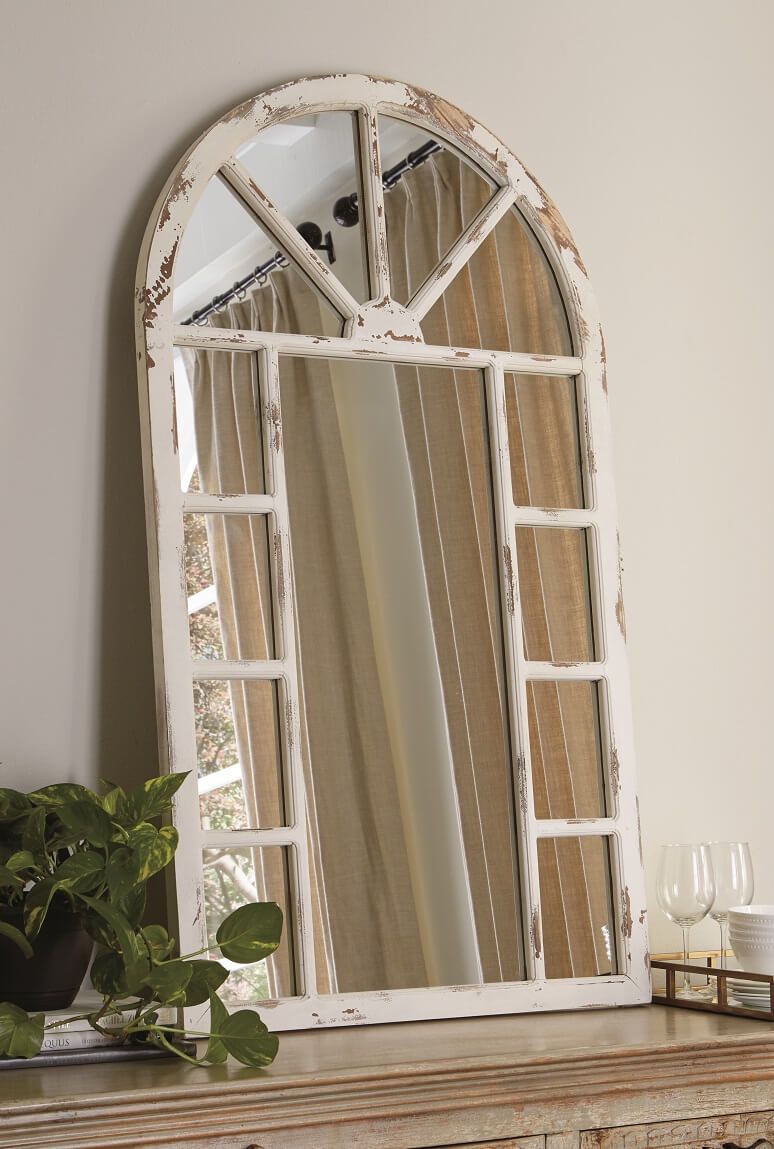 Swing Away
Who says your ideas for decorating your porch must conform to the standard table-and-chair set up? Think outside the box and add elements that suit your life and style. If you love the idea of relaxing in a hammock, incorporate that into your porch designs. Whether you choose a classic nautical rope style hammock or a colorful parachute, you'll love the casual vibe and gentle comfort that only a hammock can provide.
Keep Warm with a Fire Pit
When the sun sets and nights get cool, nothing could be more inviting than the warm glow of an outdoor fire pit. Whether you choose a rustic standalone fire pit or a built-in fire pit table, you'll find that they create an inviting atmosphere that will keep you and your guests outside long after the sun goes down. Note – just adhere to basic safety tips for fire pit use to avoid accidents or damage.
Alternative Furniture for Tight Spaces (bench or stool)
Don't let the size of your porch or patio interfere with your outdoor social life. Even if your outdoor space is short on square footage, it can still be big on charm. Consider porch designs that incorporate small scale pieces. These attractive outdoor tables and chairs are scaled just right, with mix and match options in a rainbow of colors that are perfect for petite al fresco living. And don't forget to choose items that can perform double duty – ottomans that can serve as a table in addition to providing storage space, benches that you can use as a coffee table or as an extra seat – are perfect examples. The possibilities are limited only by your imagination.
Tie it All Together with an Indoor/Outdoor Rug (or two)
We think that a fabulous rug ties any room together, and that includes outdoor rooms as well. Outdoor rugs are the perfect way to please the eye and take care of the toes. With so many options, choosing colors that complement various porch designs is easy. Be adventurous and start with one rug in a neutral color and top it off with a colorful partner that brings out all the spicy color elements in your outdoor decor. If you're designing a front porch, make sure to incorporate a foot mat that complements your overall design as well.
When you're looking for fresh porch decorating ideas, just remember to let your lifestyle dictate your approach. Working with a small space doesn't mean compromising your style, and choosing the right designs for your porch can help you create so many fun-filled alfresco memories.