Most of us have heard the phrase "work smarter, not harder." And the same can be said for when you are shopping for your dream home. Every choice is made meticulously so you can have the coziest bed, or the perfect entertainment center for movie watching. However, we want to help you achieve the best space possible within your budget.
Here are some tips to tackle a home project without breaking the bank.
Do Your Research
The best thing you can do for your budget is research what is in your price range. Creating the perfect space starts out with a clear understanding of what you want or need in your home. Understanding what you are shopping for helps you stay within your budget. This could start off with inspirational mood boards on Pinterest to discover which brands and styles speak to your preferences and lifestyle.
When dividing up your budget, here are some questions to ask yourself before you start shopping:
Am I furnishing an entire room? Or just replacing a piece or two?
What is my style?
Am I looking for a staple piece? Or something that's fun and out-of-the-box?
Is this an investment piece for my home? How long do I plan to keep this item?
DIY Where You Can
Let's get crafty! Investing time and effort into home projects will make your space feel more personal and unique to you. If you are new to the DIY world, start with small endeavors like a deconstructed gallery wall. This just requires a floating shelf and strategically placed photo frames. Or try something more on the bohemian side like macramé floating planters. And who ever said crocheting wasn't a valuable skill?
Once you have your footing with handyperson projects, test your new talents! Want a pop of color? Sand and repaint that vintage end table you found at a flea market. Have your style preferences changed? Reupholster your bed frame to transform it into a luxurious, velvet look. We are here to cheer you on, and so is Pinterest! You can find step-by-step guides on the platform as well as video tutorials on YouTube.
Get Rewarded for Shopping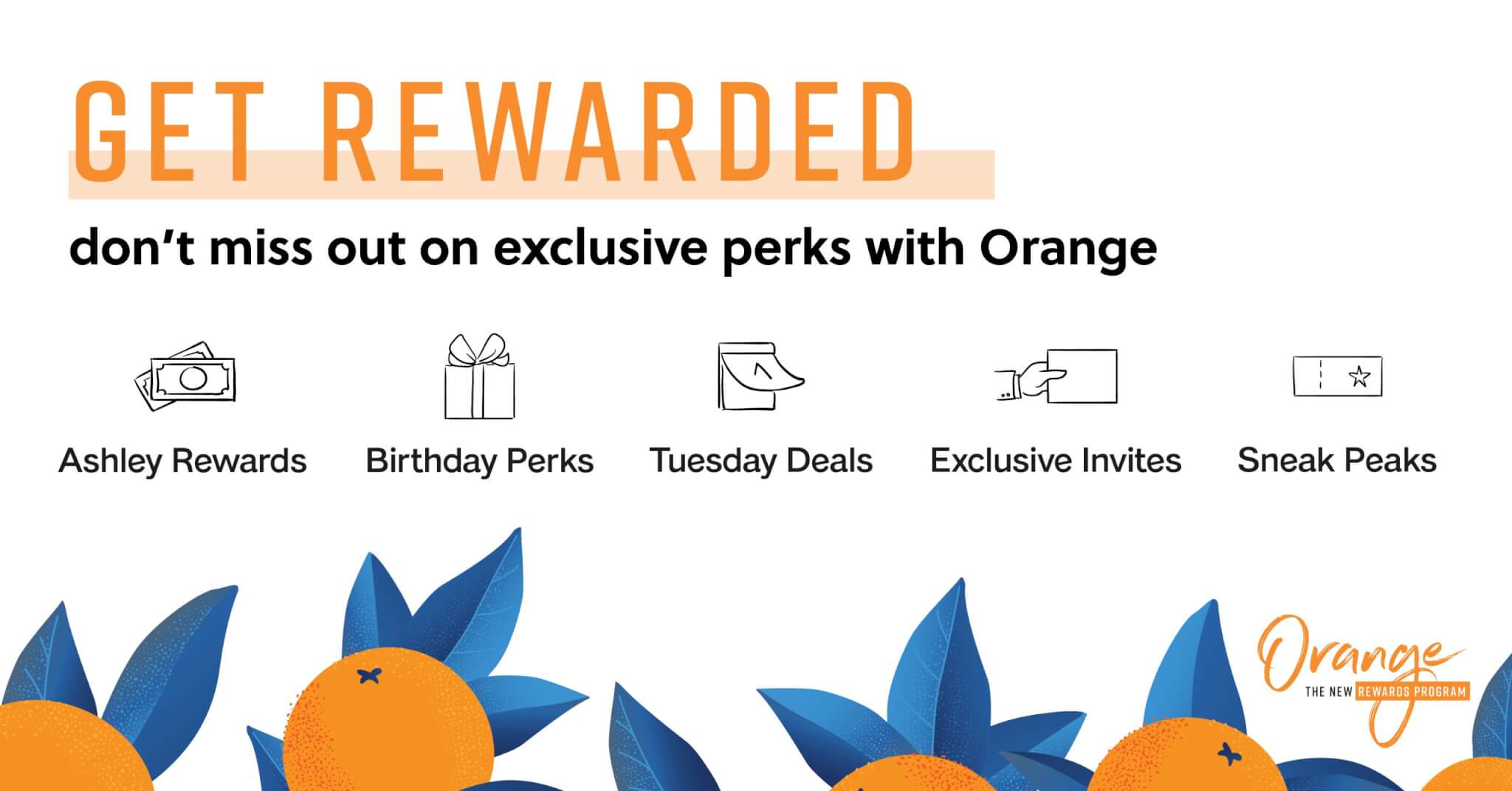 We want to help you shop smart for your dream home, so we are introducing a new shopping perk for our Ashley Advantage(™) Synchrony cardholders! We have launched Orange, our new rewards program that helps you shop for and create the perfect space.
Shop sales early with exclusive access and receive invites to private events at our HomeStores. We are also including special savings dates, like an extra 5% off the first Tuesday of every month and an extra 10% off during your birthday month. We wanted to create a rewards program that truly thanks members for shopping with us, and entrusting us to bring your dream home to life.
Let this guide acts as the first step to transforming your space. We believe that achieving your dream home should not be at the expense of your budget. Follow these suggestions to shop smarter when browsing online or perusing in store. If you have any budget-friendly tricks that we did not mention, share them in the comments below!
Share the space you created within your budget! Use #MyAshleyHome on Instagram to potentially be featured on our feed. For more home decor inspiration to kick off your renovations, check out our Pinterest boards.