Having a space of your own is great—but sharing a bedroom with a sibling can be one of the greatest joys of childhood. There's always a friend close by, secret forts to build together, late-night giggles and of course, occasional squabbles to be worked out, creating cherished memories years down the road.
Although a shared kid's room isn't uncommon, the concept can stump parents who want to ensure a space that works for each child's personal needs. How do you begin choosing a theme that a girl and boy would both love? What layout works best for children with an age gap? And how do you make the most of the square footage you're dealt with?
Whatever scenario your family might fall under, we have tons of inspirational ideas, visual cues and tips to guide you along the way.
The Classic Duo
It's the tried and true layout, and we love how this Ashley fan gave it a customized feel with nameplates above the headboard. It gives each child a sense of individual space, even if their bedspreads are matchy-matchy.
If storage isn't an issue, consider a fun play area in between two beds. A charming tepee is the perfect little hideout during playtime.
Storage tip: Depending on the bedroom size you're working with, try sliding a dresser in between the beds for extra storage space. This option offers much more vertical space than two short nightstands would.
This is the layout for you if…your children are around the same age, or if you want to create an environment with lots of opportunity to bond.
Practical Demi-Room Divider
Open shelving creates divided personal space without compromising an open-concept flow. If open-shelving isn't an option and you have a traditional closed back bookcase, no worries. One child will be able to use the practical shelves and the other can admire a faux accent wall that perfectly expresses their style. Simply cover the backside with wallpaper of their choice to turn a simple bookcase into artful furnishing. They can even take their personal style a step further by adding pieces of art or posters to their new customized accent wall.
Mounting these bookcases to the wall is advisable to eliminate some safety concerns. However, the concept is best suited for older children and you may want to consider another layout for younger or more rambunctious children that are tempted to climb shelves.
Space-saving tip: To keep shelves from becoming too cluttered, the Jaysom storage bin is the perfect solution to house all their favorite books, trinkets and toys.
This layout is for you if…you have an older child who wants their own personal downtime, or if you want to divide up the interior decorations (for example, blue walls on one side, pink walls on the other side).
Bunked Up
Bunk beds fit the bill if floor space is limited. And if you're worried about your little ones fighting over the top bunk, don't worry. These contemporary options are so stylish, they'll love tucking into either bunk.
Space-saving tip: Multi-functional furniture is your best friend when you're tight on floor space. An ottoman bench with underlying storage or storage bed frame will help free up room. Other pieces, like desk hutches instead of additional bookcases take up vertical space instead of floor space.
This is the layout for you if…you have a smaller space to work with, or if your kids need the extra room to run and play.
Lofty Lifestyle
A loft-style bed will make your kids feel like they have their own personal castle. With a staircase leading up to a dreamy sanctuary, how could one feel otherwise?
Storage tip: If you prefer toys neatly concealed, use colorful storage bins that slide into the bed's cubbies. They keep loose items tidy while adding a playful punch of color.
This is the layout for you if…storage space is a big priority.
Trundle Beds
There's so many ways to play with this versatile option. Set two beds with built-in trundles underneath in a side-by-side layout for maximum bedding. This is the perfect solution for when the amount of children in a household greatly outnumber the amount of rooms, or for kids who love inviting their friends for sleepovers. This idea provides four cozy beds while only taking up the space of two when not in use during the day.
If sleepovers aren't frequent and you only need to design for two kids to a room, then decorating with just one trundle bed frees up lots of room for storage, desks and play space.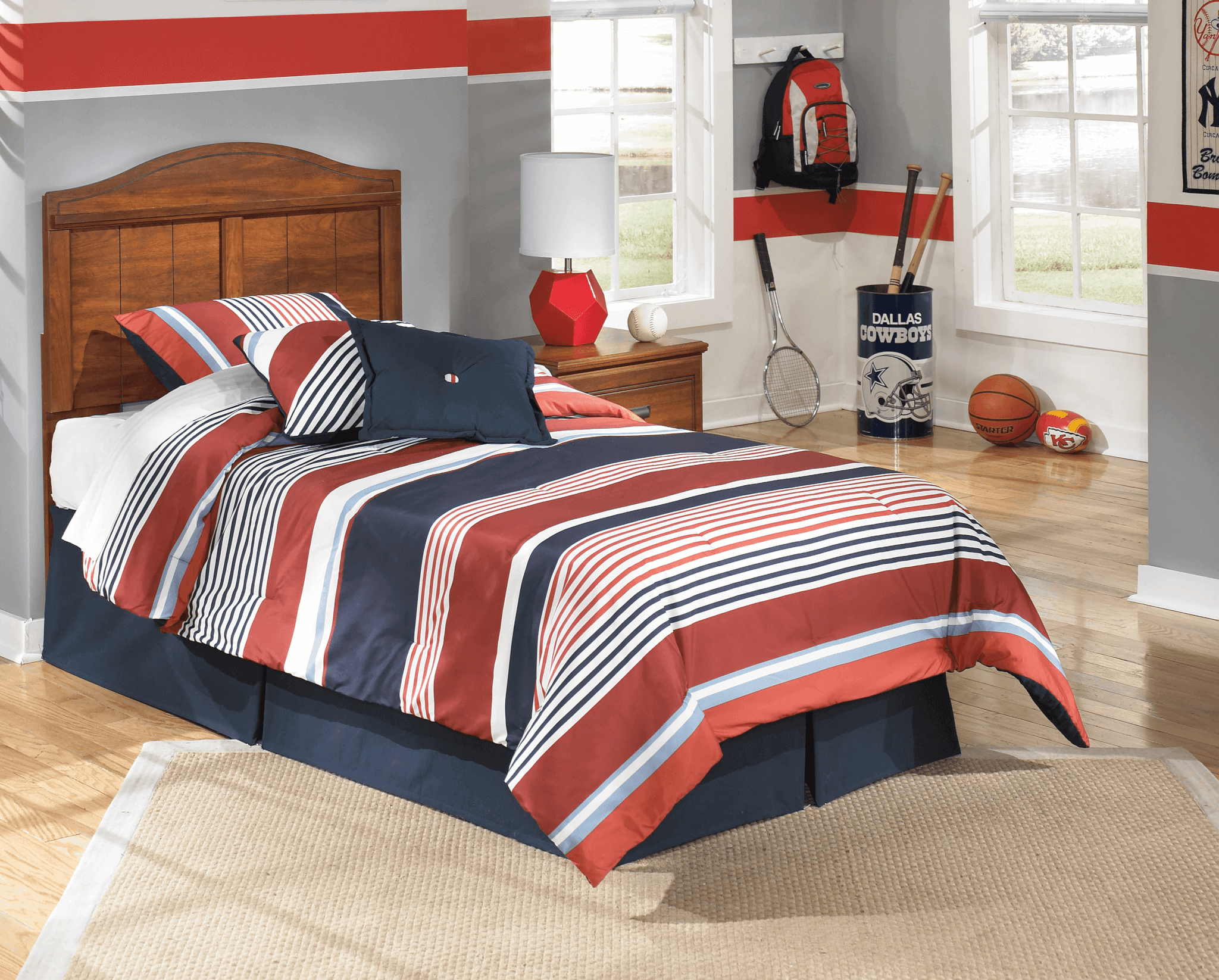 Storage tip: To maximize on space efficiency, consider a trundle bed that also offers under-bed storage. The Lulu trundle bed conveniently offers space for a mattress and built-in storage drawers. Talk about resourceful.
This is the layout for you if… you need more than two mattresses in a room, or if you're working with smaller square footage.
And there you have it—tons of ways to create a shared bedroom without skimping on style. How do you plan to design your kid's room? Make sure to share a picture with the hashtag #MyAshleyHome. We'd love to see!