Looking for bedding ideas? Chances are you're not alone. Choosing the right bedding styles can be overwhelming, but with some research and inspiration, Ashley HomeStore can help you make the perfect choice to tie your room together. You may have already purchased your mattress and the rest of your bedroom furniture, and although bedding may just seem like the icing on the cake…when it comes to comfort, it's a choice that's just as important as the rest of your room purchases.
Whether you're looking for soft and frilly comforter sets that make it easy to complete that feminine bedroom, or you're in the mood for a sleek and stylish duvet with cover to match your modern mood, you'll find that the types of bedding styles available will suit any design whim.
Types of Bedding
Mention a bedspread – what springs to mind? It could be any number of bed coverings. Classic bedspreads envelope the whole bed, from headboard to footboard and down to the floor. However, shorter spreads like comforters, quilts, and coverlets are also considered types of bedspreads, and are more popular choices in today's bedroom designs. Here's a breakdown of bedspread ideas you can incorporate into your home.
Comforters
Comforters are essentially thick, quilted blankets that are available in a wide range of fillings, colors, and patterns. If your bed is a queen you might automatically assume you need queen size bedding. Not so fast! Sizing up to king size provides extra bedding width and length, which comes in handy if your sleep partner is a blanket hog. Additionally, comforter sets, which include the comforter, pillow shams, and occasionally a bed skirt, are not only a terrific value, but they also take the guesswork out of putting together a coordinated look.
Quilts
The art of quilting began in 18th Century America when thrifty seamstresses stitched together scraps of cloth. These patchwork quilts oftentimes told stories about a family or an event. While some quilts are valuable enough to be treasured as family heirlooms or hang on walls as works of art, todays designs are often machine-stitched, making them affordable as well as beautiful. Not all quilts are patchwork. Some can feature a single piece of fabric that is stitched onto the other layers. Not only do quilts add character to a room, but they're also versatile as they feature coordinating fabric on the reverse side, giving you flexibility to change up the look of your bedroom when the whim strikes.
Coverlets
So, what exactly is a coverlet? Like quilts, they first appeared on the scene in the late 18th Century, and were traditionally small and woven. Today's coverlets are not confined to just woven fabric, and like a lightweight comforter, they could be constructed with an inner layer of batting. Coverlets are ideal as a top layer of your bedding wardrobe, but remember, if cold nights are an issue for you, they won't provide much warmth.
Duvet Covers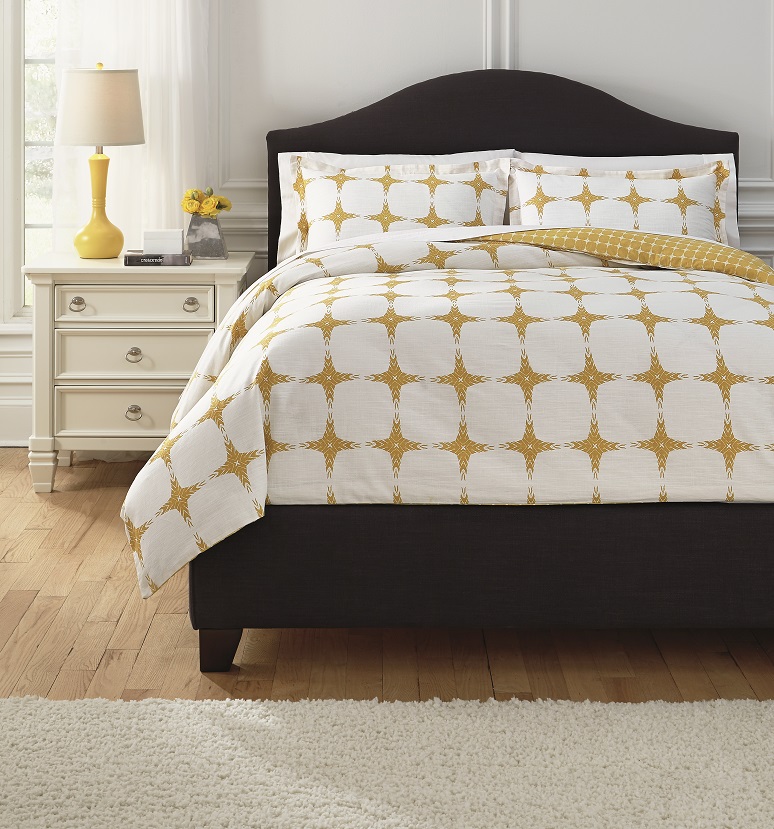 Duvets are a relative newcomer on the bedspread scene. Roughly the same size as a comforter, they are usually filled with down, feathers, wool, synthetics or a combination of these materials. As some sleepers use the duvet in place of a top sheet, you'll want to protect it with a cover that's easily removable and washable. An added bonus of using duvets is design flexibility – you can take advantage of the wide range of duvet cover colors and patterns available and easily update your bedroom.
 Bedding Size Chart
If you're unsure about the bedding dimensions that would be suitable for your mattress, here's a size chart for your bedspread and blanket purchases: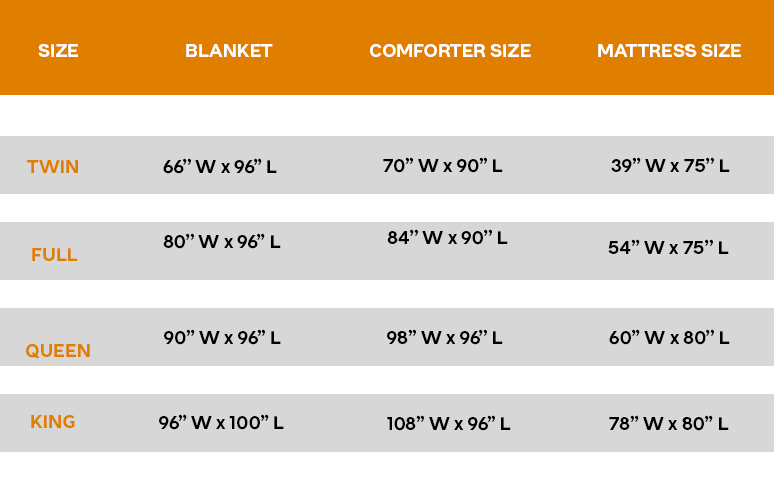 Bedding Ideas
When it comes to dressing your bed, the options are nearly limitless. We've honed in on a few of our favorites to showcase the possibilities.
Layer on the Layers
When the temperature drops, pile on the layers. Add cozy blankets and throws to your bed ensemble. Keep the layers in the same color family for a cohesive look, and have fun by changing up the throws with the change of seasons. Don't forget to pile on coordinating throw pillows for added fun.
Tip: Remember, the accessories you choose for your room are just as important as the bedding styles. Find a theme that resonates with you and work around it for a refined look you'll love waking up to.
Keep It Neutral
Create a tranquil environment by keeping your bedspread ensemble tonally simple. Bring on the zen with pleasing shades of taupe, beige, white and cream. You could even venture out with other neutral palettes like gray for a look that's unexpected but still serenely neutral.
Tip: Simple, neutral-colored bedding creates a canvas for your creativity, so you can go to town with decor and accents that reflect your personality.
Play with Stripes
Stripes are a simple way to add pleasing pattern to your bedroom. Neutral stripes are elegant and can be a discreet complement to your design aesthetic, while bold stripes can take center stage and set the tone for your room's design. Blue and white stripes are naturally nautical, while black and white stripes lend a sophisticated urban flair.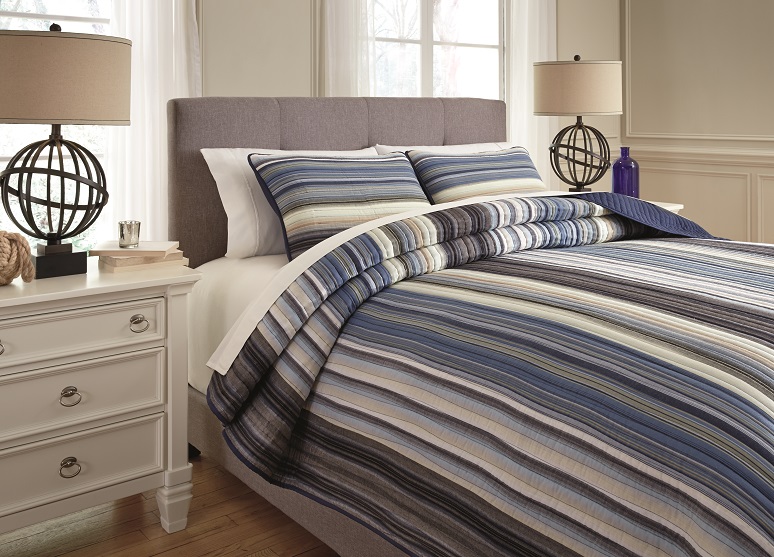 Tip: Keep scale in mind when decorating with stripes. If your bedroom is on the small size, stick to thin stripes, as wide stripes can overpower the room. On the other hand, if your room is large, wide stripes will make a bold statement, while thin stripes could look cluttered or busy.
Bedding Styles + Your Furniture
If your furniture screams "I'm a minimalist!", you may want to steer away from romantic flounces and cabbage roses. Let the furniture in your bedroom guide you toward the right bedding style. For modern sensibilities, less is more, so keep your color palette simple. If you love the romantic look feel free to add all the flourishes you crave. Just a hint – keep your bedroom from going over the top by choosing timeless color combinations that you you'll appreciate for years. Take a look at some ideas.
Tip: If your bedroom furniture is dark, add drama by choosing light colored bedding and vice versa.
Play with Colors
Mix and match colors for a pleasing look that adds excitement to your room.
Mix and Match
Add several throw pillows in the same color scheme with different patterns to create an appealing landscape–or should we say pillowscape–on your bed.
Create Clean Lines

Fold your comforter or duvet cover at the top to show off pillows, and add a throw blanket or coverlet at the bottom for a crisp contrast.
Energize Me
High-contrast colors give any room a lively jump start. Comforter sets in geometric patterns and bright colors are a happy combination.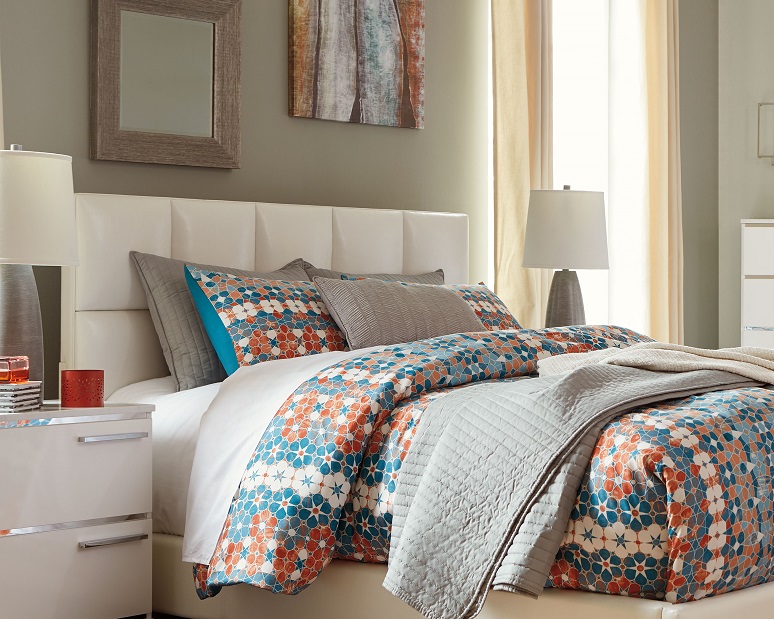 No doubt about it, the possibilities are endless when it comes to bedding ideas. If you've created your perfect bedroom with bedding or furniture from Ashley HomeStore, let us know at #myashleyhome.