Need to get your guy his own space? You can send him to the garage, basement, home office, small room or the shed, but first you'll have to make it a place where he'll want to stay! Let's face it every guy needs a specially furnished escape—a spot where he and his friends can hang out and have fun, as well as a personal space where he can work on projects and enjoy his hobbies. Find out what guys really want and all of the man cave essentials they need. Get decorating ideas, including man cave wall ideas and dibs on the popular man cave decor that guys dream of having.
Best Place for a Man Cave
It's all about location, location, location! When it comes to setting up a man cave, you need a fairly large open space that gives him room for entertaining, relaxing and working on his hobbies. As you're looking for spots to set up a man cave, keep in mind you will have visitors, especially if you have kids who need supervision. Make sure the space is large enough to accommodate them. Other considerations include the worthiness of the space. If you live in a hot or cold climate, garages and sheds will not work unless they happen to be air conditioned or heated. The size of the space is important too. The bigger the better, but let's face it, you're sometimes limited if the home is small. Consider decluttering to make room for new furniture. Could it be time to tear down an unnecessary wall to create more room? Is there a guest room that's never used or a dining room that's forgotten? You'll also need to decide on the intent of the space. Will this only be a spot where he'll want to work on his projects or will it be a spot where he can have friends over? Is this spot only for reading and relaxation or will it be a place for gaming and watching sports? Learn the pros and some of the challenges you'll encounter with five clever locations we've come up with for setting up a man cave.
The Garage Man Cave
Looking for lots of room? Consider the garage. Often wired to code and sometimes finished with drywall, cabinets and shelves, a garage is ideal for creating a fun setting. Once you get past the idea of not having storage for your car, a man cave garage has many perks. First off, you can simply move big furniture and all you'll need straight through the garage door. Among the many man cave garage ideas, you'll love the ability to incorporate big pieces like a pool table, ping pong table or any large-scale game.
There are no limits to creativity given the large space. Usually, there's less work involved in making a garage ready to move in, but in some cases additional work may be required. Check to see if insulation and drywall are needed for soundproofing and maintaining a comfortable temperature. Be sure to get a security system to protect your investment. With such a large venue, it's easy to set up separate areas to enjoy. A bar area including a bar table set would fit perfectly. Hardwire overhead pendant lights for a stylish look. Create an entertainment area by setting up an entertainment center.
The Basement Man Cave
Need a cool escape that's roomy? Consider perking up the dreary basement. With some tender care and a gentle infusion of money, you can finish off a basement and make it a great escape. Walls, ceilings, insulation, wiring and floors may need work, but you'll love the extra space. Before furnishing, check for seepage and make sure the sub pump is in working order. Get started with some man cave ideas for the basement. Large basements are perfect for setting up sectionals.
Consider adding walls to create a private office area where a desk can be set up. If tight on money, go with the rustic look of unfinished walls, open pipes and unfinished ceilings. Sometimes the most dingy areas can be enlivened with a coat of paint, throw rugs and new furnishings.
The Home Office Man Cave
Depending on the amount of space you have to work with, you can get as elaborate as you want with a home office. Since the room is already finished, all you'll need to focus on is the wall color, furnishings and decor. In addition to a desk and chair, create an escape from the daily grind by including an entertainment area complete with TV, stand and seating. Make it comfortable with recliners, a loveseat or sofa. Add wall art to reflect your style.
The Small Room Man Cave
Stuck with a small room? Transform it to the perfect escape using these man cave ideas for a small room. As the saying goes…something is better than nothing. Small spaces can easily be made cozy and enjoyable, especially since they are already finished. Sketch a layout, take measurements and look for furnishings that will fit into your space. Focus on the activity you want him to be able to enjoy the most in this space and furnish the room according to that preference. For example, if he loves to play an instrument, be sure to include a comfortable seat and turn the room into a music studio. Whether using the room as a mini bar, game room, poker room, home theater or music studio, to mention a few small man cave ideas, you'll need small-scale furniture that fits the layout.

The Shed Man Cave
When all else fails, consider the shed. If it's big enough, you can convert it into a man cave. It's certainly rough around the edges, but it can be made to work using these man cave shed ideas. Focus on security first. Install doors that lock and get coverings for the windows.
Paint the interior a color that matches your theme. Install Internet and electrical connections. For gaming, close off windows to eliminate outside distractions. Include your favorite gaming system and library. Get a comfortable chair for hours of enjoyment. To convert it into a bar, install simple plumbing and electricity. Furnish with bar, shelving and stools. For an office or library, allow more light in via windows or a sunroof. Include a desk and lamp. Plush armchairs would be perfect for setting up a reading area. Decorate the walls with maps, globes and posters.
Man Cave Furniture Essentials
A man cave may be a guy's only chance for showing off his tastes, especially if others disagree with his style choices and won't allow them in other parts of the home. So go for it! Make it about him. Once the construction, electrical installation, painting and cleaning are all complete, it'll be time to get it furnished with all of the man cave essentials. Take measurements. Weigh the options and determine what pieces of furniture are essential for the cave.
Seating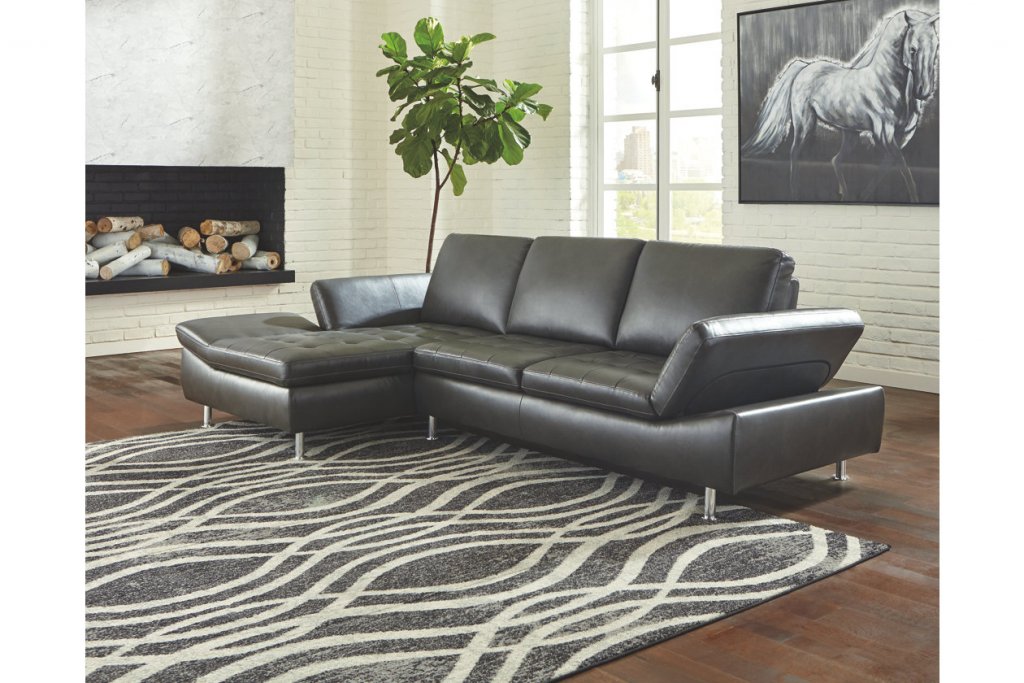 He deserves a break. Let him find ultimate relaxation with a recliner  or sofa. If he wants to have friends over and space allows, get a sectional, which is perfect for hosting game days. Leather or faux leather upholstery is popular.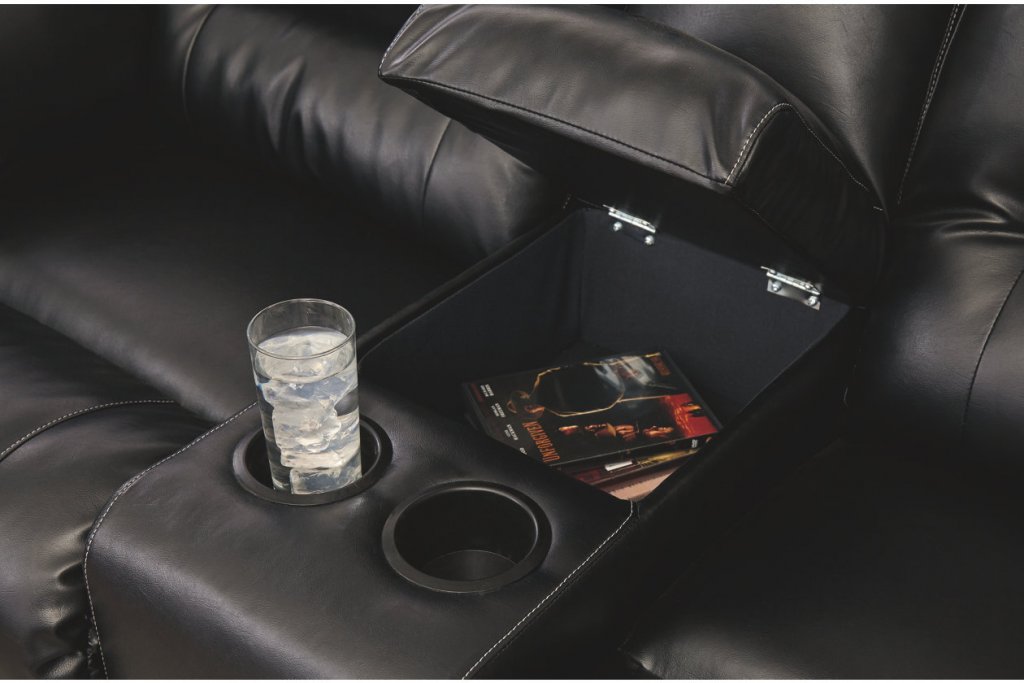 Tip:
Look for cup holders and center consoles. He'll certainly put those to use come snack time.
TV Watching
A television is a must-have for gaming, watching sports and more. What better way to set up a TV than with an entertainment center? 
Tip:
Look for entertainment centers with fireplace options. These are perfect for keeping any man cave warm, especially one that's in the basement, garage or shed.
Entertaining
Setting up a bar is a dream come true and one of the hottest trends in creating man caves. We've come up with several man cave bar ideas that will help you get started. Even if you have a small space, bars and servers come in all different sizes and make great additions.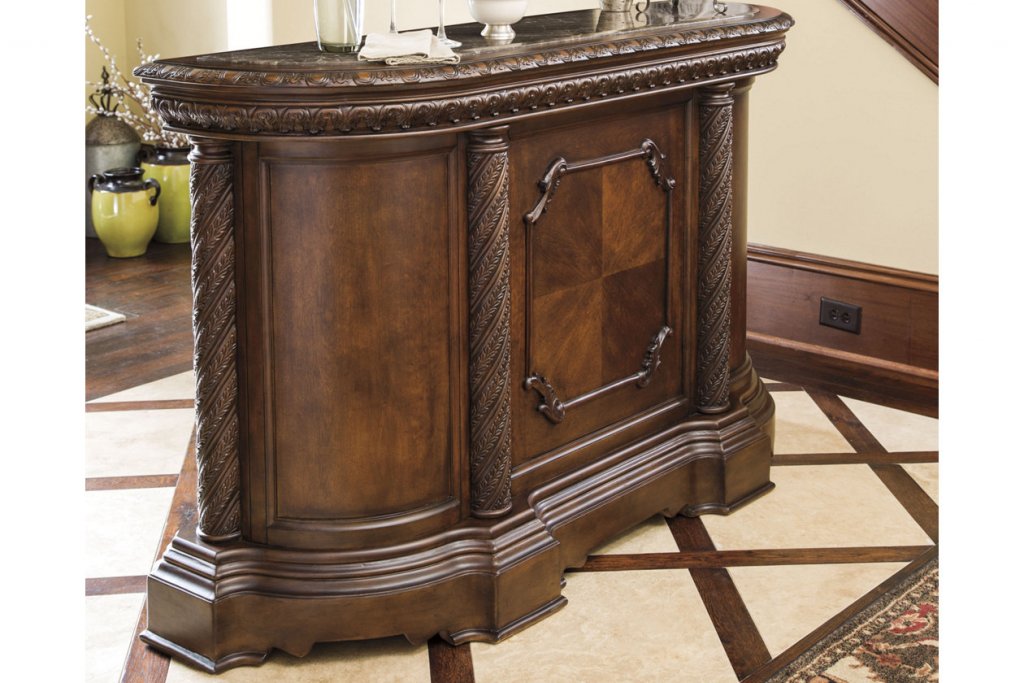 Look for a moveable bar to conveniently hold all the must-haves and enjoy the flexibility of positioning it wherever you want.
If you have an open area, add a bar table with stools. Now you have a gathering spot.
Complete the look.
Install attractive pendant lights over the bar, table and anywhere else light is needed.
Work and Play
Every guy needs his own desk space. A man cave office provides a quiet spot where he can get on the computer and have room to work on projects.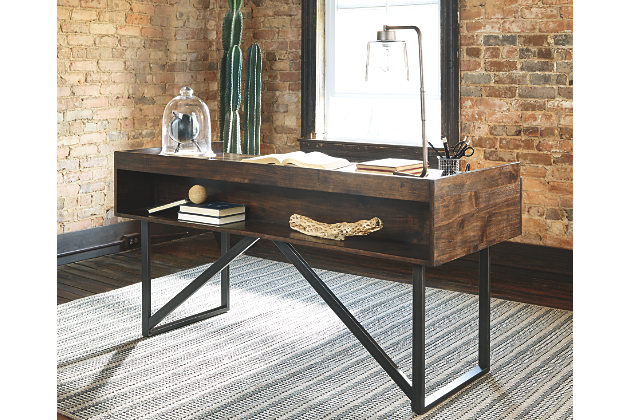 Tip:
Stylish desks with cubbies and drawers are great for organization.
Shelving and Storage
Tips:
Display memorabilia and photos using a bookcase with open shelves.

Built-in cabinets offer hidden storage.
Free standing cabinets are important too. Fill them with video games, tools, beer glasses and more.
Tips:
Casters offer convenient mobility.

Drawers of all sizes are great for hiding all the gear.
Small Space Furniture
Tight on space? No worries! Make every inch count with compact, multifunctional furniture. There are lots of alternatives. You just need to find them.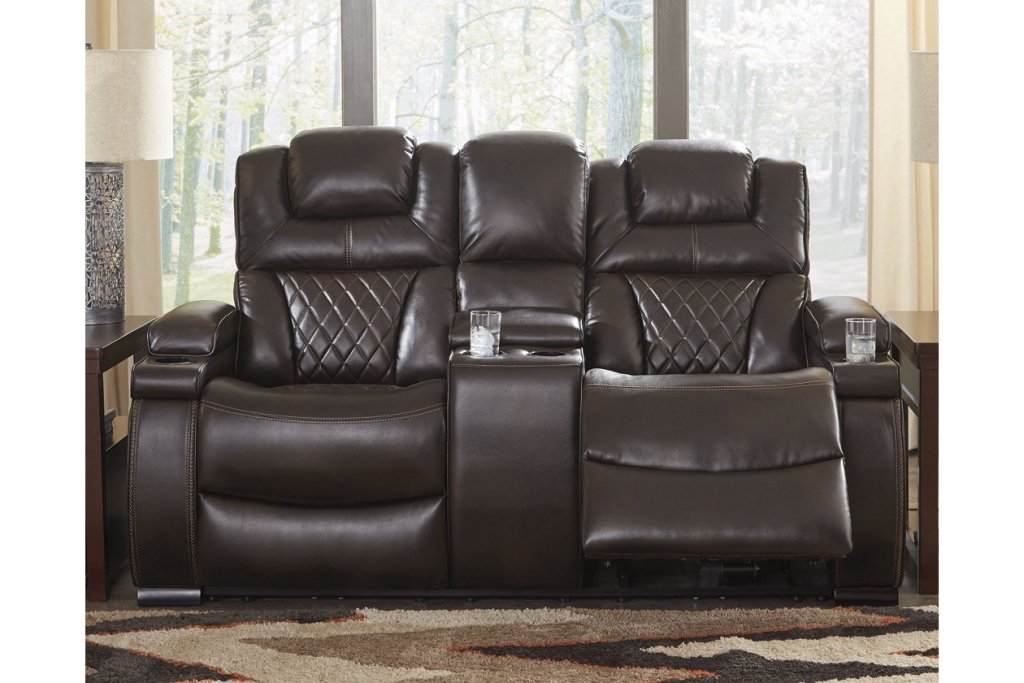 For seating, a loveseat with console offers a compact design that often includes two reclining seats, cup holders and hidden storage. No need for a coffee table!
Rather than a full-scale bar table, consider a narrow bar table as a sidekick to your sofa where you could set two bar stools.
If you have a sofa/loveseat, use a lift top coffee table that offers more surface space. You now have instant office and dining space.
Man Cave Decorating
When it comes to man cave decorating ideas, they have to be about what he enjoys and what interests him. Start by discovering a theme, then match it with coordinating furniture, decor and accents. He's sure to have a collection of items, including a poster collection that we could count as man cave wall decor. All this stuff comes in handy for enhancing the theme. Here are five ideas to help you get started.
Sports-Themed Man Cave
What's his favorite sport? Did he play a certain sport in high school or college? Break out the trophies. It's fun to create a sports man cave. Among many sports man cave ideas, use furniture that is sharp-looking, comfortable and contemporary. Leather is popular for this sporty escape. Accent the cave's walls with sport-themed wall art, autographed jerseys, mementos, posters and anything that pertains to his favorite sport.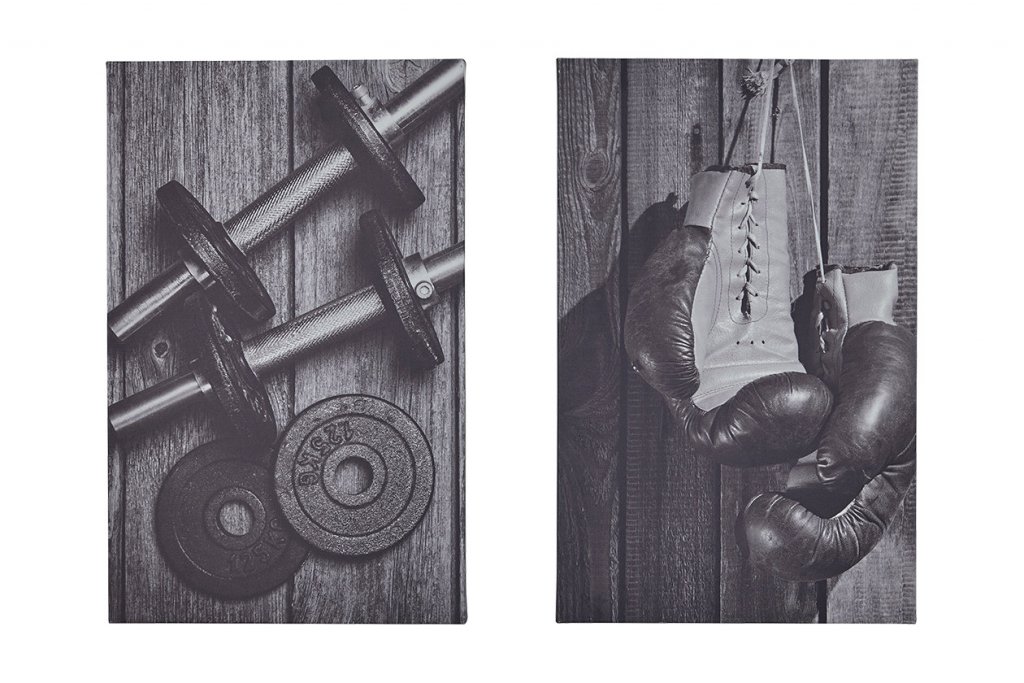 Use an action-packed masterpiece or sport-themed artwork to play up the theme.
Game Room Man Cave
What's your game? Whether it's pool, air hockey, video games or a combination of a lot of different games, the game room theme is bound to deliver many fun times. Obviously if space allows, bring in the giant pool table or air hockey game and complement them with cozy seating, an entertainment center and even a bar table set.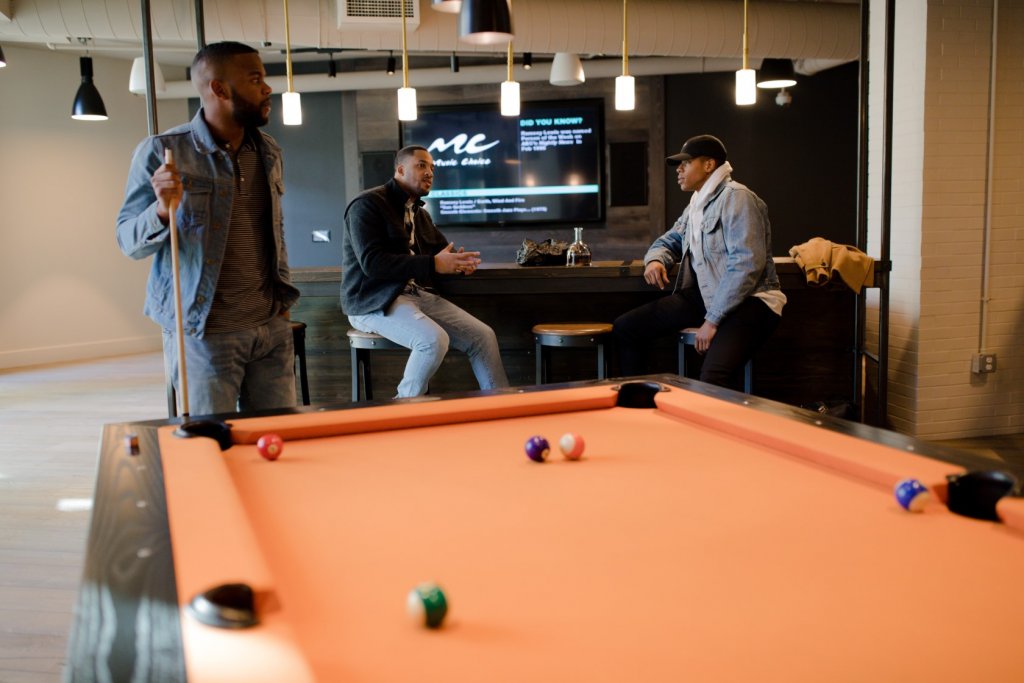 Don't forget your media chest. Look for lots of open cubby space for setting up your game systems and lots of cabinet space for storing game components.
Rustic Style Man Cave
For the guy who likes to connect with the past, enjoys the great outdoors, appreciates natural elements and is easy-going, a rustic man cave is a great choice. Rustic style personifies the laid-back feel and offers you the ability to mix and match various pieces.
When furnishing the space, look for tables, chairs, entertainment centers, bookcases and other pieces that are made of wood or reclaimed wood with distressed finishes. The raw textured wood will look well-worn and is usually complemented with aged metals.
Upholstery should be textural and multi-tonal, rich in character.
Accent the walls with metal man cave signs and wall art that conjures up the past.
Display rustic sculptures and other meaningful items to complete the look.
Industrial Style Man Cave
It's about strength, moving parts and a look that draws from the urban landscape. If he likes the downtown feel and enjoys an edgy, eclectic look, he won't want to leave this man cave. Give it a city feel using urban inspired accents.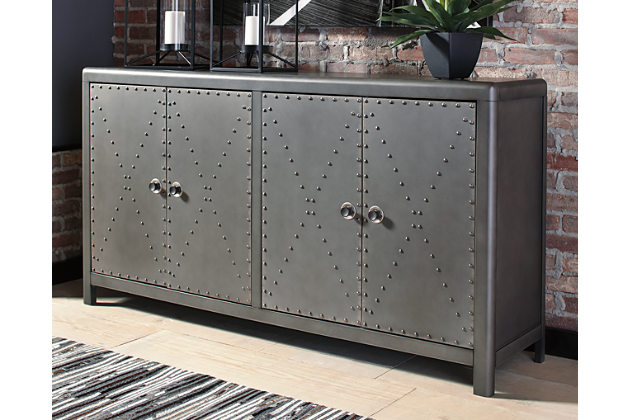 Look for furnishings with architectural elements like rivets. Black or gray finished metal with an aged look, concrete inlays and any design that reflects the look from an old factory is perfect for creating the industrial man cave.
Make the cave masculine with cozy, dark upholstered furniture. Some pieces come with accent lighting—perfect for incorporating a neon glow.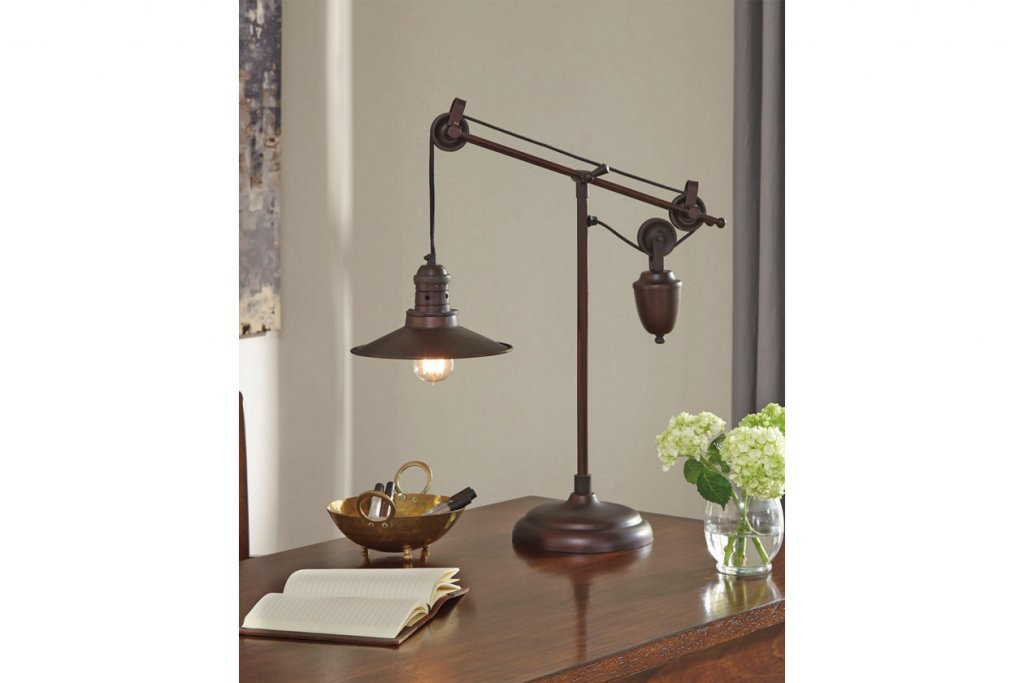 Light up the cave using a desk lamp, floor lamp and pendant lights in industrial style.
Tip:
Add a unique soft glow with Edison-style light bulbs.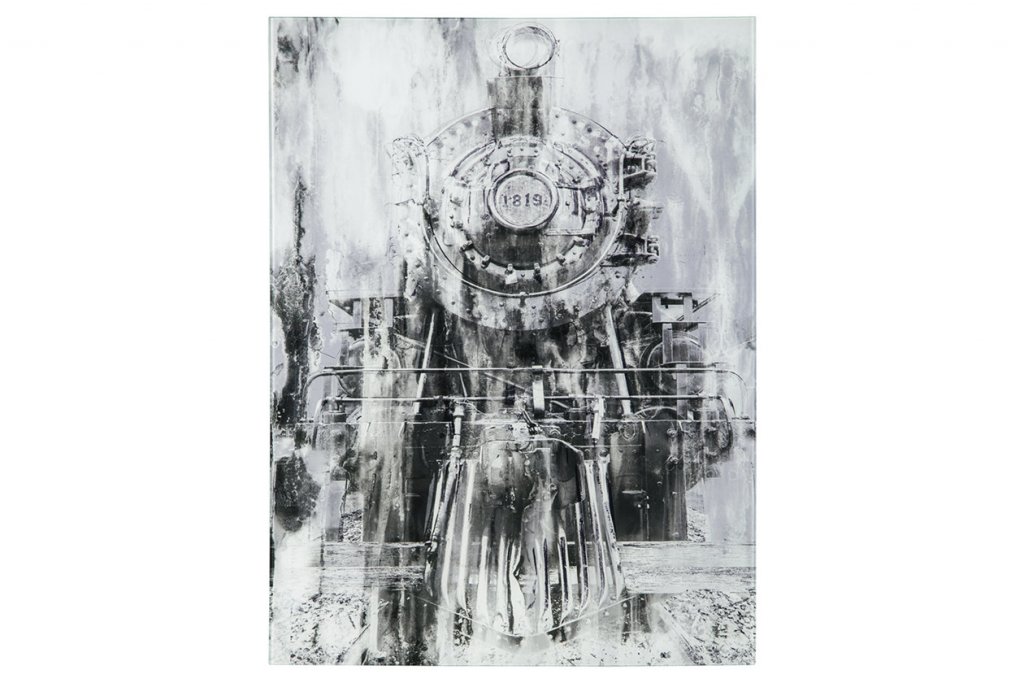 Introduce ingenuity and unique industrial flair with wall art that represents a crossroads between the past and the present.
With all these man cave ideas, how can you delay creating the escape? Enjoy the rewards of creating a personal space that's not only functional but can be used to entertain friends and make great impressions—a dream come true.
Do you have a man cave? What's your favorite part of it? We'd love to know how you created it! Use the hashtag #MyAshleyHome if you have more ideas to share—they could be featured on our Instagram!