When it comes to keeping food at the right temperature, we've all been there. It's Tuesday night, you have an hour to feed the kids before the soccer game starts, and you're frantically whipping up a semi-nutritious, filling meal before you have to leave. Timing is everything. You don't want the chicken to get cold while waiting for the rice to cook. But you don't have the correct pots and pans to make sure they're all done at the same time, at the right temperature. Sound relatable?
Read on to learn more about Ashley's cookware selection to get the details on the best materials and brands.
What to Look for When Buying Cookware
When buying cookware sets, you want to focus on two things:
The materials used to construct the pans
The surface coatings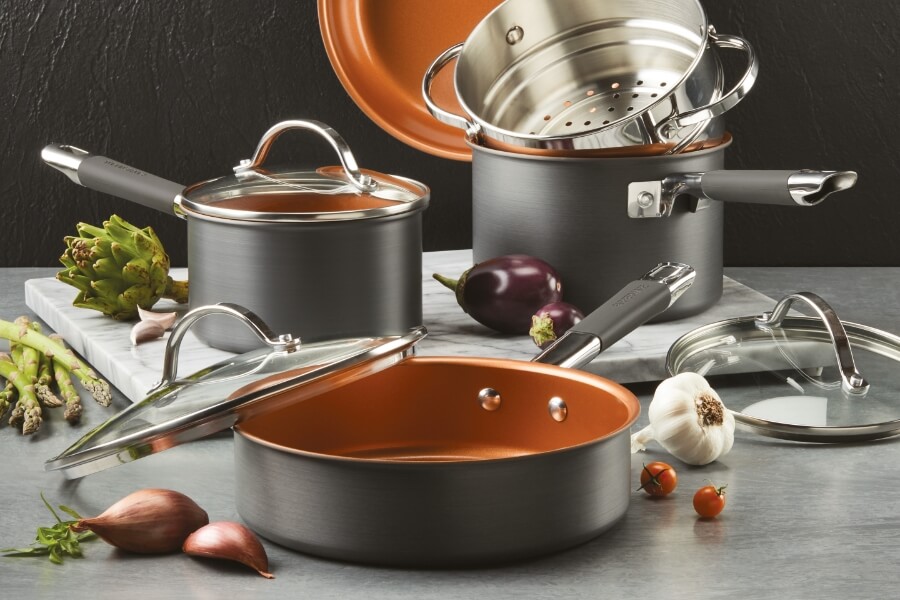 You'll also need to consider whether the set comes with any cooking tools you want or if you have to pick up cooking tools separately. Also, think about the cleaning process for each type of pan. You can easily wipe some pans with coatings clean because food doesn't stick to the cooking surface. Other types of pans may need to be scraped or soaked briefly to shake off stuck-on food. One last thing to consider is finding a visually appealing cookware set. Choose a set that matches the theme of your kitchen, or simply pick colorful cookware for the pure enjoyment of having it.
Best Cookware Material
Pots and pans come in a variety of materials to give chefs options that match personal taste as well as cooking styles. Some examples of the most popular materials include aluminum, stainless steel, carbon steel, anodized aluminum, and cast iron.
Aluminum Cookware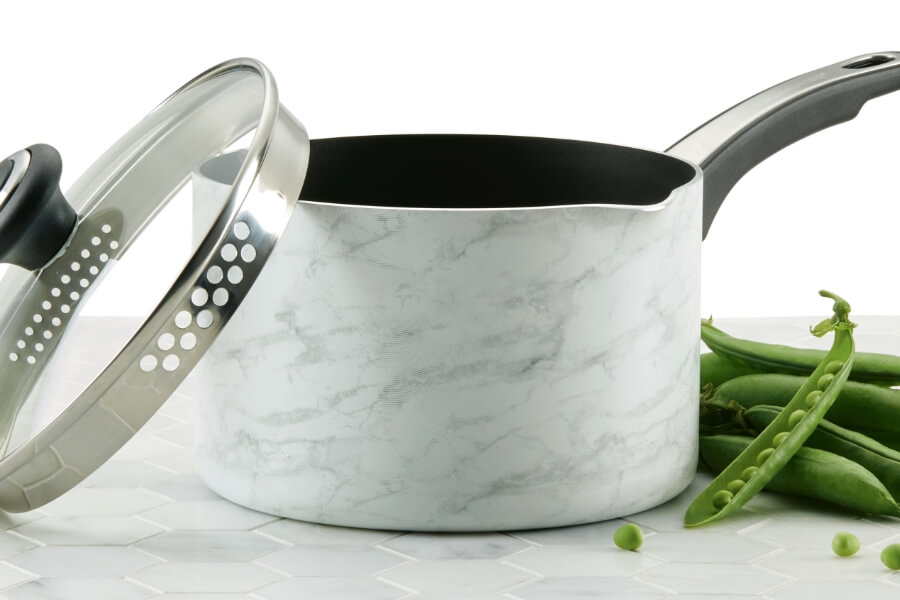 Aluminum cookware is lightweight and durable, and it distributes heat quickly and evenly. It's also typically easy to clean when you're done cooking. And because it's so durable, aluminum is dishwasher safe. That means you don't have to worry about your cookware getting scratched or damaged in the dishwasher. Many aluminum sets feature nonstick coating. While this type of coating is super-convenient, you do have to be careful to use tools that won't scratch the surface when using and cleaning this type of aluminum cookware. Aluminum is an excellent all-around material for cookware, and it's suitable for most cooking styles.
Stainless Steel Cookware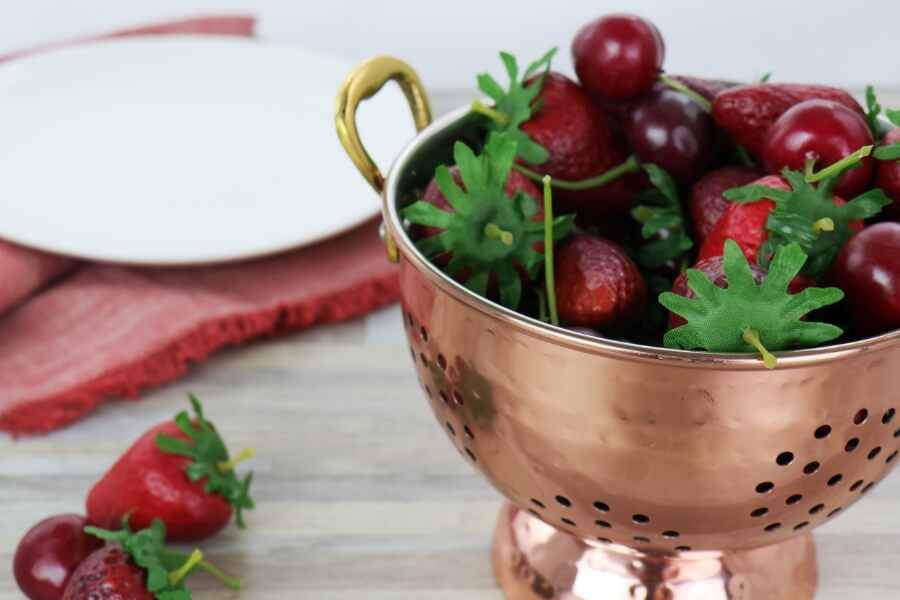 Like aluminum, stainless steel cookware is extremely durable. It can withstand extremely high temperatures, and it's also an excellent heat conductor. This means you can cook food quickly in it. Like aluminum, stainless steel cookware is extra-durable and dishwasher safe. Stainless steel is typically heavy and constructed with an heirloom quality that will last for years. Its light color means it's especially useful for cooking. You will instantly spot the food's color and texture changes, such as when you're browning meat to a caramelized finish.
Carbon Steel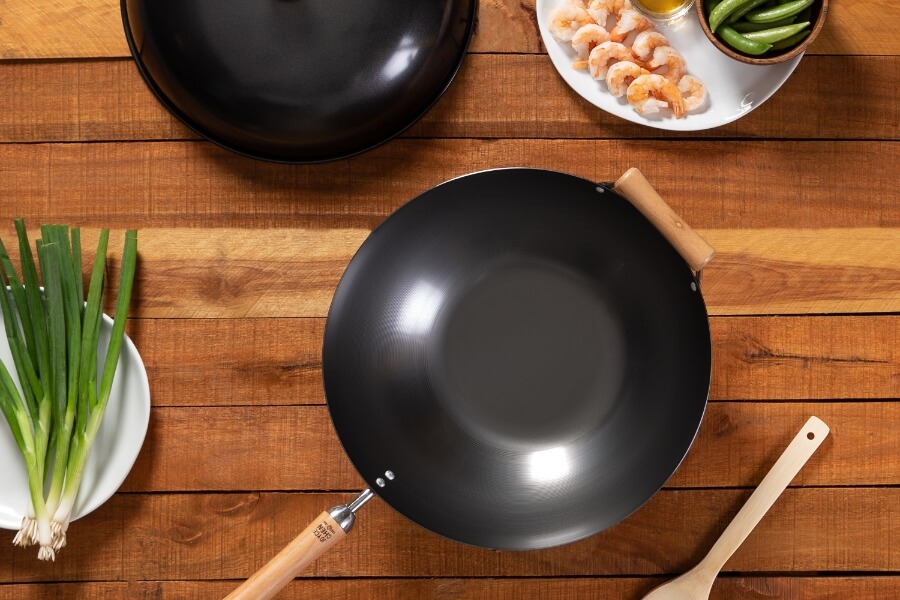 Carbon steel cookware gives you the advantages you get from stainless steel. However, the finish of carbon steel isn't affected by acidic foods, which can sometimes occur with stainless steel. Unlike aluminum and stainless steel, carbon steel requires seasoning before the first use and if you keep re-seasoning it occasionally you will keep food from sticking to the surfaces. It heats up slowly due to its thickness, but it also retains heat better than some other cookware types.
Anodized Aluminum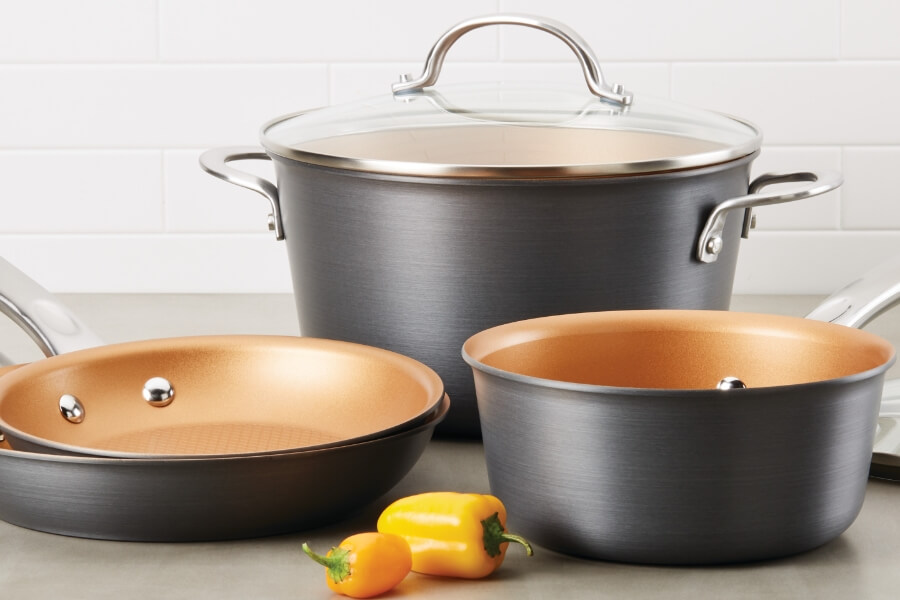 Anodized aluminum cookware is a type of aluminum that has undergone special treatment to ensure it never corrodes or oxidizes. It delivers the excellent heat conveyance properties of aluminum cookware. Plus, even after you use it to prepare meals for your family for decades, you can expect it to still look great.
Cast Iron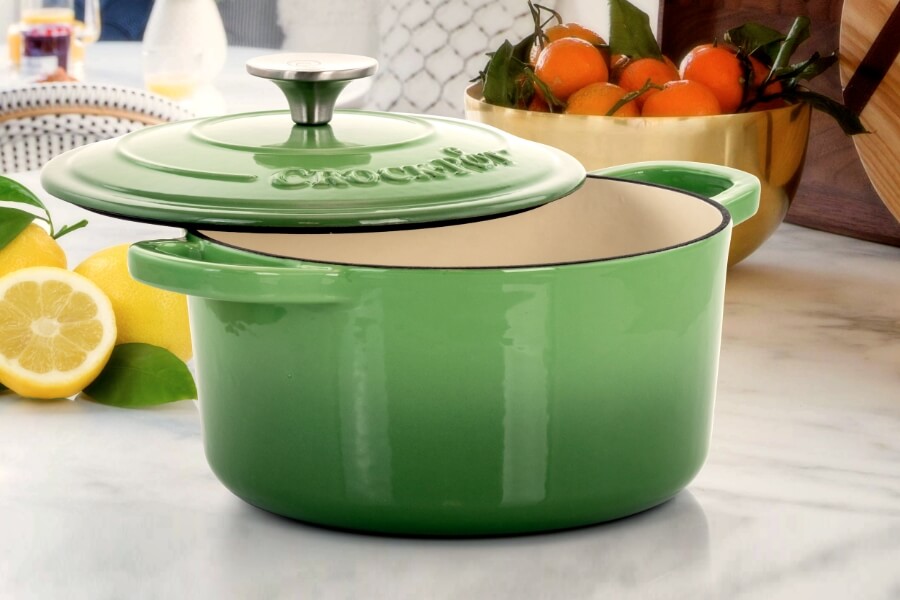 Cast iron cookware has a long and glorious history for a good reason. It delivers excellent heat distribution, and you can use it on a cooktop or in an oven. It's good for browning food, and it holds heat longer than some of the other materials. It is slow to heat up, but it stays hot and cooks evenly due to its thickness. You also have to apply special care when cleaning it. But cast iron is very easy to maintain. Mainly, avoid leaving food sitting in cast iron pans for extended periods because it can break down the seasoning that makes it nonstick. However, if the seasoning breaks down, it's easy to re-season cast iron with some cooking oil and some time in a hot oven.
Cookware Materials to Make Cleaning a Breeze
There's nothing like dreading washing all of your cookware and getting your kitchen organized again after your masterpiece is prepared. Thankfully, you'll find it helpful to know that some materials are easier to clean than others. Pots and pans with nonstick coatings, enamel coating, and porcelain coating are typically the easiest to clean. If you choose a set with a nonstick coating, avoid scratches by using cleaning tools designed for use on nonstick surfaces. Remember that even nonstick cookware can be stubborn to clean if left sitting after use. If you cook something that sticks to the pan, it can be cleaned using the manufacturer's directions.
Best Cookware Brands
There are many excellent cookware brands, so it's easy to find a quality set you love. For example, some people like to use celebrity chef's cookware brands. If you choose Rachel Ray cookware, you're assured of a set that has been tested and approved by a professional celebrity chef. Or you can select Ayesha Curry cookware to have the same kind of pots she uses in her books and videos. Additionally, Farberware, Cookcraft, Circulon, Kenmore, and Gibson Home are all brands with long histories of excellence and quality.
Browse through the selection of quality cookware at Ashley to find the perfect set of pots and pans for your cooking style. Search for cookware based on your preferred material type, or simply look for a trusted brand you love.