On the surface, organizing your kitchen may seem like just more housework—another task to add to your already busy day. However, while it takes a bit of time, getting organized is a long-term time-saver.
If you're a busy mom, rushing to find everything you need to make dinner, getting organized can make this task easier. Once your kitchen area is organized, you'll save tons of time not having to search for things. An organized kitchen and pantry also saves time on meal prep, since your ingredients are easy to find. You'll also save time writing your grocery list because of how easy it is to spot the items you need to replace.
How to Organize Your Kitchen
When you're preparing to organize your kitchen, think about the ways you use your kitchen before you begin. Then, put pots and pans near your oven range, so all you have to do is grab them when you need to cook. Place items you use often within arm's reach so you don't have to waste time getting a step stool. Rarely used items can go in spaces above eye level so they're attainable but not in the way of the things you use the most.
Then add kitchen storage & organization items, such as canisters or a bread box, so everything has its easy-to-find, specific place in the kitchen. If your kids want to help more but don't know what to do, labeling can simplify things. Involve your family in the organizing process by having them stick labels on drawers and shelves. Labels offer a handy way to help your family members remember where everything belongs so they can be on board with your newly organized kitchen area.
Keep Counters Clear With Kitchen Counter Organization
Kitchen counter storage can help you get rid of kitchen clutter, while also adding style to your kitchen decor. Utensil holders, book holders, and corner shelves are great kitchen counter organizers to consider.
Utensil Holders
Utensil holders provide a convenient spot to put the utensils you use the most when cooking. Keep scissors, can openers, mixing spoons, and other often-used kitchen tools in easy reach.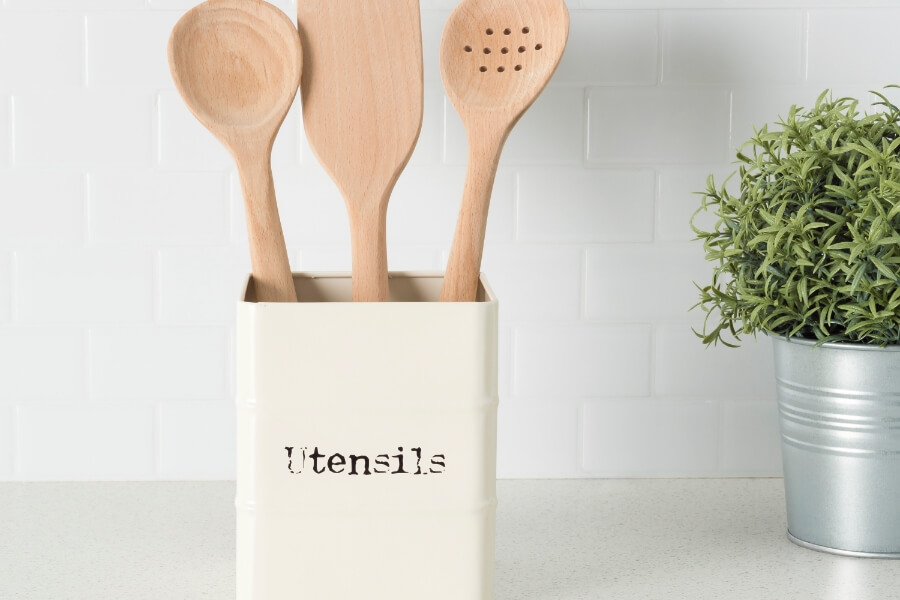 Book Holders
Keep recipe books and your tablet off the countertop when you're cooking by placing them on a book holder. The holder keeps it upright so it's easy to read and won't be in the way while cooking.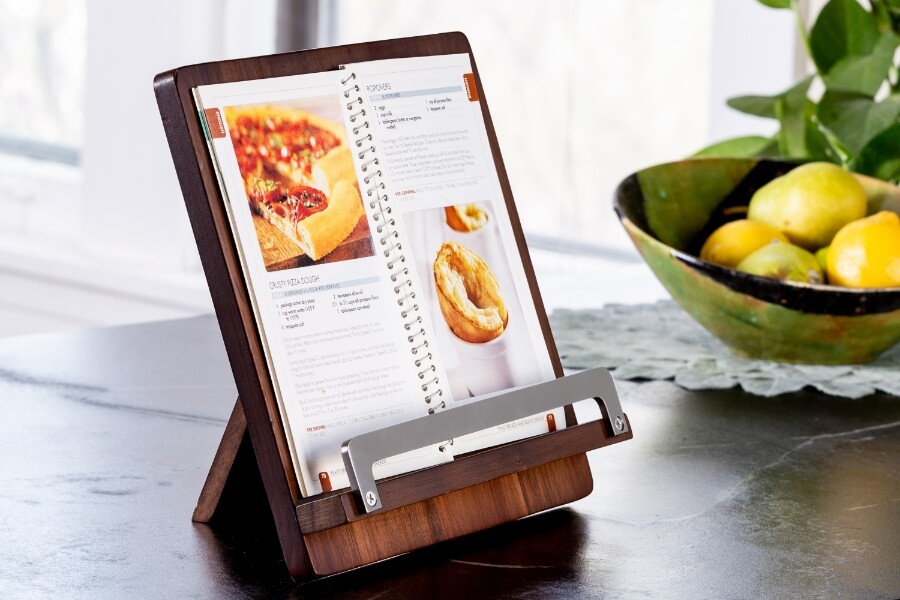 Corner Shelves
A corner kitchen shelf organizer offers a way to make use of space that you may not use. They also help with keeping an organized countertop because they create a place to put plates, mugs, cookware essentials, or decorative items you want to display.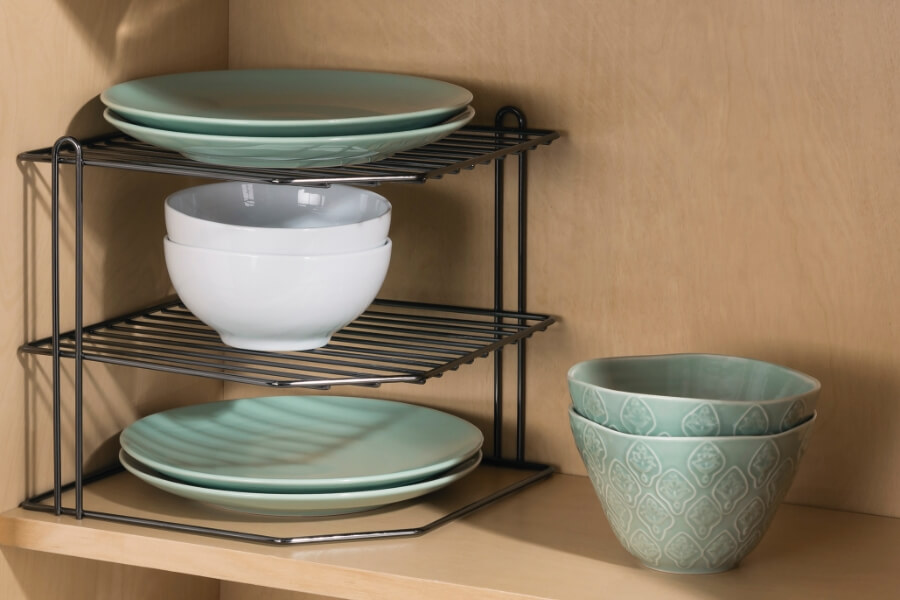 Maximize Your Space with Kitchen Cabinet Organization Ideas
While organizing your in-sight countertop delivers a lot of gratification, organizing your hidden kitchen cabinets can offer more impact overall. Organizing the area behind closed doors is the part that makes life easier for you. Some cabinet organizers that can help include under-shelf mug racks and baskets, tiered spice racks, revolving racks, and lazy Susans.
Under-Shelf Mug Racks and Baskets
Attaching hanging mug racks and baskets to an upper shelf in your cabinet makes the most of your space by creating a place to store things (where you normally might not have put anything).
Tiered Spice Racks
Tiered spice racks make it easy to see all the spices in your cupboard so you don't have to pull out things you don't need to get a spice jar that's in the back.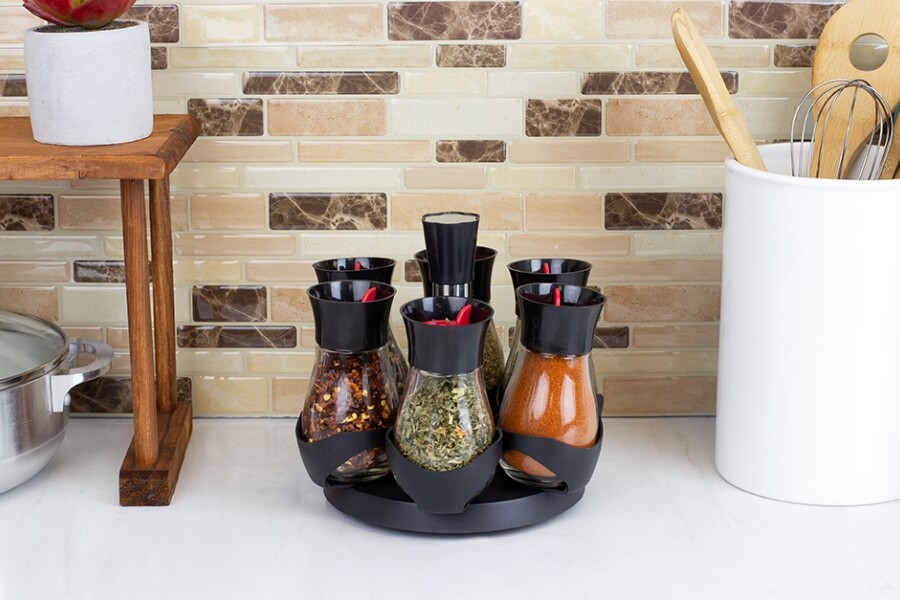 Revolving Racks and Lazy Susans
A revolving rack or lazy susan in your cabinet lets you find the things you need by spinning the rack, saving you time and effort.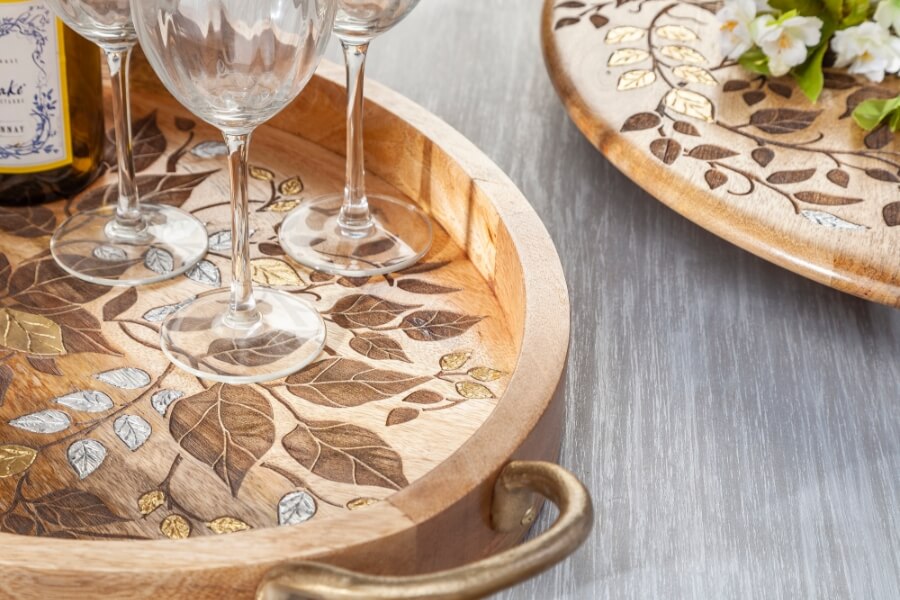 Ideas for Organizing Kitchen Drawers
Kitchen drawer organizers —such as divided cutlery trays —make it easy to organize your eating utensils and any cooking utensils that don't fit in your countertop storage container. Additionally, having a designated slot for each type of utensil makes it easy to stay free of clutter. If your family won't remember where everything belongs, it may help if you label each of the drawer partitions.
Under the Kitchen Sink Organizing Ideas
The space under the kitchen sink is an area that's easy to overlook while organizing. However, you can make great use of the space by putting items like trash cans and compost receptacles there. Using that space frees up floor space, and it also helps declutter that area of the kitchen. Additionally, it's a handy place to store a fire extinguisher.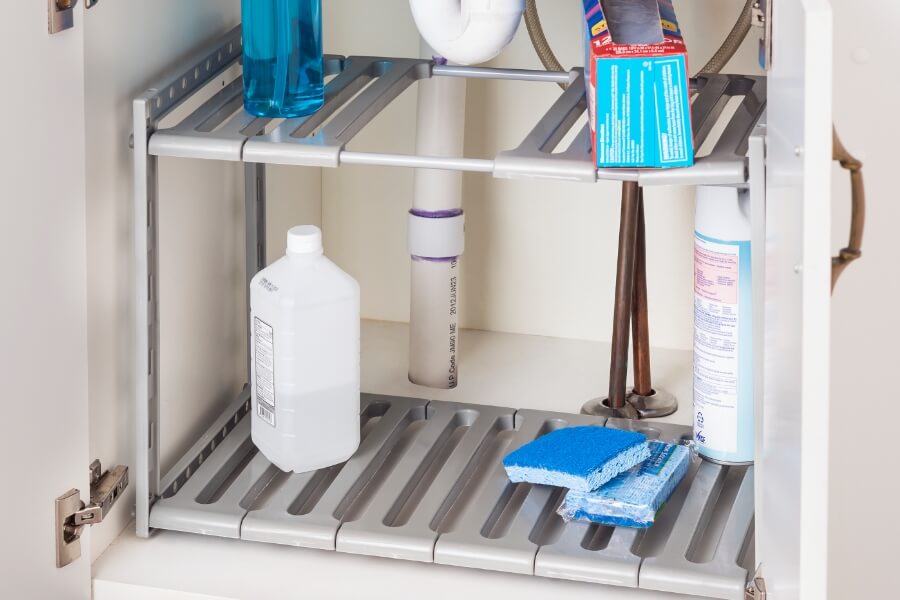 Trash Cans
Kitchen trash cans are available in a variety of styles and sizes. This makes it easy to find one that fits in the space under your sink. Additionally, trash cans range from basic to high-tech models that are hands-free so you don't have to touch the trash can while cooking.
Compost Receptacles
You can support an eco-friendly lifestyle by composting some perishable items without cluttering up your living space. You just drop perishables into a compost bin that fits on your countertop or under your sink.
Pantry Storage Tips
It may be tempting to stop organizing once you're happy with the kitchen, but organizing the pantry is so easy and worthwhile. You can install wall-mounted or over-the-door organizers that make it both easy to see what you have and keep your pantry items organized. Also, consider incorporating food storage containers to keep things neat. Finally, enlist your family's help in tracking the pantry by putting a message board by the pantry door. A message board is useful because it gives everyone a spot to easily add things to the shopping list.
The kitchen is often the hub of a home, and one that's clutter-free and organized creates a comfortable spot for friends and family to gather. An organized space makes it easier to cook and plan out a menu or shopping list. It can also be a source of pride when friends visit and admire your beautiful, neatly appointed kitchen. Browse through Ashley's extensive collection of kitchen organization items —such as kitchen shelves and spice racks —to find everything you need to take your kitchen organization to the next level.