Whether your Fourth of July party plans involve a small get-together or a big bash, we hope it's a blast. As you can see, we've already gotten the party started, so if you're looking for a few ideas to party in style, you've come to the right place!
For Your July 4th Party: Set the Table, American Style.
Looking to give your table setting some cut-above charm? Blue jean pocket cutlery holders make such a casually cool touch! You can buy them online at party supply stores or make them yourself if you're keen on repurposing all that denim occupying your closets.
Here's to Red, White and Blue Jeans.

American Pride: Tastefully Served.
If you're throwing a July 4th bash, no need to go overboard. With a few tasteful touches, you can toast to American pride in good taste. A square piece of felt, red flowers and stick flags make a simply stunning centerpiece. Galvanized metal servers are always welcome. Layer the look with a table runner, color-coordinated plates and a few red, white and blue accents—for a table setting to be proud of.
A Toast to the Host This Fourth of July
Make this party that much more special with your own "open bar." If you don't have a dedicated bar, a relatively light bureau or an entryway table might be just the right height to make it work. Just be sure to protect your furniture with a waterproof tablecloth. Add a couple of bar stools, a touch of color, plenty of lemonade and iced tea—and let the good times flow.
Make sure your drink bar is fully tended, so you can tend to other things. Drink dispensers and fresh, fruity garnishes make self-service a lot more enticing.
Let the Good Times Flow.
Fourth of July Decorating: Made Easy-Breezy
This July 4th, make it that much more of a bash by stringing cool, colorful garland from the trees. The look is fun, festive and very "garden party" yet far from over the top. Better yet, refresh your outdoor seating area with some posh indoor-outdoor pillows and a few home accents to make guests feel free to kick back and relax.
Fourth of July Fare: Simply All-American
When it comes to your Fourth of July menu, no need to be a hero. Good old-fashioned hot dogs, hamburgers, chicken breasts, corn on the cob, coleslaw and watermelon wedges are All-American favorites sure to please.
Hot Off the Grill, Always a Thrill.
Our compliments to the chef.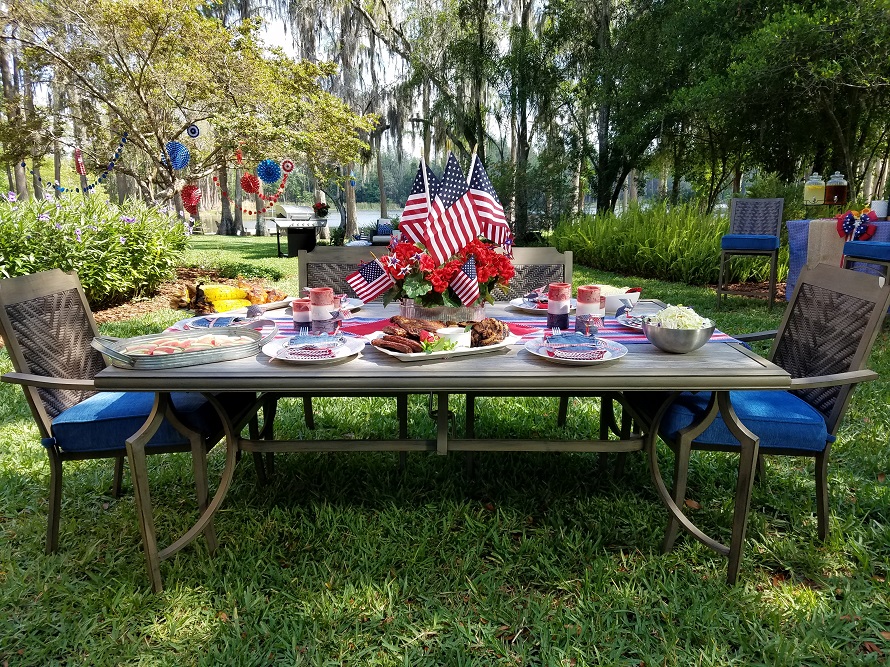 Try Something New: Like Good Old-fashioned Fun.
The Simple Things in Life: Now That's S'more Like It.


Here's wishing you and yours a Happy Fourth of July!