A room makeover can bring new energy to your space, but sometimes you might get stuck along the way. Let's create the perfect living space together, one piece at a time! Say you have started on the foundation of the room, a beautiful sofa that fits your space, a color palette that brings in light but keeps things cozy and an entertainment center to watch your favorite shows. 
But what's missing? Try an occasional table! A coffee or accent table might be what your space needs to complete a beautiful living room look. Pick a style that fits your needs and looks adorable in your home. Check out our suggestions! 
Taking Style to New Heights
If you need your living room to be a multi-functional space, try a lift-top coffee table! If your home doesn't have the additional square footage for an office space, transform your living room into your conference room! This style is also great for homework, arts and crafts, and snack time! Then, when you are done with your activities, just return the table top to its lowered position.
Cushion Your Space
If you love stretching out while watching a movie, try a cushioned coffee table. Keep things cozy with a soft fabric that brings a relaxing vibe to the space. You can even go glam with a velvet option! This is also a perfect solution for maximizing your seating options for guests. If you need to serve drinks or snacks, just use a tray to keep things leveled. 
Hidden Treasures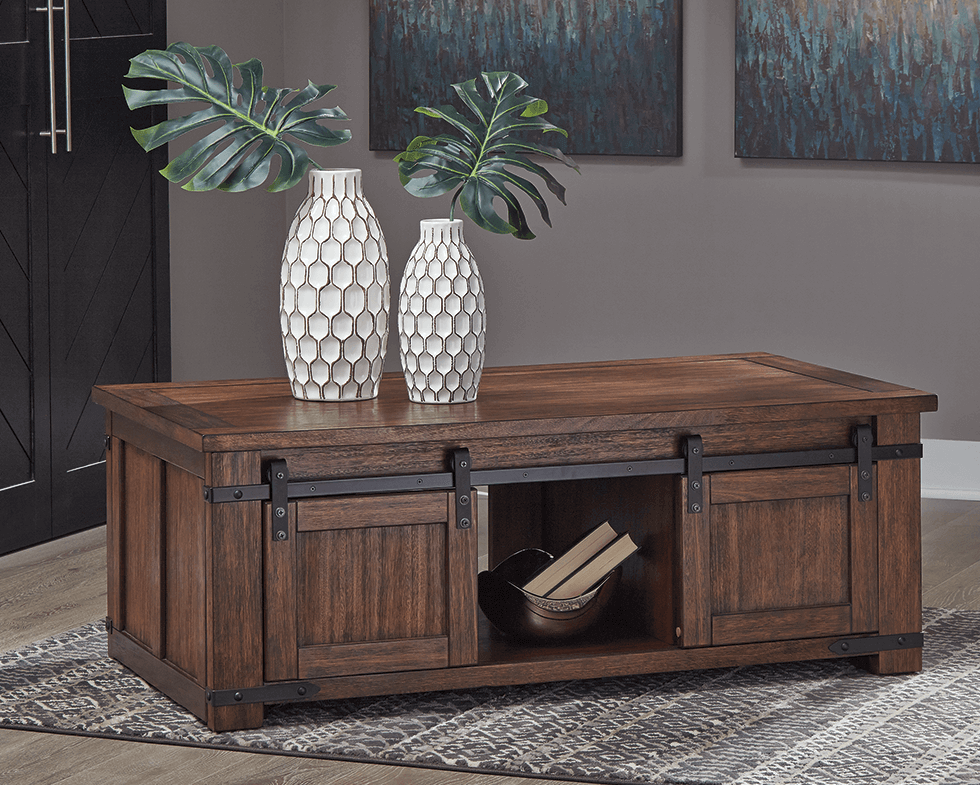 When you need extra storage or are tight on space, look for tables that have lower shelves, drawers, file cabinet drawers and magazine racks. Shelves are handy for displaying collectibles and holding items like books and magazines. Drawers and cabinets offer hidden storage space. Whether one drawer or multiple drawers like those found in trunk styled tables, it's easier to keep necessities within reach of the sofa. Look for end tables with hidden file cabinet drawers. These are ideal for keeping papers organized in style. Magazine racks provide the perfect spot to tuck away your favorite reads.
Upgrade Your Technology
If your living space is multi-functional, you should also consider adding end tables with AC adapters and charging capabilities. Your at-home workspace will remain productive when you can keep your devices charged and remain on call!
Complete the Set
Give your space a cohesive look by adding a coffee and end table set to your living room. Place a table lamp next to the sofa that will illuminate your space for late-night reading. 
We hope to have inspired you to start creating your dream home, one coffee table at a time. With each piece you add to your home, you are a step closing to achieving the perfect look you are working for. Share your living space with us on Instagram by using #MyAshleyHome. And for more inspiration on all things home and interior design, check out our Pinterest boards!