Have you ever wished that every day could be Christmas? Hot cocoa, cozy sweaters, family festivities and of course, beloved Christmas lights. It's all so magical.  So instead of boxing up the Christmas cheer, we've found 9 creative ways you can integrate cherished Christmas lights in your year-round decor.
Highlight Your Headboard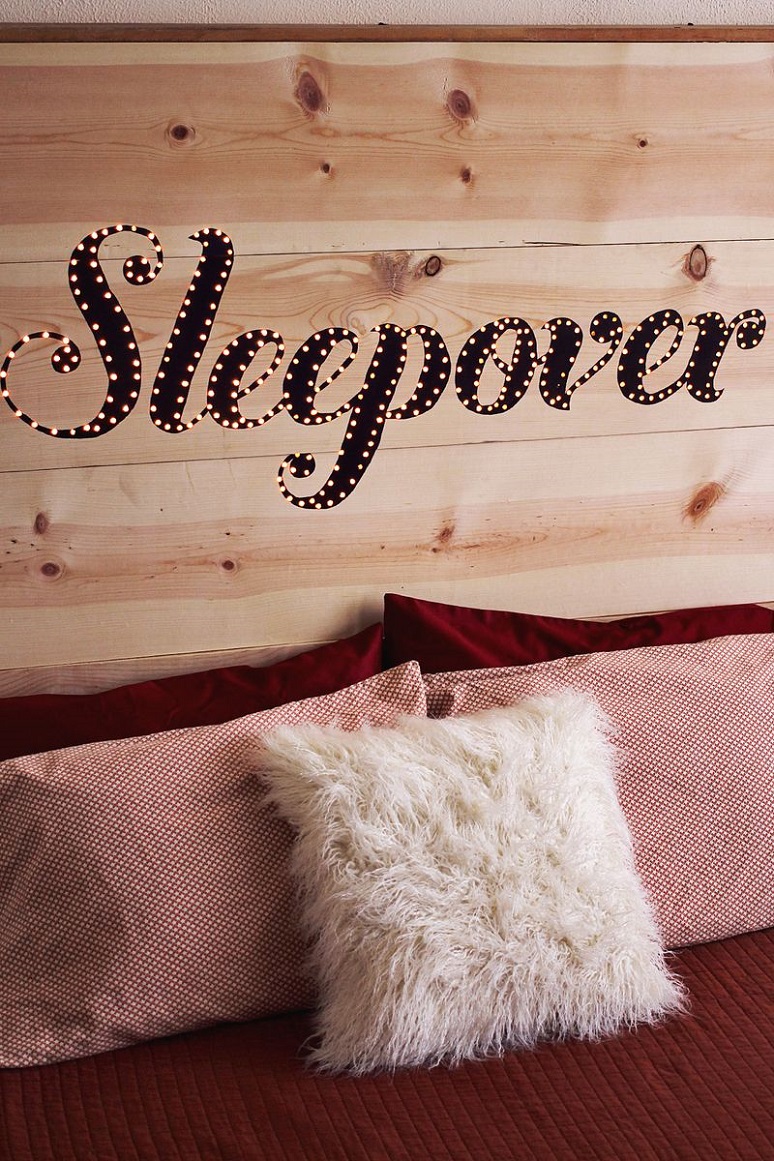 via A Beautiful Mess
Resembling an old, glamourous marquee sign, this light-up headboard sends out a stylish message, bright and clear. Follow this step-by-step tutorial to recreate the look. Feel free to make it your own by playing with different wood stains, paint colors and messaging. The natural wood hue is perfect for fans of rustic charm, while a white-finished board pleases those who adore sweet, country-chic style. Add a fewthrow pillows and you've got yourself a cozy nest.
Make Mason Jar Lights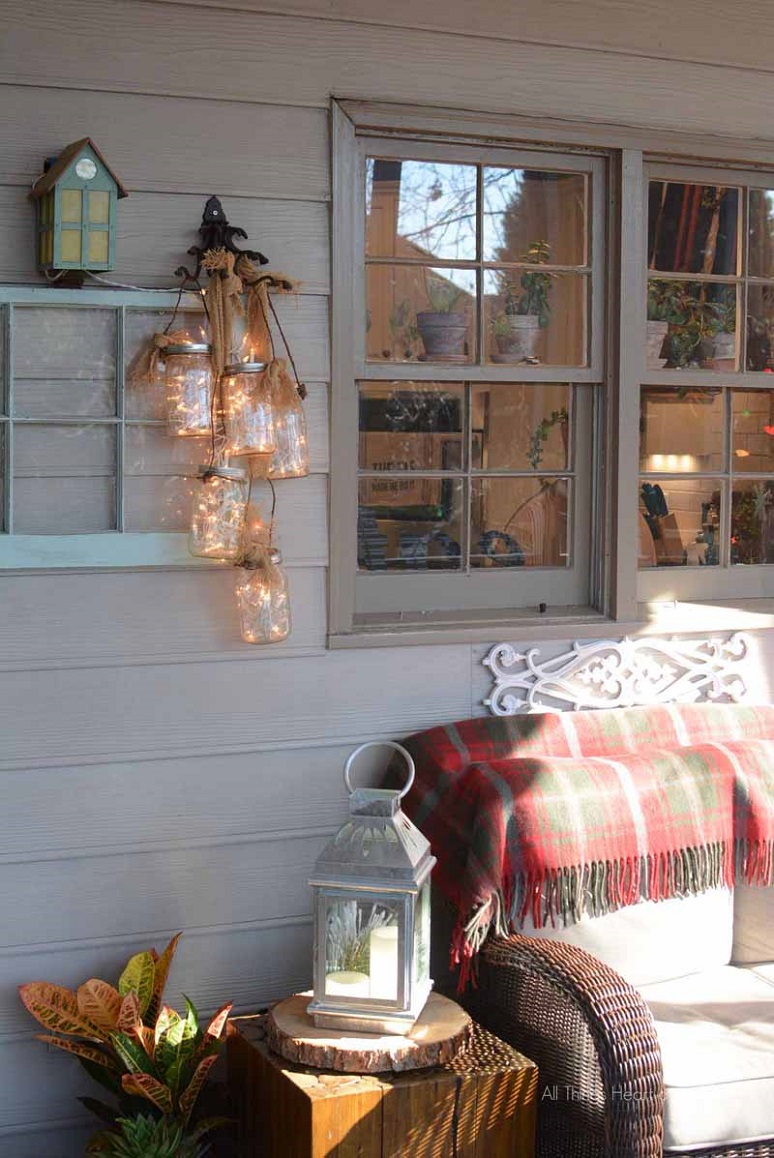 Bring back fond feelings of long summer nights with this dreamy look of fireflies in a jar. All you'll need are battery-operated fairy lights to place in the mason jars. You can set these glowing beauties on a table, or create a shabby-chic outdoor sconce by tying them up with grapevine wire and hanging them off an anchored swivel hook.
Flameless Fire Pit
via October June
It's hard to beat the authentic feel of crackling flames, but this flameless pit is a mighty contender. A wood-burning pit might not always be the best option—whether it's against your housing community rules, lack of outdoor space or concern for child safety. This alternative is just as visually striking, creating warm ambiance with just a strand of Christmas lights, tree branches and rocks. Plus, it's a cute decorative piece for a child's makeshift fort or tepee.
Ramp Up Your Decor Accents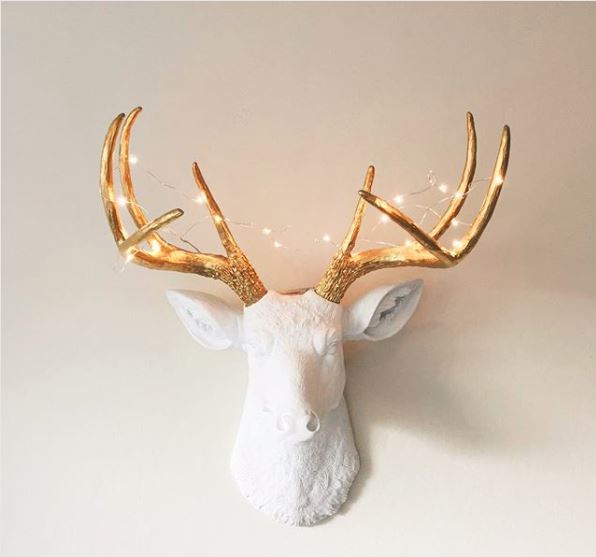 Here's a simple idea that takes less than 5 minutes: adding fairy lights on top of your existing decor accents. Think of how beautiful lights will look glowing inside of a translucent vase, or the whimsical vibe of lights accompanying accents on a decorative tray. It's easy to put together, but the results are totally impressive. After all, the right amount of lighting can do wonders for setting the mood in a room.
Stunning Spheres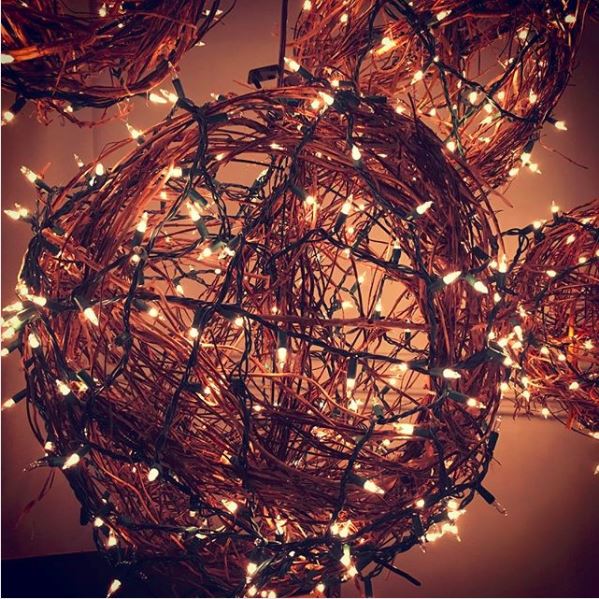 These shining orbs of light are sure to grasp your guests' attention every time. If you want to create your own shabby spheres, you'll need grapevine wire, beach balls you can deflate, wire cutters and fairy lights. Start with an inflated beach ball and wrap it with strands of grapevine wire, twisting together the ends of the strands. Once you're done wrapping the sphere, deflate the beach ball, remove, and voila! Now you have a completed sphere you can adorn with strands of lights. If you prefer to skip the DIY effort, you can cover a pre-made sphere for the same stunning effect.
Pretty Planters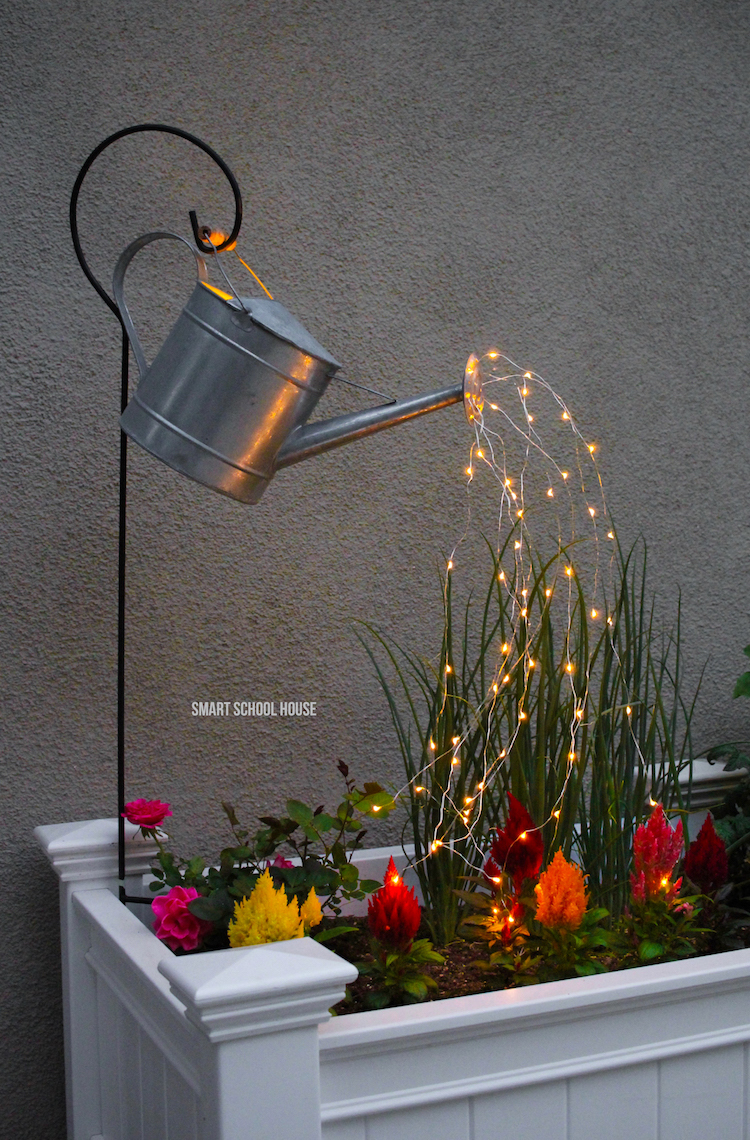 The illusion of cascading beams of light is simply whimsical. This guide shows you how to bring the alluring, fantasy-inspired touch to your front lawn. We also love the idea of using this design overfaux flower planters for a fairy-tale finish inside the home.
Light-Up Artwork
via ThreadBanger
If Christmas lights remind you of stars in the sky, it only makes sense to create artwork that fuses the two together. Follow this tutorial and you'll see that creating a light-up constellation canvas is relatively easy to execute. If you're into astrology, you can personalize the design by featuring your zodiac sign's constellation. It's a great conversation piece for the home, or a thoughtful gift for a friend.
Inspirational Wall Art
We've made sure to cover all types of Christmas lights in our inspirational guide and didn't forget about rope lights. Rope lights are perfect for writing luminous messages on the wall. Even if you don't have the best penmanship, lighting up a wall with scripted letters is made easy with this tutorial.
Brighten a Mirror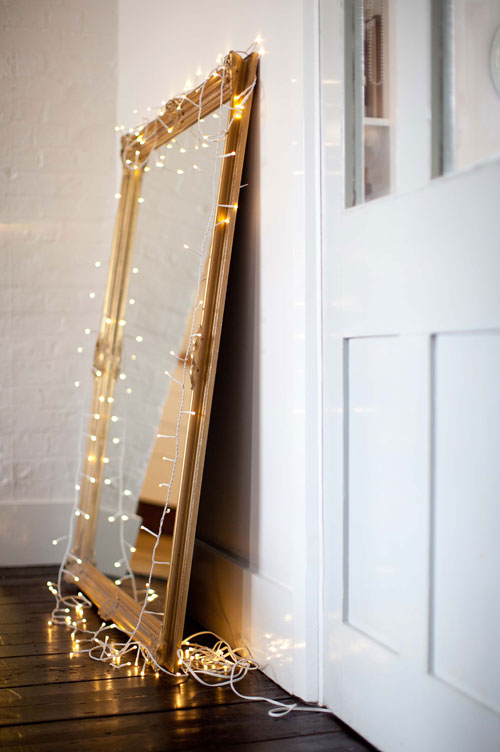 Photo by Chloe, via Design Sponge
A staple in the design world, mirrorsare commonly used for creating the illusion of larger space. They brighten up rooms by reflecting light, so the addition of fairy lights add more than just pleasant aesthetic. They aid in keeping the room light, bright and open.
And there you have it—who ever said that Christmas has to end? While these stylish looks don't scream "Christmas", they have a subtle note of merriment that works year-round. Do you plan on decorating with Christmas lights when the holidays are over? Snap a picture and share with the hashtag #MyAshleyHome—we'd love to see.