Are you giving your coffee table decor enough love? After all, we call it the "coffee" table but do we REALLY keep our coffee on it? Well, yes, we do, but the coffee table is made for so much more. Beyond unwanted feet, the coffee table can be a host to an array of items, whether it be some of your favorite books and magazines, pictures, vases or dishes, flowers or even coveted knick-knacks from your adventures around the world. The coffee table can literally be (and usually is) front and center in your living room and should be a focal point with careful placement of functional or decorative objects or containers.
Much like styling a bookcase, decorating a coffee table can be difficult. But don't fret! We have some simple decorating ideas to make your coffee table stylish and functional. It all begins and ends with our explanation of 10 coffee table decor ideas.
Decorating by Three's
The rule of three in design states that we humans find odd-numbered groupings, especially the number three, to be appealing, and it's a concept you can employ when decorating your coffee table. One way to approach this tactic is to divide the coffee table, a rectangular table is ideal, into three different sections. You can also place groupings of three decorative objects on the table for an appealing, asymmetrical design. The balance is all in the scale and placement.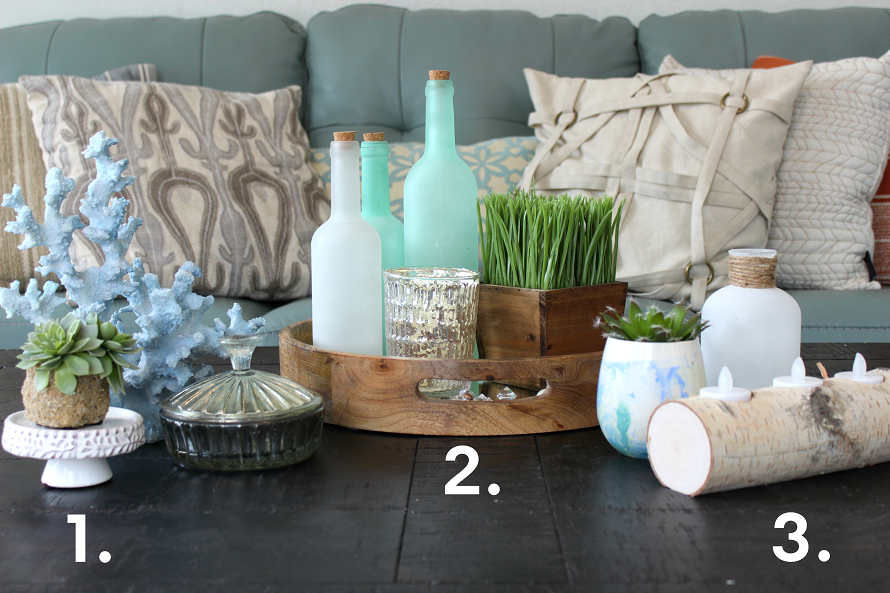 How do you Arrange a Coffee Table?
Add a Coffee Table Tray with Small Items
If a grouping of items looks messy, add a decorative tray. The tray will secure and display all your items in an attractive and orderly way. Plus, using a tray for your coffee table design objects makes it easy to update or remove entirely when you need surface space.
Add Decorative Containers
Cute and clutter aren't words that usually work well together. That's why there's nothing more efficient than stylish containers that hold items like coasters, remotes and even gaming equipment. Simple and elegant, decorative containers are a sure way to solidify and organize any look needing a little more panache.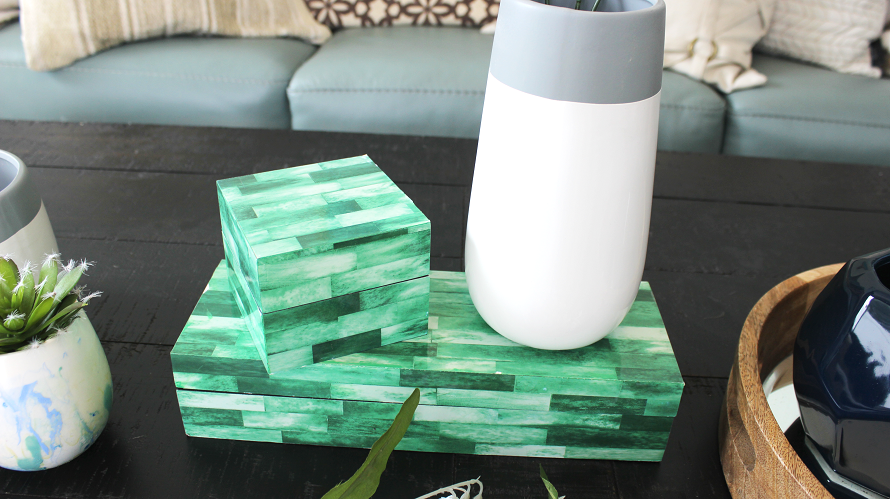 Include Candles
Warm and naturally inviting, candles on a coffee table can be the "focal smell" of the room and give guests a warm welcome. Candles have the unique ability to add color and dimension to any table surface, creating a space that is visually pleasing and instantly relaxing. For example, go for a scent that is light and clean (like a sharp citrus or sweet floral) to feel alive and awake. Is your room a place to relax and unwind after a long day? Go for a restful lavender or deep pine scent.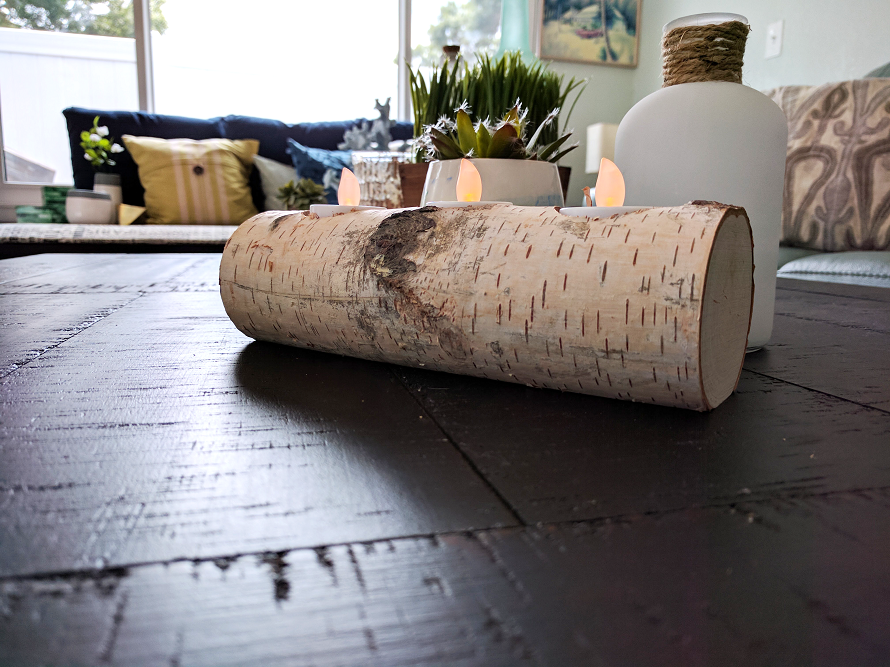 Add Flowers or Live Plants
Want to skip candle scents and go for the real thing? Live flowers are a great way to add a natural fragrance to your home while bringing a visual beauty of their own to the table. Flowers are not something to overthink—pick a bouquet that smells good to you in colors that match the tones of the room. A neutral-styled room can sustain a dramatic pop of color while a room that carries its own punch could do with some toned-down florals like crisp white roses. No green thumb? Fake flowers work just as well, are mess-free and require no caretaking. Choose several types of fake flowers to mirror the seasons and exchange them when the time feels ripe for a refresh.
Add a Glass Accent
Home accent bowls are a great way to display items. This kind of container (unlike boxes with lids) is meant to display rather than hide and can be the perfect centerpiece for your coffee table. The options are endless and completely up to the look and feel of the room. A coastal style would benefit from delicate shells and sand, while a country-cottage style could host dried sunflowers or wheatgrass for a truly rustic feel.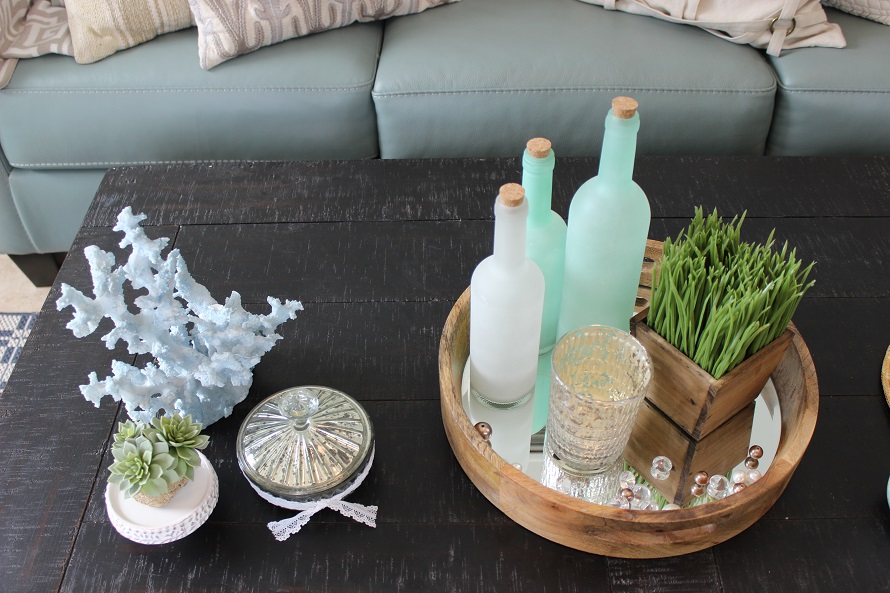 Vases are a simple, decorative addition. They can also be grouped according to the rule of three for a sweet and contemporary look. Use them to hold flowers or as decor-only pieces, like the gorgeous stenciled vase look below. Vases are perhaps some of the most versatile home decor pieces that work in any room.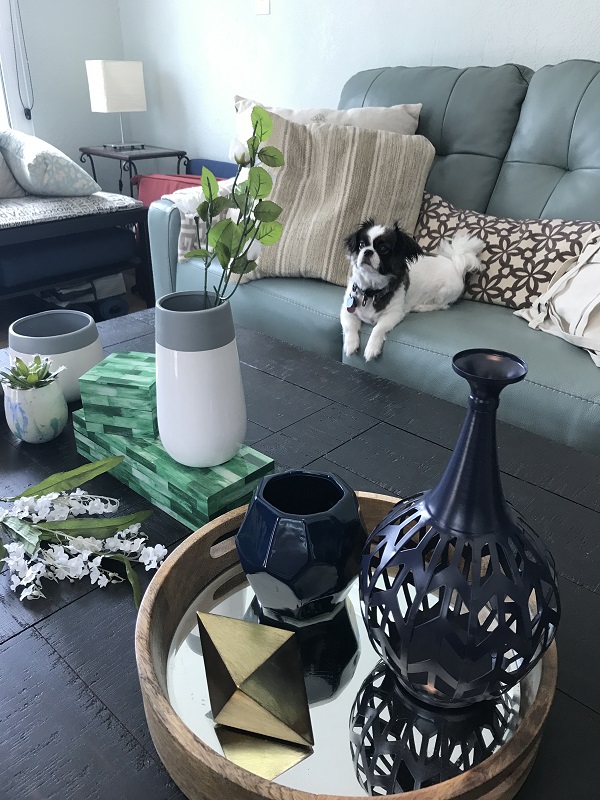 Glass bottles, like these opaque sea-glass inspired bottles, are great table decoration ideas thanks to their texture and versatility. Like home accents bowls, they work well to hold grainy decorations like sand. Glass bottles may be associated with a coastal feel but can easily be adapted to both modern (interesting shapes and varying opaqueness) and country-rustic looks (classic jars). Keep color coordination in mind for a cohesive look.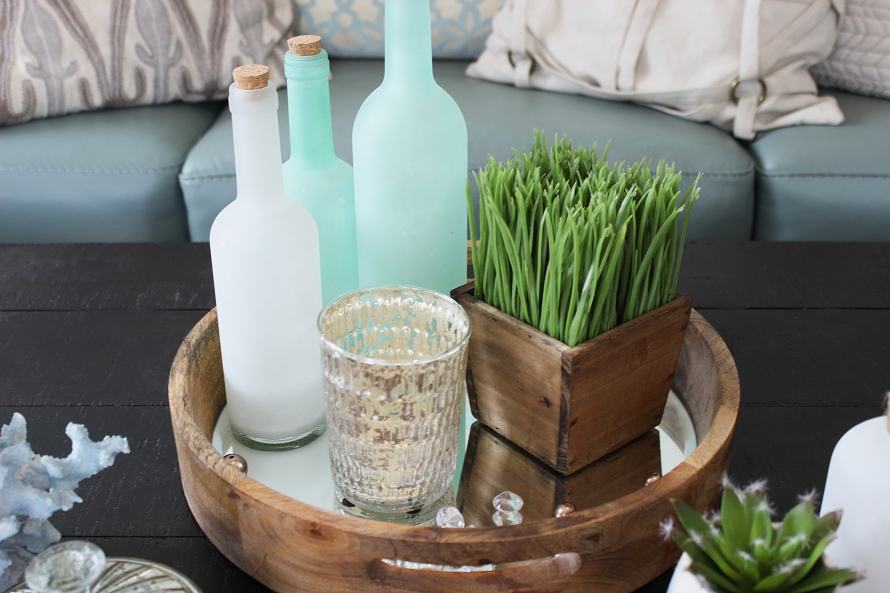 Keep it Simple with a Smaller Table
If your space is too tight, or if a regular to large-sized coffee table seems to eat up all of your free space, it may be time to consider a smaller table. Smaller in size doesn't have to mean smaller in style; small tables can be large on character with etched patterns, colored glass and more defining features. A simple, small coffee table can add structure to a modern minimalist look. Remember that with smaller tables, adding one item (or no items) will be the best decorating move—think a vase or bouquet of flowers.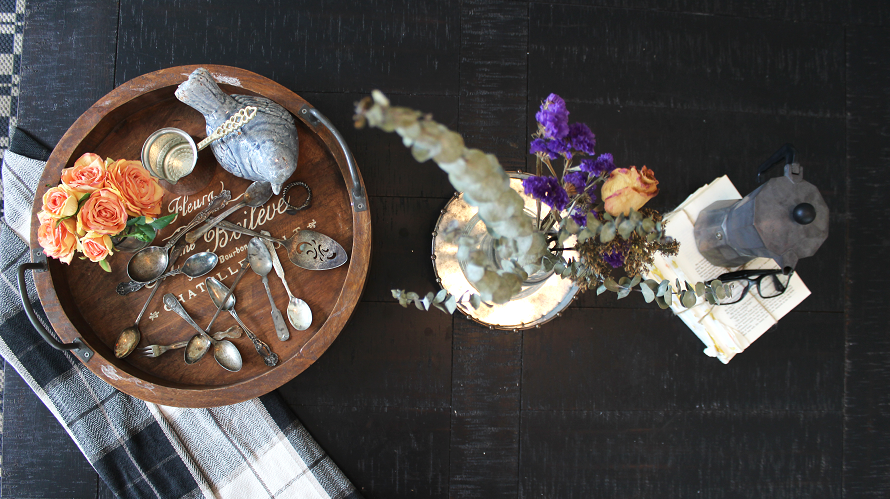 Use Multiple Coffee Tables
Have two small coffee tables or two rectangular tables? Group them together for one big statement piece! Have three small, circular tables? Group them together for a unique and artsy look. Multiple coffee tables can make a space eclectic and interesting, and draw the eyes to any area of the room that you want to highlight. For these kinds of groupings, choose your accessories wisely and be sure to keep it minimal so the focus is on the layout of the table.
Other Coffee Table Decorating Tips to Keep in Mind…
Color coordinate: Contrast and play off other colors in the room and be sure to complement the color pallet.
Add a Personal Touch: It's okay to make this coffee table scream "YOU." After all, you will be the one to see and enjoy it the most in your home. Style Tip: Instead of a magazine, go for a digital family album—most are easy to create online!
Encourage Activity: Store games in safe places under or on the coffee table. Sometimes older games like Scrabble or chess sets can be unique design elements for coffee tables .Other possible items could be coffee table books and picture books, a deck or cards or dominoes.
Decorating your coffee table doesn't have to be difficult. With these tips and ideas you'll have a space that can be rearranged, restyled and always enjoyed at any time of year. Have special tips and tricks of your own on how to style this tricky living room piece? Share with us in the comments! Have an Ashley coffee table and want to flaunt your style? Tag us on Instagram and use #myashleyhome for a chance to be featured on our channels.