Choosing a dining room table is a big commitment. Especially given how much money you're putting on the table—you want it to be a happy marriage for years to come. Style. Shape. Space limitations. Seating accommodations. With so many factors to consider, we offer a few suggestions to help you find a dining room table you're sure to savor.
Find What Fits

Elbow Room: The right dining room table is all about proper proportions. Like other furniture manufacturers, we recommend the number of people a table can comfortably seat. General guideline: each person should be allotted about two feet of space to avoid bumping elbows while eating.
Wall Clearance: Room permitting, you should leave at least 36 inches between the edge of your table and other furniture (such as a buffet) or the table and the wall. Ideally, you want 48 inches of clearance.
Let Style Take Shape

Rectangular Tables: The most traditional choice, rectangular tables are best equipped to serve large gatherings. They also offer more flexibility in terms of your seating choices.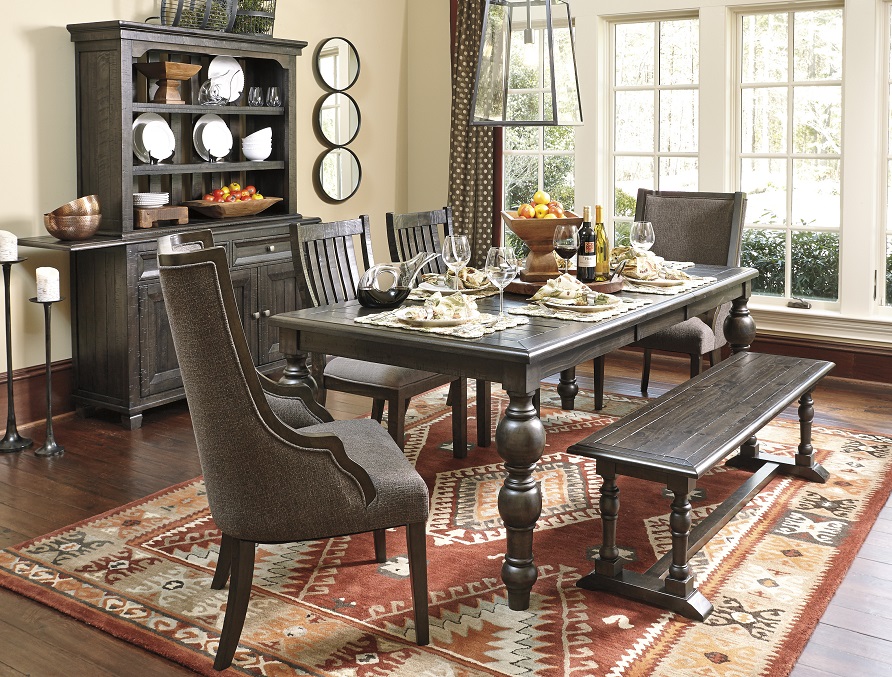 With a rectangular table, you can really mix it up by combining side chairs, arm chairs and bench seating.
Round Tables: With no sharp corners and a natural sense of flow, round tables work great in smaller spaces.
If creating an intimate atmosphere appeals to you, consider how round tables bring people together and invite conversation.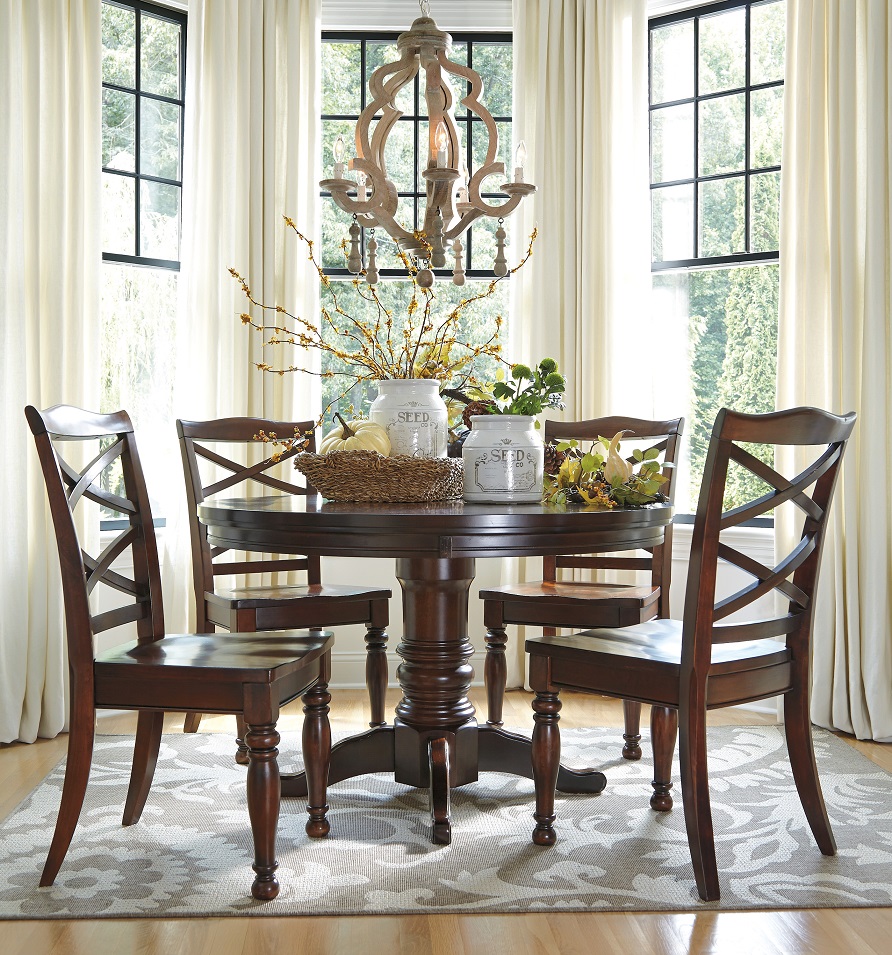 A pedestal table base is something to savor if having plenty of leg room strikes your fancy.
Oval Tables: Like round tables, oval tables have no sharp corners, thus enhancing room flow, which can be especially handy in tighter dining spaces where folks are passing through.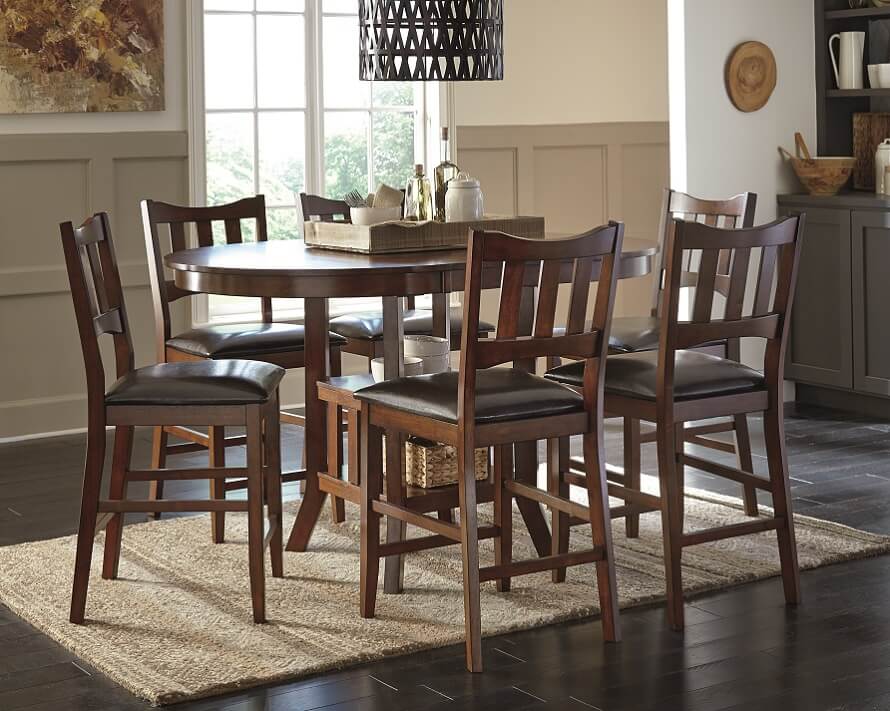 Fans of oval tables find the soft edges evoke a more warm and inviting mood, less of a sense of formality.
Square Tables: If you have a square room to work with, consider the symmetry and balance a square dining room table can bring. With a leaf, you can go from square to rectangle…casual to formal…every day to special occasion.
Like round tables, square tables foster a more intimate dining experience, since everyone is equal distance apart.
Cater to Your Lifestyle

Entertain a Leaf: Having a table with a leaf (be it a drop-in leaf or a built-in butterfly leaf) works if you entertain on a fairly regular basis. Consider how much you might really need it. And if it's a drop-in leaf, do you have convenient storage for it?

Turn the Tables: Consider yourself a non-conformist? A counter-height dining room table can give a dining room a pub-style atmosphere that's more your taste.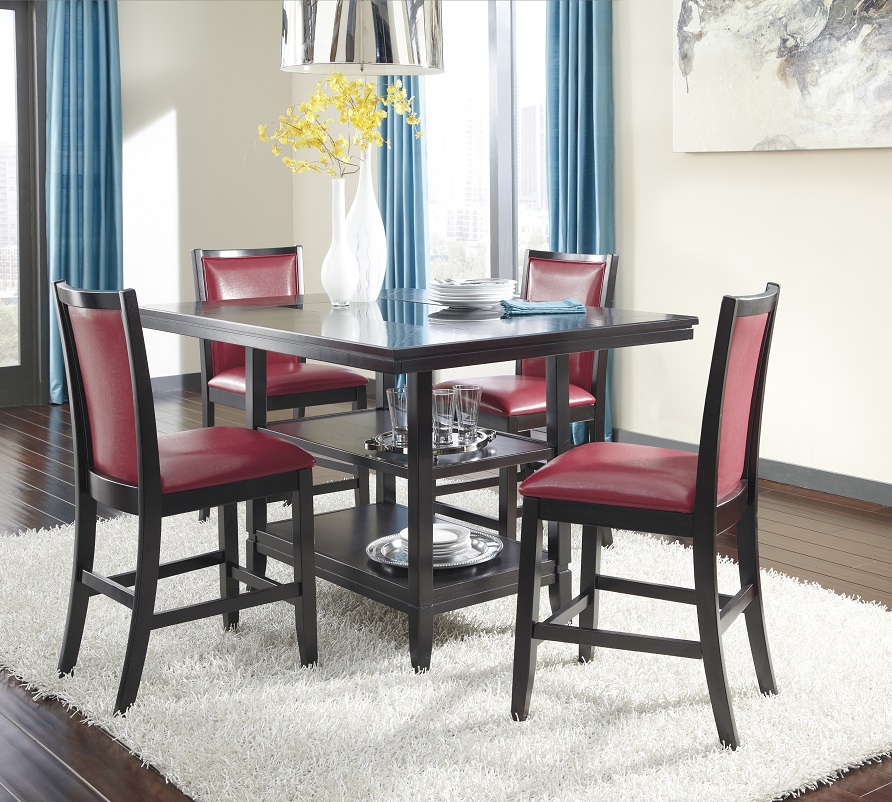 A fresh pop of color gives this counter-height setting even more of a casually cool attitude.
Make It Work: For urbanites, especially, who long for style but are short on space, a small but multifunctional dining table is ideal, offering plenty of room for storage.
A multifunctional table that looks at home flush with a wall is that much more space accommodating.