Whether you're meeting your significant other's parents for the first time, going to a friend's dinner party or staying at your favorite aunt's house for a weekend, it's always in good taste to bring a thoughtful gift. While it's not a hard and fast rule, a small token of appreciation goes a long way in expressing your gratitude for their time and hospitality. After all, entertaining guests isn't easy.
The classic go-to is a bottle of wine, and while it's a lovely gesture, wine tends to lose its luster when it's the twentieth bottle your host has received in one night. To help you avoid that, we've taken traditional gifts and added a unique twist for tons of ideas any hostess will love.
Instead of a Dish, Give Her the Key to Beautiful Tablescapes
Roll them up, tie each with a festive ribbon and you've got yourself a perfect present for the hostess. Those who love entertaining can never have too many placemats, and these are sure to be a hit with their easy-to-match color and subtle farmhouse chic appeal.
Sticking to neutral pieces is a safe choice that certainly doesn't hold back on style. This hand-painted set will grace the dinner table with its beautiful tonal variation.
Instead of a Sweet Treat, Give Her Home a Sweet View
Staying overnight? Gift your gracious hostess with beautiful artwork to spruce up the guest bedroom. This gorgeous cityscape is sure to satisfy any wanderlust dreams…temporarily at least.
Instead of a Candle, Give Her Infinite Illumination
Candles are always nice to have around, but eventually melt away. These candle holders are perfect for housing faux pillars, or to adorn with battery-operated fairy lights. It's perfect for casting that eternal charming glow.
Instead of Flowers, Try a Fanciful Year-Round Arrangement
Expand on the classic idea of flowers by arranging them inside a decorative vase. This set is an ideal choice with its versatile white hue and cool, contemporary pattern. Whether the hostess decides to keep it dressed up with fresh greenery, faux plants or let it stand as a work of art on its own, she'll always have a piece of decor that reminds her of your beautiful friendship.
Instead of Boxed-Up Pastries, Serve Up the Goodies in Style
Instead of laying out pastries on a plate, take it one step further by setting them on a beautiful accent tray. This mirrored tray reflects light and color, making it ideal for serving up aesthetically pleasing side dishes, cocktails or decorative accents.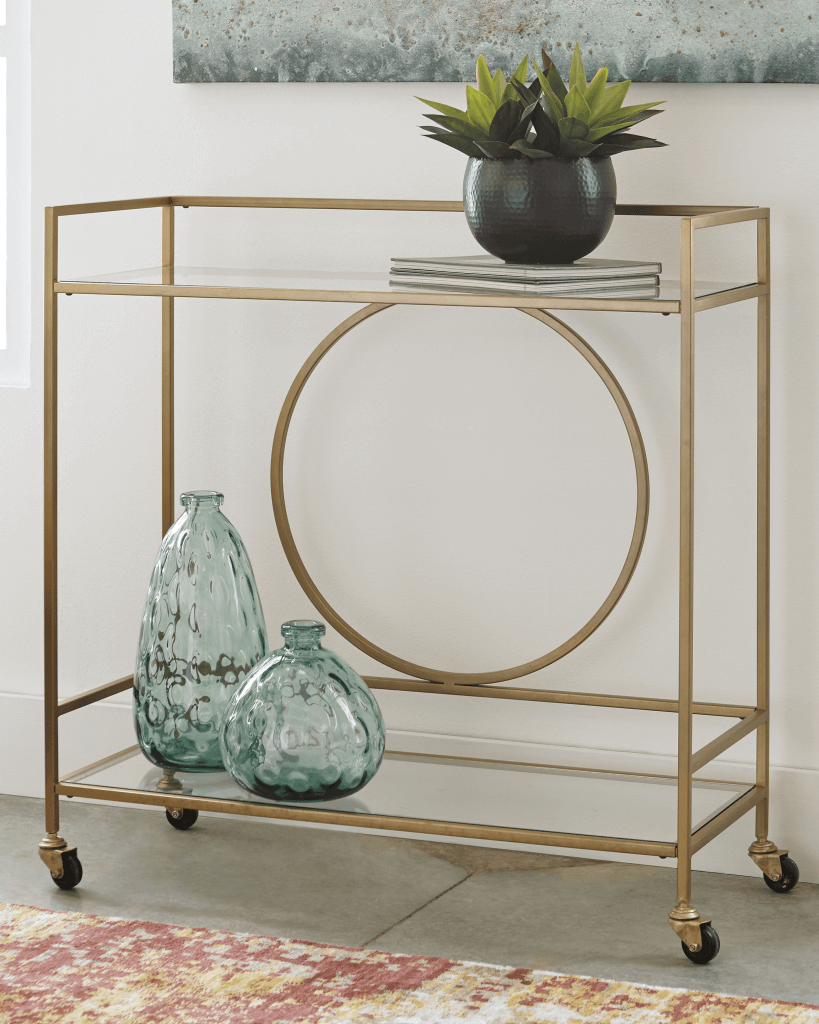 Nothing feels more gourmet than rolling around a cart of delectable delicacies. This mobile bar cart features a lift-top tray for portable serving in a jiffy—so whether its cocktails, sweets or hors d'oeuvres, your hostess will feel prepped and ready-to-go in style.
What will you be gifting the hostess with the mostest this year? We'd love to hear!
Looking for other gifts? Check out our Gift Guides.