The workday is done, your PJs are on, and you're ready to unwind with this week's favorite game. You sit down at your desk—excited to escape into peaceful gaming bliss. But instead of bliss you feel just blah. You can't fit both your drink AND your snacks on your desk with your keyboard and mouse. And that disorganized tangle of wires? It's giving you lowkey anxiety. If this scenario sounds familiar then it's time you invested in a dedicated gaming desk.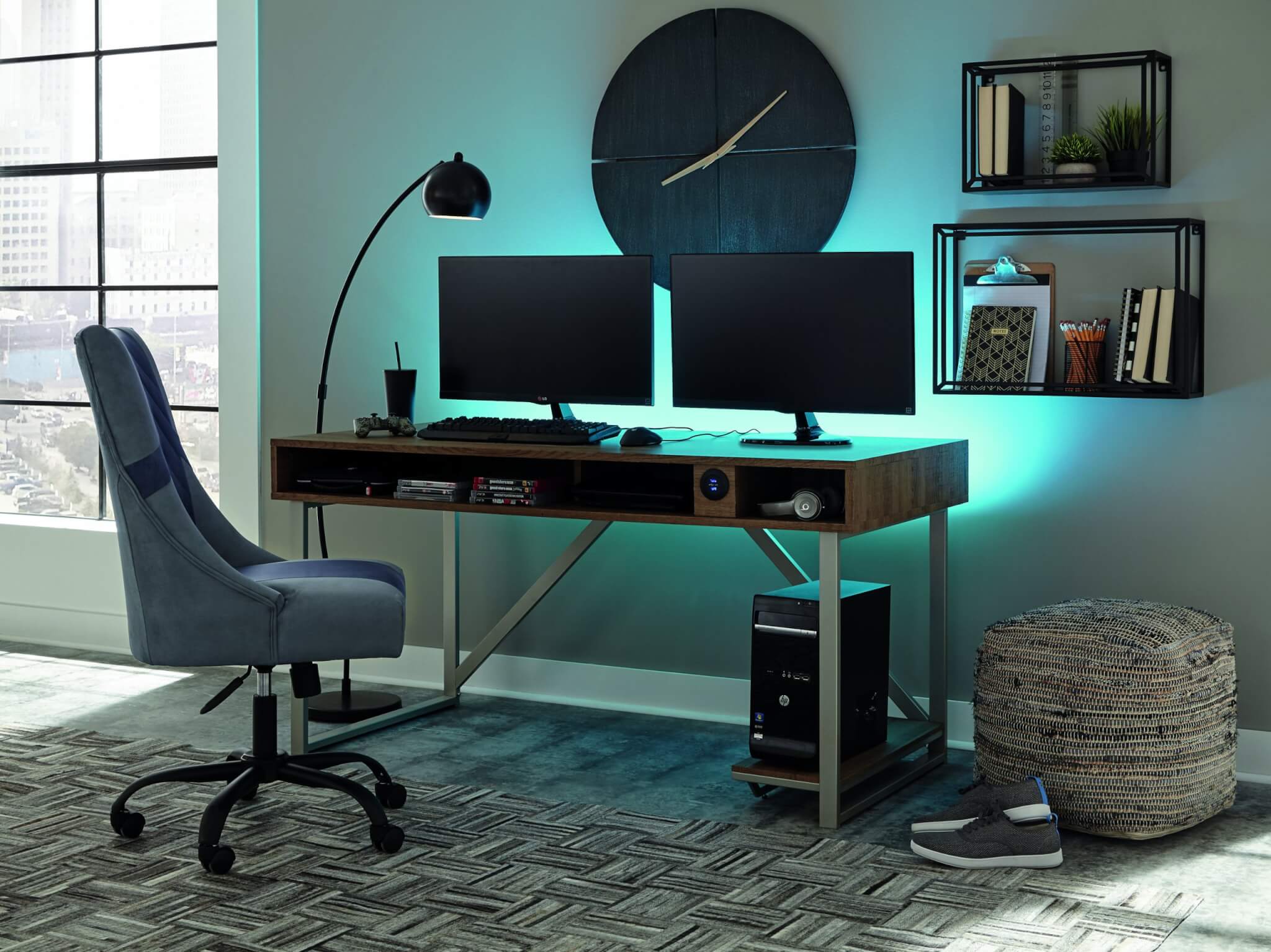 Level up your gaming desk
You're ready to upgrade to an entirely new gaming setup, but you're not sure where to start. First decide on your gaming desk essentials. Do you need a gaming desk that can double as an office desk? What's your price point? How much surface space do you need? Do you want a dedicated spot to display collectibles? Figuring out these key features will make you more confident in your shopping game.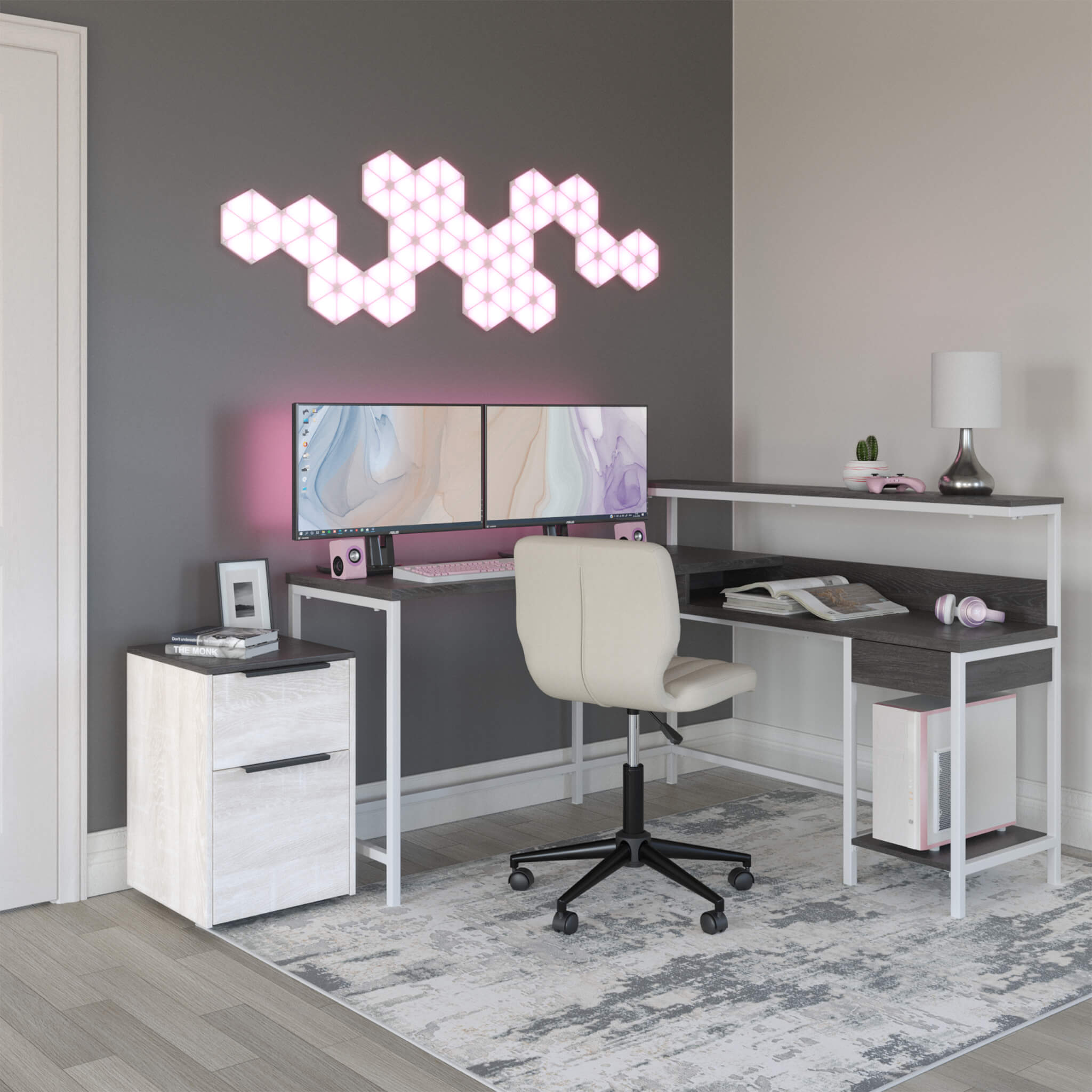 If you're looking for a spacious, all-purpose option, check out an L-shaped gaming desk. This configuration works great for corners and offers a large surface area to arrange PC monitors and accessories. The RESPAWN 2010 L-Shaped Gaming Desk is a perfect choice for those wanting a sprawling command center. It features an ergonomic beveled front edge and storage solutions for headphones and cups.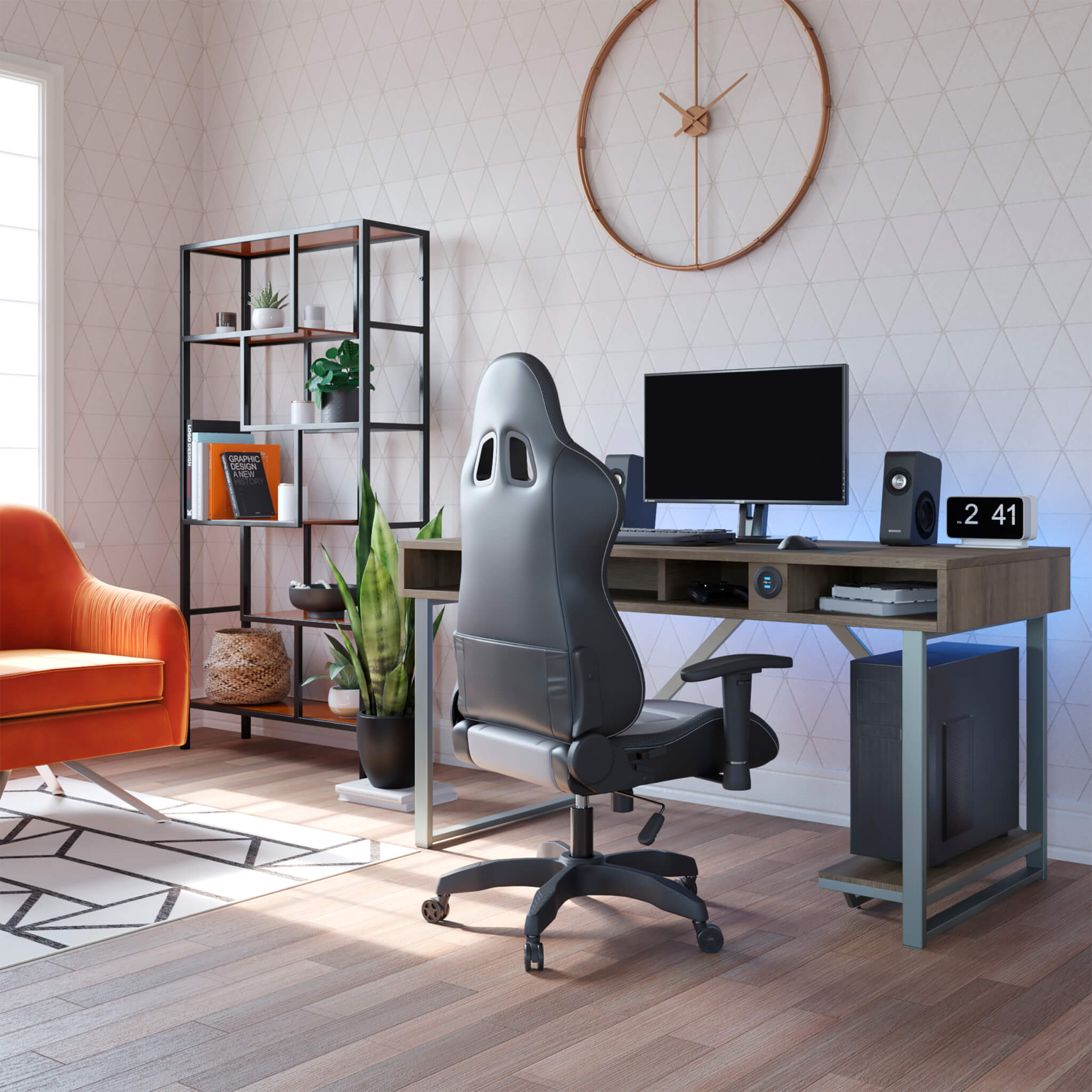 The Barolli Gaming Desk is a space-saving favorite. This gaming desk elevates your style with a clean and contemporary look, while also offering functional key features. It has a large open raceway for power cord management, a desktop monitor shelf, and an LED backlight with multiple colors.
Don't spare your gaming chair
Does sitting for long periods in your gaming chair make you feel like you just got KO-ed in an epic boss battle? Play all day with a gaming chair designed to provide proper ergonomic support for your back and entire body. Ergonomic features such as lumbar support and footrests make a huge impact on your overall comfort levels.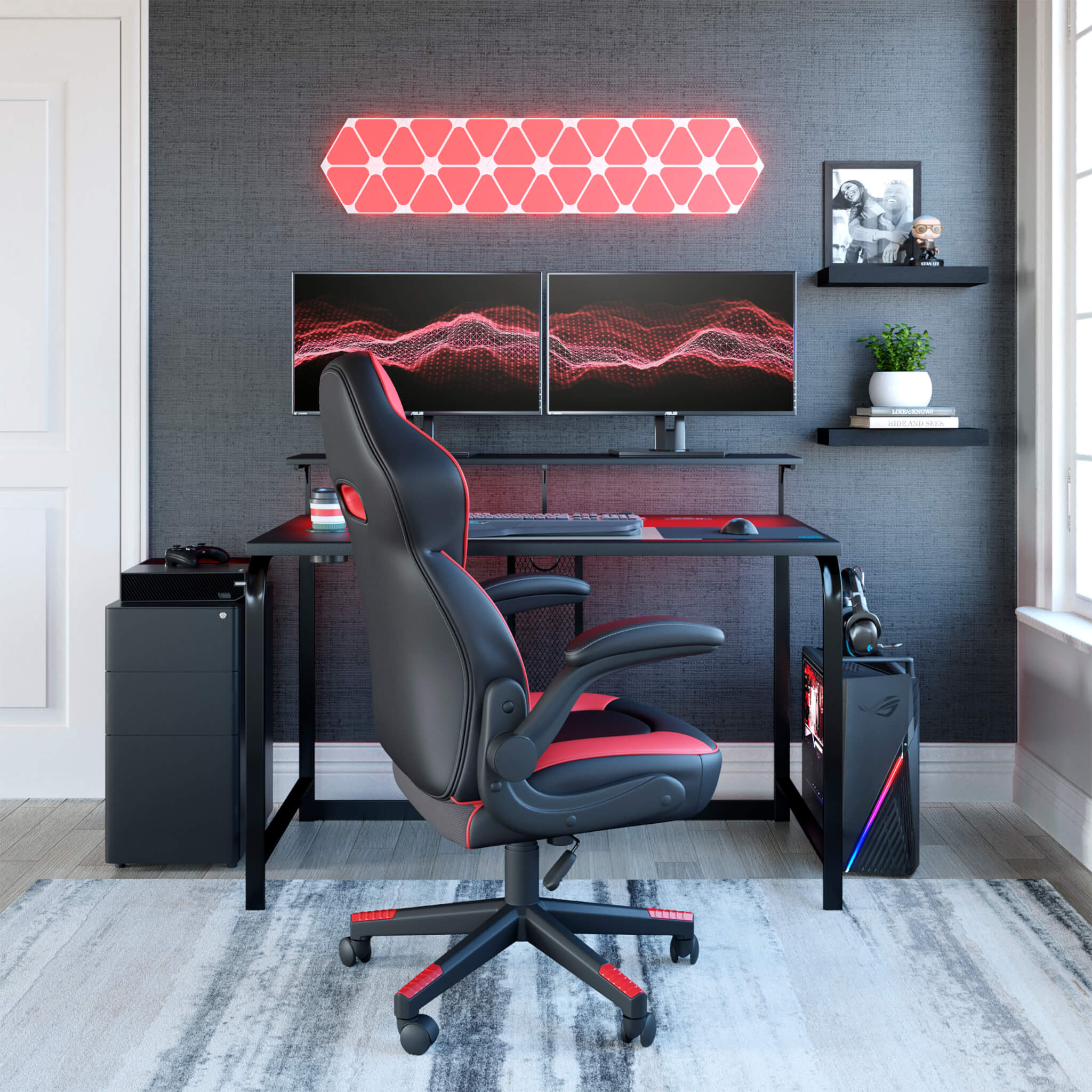 In addition to ergonomics, you'll also want to consider the type of material you need in your new chair. Vinyl and leather seats are easy to clean and maintain, whereas chairs with mesh inserts offer more airflow and breathability.
The Respawn 110 Racing Style Gaming Chair with Footrest is a guaranteed upgrade to your gaming setup. The padded armrest, adjustable lumbar support, and head pillow give you the comfort you need to tackle a long gaming sesh. Its built-in extendable footrest means you'll be playing (and napping!) in maximum comfort.
Complete your Gaming Setup
Before you hit the start button, gear up with the right accessories. Gaming accessories optimize your experience and are a thoughtful investment in your gaming station. So, what type of accessories do you need?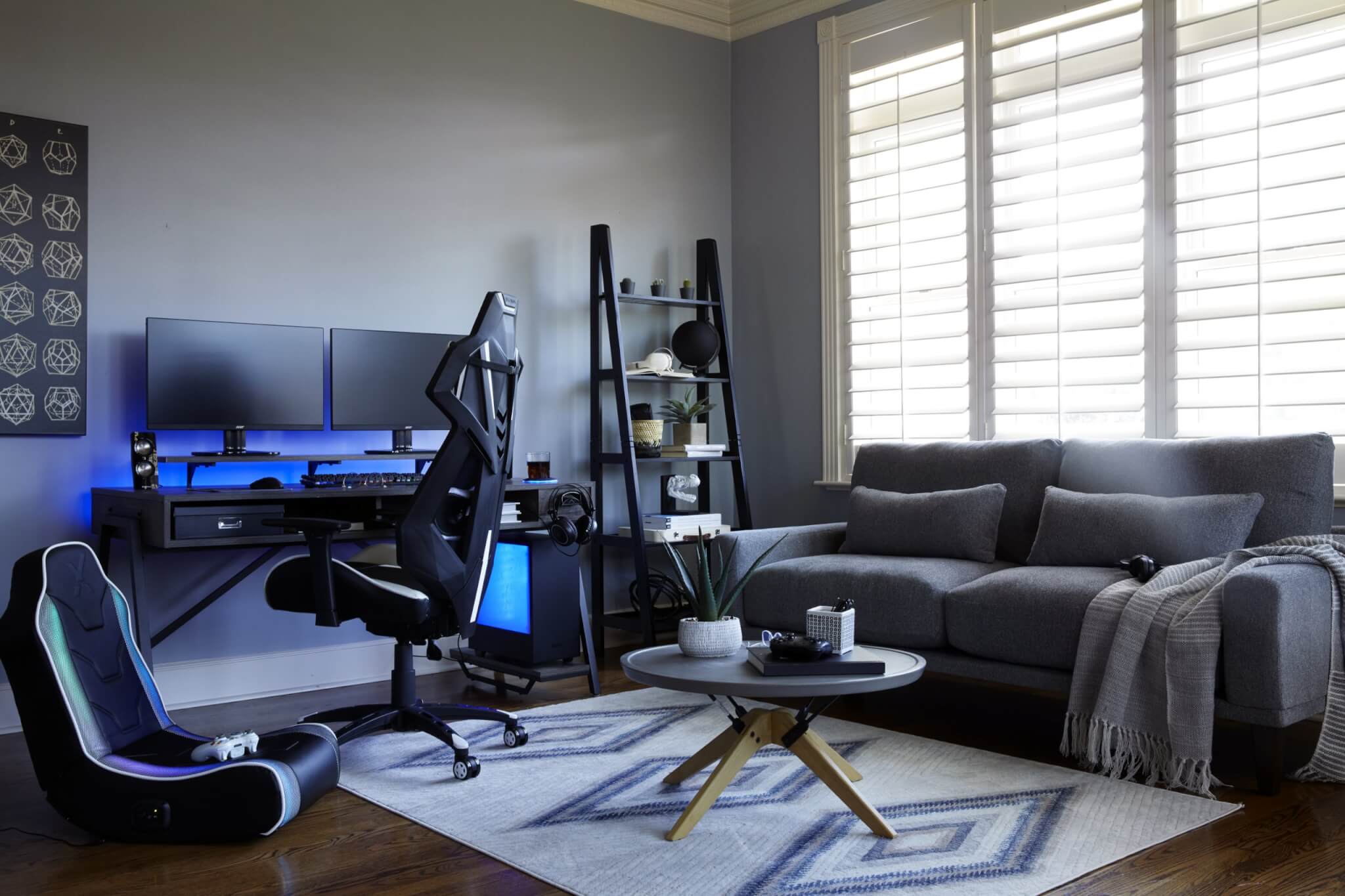 Headphones: Whether you're looking for your first pair or needing to replace a well-loved set, quality headphones enhance your overall gaming experience. The Adesso Xtream G2 Stereo USB Gaming Headset with Microphone features a noise-canceling microphone that is rotatable up to 120 degrees. The headset delivers treble, middle, and bass sound at superior quality.
Gaming Kits: Gaming kits can be a great way to save money while purchasing all the accessories you need to get started. Kits often include a backlit keyboard, mouse, surround-sound stereo headphones, and a mouse pad. The HyperGear 4-in-1 Gaming Kit makes a great gift for yourself or a gaming companion.
Bring on the Game Room Decor
Now it's time to add the bonus level elements. The decor you bring into your gaming setup contributes to your overall experience, so don't overlook these important details!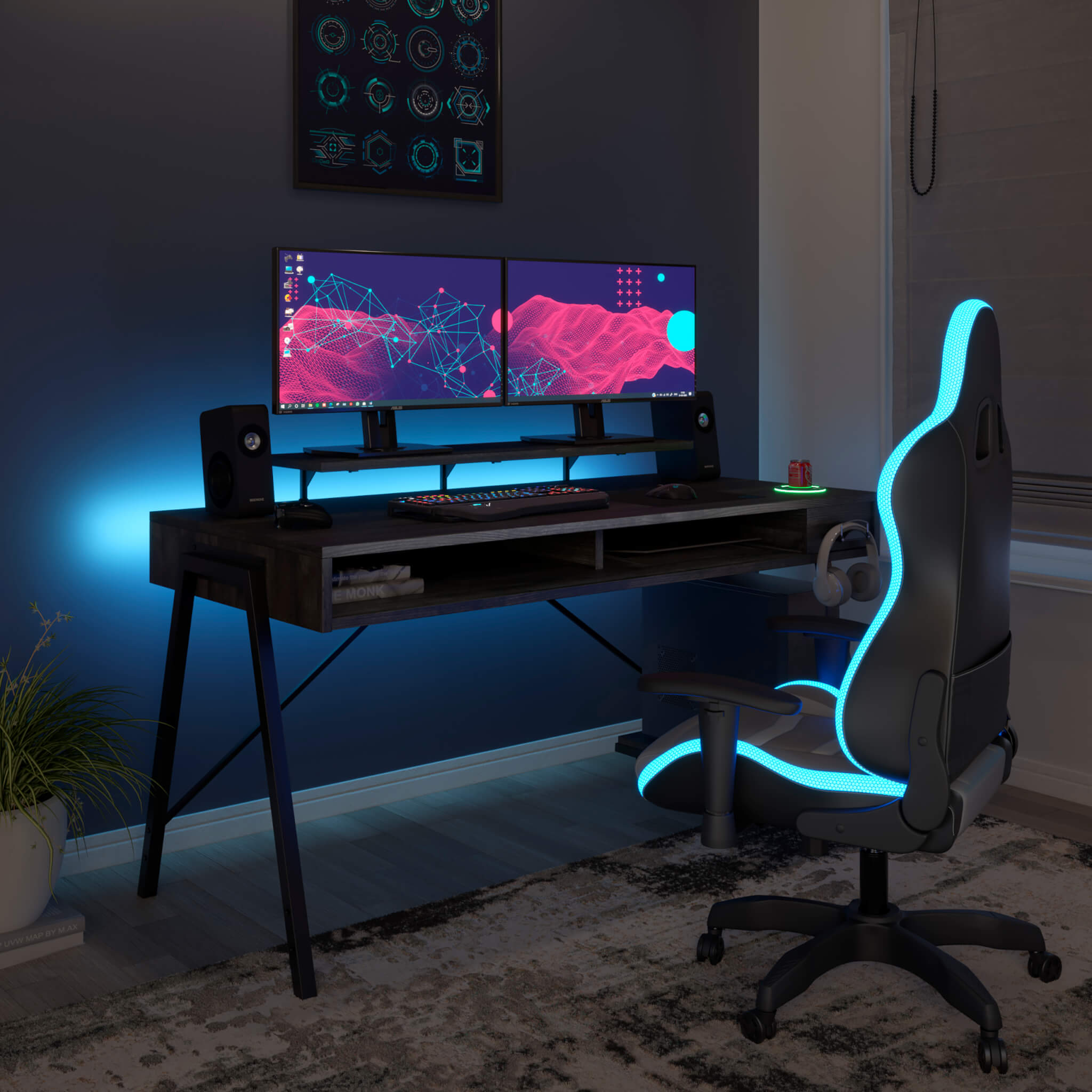 Blackout curtains: Don't waste precious game time trying to find the perfect angle to avoid screen glares. Blackout curtains keep you playing comfortably by blocking outside light and sounds.
Lighting: With brightness-adjusting and color-changing features, LED lighting provides distraction-free visibility in dark environments. Place them along the ceiling or under your desk to bring a little cool factor into your gaming setup.
Floating shelves: Shelves are essential for storage. Floating shelves help you organize your games or display your prized collectibles.
Wall art: Add art to your gaming room to bring your unique personality into the space. Whether it's framed art, canvas sets, picture frames, posters, or tapestries—bringing in the things that make you happy and inspired help you play little better.
Whether you're just getting into gaming or a seasoned player, understanding the importance of the game room setup will make all the difference in your experience. Follow these simple guidelines and you'll be lost in gaming nirvana in no time.