When it comes to holiday decorations, there are two types of people: those who live for the holidays and those who aren't looking forward to the extra work. Whichever category speaks to you, we have holiday home decor ideas you're sure to love—ranging from simple and inexpensive, to extravagant and over-the-top. So, let's make this most wonderful time of the year sparkle with style:
Create a Warm Welcome with Entryway Holiday Decor
If you want to create a true holiday experience, make it one that sparkles as soon as people enter your home. The best way to make people feel welcome is with holiday entryway decor. Beyond typical pumpkins or snowmen, we have lots of unique holiday decorating ideas—and you'll be happy to hear that they don't involve hours of de-tangling or set-up. In fact, adding just one or two simple holiday decorations makes all the difference.
The Classic Fall Pumpkin
Pumpkins aren't just for Halloween—they're iconic symbols that can be used throughout the holidays. Place one or two on your doorstep for festive entryway decor. Go out to a pumpkin patch and pick one to spray paint your favorite color, or keep it simple with this chic, metallic gray pumpkin—it has the perfect amount of holiday shimmer.
Artifical Christmas Trees
Who says Christmas trees have to go only in the living room? We certainly don't think so, add small artifical Christmas trees to your foyer for a holiday welcome as soon as friends walk through the door. Enhance the decor with fun accents surrounding the trees like Christmas gnomes or ornaments.
Holiday Door Decorating
First impressions are important, so why not create a cheerful one? Wreath-making is one of the most enjoyable projects on our list of holiday decorating ideas. It's your chance to create one-of-a-kind holiday home decor that matches your personal aesthetic. Feel free to let your imagination go wild because there's really no "wrong way" to go about it. If you're a fan of traditional style, our DIY Fall Wreath Guide shows you how to create one filled with bells, holly, pine cones and more.
Whether you're drawn to traditional or edgy style, there are tons of wreath ideas to explore. Plus, you can use them as indoor holiday decorations too.
Enchant Your Living Room
The family room is where everything happens, so it only makes sense to pay close attention to your living room decor. Whether you envision a shiny winter wonderland or a traditional holiday abode, we have holiday decorating ideas that will hit the mark with festive flair.
Mantel Decorating
Fireplace mantels are the perfect spot for showing off your holiday decorations. Let your creative side shine with combinations of holiday accents, greenery and wall art. The best part is you can make your mantel transitional through each holiday by adding simple accents.
No holiday decorating ideas list is complete without pinecones. Fresh pinecones on your fireplace mantel add a lovely, natural touch. We even have a handy guide to show you how to make scented pinecones – perfect for holiday accents or gift-giving.
Garlands are another cute mantel decorating idea. Colorful stocking garland has tons of potential uses: drape them on a mantel, string them up with ornaments and decorations on the Christmas tree or hang them on a staircase railing.
Subtle Holiday Accents
Simple holiday accents provide the perfect touch of sheen without going all out. There's sophistication in subtlety and makes decorating during the holiday season easy.
Cast a charming glow in your living room with candle decor. Reindeer tea light holders will surely rein in guests' attention. Candle holders are so easy to decorate with since you can place them anywhere: on end tables, coffee tables, mantels or pier cabinets.
Every living room needs cozy decor elements, especially a few holiday throw pillows. Throw pillows add the perfect amount of seasonal flair without going overboard.
Christmas Tree Decorating Tips & Tricks
Of course, no list of holiday decorating ideas is complete without including the Christmas tree. Decorating the tree is a mighty task, so read on for tips that help streamline the process and create stunning results.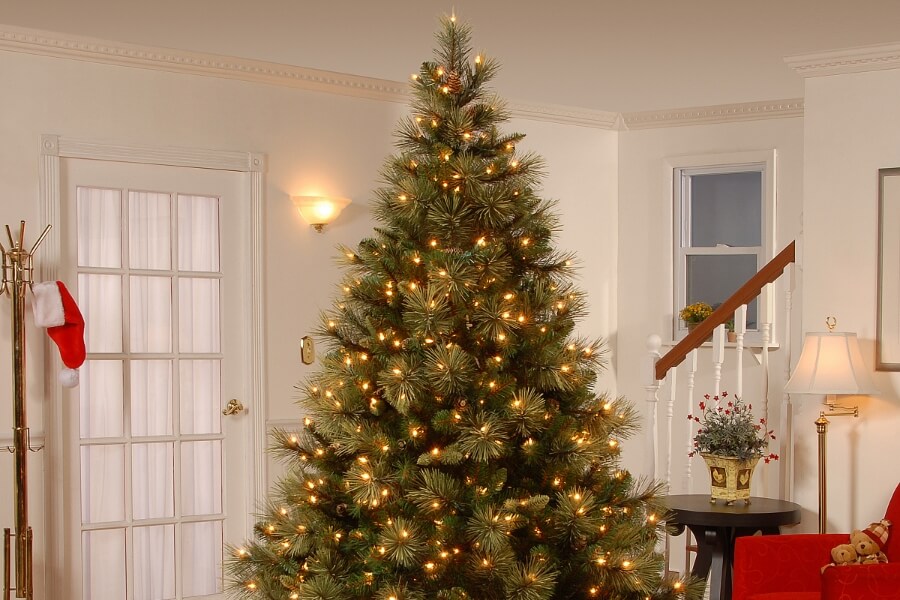 Think of Christmas Tree Themes
Choosing Christmas tree decorations can be overwhelming. How many colors is too many? What do you top the tree with? All of these questions can be easily answered once you've narrowed in on a specific theme. There are tons of Christmas tree themes to choose from. You can dazzle guests with an eye-catching color palette, an ombre effect, retro style or floral theme. The sky's the limit, so there's absolutely no pressure in choosing "the right" one.
Decorate in the Correct Order
Once you've picked your perfect theme, ensure quick and easy styling by adding ornaments and holiday accents in the correct order. First, string up the lights. Afterwards, add garlands or ribbons. Finally, add ornaments and a tree topper. Easy.
Add a Mix of Ornament Types
Decorating with a variety of ornaments will add layers of interest to your tree. For example, if you choose a plaid theme, incorporating ornaments in a variety of sizes, textures and shapes in complementing colors will add depth. Snowflake ornaments are a perfect example of decorations that go with any Christmas tree theme.
Holiday Dinner Table Setting Ideas
Hands down, one of the best things about the holidays is food. There's nothing like sitting around the table and sharing delicacies with your closest friends and loved ones. To make the experience even more memorable, we added table setting tips and designs to our list of holiday decorating ideas.
Get Creative with a Holiday Centerpiece
Add signature style to the dinner table by creating a holiday centerpiece. A simple cornucopia of fruit and greenery is always welcome. If you don't want to go the fresh route, you could place decorative fruit in a stylish fruit holder, add a few sprigs of pine or holly, and voila!
An autumn table setting can be easily achieved with lots of fall florals and pumpkins as the centpiece. It's perfect for Thanksgiving—or Friendsgiving.
Creating a beautiful tablescape with a holiday centerpiece doesn't take much time at all—and the results are jaw-dropping. Focusing on lots of greenery is a classic way to create the perfect holiday centerpiece—and this tablescape only takes a few minutes to assemble.
Decorate the Table with Holiday-Themed Dinnerware
Holiday-themed dinnerware is an easy way to give your decor an upscale vibe. Investing in a unique set of cheese utensils or a dinner platter will add refinement to your dinner table.
Wow Your Guests at the Bar
The bar can often become the central hub at parties. Set a cheerful tone with a chic piece of wall art placed strategically above the bar. This one is perfect for the season and can be used year-round.
If you don't have the space for a designated built-in drink station, try a bar cart. They're easy to move around when you need to rearrange the party layout and are so fun to decorate. Our guide details five creative bar cart decor ideas to enhance your holiday gatherings.
Add another element of joyful design with holiday-themed drinkware. These stemless wine glasses double as holiday decorations with their heartfelt messaging in beautiful, scripted lettering.
With all of these ideas, it sure looks like Santa is coming to town, in the best of style. Which of our holiday decorating ideas are you planning to use this year? Make sure to snap a picture and share with the hashtag #MyAshleyHome—we'd love to see your beautiful holiday decorations!