Shabby chic style never seems to get old. What's especially great about this design aesthetic: you can take the vintage look to its frilliest, most feminine extreme. Or, you can opt for a more edited approach with chic touches here and there for a timeless, tasteful sense of faded elegance in the dining room, and beyond.
Tips for serving up shabby chic style in the dining room:
1. Dabble in whites, creams, pastels

To set the mood, you'll want to delve into the classic shabby chic palette: whites, creams, soft sands, dusty grays and, of course, muted pastels. From your dining room wall color and window curtains, to the finishes of your furniture and upholstery, the possibilities for a color scheme are endless.
2. Set a comfortable table
No matter if you've got a rustic farmhouse table or a traditional mahogany piece passed down from your grandmother, you don't have to throw out the old for a new shabby chic look. Instead, find some fabulous chair slip covers, either in a fanciful floral or crisp white with ruffling for a flirty touch. Frills and spills work out when the slip cover is machine washable.
Open to a new dining room set? One with a white-washed finish and distressed details is shabby chic all the way.
3. Turn on the mood lighting
The romantic chandelier? It's a shabby chic staple. What's great is that you can stay with that traditional crystal chandelier currently hanging in your dining room—or you can swing a more current look. We love the use of rustic wood in lieu of crystals. A fresh twist on tradition.
4. Accentuate romance, timeworn charm
Shabby chic accents are all about distressed finishes, timeworn charm and bygone beauty. You can DIY distressed looks. You can scour flea markets and garage sales. Better yet, spare yourself the trouble with brand-new buys made to look old.
A few of our favorite accents that can add flavor and charm to your shabby chic dining room: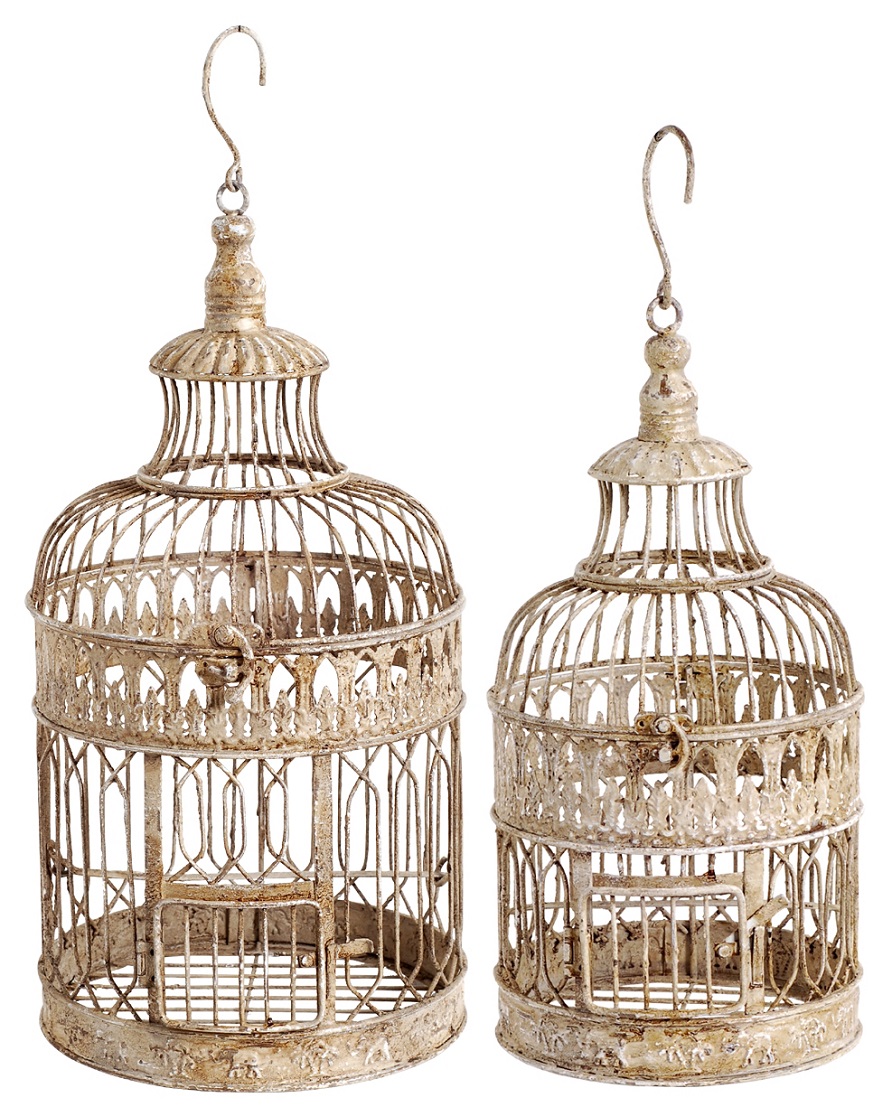 Nothing captures the shabby chic element quite like Victorian birdcages. Dainty, elegant and delightfully old fashioned.
Clouche shapes, tin roofs, distressed surfaces. Incorporated into candle holders and other accent pieces, they cast a beautiful light in your romantic dining room space.
Beautify an empty, overlooked corner of your dining room. A decorative birdcage (so sweet filled with faux plant displays) or a pretty pedastal accent table topped with a fruit-filled basket is SO shabby chic.
A distressed vintage-style door, effortlessly leaned again the wall. A "weathered" window frame or a window-style mirror mounted on the wall. They inject that inside-outdoor ease that makes shabby chic style a breeze.
DIY idea for shabby chic style:
Find a piece of cheap furniture (say an old toy chest or a 3-step ladder) from a garage sale/flea market.
At the hardware store: buy a can of paint in the shabby chic shade of your choice, along with course sandpaper and about two-feet of heavy chain.
Paint your furniture piece. Let dry thoroughly. Use sandpaper to create "weathered" edges here and there. Here's the fun part: Grab that chain and do some damage by creating nicks and dings (your very own distressed marks). Doing so will reveal hints of the original color of the piece for even more character. When done, gently brush surface to remove traces of sand or paint chips. Use foam paint brush to lightly finish in a clear polyurethane, if desired.