If you're looking for shelving ideas to fill an empty wall or create display space for collectibles, books or other items, here are some cool shelves to the rescue! Discover ways to incorporate these clever shelving ideas into your decor and transform empty walls into edifices of beauty. Then, keep reading to discover 10 helpful decor tips for turning those empty shelves into beautiful pieces of artwork for your home.
Ultimate Shelving Ideas
There are numerous ways to create your own attractive shelving units. Having room for displays and storage will give you the flexibility needed to enhance your decor as well as offering invaluable space to stay organized.
1. Floating Wall Shelves
If you need a clean, refined look and have a lot of items to display, floating shelves are perfect. This shelving idea doesn't take up valuable floor space, and you can hang them virtually anywhere, in whatever configuration is pleasing to you.
Note: Attach shelves to studs using a stud finder, or use drywall anchors to prevent shelves from collapsing due to weight.
2. Wall-Mounted Storage Boxes
Ideal for any room, wall mounted storage boxes offer many of the same benefits as floating shelves but with more creative possibilities. By altering the sizes and shapes of the boxes, you can assemble a unique wall display with depth and variety. Boxes include an interior shelf and top shelf that give you more space to work with. Consider creating your own unique pattern or collage of boxes for an eye-catching treat.
3. Hideaway Storage
Maximizing storage space without making it look obvious can be quite a challenge. Hideaway storage is a broad-based idea for incorporating storage into rooms without a cluttered look. Take full advantage of opportunities to build out your own shelves.
Sliding barn doors are popular for creating a simple, rustic look. If you love the look but aren't crazy about building your own barn door set up, consider an entertainment center with barn doors.
Cabinets and credenzas can also be considered hidden storage. You can hide the things you want to keep out of sight, yet within easy reach. Look for interior shelves that can be easily adjusted to accommodate the whatnots you want hidden behind closed doors.
4. Bookcases
Providing open shelf space, bookcases are ideal for books and anything else you want to display. You have an unlimited number of choices when it comes to finding bookcases. From small to large, tall to short, the possibilities are endless to bring shelving to any room.
10 Ways to Decorate Your Shelf
Once you have your shelves in place, how will you fill them? Express yourself with creative use of shelf decor. Here are 10 tips for making the most of all the shelf space.
1. Illuminate Your Shelf with Romantic Candles
Attract attention with a romantic flicker. Candles and candle holders come in many different sizes and styles and are a great way to add decorative flare to your shelf. Among the many candle choices are flameless candles; simply press a button on a remote or set the candle's timer and you'll enjoy the light show without the hazards of a real flame.
2. Lean, Don't Hang
Love artwork? Bring colorful character to the forefront. Choose a piece of wall art that complements the room. Rather than hanging it on the wall, simply lean it against the wall on a shelf. This way, you can add artwork to your room without nails—what a pretty addition.
3. Personalize with a Picture Frame
Add a personal touch to any shelf with picture frames. Simply frame your favorite photos, art or other memorabilia and set them on the shelf. Framed photos can help provide a background or contrast with other items you're displaying.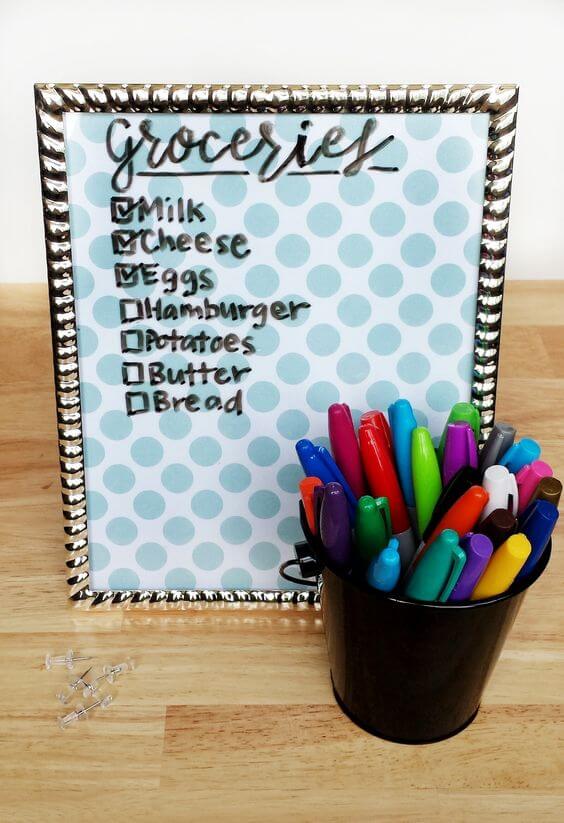 Decor Tip: Many plastic frames work as a dry erase board so you can write directly on the frame and display quotes, to-do lists or even your WiFi password. Find more DIY inspiration for your photo frames here!
4. Add a Decorative Clock
"What time is it?" – A question that is always asked. Answer by showcasing a beautiful time piece on your shelf. Not only does it tell time, but it's a gorgeous focal point. Choose a classically styled clock for an authentic feel that makes you want to turn back the hands of time. Modern clocks, often made of glass and steel, may have you thinking ahead to the future. If a large wall clock catches your eye, hang it above the shelf.
5. Reflect Your Style with a Small Decorative Mirror
Reflect your sense of style with a beautifully designed mirror. Not only will it showcase the accessories on the shelf, but it will also add a sense of spaciousness. Consider all of the stylish possibilities that mirrors provide. You'll love how your style can be reflected.
6. Add Storage to Shelves with a Basket or Box
Want to add natural beauty with some unexpected functionality? Adding decorative basket and boxes to your shelf creates portable hidden storage. The same goes for attractive organizers. Use these versatile items to hold plants and flowers―ideal for adding a touch of green to the shelf―or load them with craft supplies, books and other odds and ends that you want to keep out of sight.
7. Accent with Small Vases and Bottles
Introduce various shapes, sizes, textures and shades of vases and bottles into your decor by strategically placing them on your shelves. Depending on their style, they can complete the look you want. Use them to add pops of color with accent flowers or greenery.
8. Mix Up Shapes with Decorative Sculptures
Use sculptures of all shapes and sizes to give your shelves a distinctive look that defines your personality. Sculptures, which make exceptional home accents, can reflect your interests. Switch out sculptures to refresh the look of your shelf throughout the year.
9. Fill a Decorative Bowl with Greenery or Fruity Accents
Add a distinctive touch of class to your shelf with bowls. Fill them with whatever catches your fancy. From greenery to fruity accents, the possibilities are limitless. During the holidays, change the contents to holiday themes, like pine cones, ornaments or holly.
10. Add a Rustic Touch with a Decorative Jar
Add a touch of whatever style suits your fancy to your shelf with a decorative jar. They come in all styles, colors and sizes, from rustic to refined, classic to contemporary. Many jars come with streaked distressing and "old time" logos—perfect for adding a touch of nostalgia to the space. Treat it as a centerpiece or use it to help balance out the shelf.
By adding shelves in your home and adding your personal touch, you'll create a meaningful space that's sure to catch everyone's attention.
We'd love to see how you've added your own personal flair to shelf space in your home. Share your experience below or use #MyAshleyHome to possibly be featured on our Instagram! You can also find more home decor inspiration on our Pinterest.