Although school breaks seem endless, especially to your kids, try to make the most of the time you have together. From playing outside in the sun, to snuggling up next to a backyard campfire, start making memories beyond the walls of your home. If you're looking for ways to spend time outside with the family, here's a few backyard games where at least the fun can last forever. 
Let's dust off your maker's hat and get down to business. In this blog, we want to show you the supplies and tools you need to craft endless fun for your whole family. Don't be worried at the sound of building these games yourself. They are fun and simple enough for even first time do-it-yourselfers.
1. Backyard Tight-Rope
Our first fun backyard game will have your kids training for the circus. Hours of playtime and all for the cost of tying two ropes around a couple trees. Who knew that this much fun could be so inexpensive? The creative folks over at Kidsactivitiesblog.com have put together a great resource guide on this outdoor game idea and you'll be surprised at just how easy it is.
While it is simple to set up, the game of balancing takes practice and requires focus during playtime. The bottom rope will be used for challenging their balance, while the second rope will be at arm's reach to keep them steady. Even if they don't go on to use the flying trapeze, your kids will still get plenty of exercise, learn how to balance, practice their coordination and have a circus of fun.
Like every game and playtime activity, please be sure your kids are up to the challenge. Stay on-hand while your children are attempting this game, and we encourage you to take precautions you feel are necessary. One way to make this a little more kid friendly is to place some large pillows around and underneath the tightrope. With an outdoor activity, make sure your kids feel confident in their ability to play! 
2. DIY Hula Hoop Games
Further proving that not every do-it-yourself project requires power tools, here are five fun and easy games that the kids will love. With just some spray paint, chalk, washers and hula hoops, you've got everything you need for hours of summertime fun.
Hula Hoop Hopscotch – A children's classic made new again by laying out the hopscotch formation in Hula Hoops! There's a reason this game has been a favorite for generations. Show the kids how it's done and compete with them to see who can set the fastest time or have the most style.
Washer Races: A game of speed, hand-eye coordination, and sorting. Washer races will bring out the competition in any kid. Color coordinate painted washers with matching Hula Hoops and have kids race to place them where they go. The fastest time wins, but the correct color placement is the only way to stop the clock. Kids of all sizes can get in on the action, just move the hoops and washers a little farther apart if some think it's too easy.
Washer Toss: Lay out your hoops in a line and place a bucket at the end. Use your chalk to draw scores in each, placing the biggest prizes the furthest away. Line up from the same start and throw the washers at the targets. This one can be played by highest score, or for a more challenging game, pick a number and try to add up to it exactly. Be careful not to go over, or it's back to the start!
Arrow Toss: Hang your Hula Hoops somewhere high and give your little ones a foam arrow or football to toss through. Accuracy is the aim of this game, can you make it through the hoop? You can assign points for different hoops or even for just getting it through a hoop. For more advanced play, try turning it into a game of horse. Anything you can do, I can do better­ – We'll see about that!
Physical Challenge: For the Hula Hoop physical challenge, it's time to get creative. Lay out your hoops on the sidewalk or asphalt, somewhere you can draw with chalk. In the middle of each hoop, write out a challenge to be performed when someone gets there. For example, make a funny face, spin three times, sing a song, or do some jumping jacks. If exercise isn't your thing, try songs from your favorite movies, dances, knock-knock jokes, or impersonations. You know your kids best, what would they love most?
3. Scatter-Molkky Yard Game
What better way to keep things interesting than by giving them a game that's brand new to them and all their friends? Here's a game that we're all but certain your kids have never heard of. Molkky, which also goes by the name Scatter, could be described as a game that's a cross somewhere between bowling and horseshoes,with everything made of wood. For a complete list of steps, be sure to check out the resource that hertoolbelt.com has put together. You'll find dimensions, steps, and how-to guides for cutting the pieces out of dowels.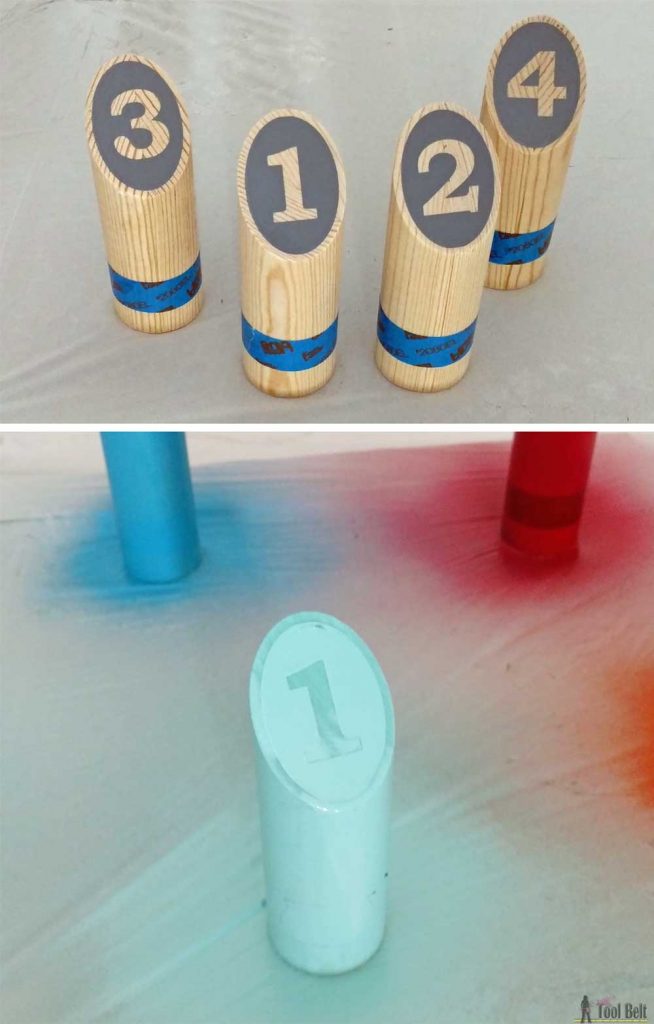 4. Pool Noodle Games
Giant yard games do not have to be giantly difficult. This fun backyard game is made out of the summertime staple: the pool noodle. Pool Noodle Ring Toss is made from creating rings out of the noodles by duct taping them in a circle, then placing them in the ground, held up by sticks. Arrange the ground sticks in different patterns and distances to add difficultly and you're ready to play!
This game is challenging enough that you may just find the parents being the competitive ones. When you're all done with ring toss, these noodle rings can be used again and again. Try Frisbee, catch, Hula Hooping, and even role-playing as monster truck steering wheels; there is no limit to imagination!
5. DIY Ninja Warrior Backyard Obstacle Course
When it comes to fun backyard games, it doesn't get any more awesome than pretending to be a ninja in your backyard obstacle course. Known to be a big hit with the boys, don't forget that many girls want to be ninjas too; this obstacle course is for everybody. For this obstacle course you'll need wood, PVC piping, cutting skills, and space to run.
Sarah with frugalfun4boys.com walks us through a step-by-step overview of how to build your own ninja warrior obstacle course. Complete with hurdles, stepping stones, and balance beams, there's a lot of combinations that your course can take. Of course, don't be surprised to find all of the neighborhood kids in your backyard this summer because what kid doesn't want to be a ninja?
6. Giant Lawn Scrabble
Do the kids not have patience to sit and play a board game? Jumbo-size the game and get everyone playing again! Make the tiles out of cardboard and paint for a budget friendly option that the kids can even help create.
7. Paper Mache Piñata
Put your own spin on a classic outdoor activity by making your own piñata. Use your imagination, paper mache and candy for outdoor fun with a sweet reward. Here are basic instructions.
8. Yard Twister: DIY Style
Here's a classic game that can be made out of cheap, everyday things. Pain an old blanket with circles to make your board and add a couple pieces of cardboard to make your spinner. Another way to play is to trace out shapes in sidewalk chalk.
9. Rope and Tire Swings
First of all, who didn't want a back yard swing when they were growing up? Create one for your kids this summer and create a memory they'll have forever.
10. Horseshoes
Whether you buy a set or build your own, close enough definitely counts in Horseshoes. All you need to get started with this fun game is two poles and a few "U" shaped objects. For an interactive exercise, try crafting them out of cardboard and tape. Can you think of other ways to build your own Horseshoes?
11. Giant Matching Games
Cut out large squares from cardboard boxes and build your own giant matching game! The best part of any homemade game is making it unique to your family. What colors, shapes, and even cartoon characters would your family love? Print out your favorites and grab a glue stick, that's all you'll need for this fun project.
12. Bean Bag Toss
Are your kids a fan of the game Cornhole? Try out other variations of the classic Bean Bag Toss game and make your own cutouts for them to throw at. Toss a bean bag into a volcano. Throw a bag into a catcher's glove. Or even chuck a bean bag into a monster's nose, it's your game. You make the rules.
13. Outdoor Chalkboard
Love to draw? Did you know that many big box retailers sell Chalk Board Paint? Turn any board or wall into a giant chalkboard to unleash the imagination. Use it to draw elaborate doodles or set the stage for a game like Pictionary.
14. Arctic Treasure Hunter
Do you have future world explorers on your hands? Why not give them their first crack at Arctic exploration. Freeze toys of varying sizes in a block or bucket of ice and give them a hammer to chip away for treasure, or give them water guns filled with warm water to free their new toys.
15. Balloon Darts
Fill some balloons with air, some with confetti, and some with water, paint, toys, or anything else you can think of. Then, tape them up on a board and with adult supervision, let them throw darts to pop the balloons and let their contents fly! Create a scoring game by writing number values on balloons or specifying a color to throw at. We think you'll find this game is just bursting with fun.
16. Giant Bubbles
Homemade bubble mix is as easy as soap and water. Try different bubble wands and make your own for hours of fun. What kind of a bubble would a hula hoop make? How about a giant string circle?
17. Music Board
Let loose your inner percussionist. Almost anything can be turned into a musical instrument. String up everyday objects turned instruments and jam out. Teach your little ones how to think outside the box… Then, bang on it like a drum!
18. Pool Party Hide and Seek
Have you got a kiddie pool or inflatable pool that comes out every summer? Why not turn it into the setting for a finding game? Fill the pool with toys, balls, inflatables, and more. Make up the rules – maybe they can only use their feet to retrieve them, or maybe they have to keep their eyes close. Its up to you.
Do you and your kids have an outdoor game you love? We would love to hear about it and even feature your games on the blog. Make sure you share them with us in the comments below or on Instagram using the hashtag #MyAshleyHome.
Are you looking for fun new outdoor furniture to enjoy your summer on? Be sure to check out Ashley HomeStore's Outdoor style selection that would be perfect for entertaining game-playing guests of all ages.