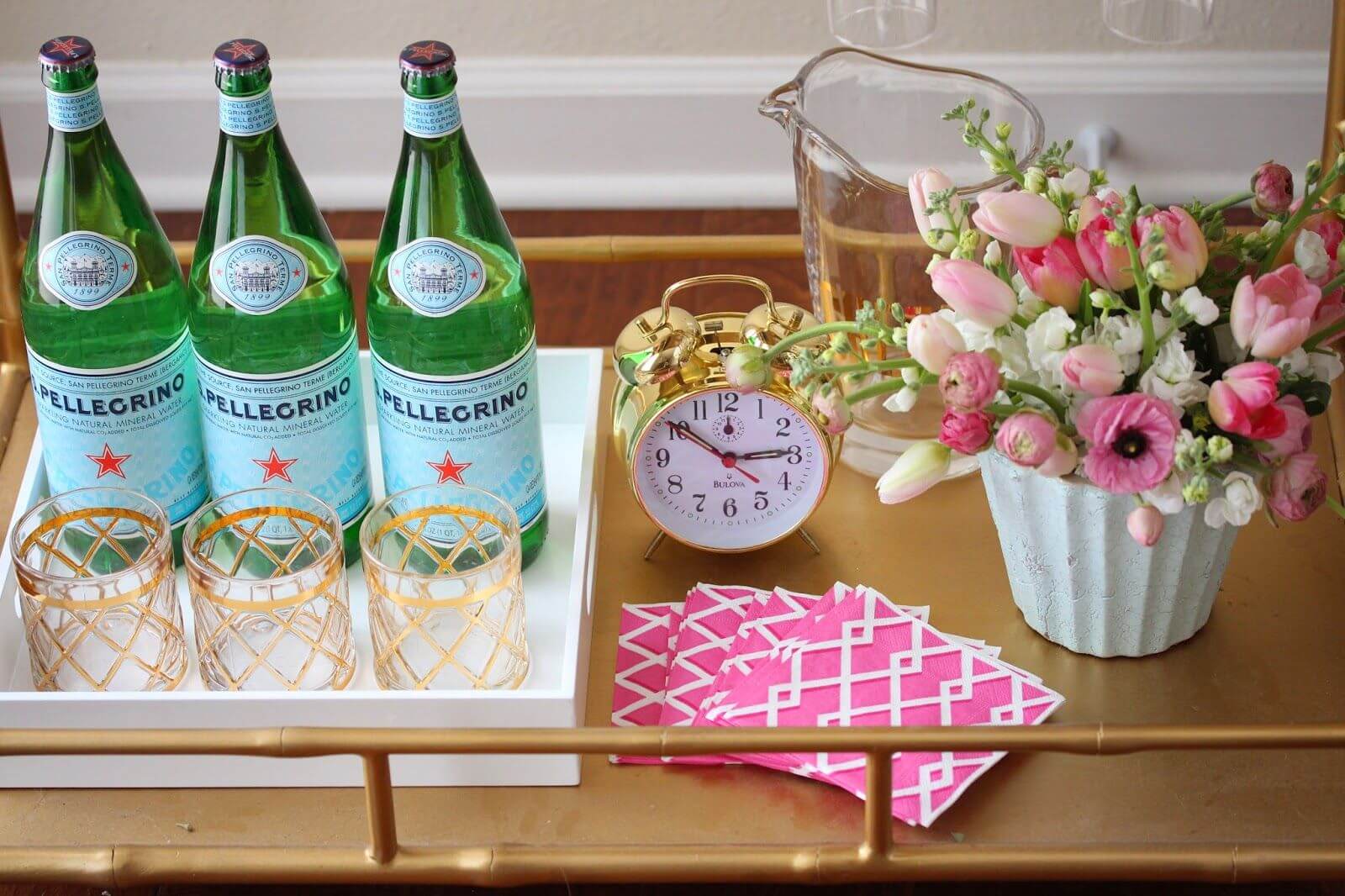 Stow the sweaters and soak in the sun, because spring is here! It's the perfect time to throw open the windows, stir up a delicious spring-infused cocktail and invite friends to celebrate our favorite season.
Entertaining is a breeze when your guests can help themselves to drinks and refreshments—and what could be easier than a fully stocked bar cart? Designing your springtime bar cart display with ever-flowing drinks and supplies—all while positioning it as a fashionable statement piece in your home—is easier than you think.
Tips & Supplies for Your Springtime Bar Cart
Here's how you can make your bar cart functional and stylish:
Place bottles on the bottom shelf to balance the cart's weight (you don't want it to tip over). Also, consider sparkling water, lemonade, and/or sodas with your alcohol assortment so guests can mix drinks to their preference.
Place pre-cut citrus and toppings in a bowl with toothpicks nearby so guests can garnish their drinks themselves.
Keep supplies such as glasses, tongs, a decanter, shaker, stirring sticks, napkins and an ice bucket stocked so guests can self-serve.
Add plants. Choose your favorite spring flower bouquet as a way of drawing the eye. Try daisies, tulips, or even sunflowers for that burst of brightness.
Add a decorative tray or a two-tiered platter for hors d'oeuvres and small snacks.
The possibilities here extend as far as your imagination will allow, but remember—make the most of the space. Your layout, along with the color scheme, is what's going to make magic happen.
Tropical Fun
Photograph provided by Pinterest
Color takes the cake… or should we say, the drink… in this display. This bar cart has excellent placement in front of a charming piece of abstract art, which helps bring out the brightness of the flowers and watermelon towel. Pops of gold on the rims of glasses, trays, decanter lid, and shaker also tie back to the wall art's color scheme and incorporates a refreshing, feel-good vibe that we're obsessed with.
Blushing Beauty
Photograph provided by InstagramOpens in a new window
There's no shortage of supplies or style here. Shades of pink and green are brilliantly arranged on the three shelves of this bar cart. We love how the coordinating colors add a touch of refinement against the pale blush wall and gold accents—which, might we note, is a fantastic spring color. With plenty of drink options to concoct, this is a glamorous springtime display that you can also use any time of year.
Spring Farmhouse
Photograph provided by Pinterest
Instead of alcohol, tea time is another perfectly acceptable way to while away the afternoon with friends. Spring isn't just about bright colors, it's about renewal, freshness and rebirth, so if color isn't your thing, you can keep your bar cart neutral and still celebrate the season. Case in point, this stunning, minimalist chic bar cart, which captures the essence of farmhouse style. White flowers, along with the simple grain of the wood shines through in the best of ways here.
Caribbean Flair
Photograph provided by YouTube
Enrich your outdoor hosting space with a touch of Caribbean spice. The sunny color yellow is the star here, from the flowers and lemons to the place mats and napkins. Even a pitcher thirst-quenching Caribbean lemonade, complete with plenty of sugar and a touch of vanilla, falls in line with the yellow  theme. All the essentials are on hand to create amazing island memories, even if you're stuck on the mainland. 
Spring Cocktails to Kick Things off
If you're looking for some spring cocktails to adorn your bar cart, here are a few recipes to get you started:
Slice of Life
Ingredients:
1.5 oz St. George Terroir Gin
0.5 oz Savannah Bee Company honey water
0.75 oz watermelon juice
Slice of watermelon (garnish)
Basil (garnish)
Directions
Combine honey and water 1:1 to make honey water.
Combine all ingredients, then charge and shake with ice in a Perlini carbonated cocktail shaker.
Strain into a cocktail glass with a slice of watermelon and basil garnish.
Credit: seven lamps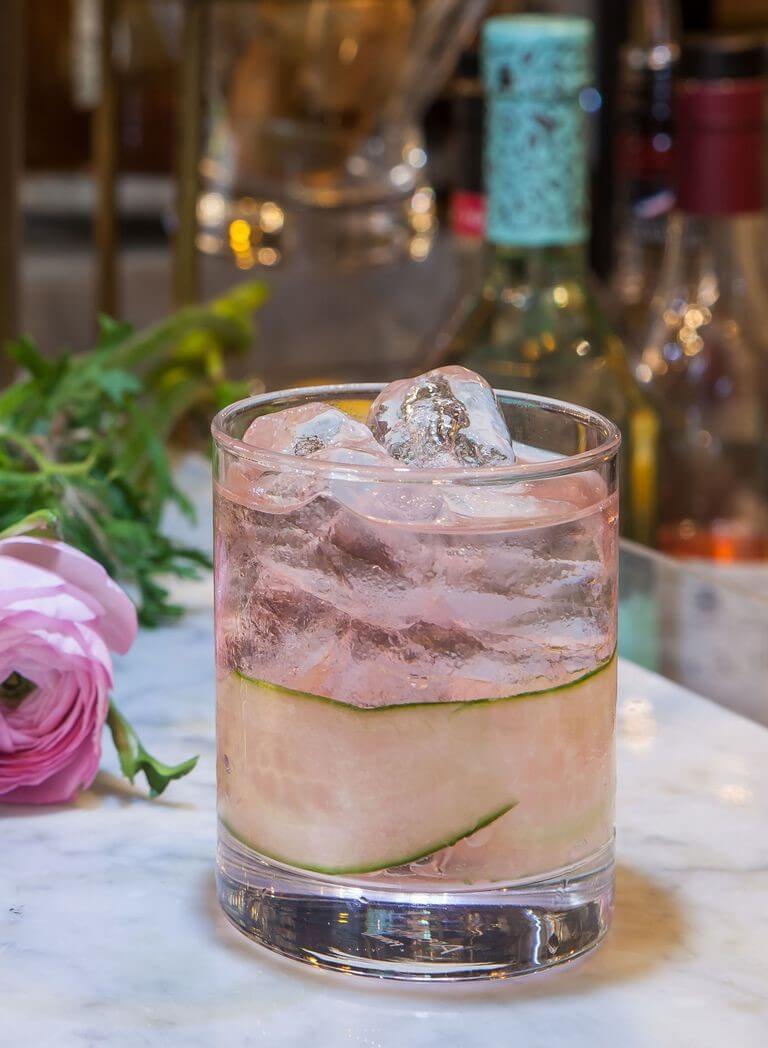 Ingredients:
1.75 oz BLOOM gin
0.75 oz rose liqueur
0.33 oz strawberry liqueur
0.33 oz agave nectar (optional)
cucumber slices
Directions
Put the ingredients in a cocktail shaker.
Shake and strain into a rocks glass or tumbler over ice.
Garnish with a cucumber slice.
We're head over heels for the bar carts featured here. We hope they inspire you as you plan your next party or get-together.
There are hundreds of ways you can freshen up your bar cart for spring; from exciting colors, to faux flowers and accessories, we hope this has inspired you to get creative and play with design in your space.
Have a bar cart you'd like to show us? Make sure to use the hashtag #MyAshleyHome for a chance to be featured on our Instagram.