Feeling like your bathroom needs an update but don't want to spend the money on a full renovation? You can choose some small decorative changes that make a big impact or take advantage of everything on this list to get the look you want. Remodeling a bathroom can be costly, but you can upgrade the appearance of your bathroom without breaking your budget. Ashley's bathroom remodeling ideas on a budget can help you eliminate the things you don't like about your bathroom while adding an array of stunning new updates. Replacing decorative items can completely change the way your bathroom looks without the need to replace structural items, like flooring or a new bathtub.
Cost of Remodeling a Bathroom
The average cost of bathroom remodel, as of 2021, runs well over $7,000, but you can upgrade the appearance of your bathroom for a lot less. Ideas include replacing bathroom vanities, hanging new wallpaper, changing out your window coverings and shower curtain, brightening the floor area with a new throw rug and bath mat, and putting up a new mirror.
Here are a few simple tips to give your bathroom an upgrade, without breaking the budget.
7 Simple Ways to Achieve the Look of a Bathroom Remodel
Each of these seven ways to do a budget-friendly remodel in the bathroom was chosen for the visual impact it makes. These items offer decorative appeal, and most of them also add functionality that enhances your lifestyle. Plus, you don't have to go over your budget to get your bathroom looking welcoming and stylish!
1. Replace Bathroom Vanities
While one of the more expensive updates on this list, bathroom vanities add functionality because they hold the sink basin. Many vanity styles also have built-in storage space to store items out of sight of guests and small children. Look for features like doors and drawers. Likewise, you can opt for an under-sink shelf where you can stack hand towels or a basket for grooming supplies and hair care products. Additionally, you can choose between metal and wooden vanities to match your desired decor theme. Modern-contemporary styles are available to match your sophisticated, modern bathroom decor. Or, if you're going for a farmhouse style, choose a rustic white or natural wood-finished vanity to achieve the casual, charming effect you're after.
2. Install New Wallpaper
No longer a relic of the 1980s, wallpaper is back in in a big way. New wallpaper adds an instant update to your bathroom. Choose wallpaper that adds a fresh pattern or interesting texture to your decor. You can go as bold or as traditional as you like when you put up new wallpaper. Select brightly colored wallpaper to add a pop of color to the space. Or go with a subtle pattern that creates a classic look to showcase the other decor items you want to add. If you're new to hanging wallpaper, it might help to know that different types have different requirements when hanging them on the wall. You can choose between peel-and-stick wallpaper that doesn't require extra glue or traditional wallpaper that requires wallpaper paste for installation. With peel-and-stick, you just need a flat, clean surface. With traditional wallpaper hanging, you need wallpaper paste and wallpapering tools like brushes and a squeegee.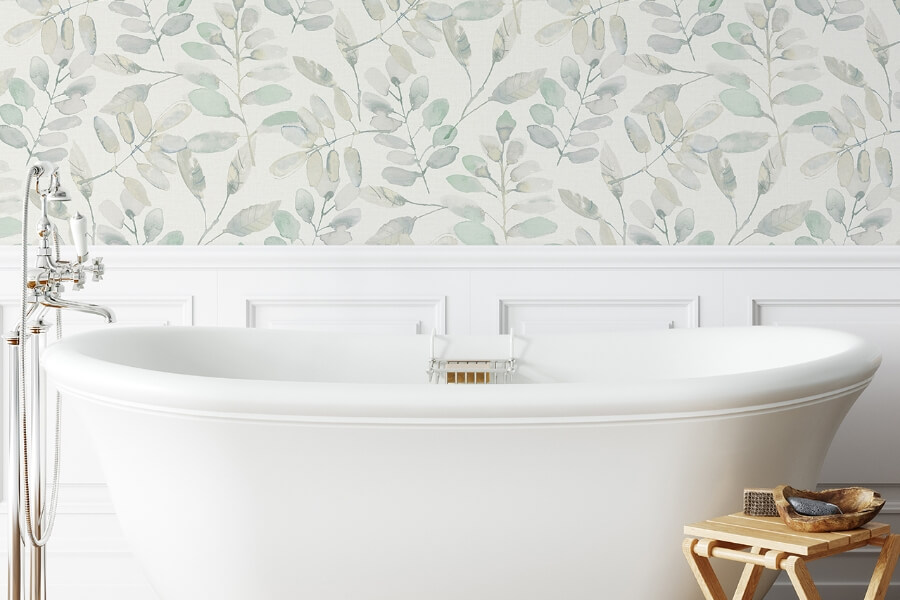 3. New Window Coverings
A simple way to improve your bathroom is by adding new window treatments. You can make the windows a focal point in the bathroom by adding colorful curtains or a valance. Consider matching the window curtains to the shower curtain, your bathroom towels, or your throw rugs. Or, you can make the curtains blend into the background by choosing them in a color that's similar to the color of your walls. Get started by measuring the windows. Then, choose the length and width to accommodate the space (with some excess fabric so the curtains drape neatly).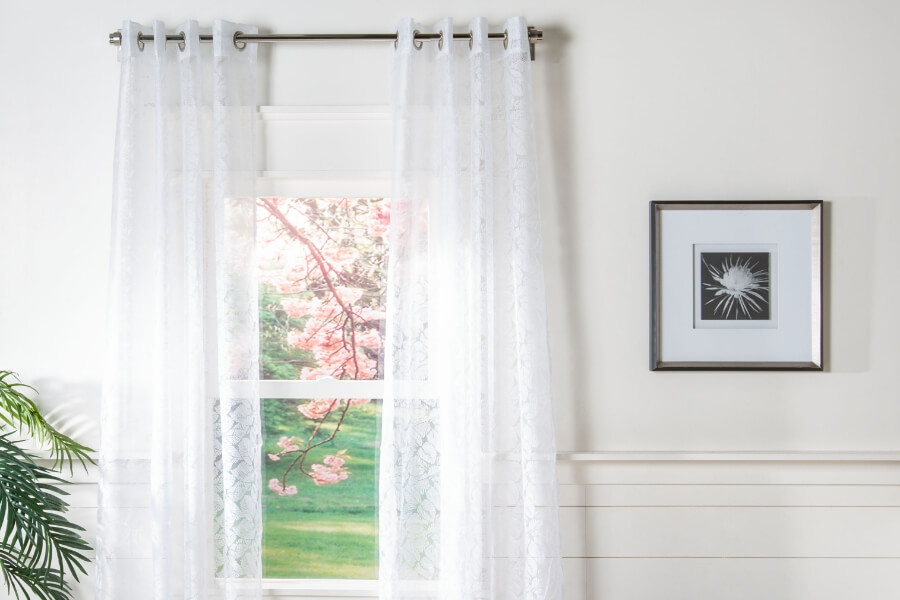 4. Swap Out the Light Fixtures
Old light fixtures make a bathroom look dated and can even make the room feel dull and drab. Switching to new, more modern light fixtures is a way to brighten the space and give it an energized feeling. Choose lights to hang directly over the mirror to catch and reflect the illumination, or add an overhead light fixture to let light filter evenly throughout the room. Match the fixture colors to the faucets of your vanity, bathtub, or shower to consistently carry out the same motif.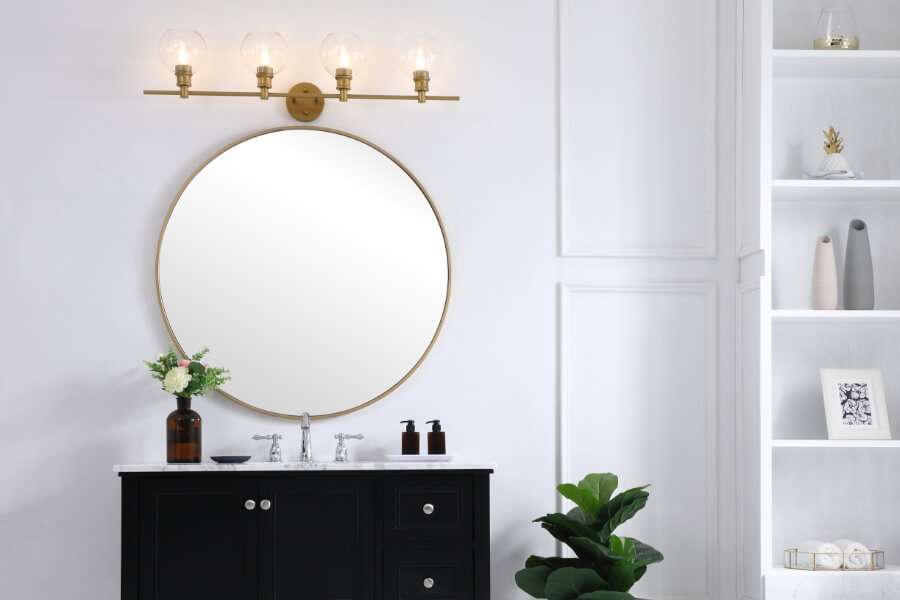 5. Upgrade Your Shower Curtain
A small bathroom remodel idea is swapping shower curtains to make a quick, inexpensive change to your bathroom. The shower curtain is typically one of the larger decor items in a bathroom, so choosing one that sets the theme is an easy way to give the room a renovated appearance. Match a few accessories — such as bath towels, a bath mat, and window curtains — to draw out the colors in the shower curtain.
6. Replace the Bath Mat and Throw Rugs
Another great budget-friendly idea for remodeling your bathroom is making updates to your bath rugs and mats. This simple, inexpensive bathroom remodel can brighten the appearance of your existing flooring. Choose subtle colors with classic textured designs for a bathroom that's decorated in farmhouse or contemporary style. Or, choose one in a bold color with a plush pile that's extra soft under your feet. Additionally, you could choose one that's crafted from eco-friendly bamboo or dark-hued teak to allow for airflow and hygiene, as water won't get trapped under these mats.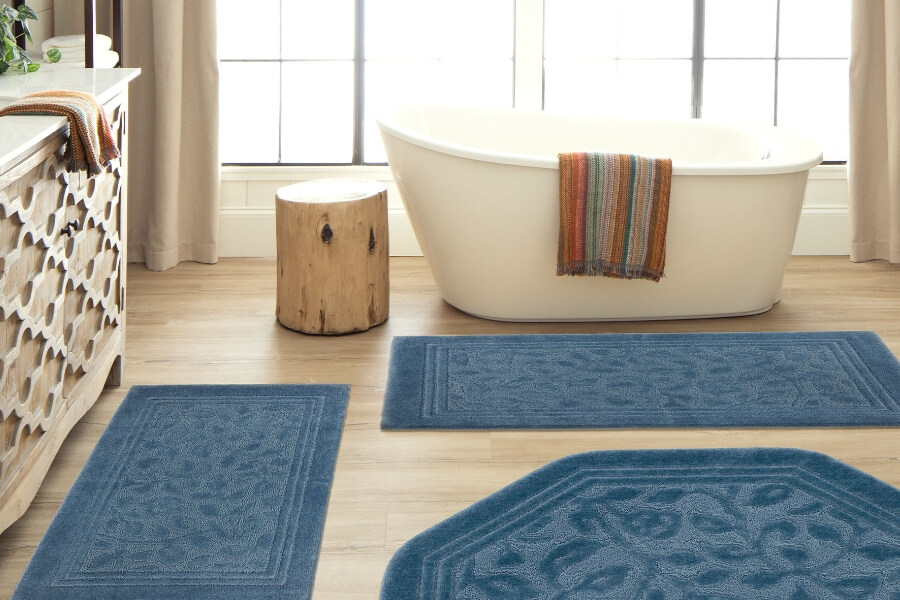 7. Hang a New Bathroom Mirror
Brighten a dark room by displaying new bathroom mirrors to catch and reflect the light. Choose one with a pretty contoured frame to add a touch of elegance. One with a beveled edge and no frame will add a dramatic, modern effect to the bathroom decor. Mirrors with integrated LED lighting are ideal when applying cosmetics and fixing your hair. If you can't or don't want to hang anything on your wall, browse through the selection of countertop cosmetic mirrors. Countertop mirrors add a touch of visual appeal to your bathroom decor without requiring any big changes to the room.
After a few simple, inexpensive changes, your old bathroom can have a fresh, modern appearance. You don't have to spend a lot to get that new bathroom look. Simply browse through Ashley's selection of bathroom remodeling and decor items to find the perfect pieces to update your bathroom at a price that fits your budget.