The birds are chirping, the sun is up, and you've just brewed the perfect batch of iced tea. You pick up your phone to invite friends over to share this beautiful summer day, then remember that you have a teeny tiny patio that only fits a few people. Will you have to forego your outdoor summer entertaining dreams? Not so fast!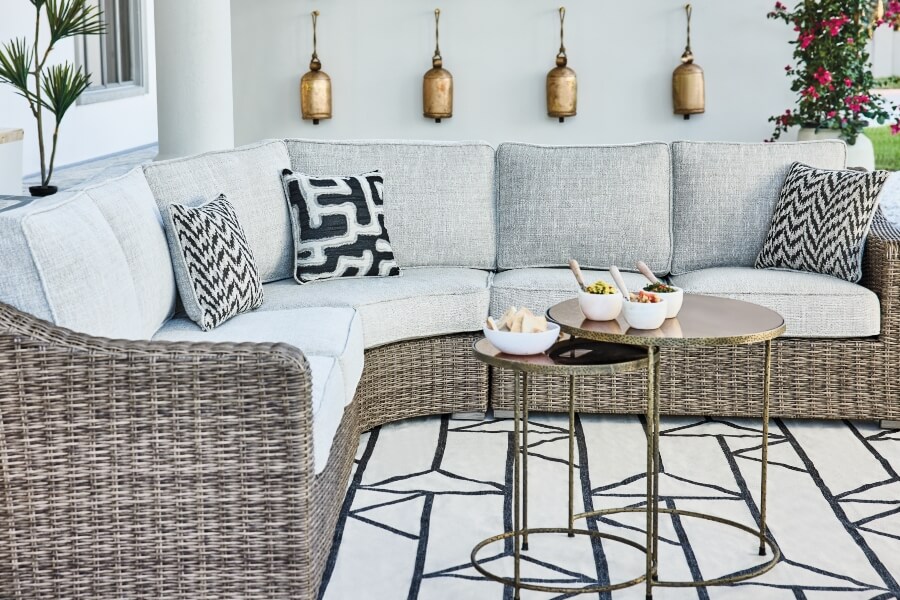 Even if you have a small patio or porch, you can enjoy spending plenty of time outside. After all, you want to entertain guests and spend time relaxing outdoors with your family too. And with a little extra creativity makes it easy to add big style to your cozy porch or patio.
Working with a small porch, patio, balcony, or backyard area but want to create a space that celebrates an outdoorsy lifestyle? It's so easy to turn a small outdoor space into a comfortable outdoor oasis with carefully chosen furnishings and decor items. The right outdoor furniture for small spaces can help you make the most of your available space. Here's how!
Small Balcony Furniture
A balcony creates fun decorating opportunities because you can add foliage, decorative adornments, and outdoor small space patio furniture for seating. Check out our selection of contemporary outdoor furniture for small spaces to create your own look that flows and feels open, even if the floor space on your balcony is super limited. Position your seating, so you have room to walk and move around comfortably on your balcony. Also, consider geometric prints on furniture or an outdoor area rug paired with neutral colors crafted from textured materials. Color, texture, and patterns work together to create an inviting and warm look.
Since your balcony contains limited space, folding furniture may be the best small space outdoor furniture for your decorating goals. Folding furniture offers you more flexibility than you get with larger pieces. You're able to set up your balcony for entertaining—or for relaxing outdoors to watch a beautiful sunset—by grabbing a folding chair and table. These pieces only take moments to set up and take down. Plus, if you add a rolling cart, it's so easy to load it with beverages or your favorite dishes to roll onto the balcony for an alfresco dinner.
Small Outdoor Space Furniture Sets
Choosing a set of small space outdoor furniture offers a way to quickly and easily create a matching theme for your outdoor space. A small space outdoor furniture set may include a couple of chairs or a few pieces of seating with a matching table. Be sure to also measure your available space to make sure the set will fit and leave enough room for foot traffic. This helps keep your small outdoor area looking stylish and uncluttered, making it a space where you're proud to entertain guests and spend time with family.
Functionality is another thing to consider when choosing modern outdoor furniture for small spaces. Selecting multifunctional pieces that pull double duty gives you room for seating without sacrificing other important details, such as where to store your outdoor party supplies. Consider seating, side tables with enclosed bases to hide small items, and ottomans with storage space underneath. Or create a nook where everyone has room to gather around a cozy firepit (which also serves as a table when you don't have a fire burning.) Additionally, some firepits come with built-in grills, so they're great for preparing and serving grilled foods.
Outdoor Lounge Furniture for Small Spaces
Want an outdoor hideaway but don't have a private patio area? Want a shady spot to relax but have no room for a gazebo? That's not a problem. It's easy to create an outdoor lounge experience even when your neighbors live closer than you would like. Use your outdoor decor to create shade or make your patio feel like a cozy, private cabana. Add an umbrella or a set of outdoor curtains to keep your outdoor space exclusive. Set up the pieces of comfortable outdoor furniture for small spaces and block the view so no one can spoil your relaxation time.
Another way to get a beautiful minimalistic patio look is by choosing small space outdoor patio furniture in bright colors to pair with a neutral area rug. The colorful outdoor lounge furniture for small spaces adds bursts of color, while the light-colored rug creates a simple, inviting base for your outdoor decor. Minimalism is a popular trend in outdoor furnishings due to its versatility. There is a wide variety of outdoor furniture in neutral colors that pair stunningly with some patterend throw pillows. Decor items, like a fountain or rustic plant, also add visual appeal to an outdoor space showcasing minimalistic themes.
Outdoor Lighting for Small Spaces
Show off your chosen outdoor patio furniture for small spaces by displaying outdoor lighting in your patio area. Drape fairy lights or string lights that coordinate with your chosen outdoor decor theme along walkways for safe walking or in tree branches to create a summer-y, twinkling effect. Install sconces to highlight a specific area, such as your table or doorway. Illuminate your tabletop with a lantern-style light fixture for that extra touch of brightness right where you need it most.
When you choose the best outdoor furniture for small spaces to display in your home, you also want beautiful outdoor lighting to highlight your new setup. This may include fairy lights or lanterns for temporary lighting solutions. If you prefer a fixed lighting solution, sconces installed on the exterior walls of your home add visual appeal and lighting that lasts for years.
Check Out the Outdoor Furniture at Ashley Today
At Ashley, we have a wide selection of outdoor furnishings to turn your outdoor space into a summery paradise. Browse through our online offerings at your leisure. Still looking for ideas? For more helpful outdoor furniture ideas for small spaces, stop by your nearest Ashley store to discuss your patio and front porch decor needs with one of our experienced decorating professionals. While you're here, be sure to browse around our showroom to check out the available outdoor furnishings in person to see which ones capture your imagination and appeal to you most.