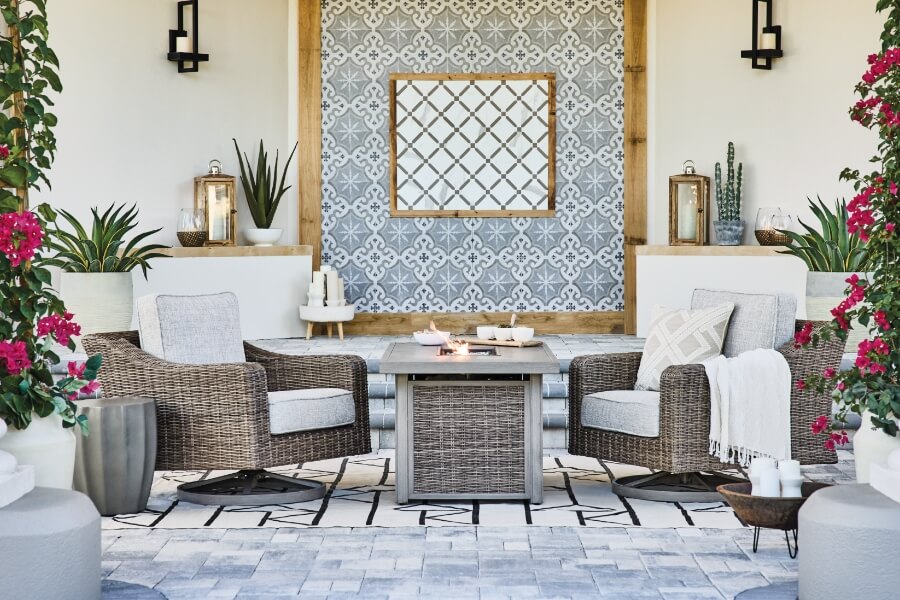 Imagine escaping your everyday stresses. This escape involves zero travel time, all your favorite food and drinks, and maybe even your family and friends. That's what you'll find when you create an outdoor oasis right in your backyard.
Whether you have a small porch or patio in the city or a large deck in the suburbs, you can transform it into an enjoyable space for entertaining or relaxing alone. From affordable outdoor furniture to other outdoor decor ideas, here are several ways to renovate your backyard on a budget.
Tips for Creating an Outdoor Oasis
Whatever your personal style, any outdoor oasis has a few common features:
Comfortable seating
Natural elements
Lighting
Decor to induce a calming mood
The amount of space you have to play with will influence some of these choices, but the beauty of creating outdoor living spaces on a budget is that you'll find many options to fit your price range.
Affordable Patio Sets and Seating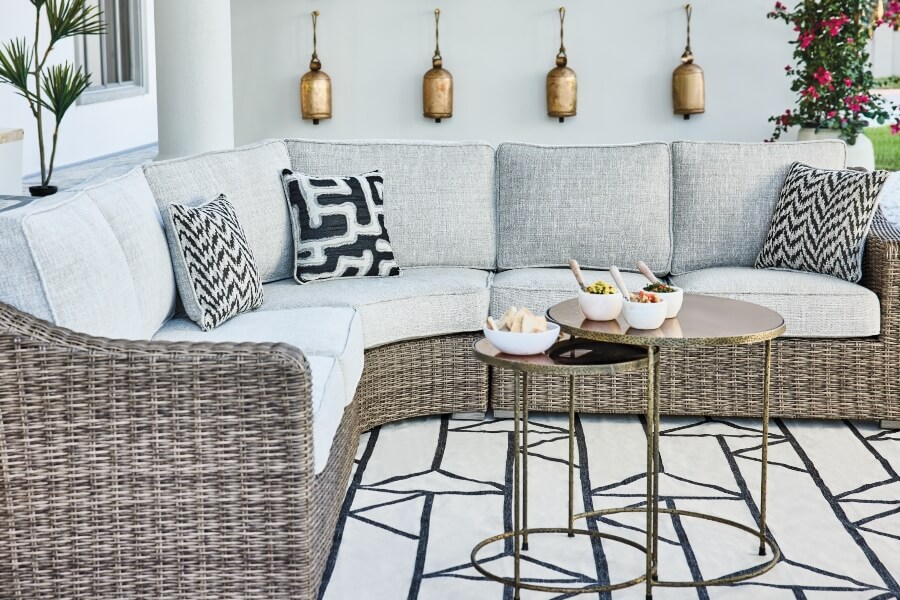 You'll want comfortable seating, somewhere to sit and unwind when hosting guests, and a cozy spot to curl up with a magazine and a glass of iced tea.
Outdoor Seating for Entertaining
With an outdoor oasis, you can get away from it all without really leaving home — and give your friends and family an escape, too. Consider having a four-piece outdoor conversation set with a sofa, two chairs, and a coffee table as part of your decor for visitors. Thanks to all-weather resin wicker over a rust-free aluminum frame, these pieces will stand up to the weather. These sets also can include:
Curved arms
Plush zippered cushions
Nautical (or other themed) throw pillows you can change out seasonally
Be sure to also add a blanket or throw or even a fire pit for chilly nights.
If your backyard has a large patio area, another option is an outdoor sectional with removable cushions for easy maintenance and an all-weather, driftwood-inspired finish. Team it with an outdoor armchair in a similar finish and outdoor end tables on which guests can rest their cups and plates.
Dine-In While Outdoors
Outdoor dining sets and outdoor bar sets present other creative seating solutions for entertaining. Gather friends and family around an outdoor fire pit table with chairs, pull up a stool at an outdoor counter table, or open an umbrella over an outdoor dining table with a bench and chairs.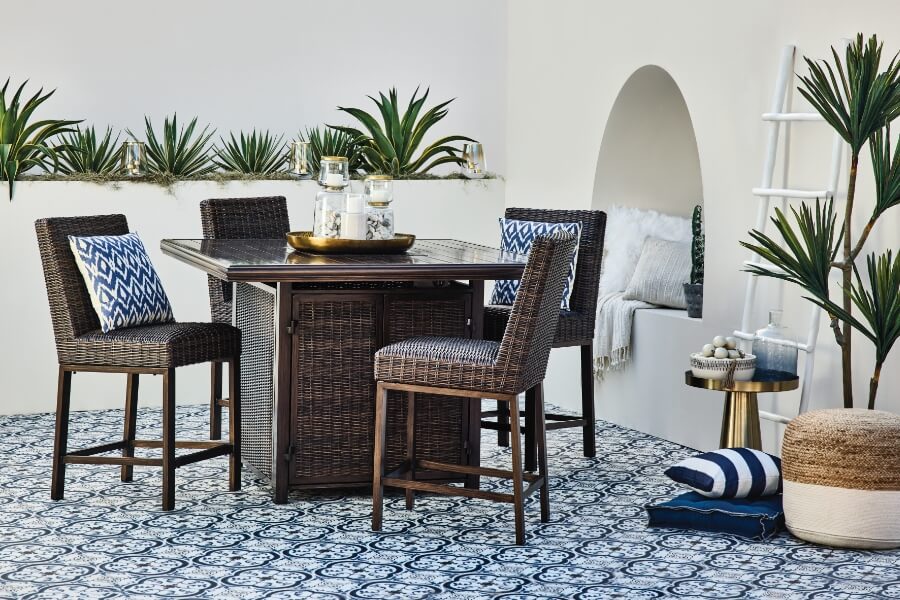 An outdoor bistro set is a charming choice if you're pressed for space. Select an all-weather resin wicker set with polyester-wrapped cushions and a folding table. Set the table with colorful glassware and melamine plates shaped like leaves, or a pattern showcasing beautiful botanical prints.
As a bonus, you can pull out the table when you need a change of scenery from your home office.
Chill Out with Privacy
Create a de-stress spot where anyone will want to chill out in with an outdoor hammock that comes with a heavy-duty steel stand. AKA: no trees required. Cheery stain-resistant, fade-resistant fabric holds up against rain, mold, and mildew and looks like a work of art when not in use.
Another comfy option is an armchair or chaise of solid acacia wood featuring all-weather cushions. For a contemporary twist, add an accent stool in hammered metal as a side table.
Outdoor Decorating Ideas on a Budget
When creating an outdoor oasis, let nature be your guide. Potted plants and flowers add color, zest, and fragrance to your space, but an outdoor oasis also benefits from natural elements.
For instance, you can mix different materials and textures such as metal, terracotta, clay, and ceramic in a variety of outdoor planters for an eclectic yet inviting look. Bring a natural feeling to your outdoor table using woven placemats or charger plates made of water hyacinth.
No Green Thumb? No Worries
If you don't have a green thumb, consider using artificial plants—they look a lot more realistic than you might imagine. Artificial plants such as palm trees and cedar trees come in sturdy planters durable enough for outdoor use. They are UV-resistant, too. Select some four-to-five-feet high to create a privacy hedge on a balcony or a noise barrier on a patio.
Add Other Natural Elements Such as Faux Wildlife
Incorporate other gardening tools and supplies into your outdoor decor, such as owl or frog statues. Solar-powered light-up accents such as rabbits and other woodland creatures can dot a path from your back door to a seating area, or just peek out from plants for a sweet surprise.
How to Renovate a Backyard on a Budget With Lighting and Sound
Even if you already have an outdoor space you enjoy, you can take it up a notch in style by redoing your outdoor lighting and sound.
Light Strings: Major Impact on a Shoestring Budget
Bring home the feeling of your favorite bistro with solar or electric patio light strings. These are outdoor patio essentials that come in an array of designs, from rustic industrial or farmhouse incandescent bulbs to Edison-style lights and bulbs with rattan shade covers.
Solar-powered arena white fairy lights are another way to add enchantment and sparkle on a budget. Simply wind them around your greenery, hang them along the edge of a patio umbrella, or suspend them from a wire garden sphere for a unique lighting fixture.
Cast a Glow with Sconces and Lanterns
Swap out your current sconces for new ones, such as two-light steel or cast aluminum ones in a charcoal finish. These changes will add an elegant glow to your backyard oasis.
You could achieve a similar effect by displaying woven or metal LED outdoor lanterns on every table, or hang them up using durable plant hardware.
Create Ambience With Sound
Lastly, bring your favorite music outdoors with outdoor speakers. While you might invest in a complete outdoor landscape system that includes weather-resistant satellite speakers, you also could create the right ambiance for a party or a gentle night using affordable portable and rechargeable speakers. These connect to any wireless device, such as your cell phone or home stereo.
Some portable speakers even light up and include ground stakes so you can use them to brighten a garden path or tuck them into a quiet spot for meditation.
Decor That Casts a Calming Spell
For the final touches on your outdoor oasis, look for ways to incorporate natural sounds that remind you of a favorite getaway, such as the beach or a lakeside cottage. For instance, add the soothing sounds of falling water to your backyard escape using a contained fountain.
A four-tiered fountain with pineapple detailing requires no additional plumbing because of an electric submersible pump, making it a stunning backyard centerpiece. Complement your garden with a fiberglass outdoor fountain that resembles natural stone.
A small birdbath invites tiny visitors on the wing while metal wind spinners add enchanting sparkle. Include a set of wind chimes to engage all your senses.
Instead of booking a hotel for your next getaway, note what you'd like to see in your backyard and visit Ashley to see how we can help your vision take shape.