One of the most memorable times in young adulthood is when you move into your own apartment or home. With an empty space full of possibility, decorating is probably at the forefront of your mind, but it's important to take it slow and get all the essentials you need first.
In a few easy steps, you can create the apartment of your dreams. Keep in mind, though, that decorating is a slow and steady process, and not a race to the finish line. Sometimes, to find the perfect piece or accent, you have to do a little digging, and that's okay. Like everything in life, it's all about enjoying the process and cultivating a style that speaks to your unique personality.
Start With the Essentials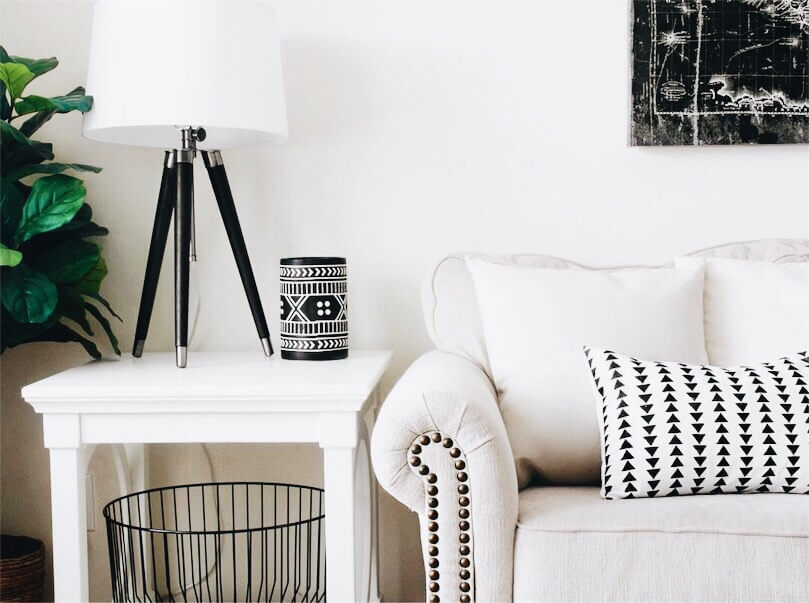 No successful decorating job ever got accomplished on a shoddy foundation. Sure, you've probably got hand-me-down furniture, and a worn mattress, but that doesn't mean you should keep it forever. Your first apartment should feel like home and be a space that expresses YOU. And truth be told, that may not necessarily happen with grandma's old couch. Make sure you take the time to think about how long you truly want to hang on to certain furniture pieces, and if you'd be better off getting something newer or not. It all depends on your needs.
While you can always refinish or reupholster anything, that adds up in cost and time. Weigh your budgeting options—would you rather spruce up what you already have, or allocate funds toward something new? Whatever you decide, know you're going to need the following for a bare minimum, furnished apartment:
• A sofa, coffee table, and TV stand for the living room
• A mattress and bed frame for the bedroom
• Cookware and dinnerware
• Lighting for every room (apartment lighting typically isn't very good)
• Window treatments (there are many affordable options, such as roller shades)
• Extra seating for a guest or two (think multi-purpose like with an office chair or stackable stools)
Other things—such as headboards, a dining set, and side tables—can wait. Without the bare essentials, you'll be sitting on the floor or sleeping on an air mattress—which isn't a very pleasant place while scrounging to save after first month's rent. That said, giving yourself an allocated set of time before the move to save and purchase exactly what you're looking for is ideal. To help, we've got a special surprise at the end of this blog to help you do just that! Stay tuned.
If you're doubting your eye for design, one tip to keep in mind: when in doubt, go with neutrals. Equal parts timeless and elegant, having a neutral palette in a space always gives off high class panache, sprinkled with picturesque appeal.
Decide on Decor Over Time

Against your better judgment, don't rush into buying all your decor accents at once. Not only is this expensive, but sometimes, finding things organically means you get a style that's authentically you. You'll find that oftentimes, inspiration will strike at the most unexpected moments. You'll be looking at a built-in alcove or wall shelf and think "A vase would look beautiful there." That's when the real hunt begins. Whether this starts with thrift store shopping, or online forays to find the perfect match, you're already well on your way to the right decor.
If you rushed to get all your decor accents at once, you could very well be compromising on the best match in your space. Keep your eyes peeled, but don't settle on something that's almost what you want. Trust the right thing will come along, and you'll know it immediately—and if you can't snag it in that moment of revelation, keep an eye out for dupes or something similar.
Here are some good ideas on what you can look for while getting started:
Area Rugs
Rugs are artwork for your floor! If you followed our advice on neutrals, jazzing things up with a colorful patterned rug can ramp up style in a smaller space. Plus, most of the low pile, indoor/outdoor rugs are easy to clean, and persist through frequent traffic throughout the house.
Decorative Wall Decals/Wallpaper
When you're renting, you can only go so far in terms of remodeling. That's where modern-day decals and self-adhesive wallpaper comes in. As easy to install as it is to peel off, you can create a striking accent wall that changes the entire feel of a room—and you won't have to worry about damaged walls when it's time for the wallpaper to come down
Canvas Art
Finding artwork that expresses your sense of style is one of the easiest ways to add a pop of personality in your space. Don't focus too hard on matching color scheme or design; chances are, the things you like will have a similar theme you can use. Even if you do have something that seems out of turn, it could become a beautiful, eye-catching focal point in your apartment.
Plants
Believe it or not, the presence of plants in a space can make a huge difference towards your style and mood!
Even if you're lacking a green thumb, plants (real or fake) instantly breathe new life into your apartment. The presence of plants and flowers have been shown to improve anxiety, and even make patients in hospitals more optimistic about their recovery. No matter your style or palette, plants fit in seamlessly and add that much-needed, natural element to an apartment.
Above all, Keep it Simple
Don't make decorating complicated. In fact, it's meant to be fun! Although decorating may take longer than you'd like, once everything comes together, you'll be over the moon about the final product.
To help you stay on track, we have a free Trello board to share with you: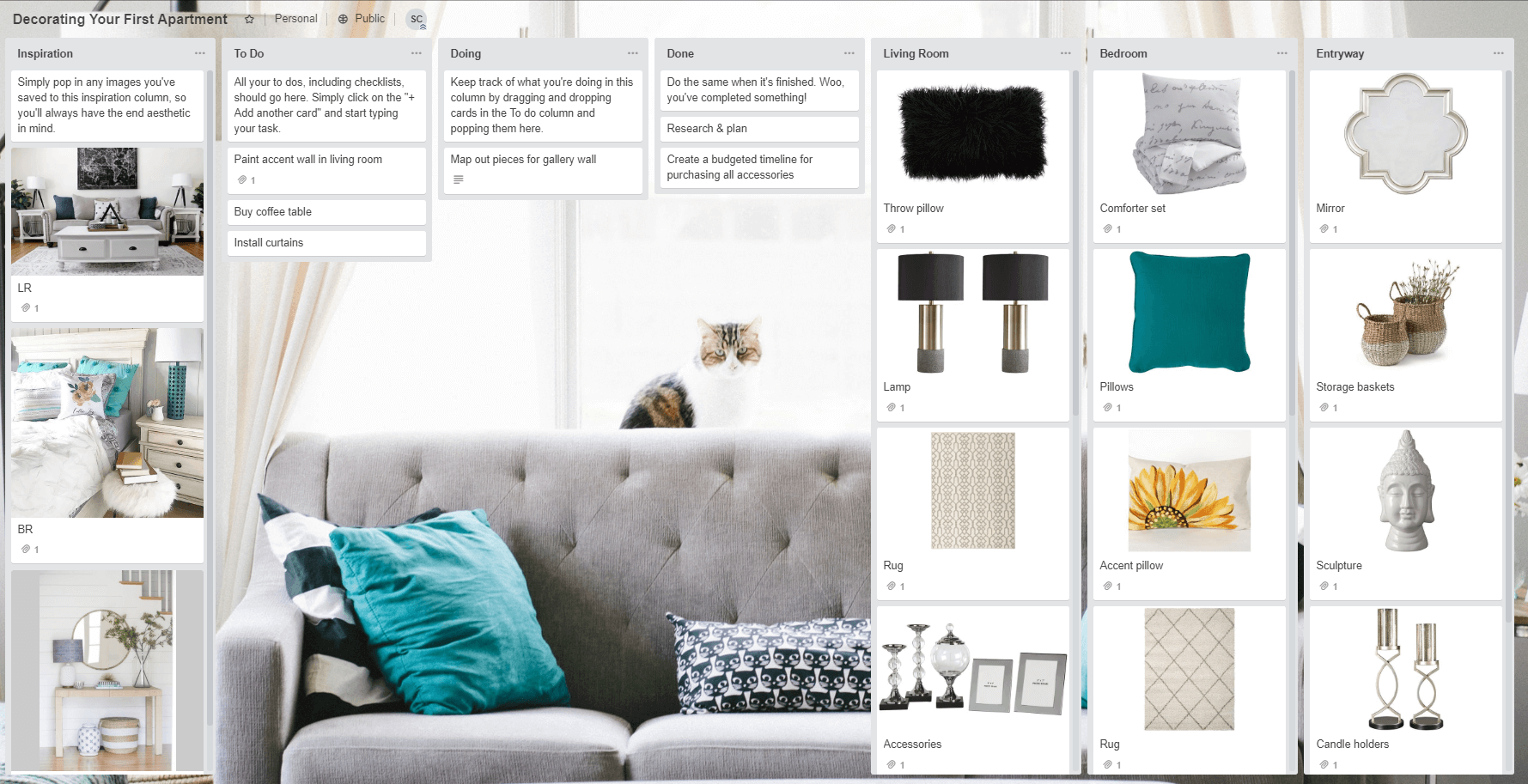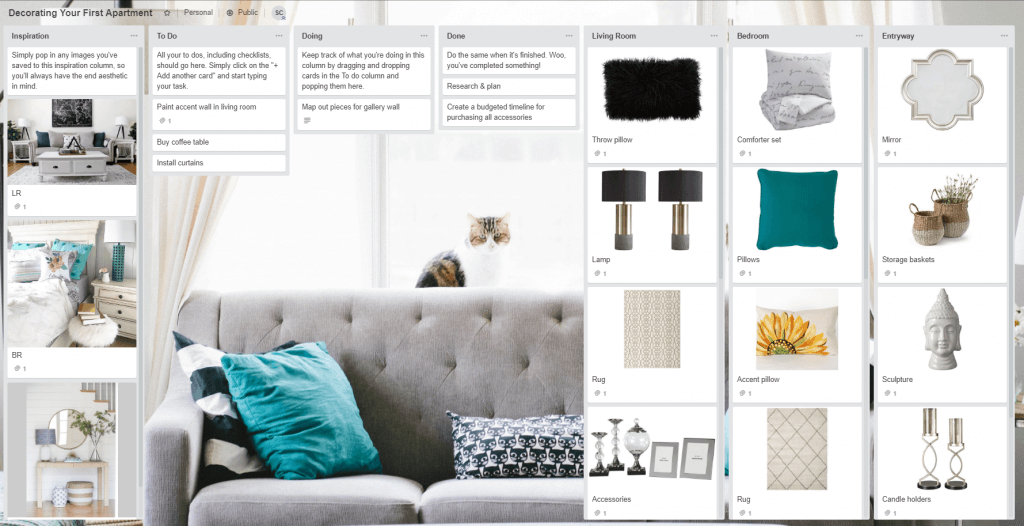 In case you haven't heard of Trello, it's an agile browser-based software (with an app that syncs on any device) to drag-and-drop custom cards and to-do items. It's an incredibly efficient way to stay organized, and be on top of all your major projects. The best part? It's FREE to use, and you can add others to collaborate. We hope you find this useful for your own decorating needs and beyond!
Have a decorated apartment you'd like to share with us? Feel free to use the Ashley hashtag #MyAshleyHome for a chance to be featured!