Of all the aesthetics, eclectic designs are without question one of the easiest to achieve—and most fun to curate. One of our favorite spaces to mix and match is the dining room, where achieving the look is as simple as combining different chairs, barstools and benches.
Swap Out the Styles

Keeping the same general aesthetic but switching up the styles is one of the easiest ways to achieve an eclectic dining room design. Our Pinnadel barstools, for instance, share a chic industrial vibe but all carry a unique style. They key here is to find a common element that ties the look together. In the case of our Pinnadel adjustable barstool, stackable barstool and swivel barstool, bold black metal unifies the designs.
Switch the Shades

The ability to introduce color is one of the most beautiful things about mix-and-match designs. That said, you'll want to take some precautions to ensure your dining room doesn't look like an assimilation of hand-me-downs or thrift store finds. Achieve a sophisticated look by keeping the same style but altering the upholstery colors. Our Trishelle dining room chair, for instance, is available in ivory, gray, red and brown. Combine two or more colors for an elegantly eclectic design.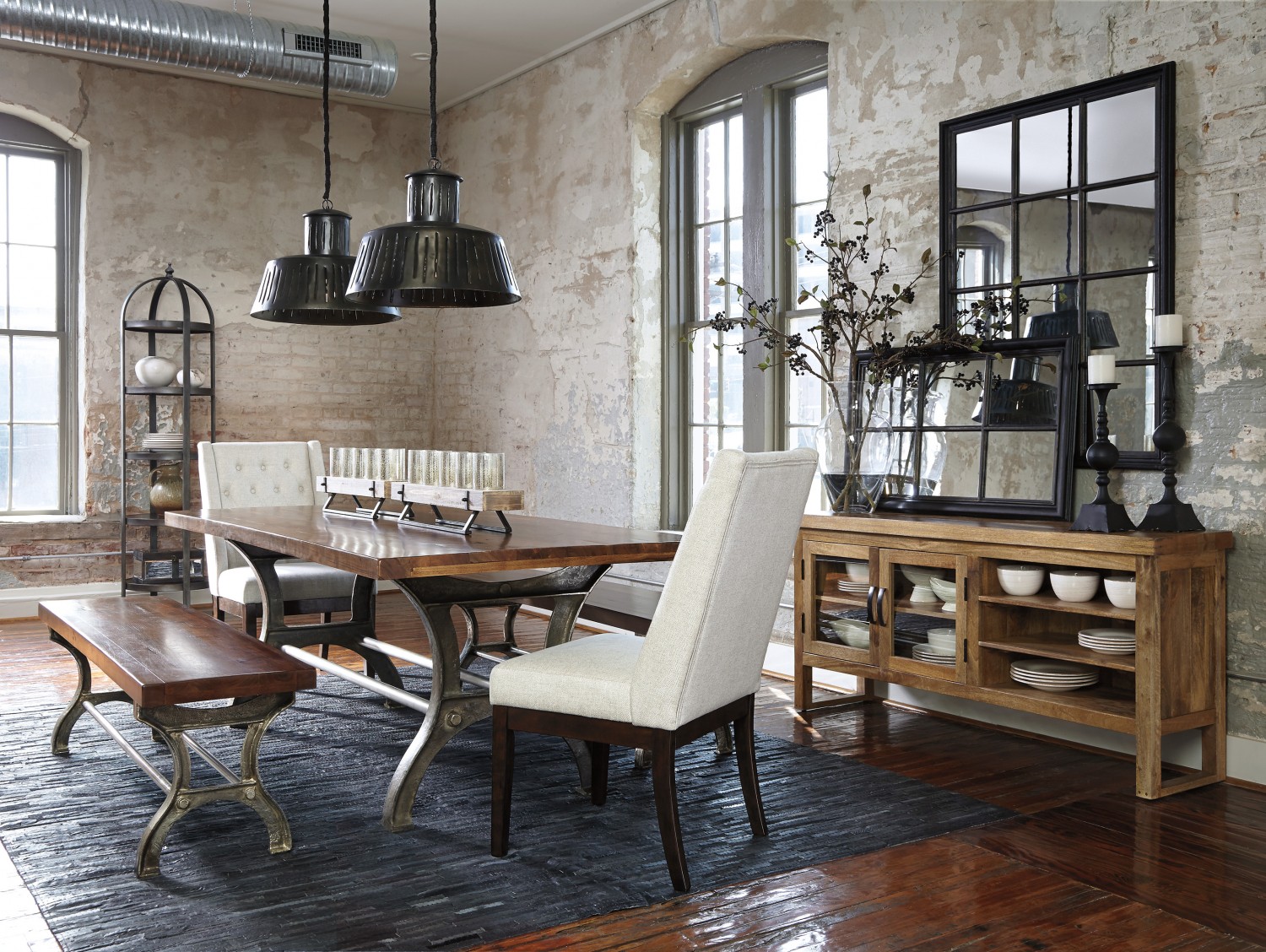 Mix the Materials

The trick to creating a fiercely eclectic look that's at the same time pulled together? Switch up the materials. Our Ranimar dining room seating offers the ideal solution to this sometimes tricky aesthetic. The Ranimar dining room chair features textured upholstery, elegant button tufting and a chic wing design. In total contrast, the Ranimar dining room bench has a planked seat and aged-looking iron base. The contrasting materials and varied designs are simply a stunning combination.
Your Turn

Do you have any tips or tricks for designing an eclectic dining room? Sound off in the comments below or post a message on our Facebook page. We'd love to hear from you!