Bunnies, eggs, and pastel everything. Easter is an exciting holiday and spring tradition in households around the globe, and no Easter would be complete without the beautiful Easter decor we've all come to know and love. If you want to step up your Easter decor game in YOUR home, you're in the right place—we've compiled our favorite Easter decoration ideas for each area of your home.
The best part? None of our decorating ideas will break the bank; they'll just look like they did.
Read on if you want the best DIY Easter home decor ideas of the season. This is indeed your Easter guide to greatness…no egg-scuses.
Easter Table Decor for Brunch or Dinner
When it comes to brunch and dinner, the sky's the limit for Easter decorations. Here are a few ideas:
Easter Hen's Nest
Give your dinner or brunch guests a personal touch of Easter with their very own hen's nest.
Boil some eggs and gather some hay, wire, and flexible branches.
Take the branch and bend it into a small 2"- to 3"-wide circle. Tie it into a loop with the wire.
Next, take the hay and make acan little nest.
Write each guest's name on the egg, then set the nest and egg in a small teacup, overturned wine glass, or another vessel of your choosing!
Votive Candles
Some colorful votive candles are a solid choice for indoor or outdoor Easter decorations. You can get a whole set of them for a couple of bucks, dust them with pastel spray paint, and place them on your table with tea candles inside.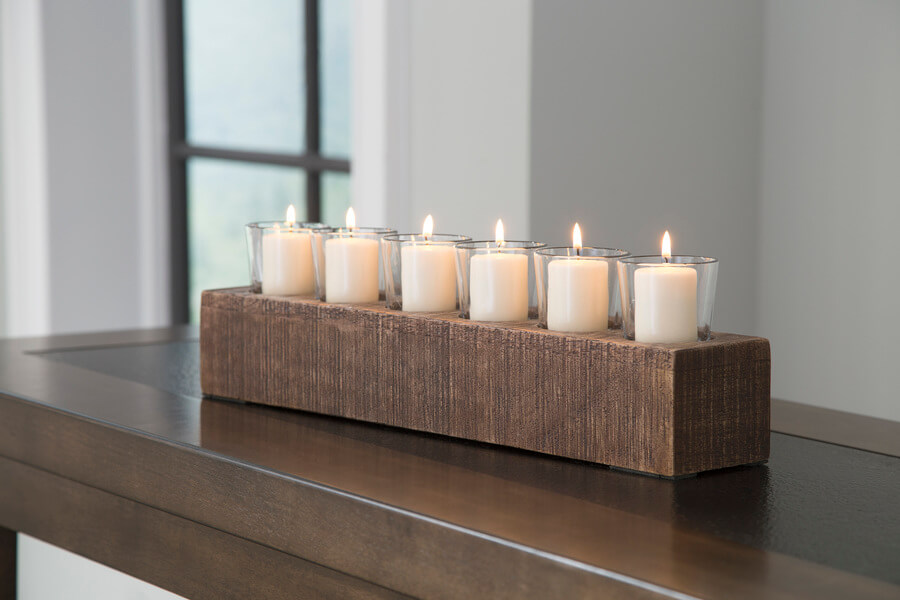 These votives also work perfectly for other holidays like Mother's Day and baby/bridal showers.
Spring Centerpieces
Mixed flower centerpieces are the epitome of springtime. They're also one of the best Easter table decor options for decorators on a budget!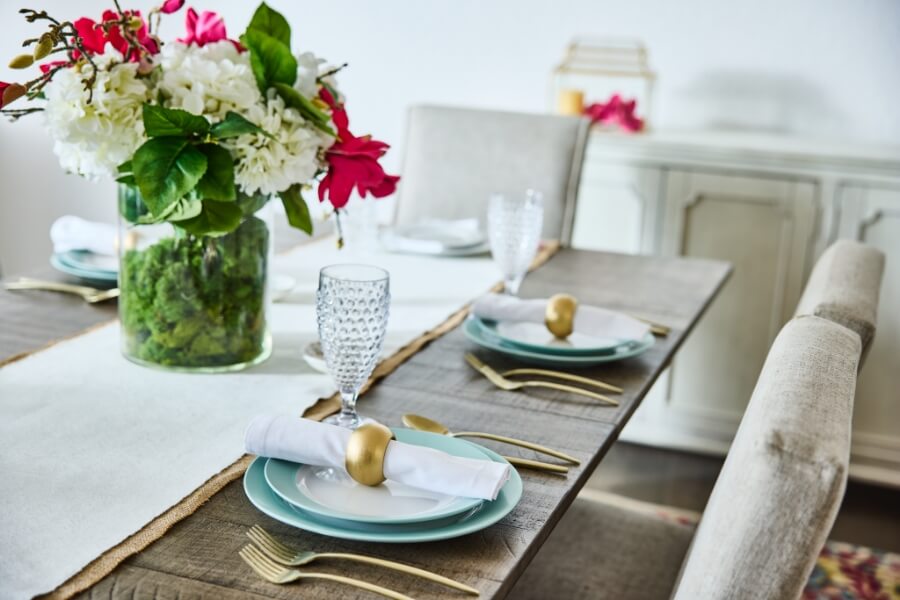 Snip a few sprigs of your favorite spring flower and place them in anything that looks nice: a vase, a mason jar, some sea glass, bottles, etc. Pour a little water in the bottom to keep them fresh for a few days on your dining or coffee table.
Easter Door Decor for Your Entryway
First impressions count. And when someone steps into your house this spring, they'll be greeted by a little rush of seasonal joy in your spring entryway with the following decorations:
Easter Door Decorations
A door nest is one of the coolest Easter decorations you can make, and it's not even difficult to assemble.
Gather some hay, pine needles (or straw, flexible branches, wire, twine, a quail egg, an onion bulb, and some evergreen tips.
Make a small nest using the hay/pine needles and/or straw.
Secure it into a flexible branch bent into a loop (held together by wire).
Next, tie twine so the nest can dangle from a doorknob.
Drain the quail egg and glue it and the onion bulb inside the nest.
Drape some evergreen tips around it, and voila—you've got the perfect farmhouse Easter decor to greet visitors.
Tulips in an Ashley Rustic Container
Easter and tulips are the perfect pair. Tulips bring joy and are a reminder of spring's new life, so having a bunch of them in your entryway sets the tone every time you walk through the door. Try placing tulips in a galvanized pail or one of Ashley's rustic containers to keep your Easter look on-trend and exciting.
A Bunny Banner
Let's be honest: shabby chic is in right now. And there's no better crafty Easter activity than making your own Easter Bunny banner.
You'll need a few supplies, including scrapbook paper (pastel colors are standard, but you do you), a hole puncher, scissors, tape, a pencil, and some string. Cut out cute bunny shapes. Alternatively, arts and crafts-challenged decorators can buy their bunny banners pre-made. Then just hang your banner by a string across your doorway or entrance hallway.
Hop on These Outdoor Easter Decorations
It's fun to get the inside of your house Easter-ready, but don't neglect your spring outdoor decor!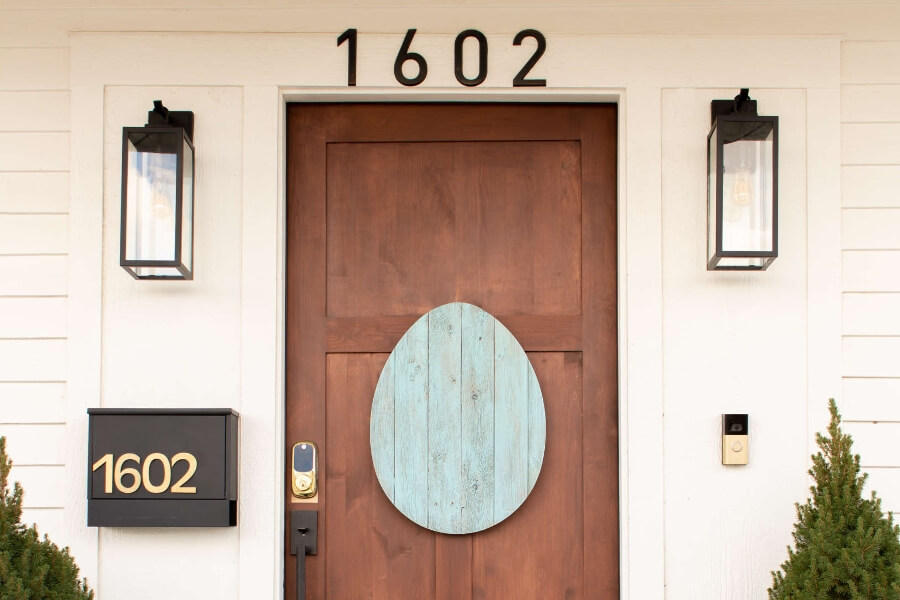 A "Bunny Crossing" Sign
Grab a couple of pieces of pallet wood (or any wood roughly 4" x 12" or so), some pastel and black exterior paints, a hammer and some nails, and a wooden stake.
Start by painting the wooden pieces with differing shades of pastel colors. On one, paint "Bunny," and on the other, paint "Crossing." Nail these to the top of the stake so that the message is loud and clear: the Easter Bunny is stopping here.
Place this by your driveway or by the sidewalk leading to your door.
Easter Tree Poppers
One of the most joyous (but not overly known) Easter tree decorations is the tree popper. It's simple, cheap, and brings children all kinds of delight.
Buy some of those multi-colored plastic eggs that pop open. Fill each one with a piece of candy and poke a small hole in the top. Tie a string through the hole (with a knot at the bottom end) and hang them from tree branches. Then set the kids loose on them.
Congratulations! You're now officially the coolest adult on the block!
Fresh Living Room Easter Ideas
Let's finish our Easter decorating with a few general ideas for your living area!
Botanical Easter Eggs
Here's a super Scandinavian idea that's hot right now: black-painted Easter eggs. They're easy and give you tons of creative license—and they're great Easter mantel decor.
Here's what you do: boil eggs, paint them totally black, and then start painting flowers and plants on them. Easy enough, right? Well, it is if you're a great painter. If you're newer at it, you may want to refer to a guide on painting flowers (don't worry, there are plenty of them out there).
Place them in a carton with some hay or in little egg cups across your mantel or coffee table. Check out our tips for dyeing Easter eggs for more colorful ideas.
A Single-Color Centerpiece
Freshen up your coffee table or serving cart with a monochromatic flower display. Take everything you have that's a single color—preferably something Easter-y, like yellow, pink, or blue—and put flowers in it.
If you don't have many different items with similar colors, grab a can of paint and change them! It's a fantastic treat for party guests to enjoy.
Easter at Ashley
Ashley offers everything you need to decorate for Easter. And to prove it, we'll even help you with Easter basket ideas. Shop our online store for more fabulous ideas. Visit our Instagram at #MyAshleyHome or check out our Pinterest boards for more fun and festive Easter ideas.