If you know anything about Ashley HomeStore, you know how important home is to us. Home isn't just a place to sleep, it's where lifelong memories are made. That's why we team up with other organizations who place a great emphasis on home—to enrich lives in local communities all over the country.
Recently, we partnered with A Sense of Home (ASOH) and the Stauffer Family with the mission to give Janay and Noelle, a young mom and her daughter, one of the greatest treasures in life: a place to call home. Watch the video below to see how it all came together:
Janay's Nomination as an ASOH Recipient
Janay was previously a volunteer for ASOH and her sister was also a recipient of a home through the organization. After some time spent volunteering, Georgie Smith, founder of ASOH, gave Janay the opportunity of a lifetime and asked her if she needed a home.
Janay said, "We really wanted to just do the people's homes. We didn't know that we could get ours done. The main purpose was to go in and help other people."
A Sense of Home
A Sense of Home creates homes for youth who age out of the foster care system. Businesses and individuals donate furniture to ASOH, and that furniture is then given to families in need. So far, this community driven model has created 350 homes and placed over 1000 young people in beds. The goal is not only to reduce homelessness amongst those who make up the largest percentage of the homeless population, but to bring the community together as a whole.
The Stauffer Family
The Stauffer Family also joined us on this project. This family, known as Instagram's most-followed family, rose to fame after an initial Facebook video turned viral of Mila and Emma, two adorable four-year-old twins of mother Katie Stauffer.
Katie Stauffer, her mother Mary and her daughter Kaitlin all came together to represent three generations of women pitching in to make a change. "I just thought this would be a great opportunity for us to do something for another young mother with another daughter, and help them," said Katie.
Katie reached out to Ashley HomeStore about this project—and our ongoing dedication to giving back to the community meant there was no question whether we wanted to help or not.
Bringing the Home Together
We partnered with Katie Stauffer to design Janay's new space and help stage the home before the final reveal—aligning perfectly with our values to be responsible to the communities in which we live and work.
Ashley HomeStore Interior Designer Joyleene Padilla said, "It was amazing to be able to give back to someone. Seeing Janay's reaction–words can't describe the emotions you feel because you're really impacting someone's life in such a positive way."
Check out Joyleene's design of Janay's home below!

Joyleene goes on to say, "Furniture is something that so many of us take for granted, but for those who may not have anything but a mattress on the floor, it can make a huge impact on your everyday life. This has been such a humbling experience."
There were also volunteers present that previously had their home created by ASOH and were fulfilling their commitment to pay it forward. With their help, Janay's home was transformed in an amazing #MyAshleyHome in just 90 minutes!
Looking to the Future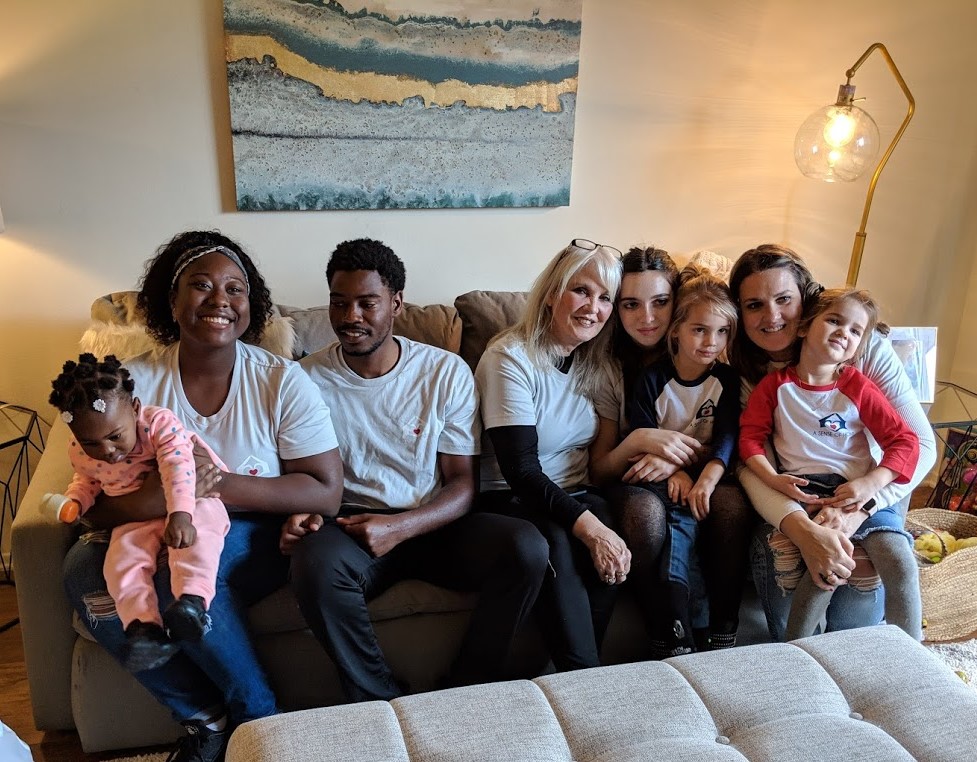 Janay and her daughter were overjoyed at the reveal. Not only did this give Janay the tools to provide a safe space for Noelle, but it also brought the community closer together.
"It means a lot to know that people out there actually still care… I can't wait to come lay on the couch and she [Noelle] can run around and do what she wants to do." – Janay