Nothing goes hand in hand like great weather and outdoor entertaining. Here are a few tips that will make your guests want to linger long after the sun sets.
Spread the news
Unless it's really a swanky event, feel free to skip the paper invites and send an email to your guests. Make it easy on them and ask them to respond only if they can't make it.
What's for Dinner?
Decide what type of shindig you're throwing. A favorite is pot luck. Just ask guests to let you know what they'll bring so you can plan the menu. (You don't want to be faced with three potato salads and no dessert.) Even if guests are bringing food, you should plan on an appetizer to get the evening started. Make an easy antipasto appetizer by filling a generously sized tray with cuts of salami, olives, roasted bell peppers, assorted cheeses and a variety of crackers or slices of a baguette. Cheese platters are always a great option. Click here to find out which cheeses will keep your guests wanting more.
Set the Table
TIP: Paper napkins and plastic utensils may be more convenient, but you'll elevate the tone of your event if you pull out cloth napkins and use real cutlery instead.
Break the Ice
Hot summer evenings demand plenty of ice. Don't have an ice bucket? No worries. Just line any clean, attractive container with heavy duty plastic to make it waterproof and voila, instant ice bucket.
Liquid Refreshments
Set up a bar cart with essentials like chilled alcoholic and non-alcoholic beverages, and of course nothing says summer like lemonade. Turn it into a classic adult beverage with a British flair by adding Pimm's Cup No. 1 for a light, refreshing cocktail.
Pimm's Cup (makes one drink)
1 1/2 ounces Pimm's No. 1 Cup
lemonade (or ginger ale)
lemon slices
cucumber slices
(optional: orange slice, fresh borage and/or mint leaves, apple slices, strawberry)
Half-fill a tall glass with ice and a few slices of cucumber or lemon. Add measure of Pimm's, then top up glass with lemonade or soda. Stir gently and add more ice if necessary. Garnish with slices of lemon and cucumber.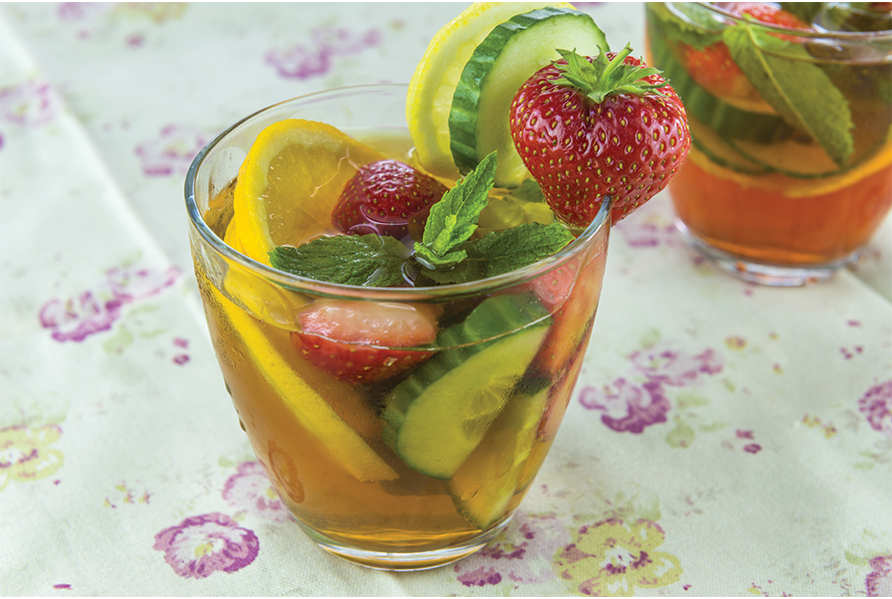 Candles Count
Make the evening magical by placing candles everywhere. They can even do double duty if bugs are an issue when you use these candle holders.
Use wireless speakers to liven up the evening with music. And if the evening gets chilly, warm things up with a fire pit. More than just a heat source, fire pits add instant ambiance. Outdoor Ashley HomeStore is appearing in-store soon and now online!