If you're looking for kids wall decorating ideas to infuse some personality into your little ones' bedrooms, you've come to the right place. No matter what type of design you're seeking, you'll find kids wall decorating ideas sure to inspire big dreams.
Rest assured, these wall designs for kids rooms are fun, budget-friendly and stylish, so you don't have to compromise on quality. Whether it's a starry night they're seeking, or fun girly-girl flair, you're sure to find inspiration for boys, girls and all age groups with this array of ideas.
Nursery Wall Decor
Toddler Room Wall Decor
Teen Room Wall Decor
Nursery Wall Decor Ideas
That time you're expecting a new life into the world is special, and part of the joy is creating a space for your infant that's as imaginative and homey as possible. Don't hold back on vibrant colors and whimsical themes.
Here are some fun ideas for crafting a nursery that your newborn will feel right at home in:
Under the Sea
Dive below the surface to give your nursery wall decor an exciting — yet relaxing — splash of cool ocean blue.
These underwater creatures are sure to add colorful life and flair into any nursery. Place the canvas art for kids rooms side-by-side, or play with spacing and angles to achieve your desired look.
Starry Night
Beautify your little one's room with a cascading array of the moon and stars. It's perfect for girls and boys room wall decor. Many craft supply stores sell an additive to paint that makes it glow in the dark at night, while looking normal during the day as it absorbs light. Painting a starscape on the ceiling is the perfect nightlight for a nursery. Not only that, but it helps maintain a dim glow when you need to check on them at night. No stubbing your toe or tripping on a toy.
If you're not on board painting, then opt for some glow-in-the-dark kids room wall decals.
Starlit wall decor for kids can work wonderfully in shared kids rooms.
What could be more perfect to accompany the glowing stars than wall art that celebrates restful, dreamy sleep?
Forest in the Trees Decals
Having a forest backdrop is very common for nurseries, as it evokes a calming aura—plus, trees are a comforting element that signifies growth and development.
By using vinyl stickers or decals, you can instantly transform your nursery into a forested sanctuary.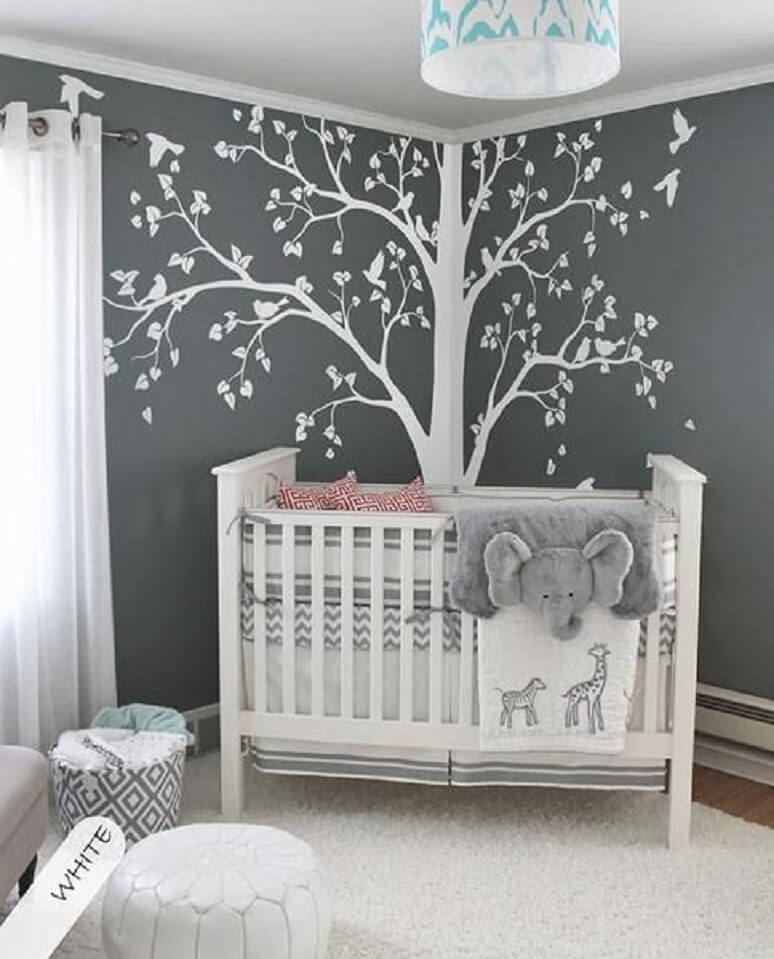 Credit: Pinterest
Play With Letters and Names
Having your kid's name above the crib (or somewhere in the room) solidifies it as their personal space—even if they don't yet realize it. Plus, it's also a stylish focal point when entering the nursery.
Play around with textures, colors and font for limitless options to make it magical.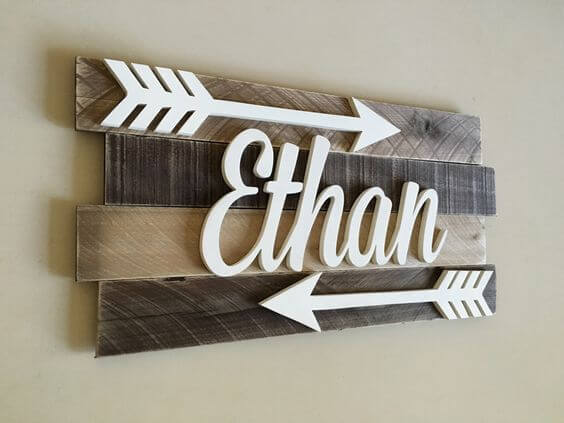 Credit: Pinterest
Curtain Drapes to Add Drama
Drapery can add an upscale, classy look to your nursery that's delicately sweet.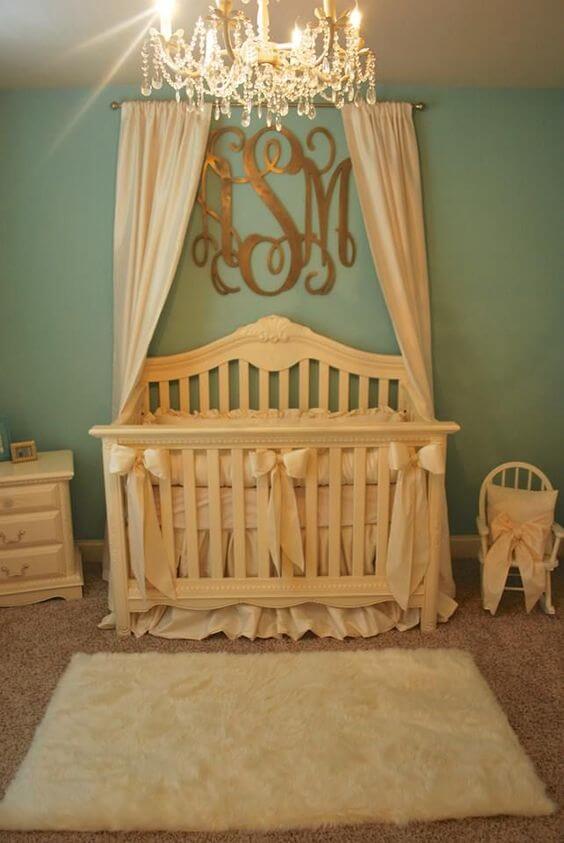 Credit: Pinterest
For inspiration on picking the right curtains, check out our curtain selection.
Toddler Room Wall Decor Ideas
So, your baby's now walking and the reign of terror on your home has begun. How do you decorate a space when the primary objective of your little one is to experiment? By channeling that creativity into something productive, of course.
Girly Canvas Art
Girls room wall decor can be brilliantly bold, and full of girly-girl excitement. After all, they're toddlers, and the sky's the limit. If her favorite color is pink, take hold of that, and don't be afraid to hang up vibrant art that reflects her taste.

Check out our room tour with Carson for more inspiration for toddlers and young girls.
#2: Don't Ruin Your Walls—Use Fun Growth Charts Decals
Watching them grow is so much fun. Instead of marking your wall, growth chart wall decals in a kid's room give them a way to measure and track every new inch. Plus, because you can save the decals, it can be a memory to treasure long after they've grown tall and that room is painted.
One thing's for sure—this chart will show you they definitely grow up too fast.
#3: Create Mini Art Galleries
Make a gallery wall with a mix of kid's art, family photos and other mementos.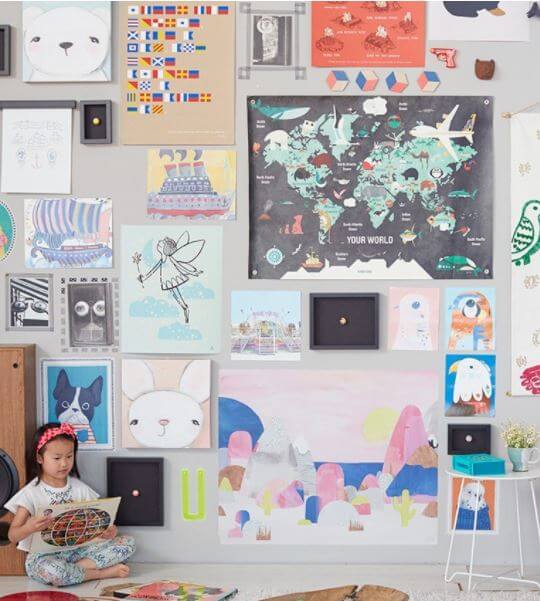 Credit: Pinterest
We have a variety of accessories and picture frames to ensure you capture the right decor and style.
#4: Decorative Shelving
Installing wall shelves is an attractive and practical way for your kids to show off keepsakes. As an added bonus, the shelves provide a space for all those toys, books and other items and keep them off the floor.
#5: Chalkboard Paint
In recent years, painting walls with chalkboard paint has become trendy, especially in a kid's room. No idea is too big with a stick of chalk and an endless imagination, and clean up is easy.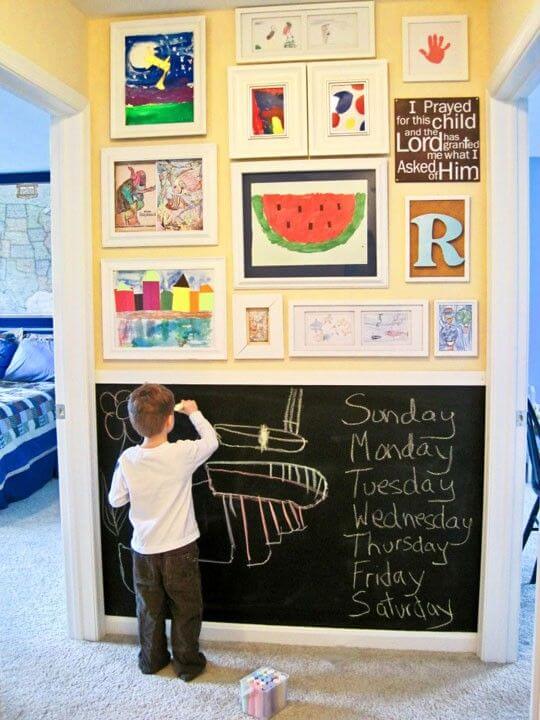 Credit: Apartment Therapy
Teen Room Wall Decor Ideas
You'll see your kid making some big changes during their teenage years. They'll be exploring their identity and trying different styles that will surely be reflected in their bedroom. It can still be a chic destination after school, though, by adding appropriate teen room wall decor.
#1: Make Bold Statements
Bold statements on the walls mixed with fun, quirky art can empower your future girl-boss with a strong sense of self-esteem and self-worth.
#2: Showcase Their Favorite Sport With Street Art
If your teenager has a penchant for sports, what better way to express that than with some fun canvas art? No matter what their go-to activity is, these action shots will surely inspire them to keep moving.
#3: Display Photos With Peel-and-Stick Cork
Go to your local craft store, and pick up peel-and-stick cork. Cut it into any shape and apply it to the wall for a quick and creative DIY. Use it to pin photos, reminders, to-do lists and so much more.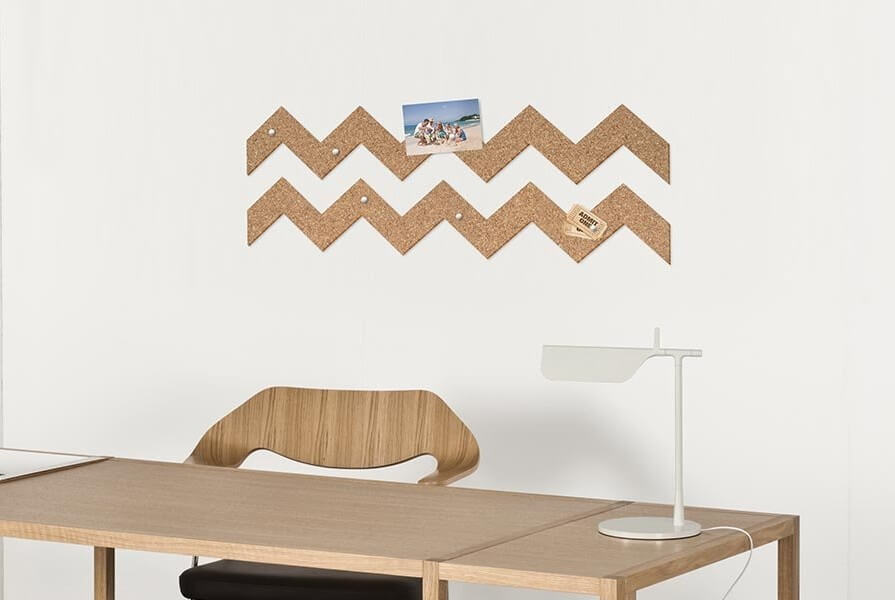 #4: Hang a DIY Dreamcatcher
Dreamcatchers are a stylish way to embody happy sleep and general feel-good vibes. They're relatively easy to make, so whether you or your teen would like to create one, it's a trendy decor item they'll love.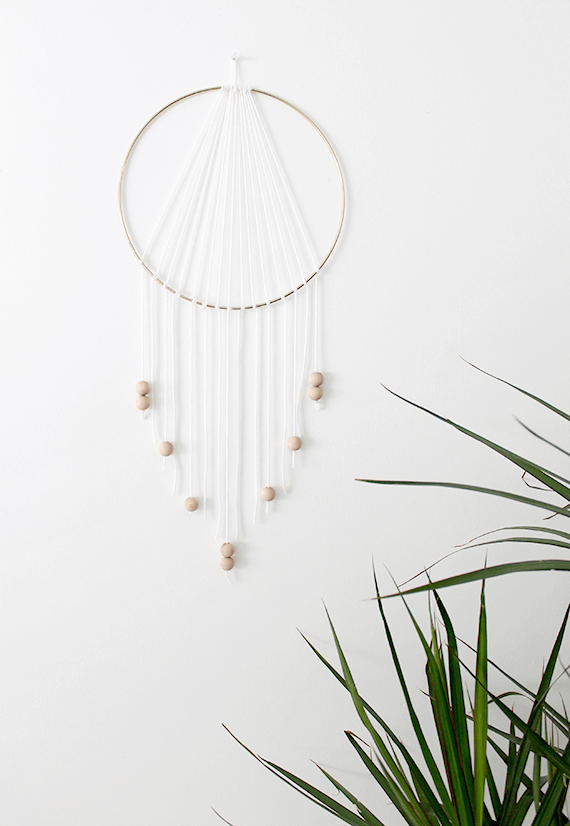 Credit: almostmakesperfect.com
#5: Fairy Lights to Inspire and Set an Ambient Glow
Stringing fairy lights over your teen's bed is a gorgeous complement to their decor. Along the lights, they can use clothespins to hang polaroids to showcase great memories, too.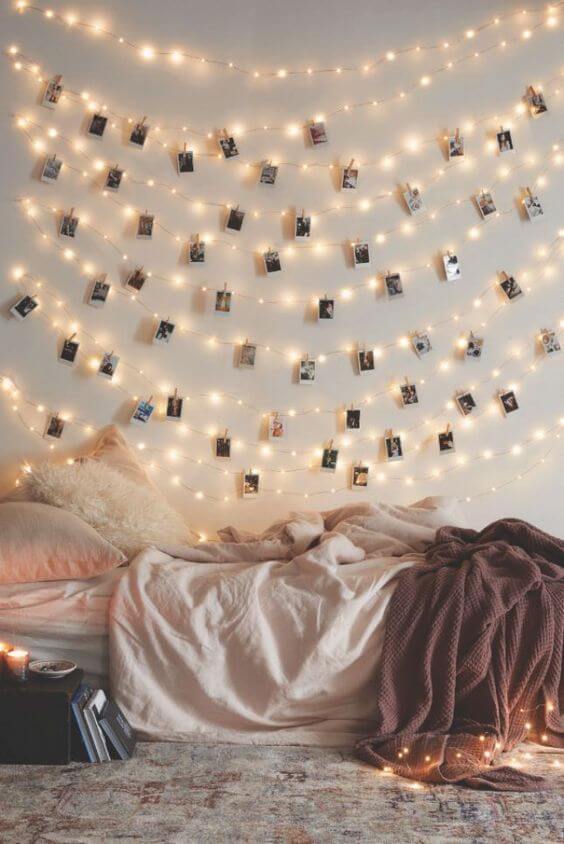 Credit: Pinterest
As fun and exciting as it can be to watch your kids grow, it's a challenge to design bedrooms that grow along with them. Creating exciting wall designs for kids rooms are fun, cost effective ways to refresh their rooms, no matter what their ages. Which of these kids wall decorating ideas are your favorite? Do you have a room you'd like to share? Let us know by using the hashtag #MyAshleyHome for a chance to be featured.
urtain Drapes to Add DramaOpens in a new windowCurtain Drapes to Add Drama