Great weather and sunny skies call for outdoor get-togethers hosted in style. Your outdoor furniture setup can maximize your guests' experience, especially when your seating is enhanced with performance fabrics. Not only does this type of fabric maintain its color and quality for years, but it's made to withstand all weather conditions—ensuring that your investment lasts. What other benefits do performance fabrics offer your outdoor furniture?
Benefits of Performance Fabrics for Outdoor Furniture
Outdoor furniture takes the brunt of extreme conditions. Taking in the most intense days of summer to below-freezing temperatures—outdoor furniture needs to be made of superior materials to last. This is why our selection of outdoor loveseats and sofas use Nuvella performance fabric, a material exclusively used by Ashley. Its unique composition of dyed synthetic fibers is unlike anything else out there. It combines the softness of indoor furniture fabrics with the durability of outdoor fabrics. In fact, it's so soft that you can also use Nuvella fabric indoors.
What Are Performance Fabrics?
The term performance fabrics is used in the furniture industry when referring to any fabrics that can withstand harsh conditions and are easy to clean. They're made for everyday life and are particularly well-suited for outdoor furniture, which is exposed to the harshest conditions, such as intense UV rays and water. Outdoor performance fabrics are typically made of synthetic fibers like olefin, acrylic, nylon, or polyester. They can be used in everything from outdoor sofas to outdoor pillows and hammocks, making it possible for outdoor furniture to look just as good as indoor furniture for years.
What is considered high-performance fabric?
While regular performance upholstery fabric still offers excellent benefits such as durability and colorfastness, it can be lacking on the comfort scale. Lower-end performance fabrics tend to feel scratchy and stiff, but high-performance fabrics look and feel like indoor furniture materials.
Examples include synthetic leather that's made from a special combination of polyurethane and polyester, and Nuvella, Ashley's exclusive soft fabric for indoor and outdoor furniture upholstery. It has the softness you expect from a living room couch, but it can be used on outdoor sectionals and more! So while cotton and microfiber aren't performance fabrics, you can still get the same softness from Ashley's Nuvella.
What Is Nuvella Fabric?
Alright, so what is all this hype about Nuvella, and is it worth a second look? The answer is an enthusiastic YES. It hasn't been given rave reviews for nothing. In short, Nuvella is a top-rated performance fabric that's used exclusively with Ashley outdoor furniture. It's made of a special blend of solution-dyed synthetic fibers that are highly resistant to fading and pilling. It's 100% recyclable, suited for indoor and outdoor use, and even water-resistant. Customers love it because it's easy to maintain, even easier to clean, and one of the best furniture fabrics for busy families—especially if you have small kids and pets.
Why Choose Performance Fabrics for Your Outdoor Furniture?
Performance fabrics are excellent for outdoor furniture, and though we touched on most of the reasons, here are the reasons why in more detail. Overall, it's a win-win for anyone who wants the most bang for their buck!
Versatility: Performance fabrics like Nuvella are soft enough to be used indoors or outdoors, making them suited for indoor and outdoor living. It's easy to clean, so you can rest at ease even when kids or pets are at play. Nuvella fabric is resistant to fading and pilling, so you don't have to worry about leaving the shades open or kids jumping on cushions!
Eco-Friendliness: Nuvella fabric is kind to the environment in quite a few ways. First, it's made with a special dyeing process that generates no wastewater, as opposed to typical fabric dyeing processes that waste a lot of water. It's also 100% recyclable after you're done with your furniture set.
Colorfastness: The specialized solution-dyeing process makes Nuvella fibers exceptionally colorfast, which means they are highly resistant to bleeding or fading. Unlike cheap fabrics that lose their luster too soon, Nuvella retains its beauty and boldness for years under proper care—even under long-term exposure to the sun and other elements.
Resistance to Mold & Water: While normal fabrics hold in moisture and are prone to rot, mildew and mold, Nuvella's unique synthetic blend is water-resistant and, therefore, less likely to harbor these harmful elements. However, we do recommend that you bring in your Nuvella cushions during heavy rain to ensure the longest life!
Easy to Clean: If your Nuvella fabric ever gets stained, you can easily clean it with a solution of water or bleach + water without affecting its vibrancy. In fact, this is one of Nuvella's best strengths — and why our customers request this fabric again and again.
Pet & Kid Friendly: All this talk of durability and ease of care naturally leads to this fabric being ultra-friendly to kids and pets. You don't have to fret about spills and scuffs here. Nuvella is made for families of all sizes and kinds.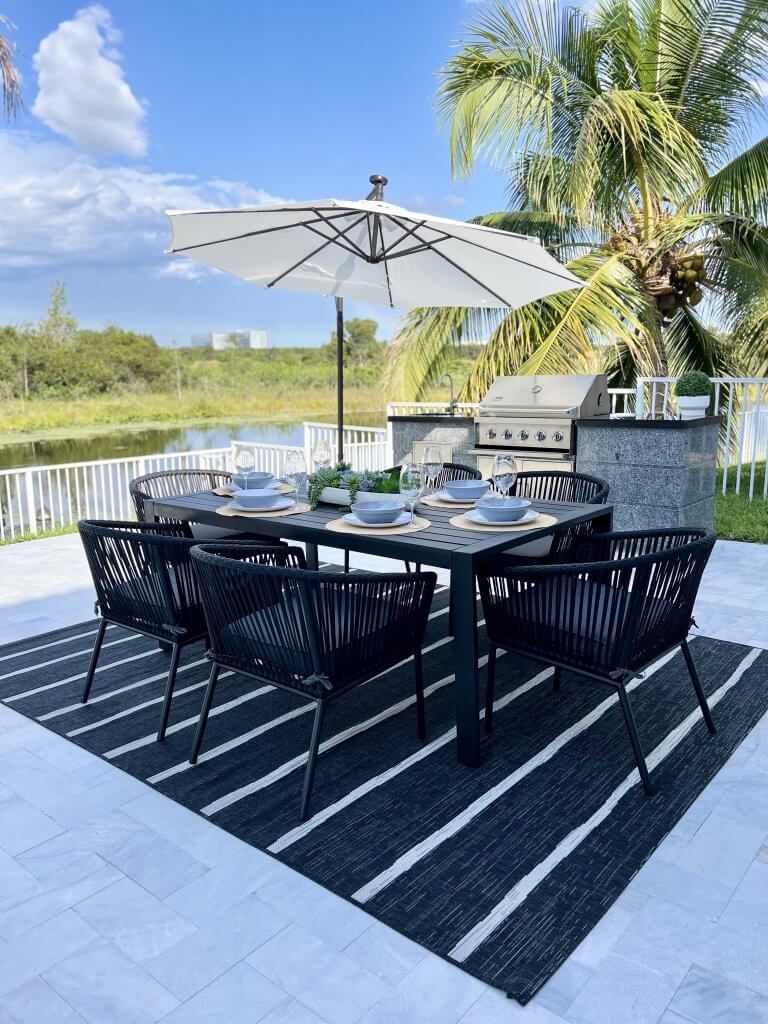 How to Clean Performance Fabrics
Cleaning performance fabrics like Nuvella is as easy as 1-2-3 — literally. You can either watch this handy video or explore these simple steps below:
For light stains:
Blot the extra moisture with a paper towel or with a clean cloth. Do NOT rub!
Apply a mild mix of soap and warm water to the area with a soft brush or sponge.
Rinse the area completely and let it air dry.
For tough stains:
Create a solution of water and bleach (one cup of bleach per gallon).
Apply it to the area with a sponge or a soft brush.
Rinse the stain thoroughly and let it air dry.
Q&A with Katie Santana of @allthingskatiesantana
Katie Santana – @allthingskatiesantana – shares how she uses her outdoor space.
What was the inspiration for your outdoor space?
My inspiration was a modern tropical hotel oasis at home.
How do you plan on utilizing this space, especially with your new pool?
Now that the backyard remodel is complete, I will be spending lots of time relaxing and enjoying the outdoor space with my family and friends. So that means lots of Summer Entertaining BBQs, and pool parties.
What are your plans for this space?
I still have some future plans for my backyard adding another cover terrace with a TV and outdoor kitchen area.
Out of all the pieces you chose, what is your favorite and why?
That's a hard one. I loved all the pieces but if I have to pick one it has to be the Palm Harbor Wicker Towel Valet. I love entertaining and this cart is very versatile. I can add my towels, sunblock on the top shelf and pool toys and kids' floaties at the bottom. When my guest arrives, the cart is loaded with everything they will need to enjoy a pool day.
What did you find most challenging about creating this space?
The most challenging part of creating my outdoor oasis was deciding on a pop of color. I am a neutral girl. While shopping on the Ashley site I came across the Superior Outdoor Pillows with a beautiful tropical pattern and I immediately fell in love and knew a pop of green was the perfect color to bring the tropical hotel vibes to my backyard.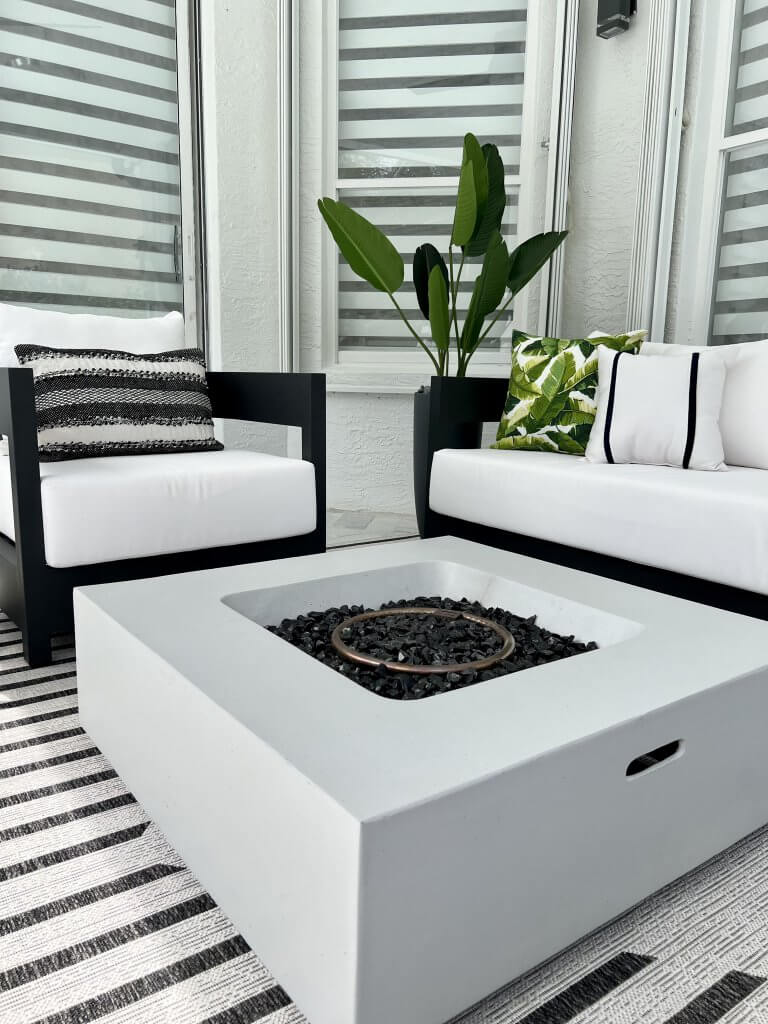 Share your outdoor living setup with us on social media! Tag your photos with our exclusive hashtag #MyAshleyHome on Instagram for a chance to be featured! Find more awesome home decor inspiration on Pinterest too!