It's time to open the front door of Ashley HomeStore and introduce you to another member of our team! For this "At Home with Ashley" feature, I wanted to highlight the story and style of my mentor, Meagan Miller. As Manager of Influencer Strategy and Strategic Partnerships, she oversees content from influencer campaigns and partnerships with other brands.
After working with Meagan for a year, I have learned about her friendly personality, her love of pink and her obsession with peanut butter pretzels. I am thrilled to be able to spotlight Meagan through this series and can't wait for you to learn more about the Social Media Team!
Why Social Media?
Recently celebrating her three-year anniversary at Ashley HomeStore, Meagan has performed every task of a social media marketer. From scheduling content on Instagram, creating relationships with brands and influencers, to overseeing the projects of her team. She's done it all. But her career in marketing started from a love of photography.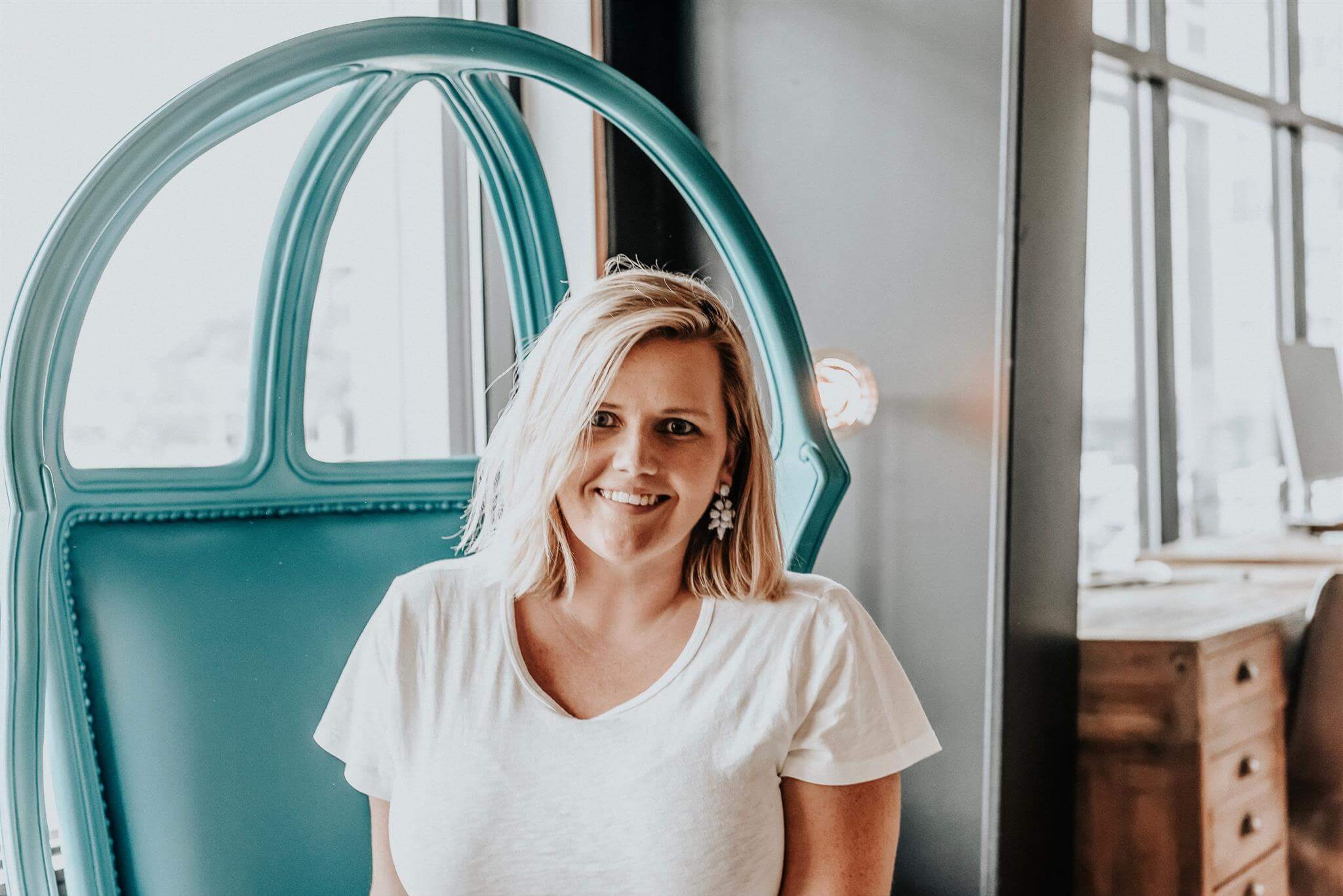 "My mom was a professional photographer. I started my Instagram just so I could post some of my photography. I was actually a nursing major in college when I fell in love with social media and switched my major to marketing," she said. "From there I jumped in to learn everything there was to know about social media marketing."
Working in an emerging section of the marketing field, Meagan loved the opportunity to build relationships online and offline. As a founder of Ashley's influencer program, she has spent countless hours interacting with influencers and partners to create content for Ashley's social channels.
Marketing Her Style
Meagan's style is a reoccurring feature of her Instagram content, which she describes as vintage boho. Her space is a mixture of curated pieces from second-hand stores, and new finds from stores like Ashley!
Using her eye for social media to discover new trends that fit her style preferences, Meagan is constantly inspired by her feed. "I get most of my inspiration from Instagram and following my favorite influencers. I'm definitely the type of person who 'swipes up to shop' the look of other influencers," she said.
Meagan's favorite piece of furniture is a vintage find from her mother, her second-hand brass metal bed frame. After discovering the bed at a thrift store, her mother knew it was the perfect fit for Meagan's space. "She actually rented a truck and drove three hours to my apartment to deliver it. I didn't even see it before she brought it over. Now it's my favorite piece of furniture and I can't imagine not having it."
The bed frame combines Meagan's love of vintage design with eclectic bohemian vibes. The brass brings a warmth to her room that is perfect for a cozy space. You can shop a similar style here. 
Un-Plugged at Home
With a career in social media, how does Meagan remove herself from the continuous scroll of the digital world? She finds ways to connect to her space and remove herself from the internet. During my time at Ashley, Meagan has shared her passion for reading and countless book recommendations.
"I love sitting in my room and reading a book. My room is such a cozy space and I think it's so important to have a space in your home that you love to go to at the end of a day," she said.
For Meagan, home is a place dedicated to relaxation that brings her a big breath of relief at the end of the work week. She is always greeted by a happy puppy, her Corgi named Amelia, who is ready to play or lay down for another nap. And recently she has been exploring the world of veganism and plant-based eating, which keeps her and her roommates in the kitchen.
"I'm so blessed to have a space I can call my own that is safe and happy," she said. "It's so important to me that everyone has a space they can go to and relax after a long day."
Creating the Perfect Space
When designing her perfect apartment, Meagan looked for décor that matched her love of vintage bohemian spaces. Whether or not you consider yourself an amateur botanist, she believes that plants are an essential for decorating any home. Even if they don't require any water.
"I have at least one plant in every room in the house. It brings me so much joy to see my plants thriving! If you don't have a green thumb try fake plants but either way I think they are a staple décor item," she said.
To make the most of her balcony and the Florida sunshine, Meagan and her roommates invested time into creating a great small outdoor area. They added a small table and two chairs, which is perfect for meals that feature a sunset view. Of course, she included hanging planters to bring that natural element without taking up too much space.
But Meagan's biggest advice for apartment dwellers comes from her experience of living at the top of her building, without an elevator.
"I think regardless of if you have a house or an apartment, you should create a space you love!" she said. "For apartment dwellers, just make sure you can get everything upstairs."
Meagan's journey is the fourth edition of our "At Home with Ashley" series, to read more about our Ashley HomeStore team, click here. You can also check out the "This or That" rapid-fire Q&A with Meagan down below, and feel free to complete the list yourself. We'd love to learn more about our XO Ashley readers!