Large-scale pieces of furniture like sofas or sectionals are substantial investments. No wonder we do so much research…combing stores and websites and comparing prices until we've found "the one."

Too bad that accent chairs often take a back seat as afterthoughts in the interior design process. Despite their relatively modest size, they're a major part of what gives a room functionality, personality and pizazz.
If your home is castle, then let the accent chair be your throne. With that said, here are five tips on how to pick the perfect accent chair.
#1 Consider your size requirements.
When it comes to buyer's remorse and accent chairs, probably the most common complaint is either, "it's too big" or "it's too small." Perhaps that's because many folks don't take the time to measure their space. They might fall in love at first sight with an accent chair in a furniture showroom or online, but once they get it home they find it's not sized accordingly.

Avoid this dilemma by taking an extra step before purchasing. Place tape or paper on the floor to get a sense of how well a chair will "sit" in a room. And ask yourself…
• Will the accent chair be set back in a corner of a room?
• Will it be placed more in the center of a room where foot traffic and flow are central?
• Can your space accommodate the visual "presence" of a high back accent chair or a chair with substantial armrests?
#2 Consider your style aesthetic.
Whether your style is traditional or mid century, shabby chic, modern farmhouse or boho eclectic, consider your furniture's style elements carefully before investing in an accent chair. Contrast is OK to a certain extent, but ultimately, you're looking to complement.
For example, you wouldn't want to combine a roll arm sofa with nailhead trim (definitely more traditional) with an ultra-sleek linear chair that has a highly contemporary vibe.
#3 Consider your lifestyle needs.
How do you see yourself enjoying the chair? Will it be for big-time snuggly time with the baby (or fur baby)? Then consider the feeling of security you'll get with comfy, upholstered armrests. If it's kicked back comfort you crave, you don't have to go the heavy recliner route. A sleek chaise, for example, can be a sight for sore eyes. Now, if you just need a little something for an entryway, home office or dressing area, an armless slipper chair might be the perfect fit.
#4 Consider your color/pattern scheme.
Tired of looking at a sea of beige but not up for a total transformation? Accent chairs can be an easy, affordable way to transform the energy in a room through the power of color. If you're working with ultra-neutral colors and solid palettes, you have tons of freedom in terms of shades and patterns in accent chairs. Of course, if subtlety is your thing, consider an accent chair opting for texture over color.
Pattern-on-pattern can definitely work, as long as it's perfectly color coordinated.

A vibrantly patterned accent chair can elevate "boring beige" furniture to a whole new level.
#5 Consider your fabric options.
The type of upholstery you choose can have as much influence as the color or pattern you pick. Tired of playing it so safe? Adding a weathered leather or faux leather chair with a "been-around-the-block" vibe can give plain beige/brown furnishings a cool attitude. Linen-weave fabrics exude a clean and classic sensibility. Suede and faux suede have a rich, decadent aesthetic. Fabrics convey a "feel" in more ways than one. Tweed-weave upholstery, for example, can exude that mid-century mood you're going for, while weathered leathers and faux leathers are a natural choice for the modern farmhouse movement.
Ruggedly handsome faux leather

Made in the faux suede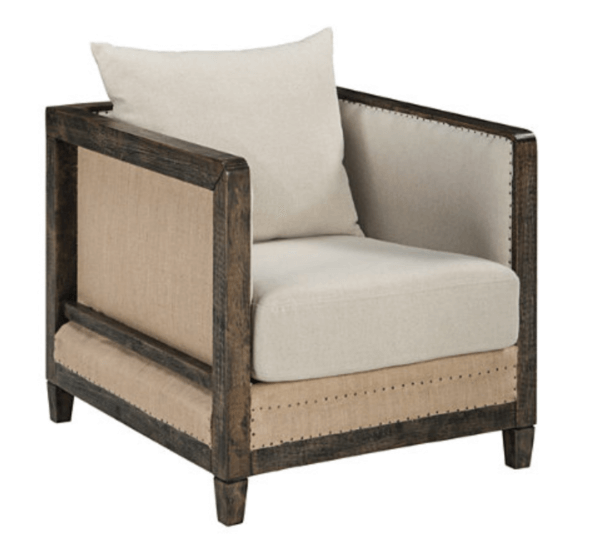 Fresh, fashionable linen weave