You just found out that guests are coming over, but you're not stressed at all! Why? There's a guest bedroom that's ready to receive your weary travelers and provide every comfort. What makes a guest bedroom truly great? Here are a few quick tips and guest bedroom ideas that can make your guest bedroom the five-star retreat you've always wanted it to be.
Guest Bedroom Decor Ideas
Guest bedrooms are all about the "extras." After all, you want to make your guest's experience amazing—like a relaxing hotel getaway. Many of our luxe touches are easy to incorporate into your guest room's decor and will delight even the most finicky lodgers.
Leave some sweet treats like individually wrapped chocolates in a decorative dish on the bedside table. Also, place another empty decorative dish on a chest of drawers for small but important items like wallets and keys.
Cute comforter sets make it possible to change the mood and feel of your guest bedroom at any time. Have a few seasonal options on rotation so that you can adapt the color scheme and design according to the season and your guest's tastes.
Place a slipper chair in the corner of the room as a convenient drop-off zone and cozy spot to read or enjoy coffee.
Put a storage ottoman at the foot of the bed to act as a cute and functional catch-all for your guest's items—all while offering additional privacy!
Add artwork to complete the space. Whether it's a beautiful sculpture or a painting you found at an art show, these details are icing on the cake.
Guest Room Essentials
The first step to setting up a guest bedroom is to choose the basics. First, you'll need a comfortable bed. Depending on your space and your budget, this is an easy fix. If square footage is not an issue, go ahead and use a queen bed with a memory foam topper to create an ultra-plush sleeping experience. If you want something more versatile on a smaller scale, then a futon, a daybed with a trundle, or a sofa bed might fit the bill.
Whether it is a closet with shelving or a chest of drawers, give them somewhere to organize their belongings—no one wants to bend over to dig items out of their suitcase. Be creative with it. Hooks on the wall are a charming and useful addition to the setting, and can be made from almost anything: vintage glass doorknobs, cabinet door pulls, and even antique faucet handles. Think outside the box, and you'll find inspiration all around you.
It's also important to set up some crowd-pleasing decor and accessories like pictures of nature, potted plants, neutral-colored walls, and room-darkening shades. These universally appealing decorations and conveniences are highly desirable in guest rooms. The more amenities you put in your guest room, the better experience it will deliver.
Beds for Guest Bedrooms
Our growing collection of air mattresses and guest beds suits a variety of budgets and needs. Our goal is to make sure your guests have a wonderful place to unpack and settle in. Since every home is different, not every guest bedroom is going to follow the same template.
You may have limited space and need to set up an air mattress whenever the occasional guest arrives. Or you may have a spare bedroom that can house a permanent guest bed. Whether you prefer a futon that can do double duty as a couch or a Murphy bed that folds up into the wall, there is a solution that will meet your specific hosting needs.
Versatile Bedding for Guest Bedrooms
Once the bed's in place, be sure to dress it with luxury linens and thick, fluffy pillows. The guest room is no place to skimp on quality. Be sure to get bedding for every season. A light quilt is perfect for the summer, while a heavier comforter can keep your guests toasty in the winter. To make cleaning your quilts and comforters easy, simply slip on a duvet. This outer shell protects your comforter and can be taken off and easily washed. This allows you to change the look of your comforter between guests and spare yourself frequent comforter washes.
Fresh sheets are a must. There's nothing like that crisp, fresh feeling when you slide into a clean guest bed. Whether you choose Egyptian cotton or Pima sheets, don't invest in anything less than 200-count. The difference between 200-thread count and 800-thread count is purely a matter of taste, as is the difference between satin and percale. Whatever you choose, make sure they feel right to you before putting them on your bed. Get them out of the packaging and run your hands over them first so that you end up with bedding that reflects your taste and style.
Your guests will appreciate all your thoughtfulness, and you'll be filled with that special sense of satisfaction for having given them the best.
Guest Bedroom Color Inspiration
When it comes to guest bedroom colors, there is no right or wrong answer. However, you can err on the side of caution and lean towards neutral and crowd-pleasing colors. For example, light gray, white, cream, and anything soothing are typically safe color options. Bold choices may not create the relaxing ambiance you're seeking. Take for example, neon pink. Although it's a fun color it can be quite "in your face" and unexpected as a guest bedroom color. Meanwhile, navy and black paint on walls can make the room feel smaller.
Also, warm colors like red, yellow, and orange can trigger feelings of excitement instead of rest. This principle is well-known in modern design and feng shui, which is why red is often seen on casino floors and not on bedroom walls. Instead, go for something relaxing like pale green, white, or baby blue for your walls, decorations, and bedding.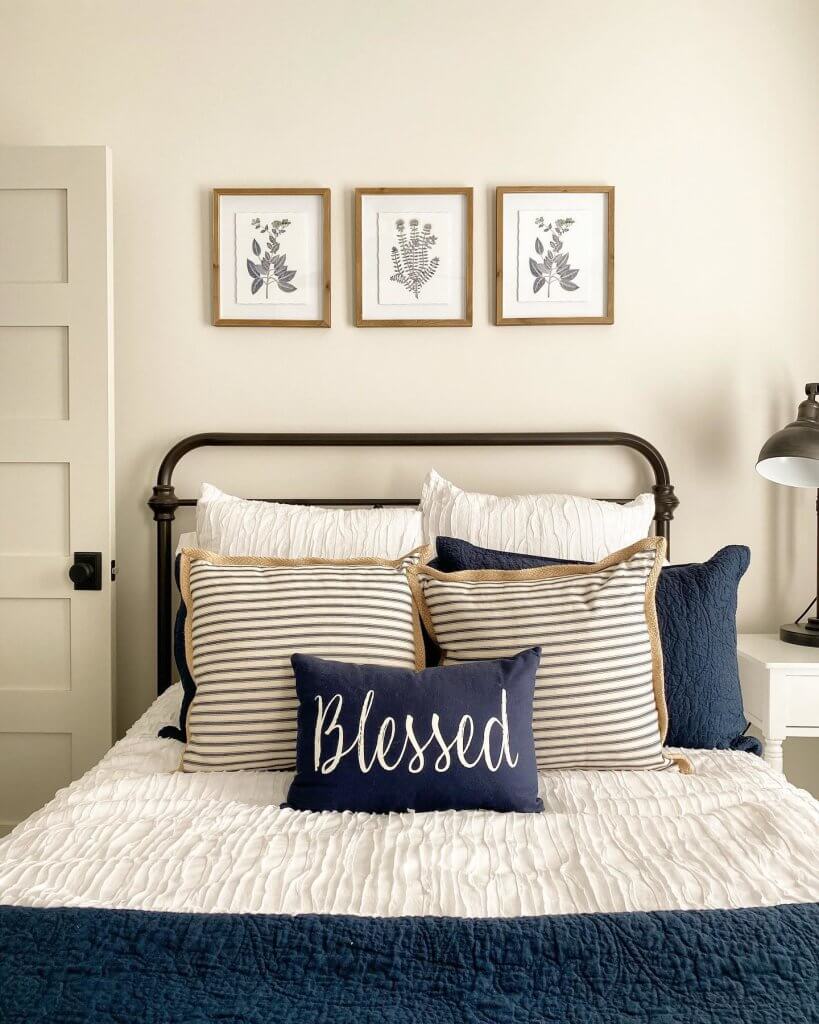 Note: Don't let these "rules" box you out of a fun accent piece that just happens to be in a bold or dark color. If you find something that you absolutely love as a decoration or segment of a wall, you will surely find a way to make it work!
What to Include in a Guest Bedroom
Once the essentials are handled, you'll want to create a comfortable seating area for your guests to use as a reading nook, a resting pad, or just a place to sit and put on their shoes. The addition of a comfy chair with a small table and a floor lamp can make all the difference to your guest room.
Getting the seating just right is a matter of determining your available space and choosing accordingly. If a deeply tufted chaise lounge or settee just isn't an option, then dress up a small upholstered chair with a fluffy pillow and throw blanket. A small sofa at the foot of the bed can invite a restful moment or an intimate conversation without taking up too much space. Include a wonderful book or magazine, and voila, your reading nook is complete!
Here are some final tips to make your guest room luxurious:
Bring in a chilled bottle of water before your guest retires for bed.
Set up a TV with a connected streaming device and wireless headphones for a private movie-watching experience.
Put an alarm clock and digital charger next to their bed.
Place a coat rack near the bathroom, on which a spa robe and slippers hang, waiting for your guest.
Equip the guest bath with a basket of travel-sized toiletries.
There you have it, our very best guest bedroom design ideas to create the perfect getaway retreat for your out-of-town guests. And where it all came from will be our little secret—shhh…
Share the space you create by using #MyAshleyHome on Instagram to possibly be featured on our feed! We'd also love to know your work-from-home tips and tricks. You can also find more home office inspiration on Pinterest.