Are you restless when you sleep or experiencing pain and low energy after getting out of bed? If so, read on to find out how a Tempur-Pedic® mattress can deliver the sleep you need.
Sleep experts say that a person between the ages of 18 and 64, needs seven to ten hours of sleep daily. With all that down time, you need a bed that's comfortable. Imagine a super cushiony mattress that hugs every inch of your body and makes you feel as if you're sleeping on a cloud. You've just pictured a Tempur-Pedic mattress.
What is Memory Foam?
—This isn't Your Normal Memory Foam Mattress
If you lay on a Tempur-Pedic memory foam mattress, it will feel unlike anything you've ever experienced. One of the most unique characteristics of a Tempur-Pedic mattress is its foam. Its TEMPUR® material, a specially formulated foam, caters to every inch of your body.
Incorporating technology from NASA, it's made of polyurethane, a pressure– and temperature–sensitive material. As the foam conforms to your body, it not only responds to your body's weight, but it also responds to your body's temperature. That's why you'll experience pressure relief while lying on a Tempur-Pedic memory foam mattress.
Other benefits include:
Foam contours to your body to provide relief at your body's pressure points.
Foam cradles you on an even plane from head to toe.
Inorganic fibers make up the foam, which prevents dust mites and other allergens from accumulating.
Motion transfer reduction
Foam reduces your partner's movement, which helps with getting a more restful sleep.
These benefits are what make Tempur-Pedic mattresses so different and why they're worth the extra money. You'll notice how the foam creates a feel that can only be described as cloudlike. That's because all your body's pressure points are being minimized.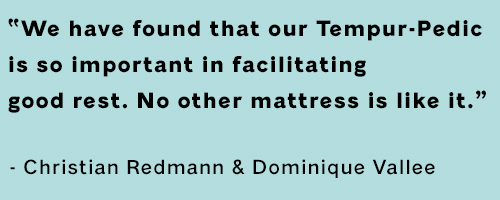 The Ultimate Sleep Environment
Once you decide on a Tempur-Pedic mattress, select a foundation, pillows, bedding and more to ready yourself for the ultimate sleep experience.
Choose the Right Foundation
When it comes to selecting a foundation, assess what you'll need to meet you and your partner's sleeping requirements. Your choices will range from standard foundations to those with many additional "comfort" features. Below are some foundations to consider.
Standard Foundation
With a dual purpose, this foundation is designed to provide support for your mattress and helps reduce motion transfer between partners.
TEMPUR® Low Profile Foundation
Sitting lower, this foundation provides a durable, flat surface to support a Tempur-Pedic mattress and makes it easier for you to climb in and out of bed. A lower foundation also helps with creating a contemporary look.
TEMPUR-Up™ Foundation
With a wired remote control in hand, you can raise the head of the bed to countless positions–ideal for working on your laptop, reading or watching TV.
TEMPUR-Ergo® Plus Adjustable Twin Extra Large Power Base (Two are required.)
Quietly navigate to a perfect position using the wireless control. Elevate the head of the bed to improve breathing, relieve lower back stress or just to read or watch TV. Program two memory settings and with the touch of a button, you can automatically adjust the mattress to either of your favorite positions.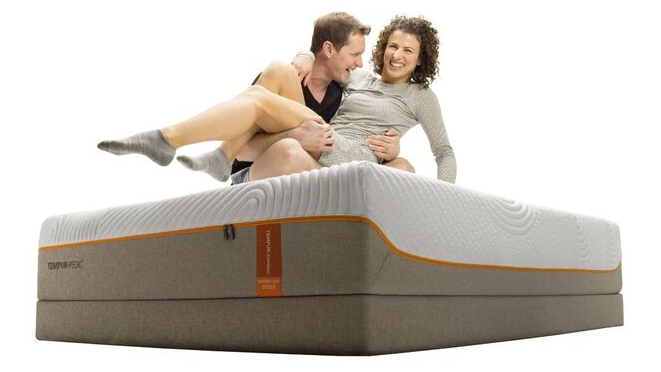 TEMPUR-Ergo® Premier Queen Adjustable Base
With a wireless remote control or help from your Apple iOS or Android device, you can adjust both the head lift and foot lift. Get rejuvenated with four massage settings. You'll love the memory buttons for setting four of your favorite positions.
Pillow Time
Picking the right bed pillow can make all the difference. If your pillow is older than a year, it's time to get a new one. It's important for proper head, neck and shoulder alignment. Look for memory foam pillows with a contoured shape and ventilation. Not only will you enjoy the benefits of your head being in the right position, you'll also be sleeping cooler.
Make it Pretty and Cozy
Once your new Tempur-Pedic bed is set up in the bedroom, it will need to be dressed up. Invest in a set of new sheets, then consider a top cover that shows off your taste in style. Use a comforter, quilt, duvet or coverlet for warmth and beauty. Add touches of color and design with throw pillows.
A Mattress that will Deliver Countless Nights of Sleep
Tempur-Pedic mattresses are built to last. Their unique TEMPUR material will return to its original shape time after time, year after year. These mattresses have one-sided designs, which means you will never have to go through the hassle of flipping or rotating them.
With all the benefits Tempur-Pedic has to offer, you're certain to find a mattress that caters to all of your needs, leaving you feeling rested and refreshed, ready to take on a new day.
If you have a Tempur-Pedic mattress, please let us know which one you have and share how it has changed the way you sleep.