If you have a small area in your home that doesn't quite feel complete, Ashley has ideas for home bars that might offer the perfect solution. In fact, you don't need to have a huge amount of free space to use our wet bar ideas. You can go as big or as small as you want. All you have to do is assess your needs and pick the solution that works for you.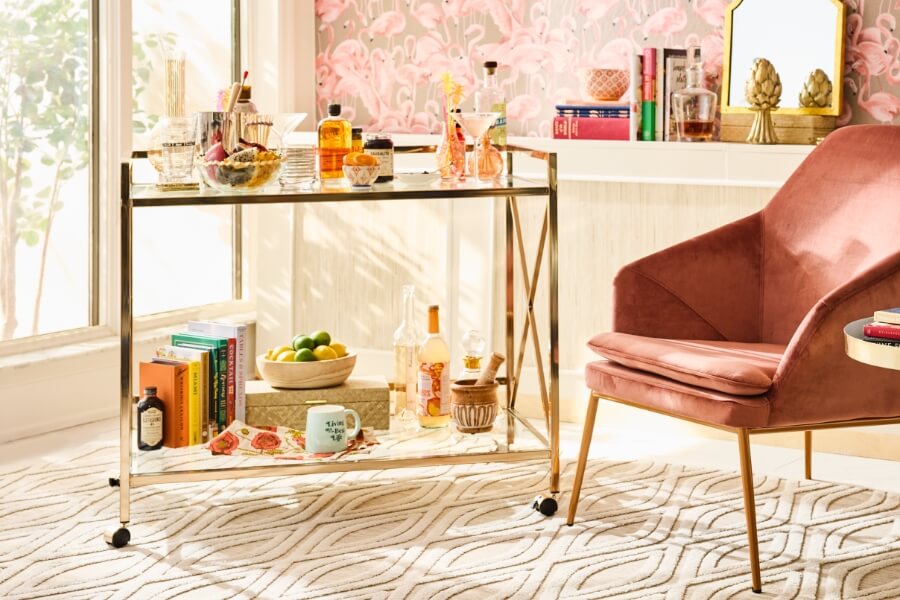 Do you enjoy having a few friends over and want a visually appealing way to serve them cocktails and some snacks? Then create the expansive bar of your dreams. Or maybe you just want to kick back and enjoy a glass of wine with your spouse on the weekends and need a cute, small setup. Whatever you choose, these home bar options are handy and easy to implement for hosting a simple gathering or an entire soiree.
Find a Bar Cart that Fits Your Style
When working with a small space, you might not have room to set up a wet bar. But, what is a wet bar, and why is that important? A wet bar is a bar that has a sink and running water. It makes it easier to clean up glasses after your famous margaritas or when your bestie spills a full glass of red wine on your favorite area rug. Choosing a bar cart gives you a way to turn a dry bar into a wet one, so you can easily clean up after guests and get rid of sticky spills right away. Bar carts come in a variety of styles that look great whether you're serving drinks indoors, by the pool, or at an alfresco picnic. You can even changeout your bar cart based on the season, checkout our guide on springtime bar cart displays!
Home Bar Ideas for Small Spaces
Let your imagination run wild when considering home bar ideas for small spaces. Almost any type of table, cupboard, or shelf can be transformed into a home bar. This makes it easy to incorporate creative small bar ideas into your decor.
Bookshelves, curio cabinets, and desks: Your favorite bookshelf, curio cabinet, or desktop can pull double duty by displaying your favorite books and decor items when you don't need to use them as a bar. Then when guests are coming over, you can set it up with soft lighting, glasses, servware for any snacks you plan to offer, and beverages.
Wine storage tables and console tables: A wine storage table or console table works as a small bar because you can tuck everything you need in the space under the tabletop and use the surface for mixing up cocktails.
Sideboards, hutches, and credenzas: When you have a little extra space and want a bigger bar, sideboards, hutches, and credenzas are convenient solutions. Plus, like the other furniture items listed, you can use them for other purposes when you aren't serving drinks.
Use a Piece of Furniture You Already Have to Create the Perfect Bar
Small home bar ideas don't necessarily mean you have to shop for new furniture. Sometimes you can use the furniture you already have to create your perfect bar. Because an unexpected piece of furniture is so unique for a bar, something like a bookshelf, desktop, or hutch can be easily transformed into some pretty cool home bar ideas.
Must-Have Home Bar Accessories
Looking for a complete set of home bar accessories? Or just picking a few key home bar ideas on a budget? It's up to you and what you need to cover your entertaining needs. If you host larger gatherings, you may need the full array of accessories. However, if you prefer to hold small, intimate gatherings with a few close friends, you can easily limit the number of home bar decor ideas you choose. Some ideas for the accessories you're most likely to need include:
Cocktail shaker
Wine decanter
Wine rack
Corkscrew
Portable ice maker
Ice bucket
Ice tongs
Serving plates
Drinkware
Coasters
Serving plates and bowls
Bottle opener
Cutting board
Knives
Cocktail forks
Happy Hour at Home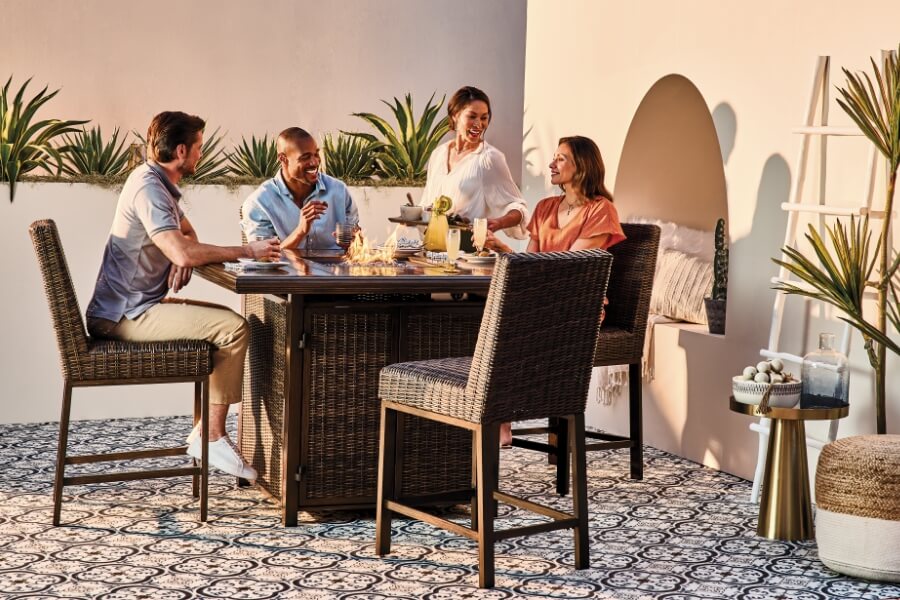 If it's feeling like 5 o'clock, and you're ready for happy hour, grab a bar stool and belly up to these home bar ideas. Enjoying happy hour at home is a great way to save money while enjoying the beautiful home you've created. Just relax, add your favorite snacks, turn on your favorite TV show or music, and enjoy a fresh beverage. Chat with your significant other over drinks in the privacy of your home. All while keeping an eye on dinner after a busy day.
Recipes to Up Your Home Cocktails
To help get you ready to enjoy your modern home bar ideas, we also wanted to share a few mixed drink ideas. While your bar area will be all-modern, these drink recipes bring a fun retro flair to any event.
Old-school fuzzy navel: To make this classic, put some crushed ice in the bottom of a glass, then add peach schnapps and orange juice.
Tequila-free sunrise: Fill a glass about half full with crushed ice, then add orange juice and either cherry or raspberry syrup.
Classic hot toddy: Combine hot water, whiskey, honey, a cinnamon stick, cloves, and lemon juice to make this fragrant hot beverage.
Snacks to Serve With Your Cocktails
Home bars aren't just for serving drinks. You can also put out a food bar or serve some simple snacks when using your bar area.
Taco Bar: Instead of mixing drinks, use your bar to plan a taco Tuesday party. Set out everything to make tacos and let everyone dig in and create their own.
Finger sandwiches: Make your favorite lunch meat and cheese into regular sandwiches. Then cut the sandwiches into triangles and arrange them on a serving platter so your guests can snack while enjoying cocktails.
Dessert bar: Set up a dessert bar featuring your favorite treats, like ice cream, cubed brownies, or chunks of fresh fruit and cream cheese dip.
Whether you're planning to set up a home wet bar or looking for home bar design ideas for a dry bar, Ashley offers a variety of options. Browse through our selection of bar carts, furnishings that can double as bars, and bar accessories to create a home bar area that's perfect for your guests. Your fun gatherings are sure to be the envy of your friends each time you open up your home bar.